The Best Cooling System Pressure Tester Kit
We're an affiliate
We hope you love the products we recommend! Just so you know, we may collect a share of sales or other compensation from the links on this page. Thank you if you use our links, we really appreciate it!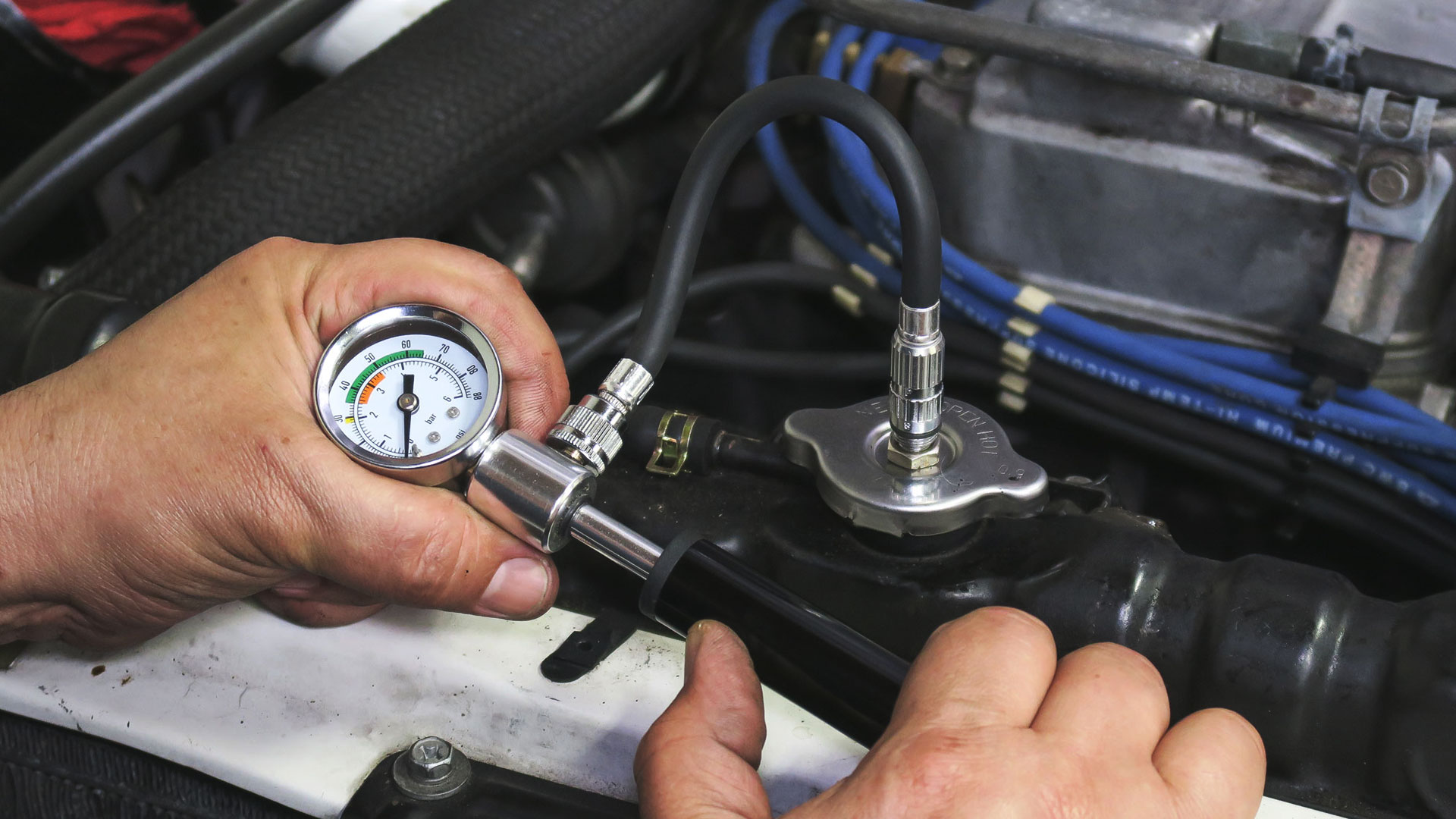 Cars of all ages, shapes and sizes can suffer from overheating. Steam from the bonnet is the image most will see in their head when they think of a vehicle breakdown. While overheating is less common in modern vehicles that their older counterparts, coolant systems do still suffer failures. Increasingly complex engines and tighter engine bays in modern vehicles meanwhile, are making cooling system issue diagnosis more and more difficult.
Simply rummaging around under the bonnet with a torch is often not enough to spot pesky leaks in the system, commonly associated with overheating engines. Identifying whether or not any leaks are present meanwhile, can be very useful for narrowing down possible issues. If you know there are no leaks, you can search for issues elsewhere.
Pressure testing the cooling system may seem like a job for a professional mechanic, but home testing kits (such as those below) make it very easy for anyone to diagnose coolant system leaks from the comfort of home. Suitable for both petrol and diesel vehicles and with adaptors to suit most radiators/ coolant tanks, it really is the solution for almost any UK vehicle.
The Types Of Cooling System Pressure Testers
Coolant pressure testers are offered in two varieties, hand pump and air powered. As the names suggest the former uses pressure built via a hand pump (usually included in the kit), while the latter requires an air compressor to provide adequate air pressure.
Hand Powered
By far the most common option, particularly here in the UK. Hand pumped pressure testers are reliable and can easily make the required air pressure to test the system within just a couple of minutes.
These kits are nearly always all-inclusive, coming with suitable adaptors to fit a range of vehicles cooling systems, meaning they can be used by anyone with almost any vehicle.
Key features of hand powered coolant pressure testers:
Commonly available, huge choice on the market
Reliable and easy to use
Kits come with adaptors included
More expensive than air-powered alternatives
Air Powered
A far less common option, particularly for home mechanics. Many professional garages will have air compressors to run power tools and/ or painting equipment, while most home garages do without and therefore cannot use these kits.
Air powered kits are generally sold without adaptors, again due to their likelihood of being used by professionals, who likely have previously purchased suitable adaptors. Their simplicity and lack of extras however, does generally make air powered kits much cheaper than hand pump alternatives.
Key features of air powered coolant pressure testers:
Less choice in the UK market
Requires an air compressor to use
Sold without adaptors (can be bought separately)
Vastly less expensive than hand powered tester kits
The Best Hand Pump Coolant Pressure Tester Kits on the Market
Sealey VS0033 Cooling System Pressure Test Kit
Check the latest price on Amazon
The first of our hand pump coolant pressure testing kits hails from tool manufacturer Sealey. The UK-based firm has been active since 1978, constantly expanding their range over the last four decades. The brand has now supplied tools for hundreds of thousands of professionals and amateur DIYers alike. Sealey offers tools worldwide, with over 10,000 product lines. The company is constantly evolving and improving current offerings too, ensuring only the best quality and most accurate tools.
Sealey's VS0033 kit allows for up to 2.5bar (circa 35psi) to be built up and released into the coolant system, quickly showing up any areas that are leaking and causing issues. The kit features cone adaptors that will suit a multitude of coolant systems. The cones are specially designed to fit both shallow and deep openings in the radiator/ coolant tank as well as being adjustable for holes from 17-48.5mm, meaning this kit is suitable for most UK vehicles.
The kit, like all others, will work with any petrol or diesel vehicles with a water-based cooling system. It also comes with a handy case to keep all the adaptors tidy, also making the kit very portable.
Pros:
Highly regarded UK brand
Allows for up to 2.5bar of pressure
Adaptors to suit nearly all UK vehicles
Fits both screw and bayonet style coolant cap styles
Cons:
Most expensive hand pump pressure tester listed
Sealey VS0012 Cooling System Pressure Test Kit
Check the latest price on Amazon
Unhappy with offering just one solution for coolant pressure testing kits, Sealey also offers this VS0012 kit. The difference between the VS0012 and the VS0033 is the adaptor, here using an inflatable end to seal into the radiator/ coolant tank cap hole.
The inflatable style fitting allows for use in cooling systems that use a screw or bayonet style cap and will fit, Sealey states, around 90% of UK vehicles. The inflatable adaptors, unlike the cone style, will need sufficient depth and width in the tank to allow for expansion and proper sealing around the lid.
Like the VS0033 there is scope for using this kit on both and petrol and diesel vehicles, while the kit also includes a carry case.
Pros:
Least expensive hand pump pressure tester listed
Inflatable adaptor provides good sealing
Suitable for nearly all UK vehicles
Handy carry case included in the kit
Cons:
Inflatable end requires depth and width in the tank/ radiator to seal properly
Sharp edges could cause damage to the inflatable adaptor
Draper Expert Radiator Pressure Test Kit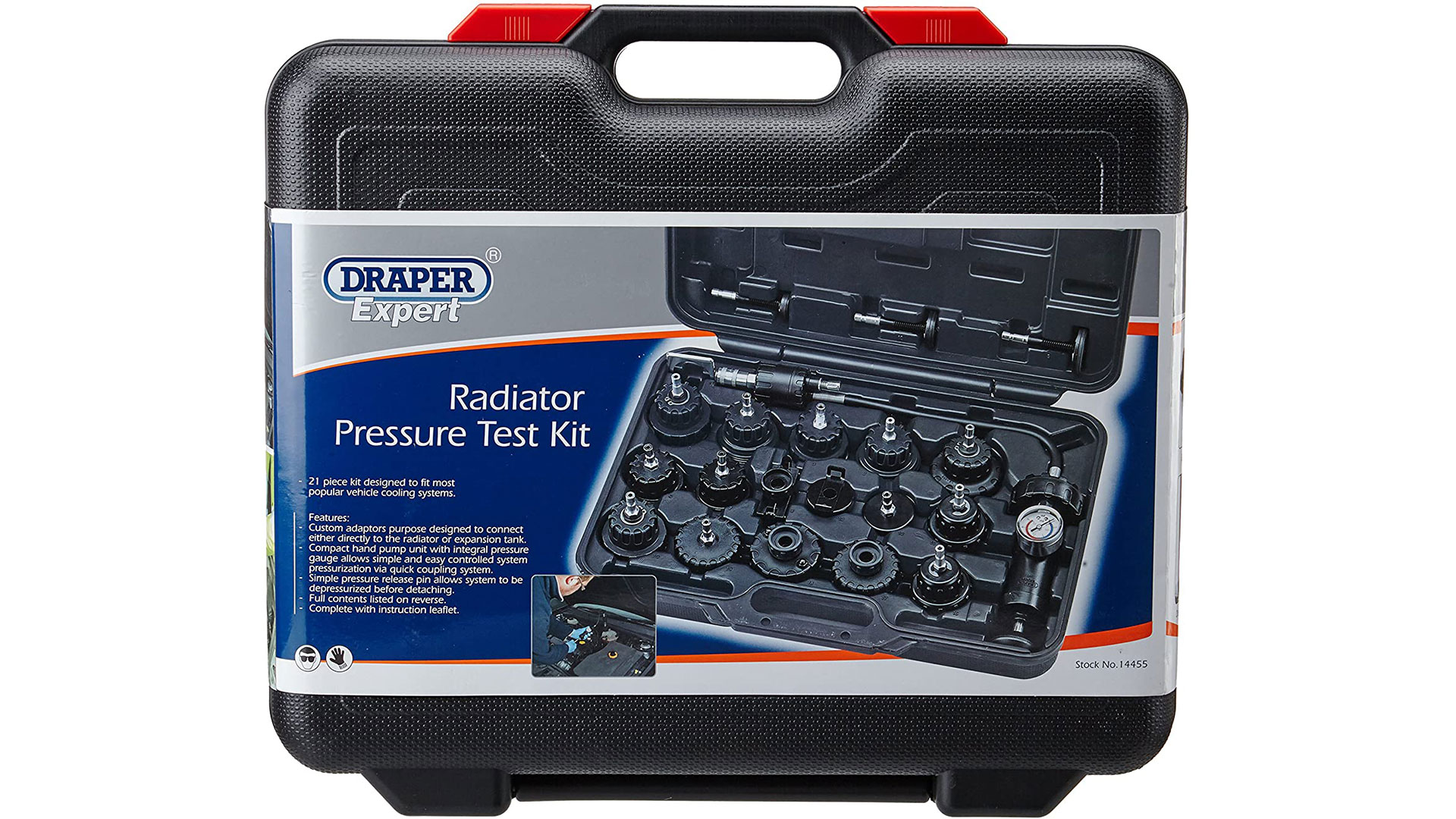 Check the latest price on Amazon
Over 100 years of industry experience and a huge portfolio of high-quality tools make UK tool manufacturer Draper a brand you can trust. Draper not only manufactures their own tools but also oversees operations at other tool brands such as Britool and King Dick. Their extensive sales in the market have seen Draper on shelves in most garages, from basic DIY toolsets to professional workshops.
Their expert line of tools, promises professional quality for the home mechanic, with a tester like this bridging the gap between the two worlds. This kit is massive in adaptability, offering no less than 20 different sized adaptors, ensuring fitment with pretty much any vehicles cooling system that you could want to use it on.
Useful for petrol and diesel vehicles and backed by a high-quality product with glowing customer reviews. Like the competition, the kit also includes a handy storage case.
Pros:
UK tool manufacturer
Huge variety of adaptors, most common UK vehicles covered
High quality construction
Less expensive than Sealy VS0033 kit
Cons:
Standard type (not inflatable or cone-shaped) adaptors mean less adaptability for less common vehicles
The Best Air Powered Coolant Pressure Tester Kit on the Market
Astro Cooling System Pressure Tester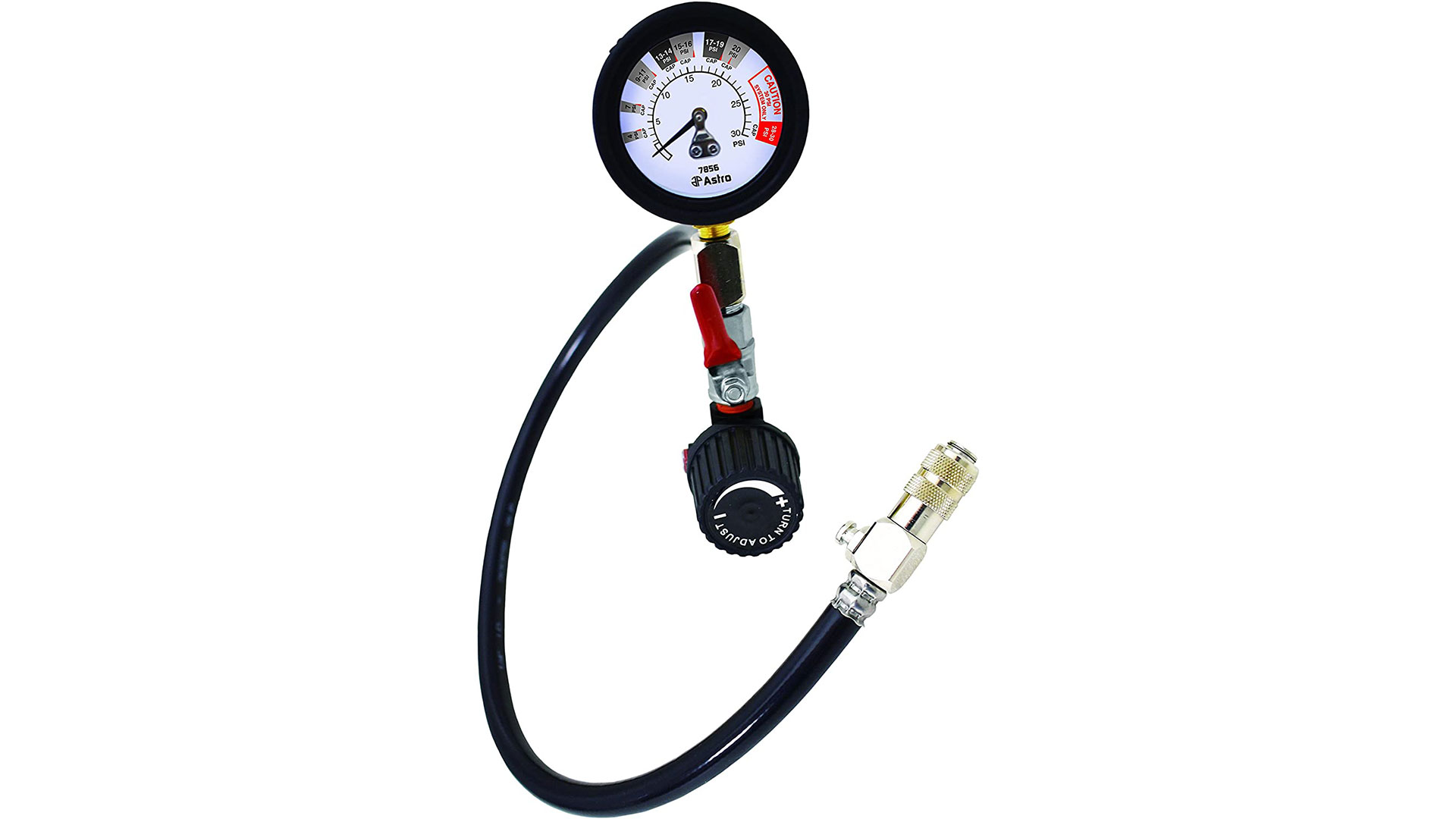 Check the latest price on Amazon
Our one and only air-powered coolant pressure tester kit listed here is supplied by Astro. You'd be forgiven for not knowing the name, but Astro Tools is big news in the US and have started emerging in the UK market in recent years. They specialise in professional grade tools and equipment, mainly sold to qualified mechanics but now being made available to the general public as well.
Their workshop bias is clearly shown here with the only air-pressure powered kit we have listed in our product comparison. The extra air pressure provided via a compressor allows for quick pressurisation of the cooling system, making it even easier to spot leaks than with a hand-powered alternative. The included regulator helps keep the testing safe with a 30psi limit, stopping pipes bursting or other damage happening to the cooling system of your vehicle.
The kit will fit directly onto most common adaptors and testing caps, commonly found in mechanics workshops but also widely available online. Like the hand-pump kits, the Astro offering will work with petrol and diesel engine-vehicles, but users will need the extra equipment to get started.
Pros:
Far cheaper than hand pump alternatives
Rapidly pressurises the coolant system
Regulator prevents pressures breaching 30psi
Fits onto most regular coolant system testing caps and adaptors
High quality equipment designed for professional workshops
Cons:
Brand not as well known in the UK tool market
Requires an air compressor to use
In Conclusion
Forget expensive diagnosis at a main dealer. Hours spent waiting with a terrible magazine and a lukewarm coffee. Taking control of your vehicles overheating issues is literally as simple as screwing on an adaptor and pumping some air in.
Anyone with the slightest mechanical knowledge or experience can undertake a coolant pressure test, even those that have never opened the bonnet of their vehicle could learn with online videos in a matter of minutes. These kits will last a lifetime, likely working with every future petrol and diesel car that you will own. Giving these kits a try could save you money and keep your car on the road.
If you liked the article, please share, leave a comment below and check out our other exciting articles.
Categorised in: Tools
Czok Newsletter