The Best Combustion Leak Test Kit
We're an affiliate
We hope you love the products we recommend! Just so you know, we may collect a share of sales or other compensation from the links on this page. Thank you if you use our links, we really appreciate it!
Head gasket leaks, cracked engine blocks and leaky cylinder heads are all signs of a seriously unhealthy vehicle. None of these items are cheap to replace or repair, with all being vital components of a car's engine, that often require serious knowledge and time to remove and replace. Leaks from head gaskets, heads and engine blocks can affect anyone in any vehicle; from a small motorcycle to a huge lorry.
Leaking engine components can cause all manner of symptoms. From annoying dashboard lights and occasional overheating to complete engine failure. Some of the lesser issues may convince unknowing owners to turn directly to a qualified mechanic and blindly accept a bill, no matter how large the outlay. Having more knowledge of the issue first-hand however, could save owners huge amounts and prevent the need for their vehicle to be in a garage for days or weeks.
A simple combustion leak testing kit (also known as head gasket tester and block tester) will allow even the least experienced home mechanics to decipher whether there are CO2 gasses present in the cooling system, a clear sign that engine gasses are leaking out via cracks in the block, head or head gasket. A negative result will allow investigation for alternative causes, especially useful when symptoms are intermittent or could be caused by a wide variety of factors. What's more, these kits are suitable for nearly all engines, powered by petrol or diesel.
The Best Combustion Leak Testing Kits For Head Gaskets, Engine Blocks & Cylinder Heads
Sealey Combustion Leak Detector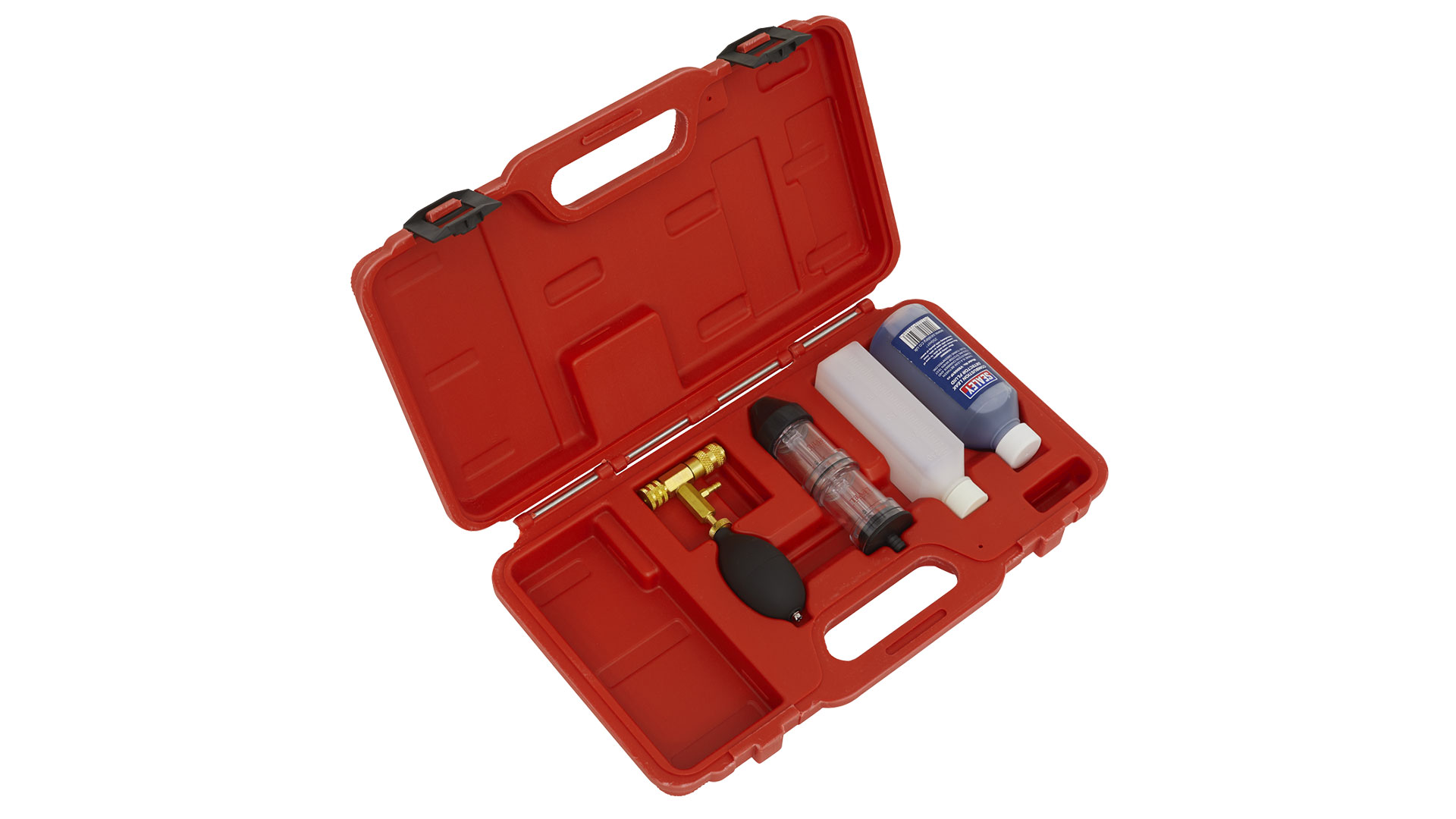 Check the latest price on Amazon
The first of our leak testing kits hails from tool manufacturer Sealey. The UK-based firm has been active since 1978, constantly expanding its range and have now supplied tools for hundreds of thousands of professionals and amateur DIYers. Sealey offers tools worldwide, with over 10,000 product lines. The company is constantly evolving and improving current offerings too, ensuring only the best quality and most accurate tools.
They promise that their combustion leak detector is no exception to the company's usual rigorous quality standards. Sealey states that the kit will accurately test for CO2, present in the vehicles coolant and clearly indicate the presence of any leaked combustion gasses. This will help decipher and uncover cracked blocks, heads or head gasket leakage in both diesel and petrol vehicles.
The kit comes with a cone adaptor to suit most types of vehicle radiator/ coolant overflow cap, ensuring easy use for nearly all vehicles. The kit is simply attached to the top of the radiator or coolant tank and filled with the testing fluid from the top. Then, once the vehicle is started, steam will begin to rise into the testing tube, where it can be moved (using the hand pump) into the testing liquid which will change colour if CO2 gasses are present. This is a simple process, with accurate instructions included meaning almost all motorists could undertake the leak test at home.
Pros:
Well known tool manufacturer
Clearly indicates the presence of CO2 in the coolant
Suitable for use with nearly all vehicles
Simple test to perform
Cons:
Most expensive testing kit here
Laser CO2 Leak Detector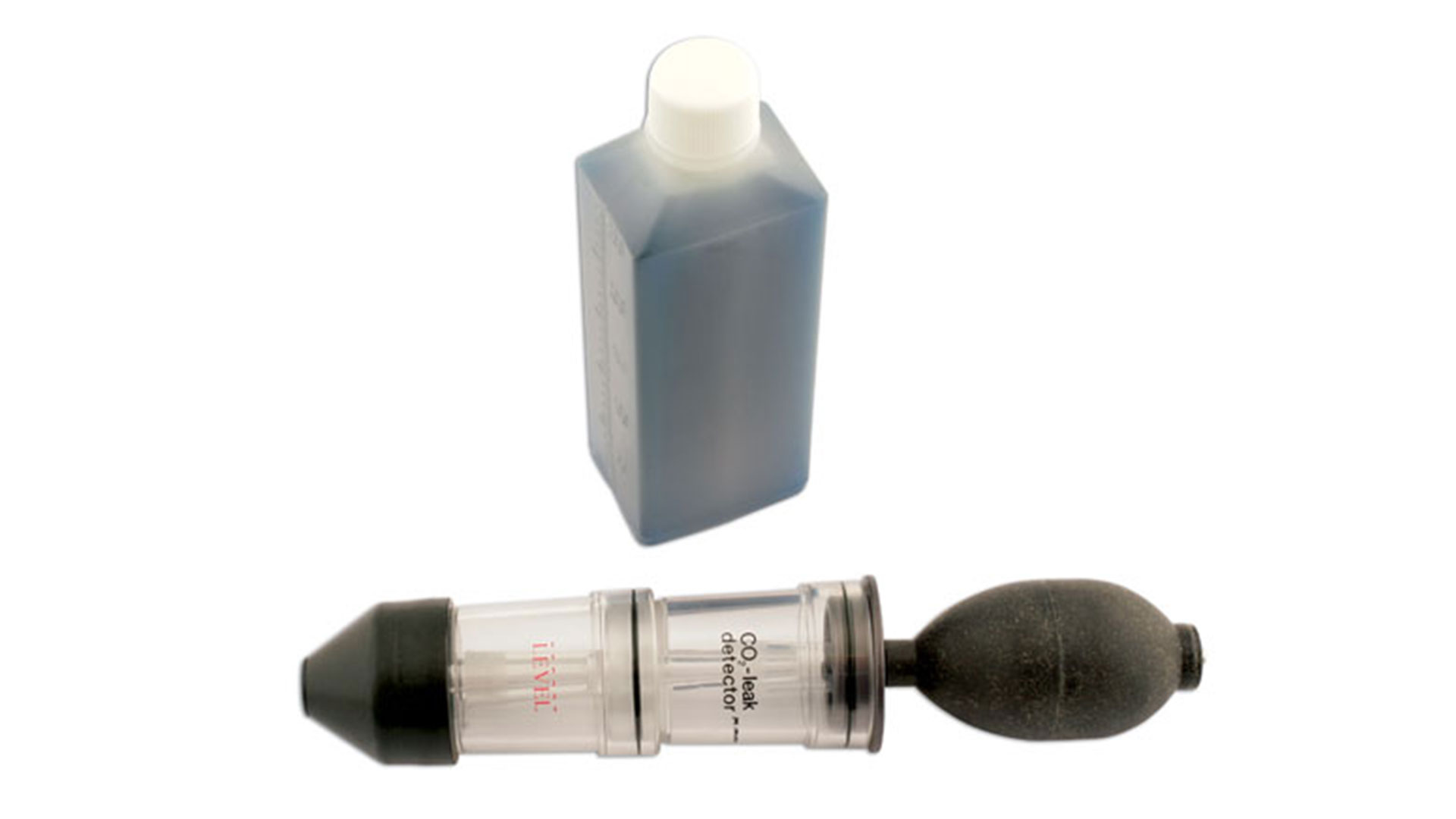 Check the latest price on Amazon
Like rivals Sealey, Laser Tools are a UK-based manufacturer of tools and parts, ranging from plastic fixing screws to air compressors and even PPE. They don't just hold a huge range of products, but also back their claims about quality and durability, supplying professionals in the automotive industry as well as home mechanics and DIYers. The company has been active since 1976 and they are constantly bringing new products to market, whilst also improving on current offerings such as their CO2 leak detector kit.
Laser's CO2 leak detector is an almost identical copy of the Sealey offering, using a sample fluid that tests the steam emitted from the cars cooling system to check for the presence of CO2, indicating a leak of combustion gasses. The high levels of CO2 produced via combustion are easy to distinguish from regular air, thanks to CO2 levels of around 13-14% after combustion.
The kit is used in much the same way as Sealey's, placing the tube into the radiator/ coolant tank using adaptors provided and running the vehicle until steam begins to rise from the coolant. The steam can then be mixed with the testing fluid, which will change from blue to a yellow/ green colour if CO2 levels are high enough, indicating a leak.
Pros:
Well known UK tool manufacturer
Accurately tests coolant CO2 levels
Simple to use at home
Works with most petrol and diesel vehicles
Less expensive than Sealey leak test kit
Cons:
KTLine CO2 Tester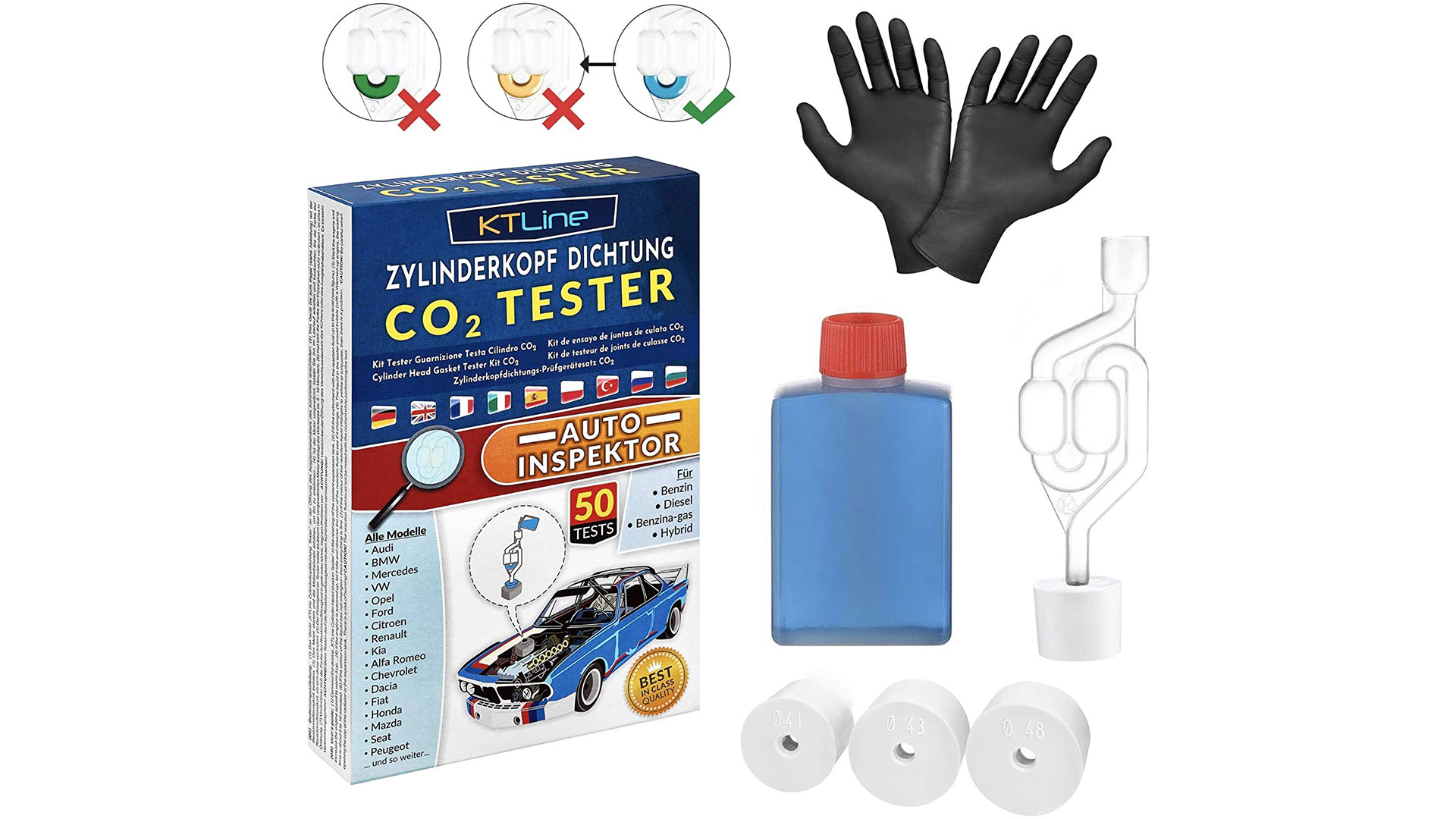 Check the latest price on Amazon
The last product we featured here comes from a German brand called KTLine. While we couldn't find much information on the brand specifically, the kit does appear to be selling well and receiving good customer feedback, indicating a high-quality product. The company only appears to sell this CO2 testing kit at the current time, suggesting much thought and effort is placed into the product. This may also signal another new tool manufacturer, ready for expansion into further avenues.
The KTLine CO2 tester comes equipped with a set of adapters and testing fluid, everything needed to perform a thorough test on the vehicle's coolant. The colour of the fluid will change to indicate the presence of combustion gasses, in a very similar fashion to those previously mentioned, albeit in a tester with a different shape.
The kit, which is suitable for both petrol and diesel-powered vehicles, is very simple to use. The testing tube is placed into the radiator cap/ coolant tank with the cap removed and adaptor used to fit most opening sizes. The testing fluid is then added before running the engine, the steam will automatically pass into the fluid (no need for manual intervention, unlike rival offerings) and change the colour if CO2 gas is detected, giving a clear indicator of whether or not the vehicle is leaking combustion gasses.
Pros:
Least expensive test kit listed
Works with most petrol and diesel vehicles
Everything included for CO2 test
No need for manual intervention to mix coolant steam with testing fluid
Cons:
Brand without huge reputation
In Conclusion
Simple tests, that give accurate results and could be the difference between major repair work and minor inconveniences. Garages, main dealers especially, will likely charge more than the purchase price of these kits to test for combustion gasses in the coolant, while also requiring you to drive to and from the garage as well as waiting while tests are performed. Seems like a needless chore, when it can all be done from the comfort of home.
The difference between a head gasket replacement (or other major engine work) and using one of these kits could mean the difference between a vehicle staying on the road or being scrapped completely. Don't let the initial signs convince you that your vehicle is no longer suitable for use, it could be something much simpler and less expensive. Always check for leaks before emptying your pockets into the hands of your local garage. Checking for yourself first will give confidence and peace of mind, helping you get your vehicle fixed and back on the road with a correct diagnosis.
If you liked the article, please share, leave a comment below and check out our other exciting articles.
Categorised in: Tools
Czok Newsletter