The Best Engine Oil Pressure Testing Kit
on 21 January 2021
/ 1 Comment
Updated on: 16th February 2021
We're an affiliate
We hope you love the products we recommend! Just so you know, we may collect a share of sales or other compensation from the links on this page. Thank you if you use our links, we really appreciate it!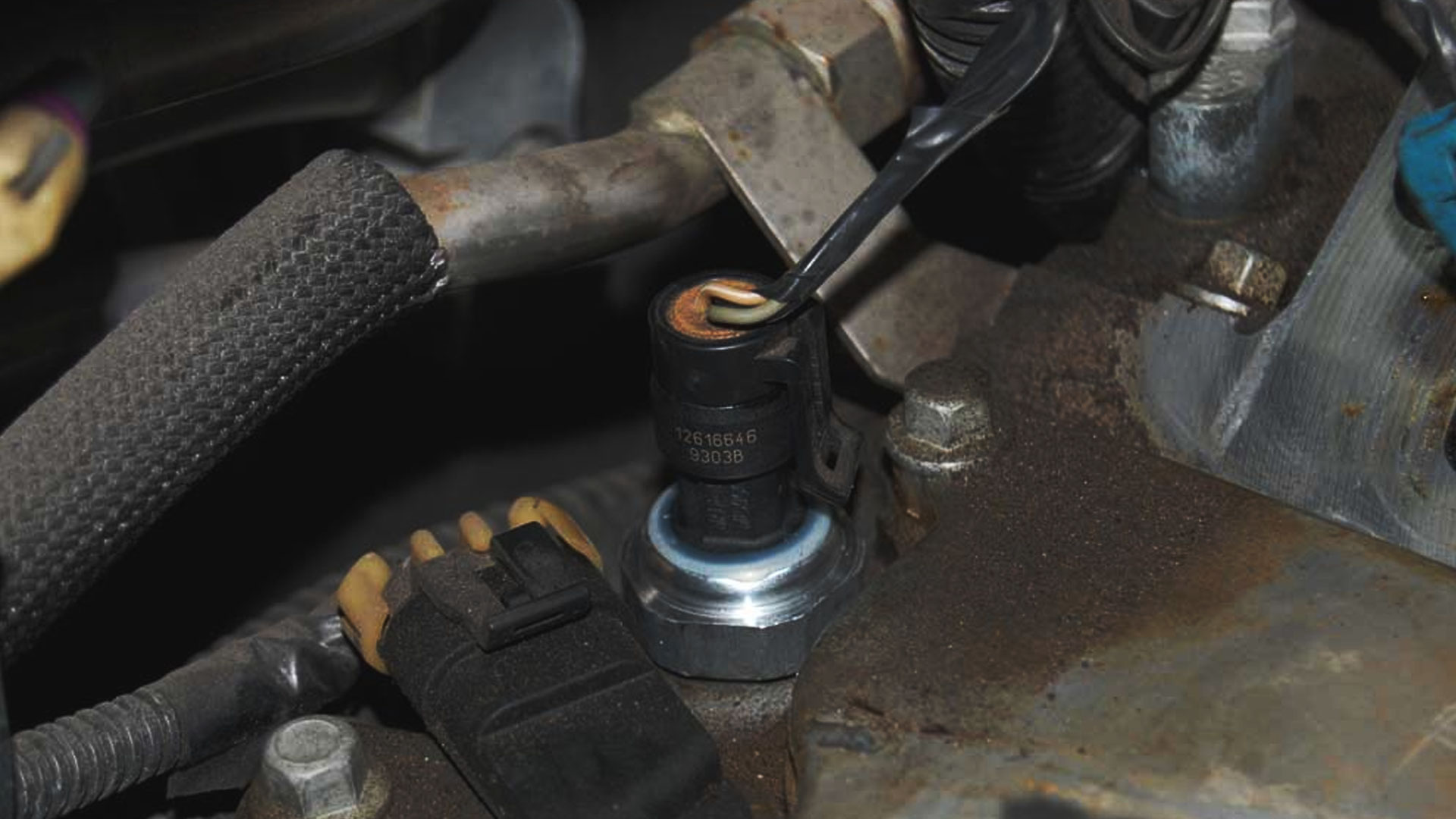 Like blood pressure for your heart, oil pressure is essential to a car's engine. Too little will mean insufficient oil flow around the engine, resulting in excess friction and heat before eventual failure. Likewise, too much oil pressure could also spell disaster, with the oil unable to lubricate effectively, though this is far less common in automotive applications.
Many cars are fitted from factory with oil pressure gauges, allowing owners to visually check on the pressure within the engine. Many older cars however, are not fitted with such luxuries and as such an oil pressure test kit is the best way to check the oil pressure within the engine. These may also be useful for cars that have oil pressure sensors, as these can often be faulty or "favour" certain readings.
Reduced performance, excess fuel consumption and dashboard warning lights could all signal that a vehicles oil pressure is not right. Failing oil pumps or low oil levels are the common causes of low pressure, while overly high pressure is normally caused via blockages in the engine or a clogged oil filter. Diagnosing the oil pressure of a vehicle is something that sounds complex but can be done at home with one of these simple kits, without expert knowledge or specialist tools.
Kits like these are suitable for petrol and diesel engined vehicles, they come with a whole host of adaptors for different thread sizes so will fit nearly all vehicles on UK roads.  To use, remove the existing oil pressure or temperature sensor from the engine (use a manual or online guide to find the location for your vehicle), ensuring the engine is cold. Then, screw in the correct adaptor and attach the gauge before starting the car and taking the pressure readings. Once finished, simply reverse this process and re-install the engine's oil sensor.
The Best Oil Pressure Testers on the Market
Draper 43054 12 Piece Oil Pressure Test Kit
Check the latest price on Amazon
Over 100 years of industry experience and a huge portfolio of high-quality tools make UK tool manufacturer Draper a brand you can trust. Draper manufactures their own tools in the UK and also oversees operations at related brands such as Britool and King Dick. Their massive sales in the market have seen Draper on the shelves of most garages, from basic DIY toolsets to professional automotive workshops.
Drapers 12-piece kit is designed to give clear readouts of oil pressure, with a clear to read scale from 0-145psi. This allows for clear indication of oil pressure that is too low or too high. The 1.4m flexible hose allows for readings to be seen as engine revs change from within the car, making this a useful tool for solo mechanics.
10 different adaptors are included in the kit, allowing adaptation to most UK vehicles, suitable for both petrol and diesel. The 90° adaptor included in the kit allows for use in tight engine bays.
Pros:
Brand with huge experience in specialist tools
Clear, easy to read pressure gauge
Lots of adaptors to suit most vehicles
Easy to use
Cons:
Most expensive kit listed
Sealey VSE203 Oil Pressure Test Kit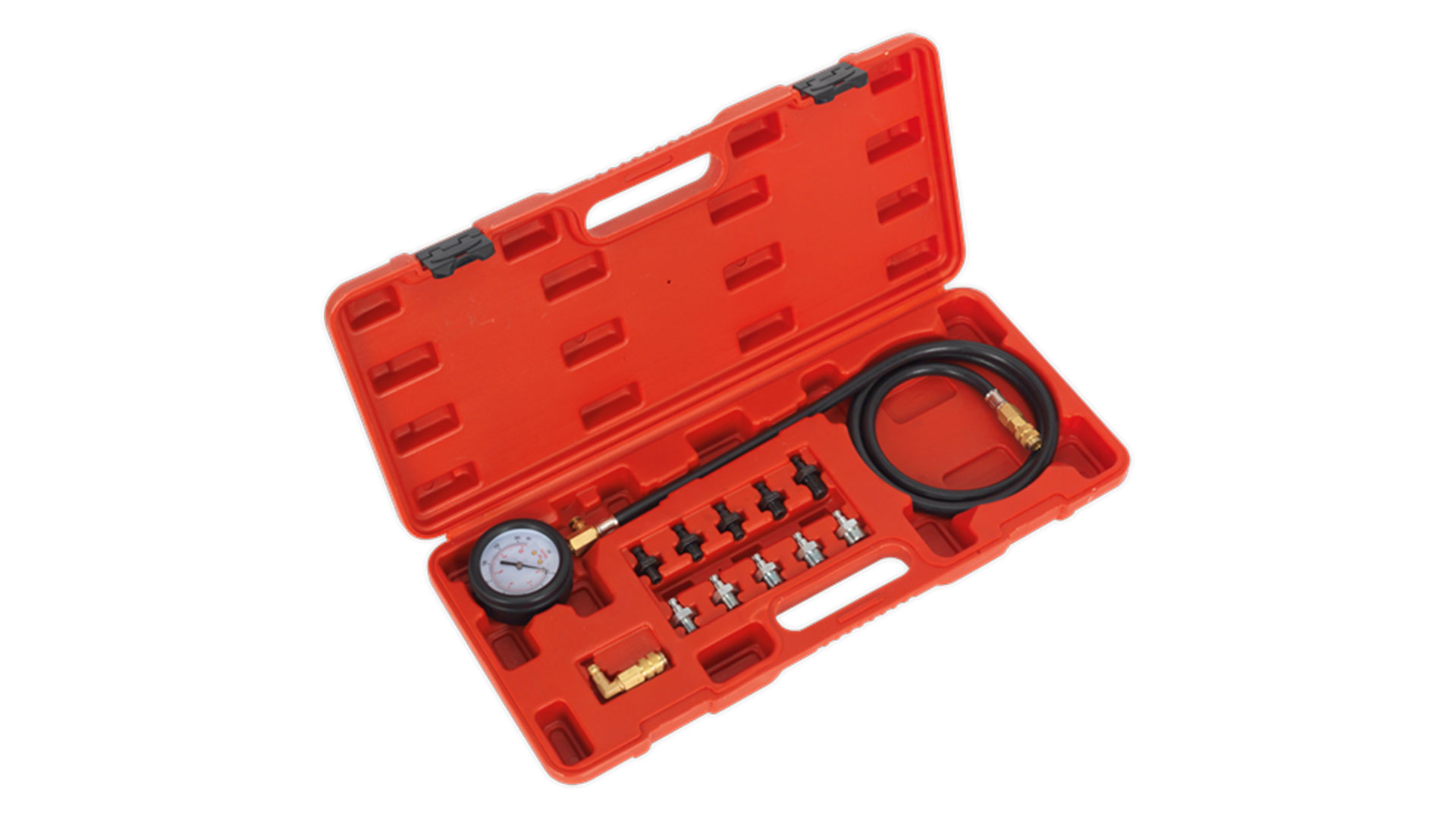 Check the latest price on Amazon
The second oil pressure testing kit hails from tool manufacturer Sealey. The UK-based firm opened its doors in 1978 and have been constantly expanding their range over the last four decades. Sealey has supplied tools for hundreds of thousands of professionals and amateur DIYers alike. The brand offers tools worldwide, with over 10,000 products available. Sealey are constantly improving current offerings too, ensuring only the best quality and most accurate tools.
Another 12-piece kit with a simple gauge for pressure readouts allows for easy diagnosis and understanding of whether the engine making good oil pressure. A 90° adaptor is included for those vehicles with sensor locations that are hard to reach, helped further by the 1.3m of flexible hose for using the gauge next to or in the vehicle.
Sealey's kit contains 10 different sized adaptors which means it should be suitable for nearly all UK vehicles, petrol or diesel.
Pros:
UK tool manufacturer
Great brand reputation in the automotive industry
Flexible hose and 90° adaptor make easy work of hard-to-reach sensor locations
Suitable for nearly all vehicles
Cons:
Gauge may be hard to read at a glance, no significant markers for high/ low pressure
Clarke CHT712 Oil Pressure Test Kit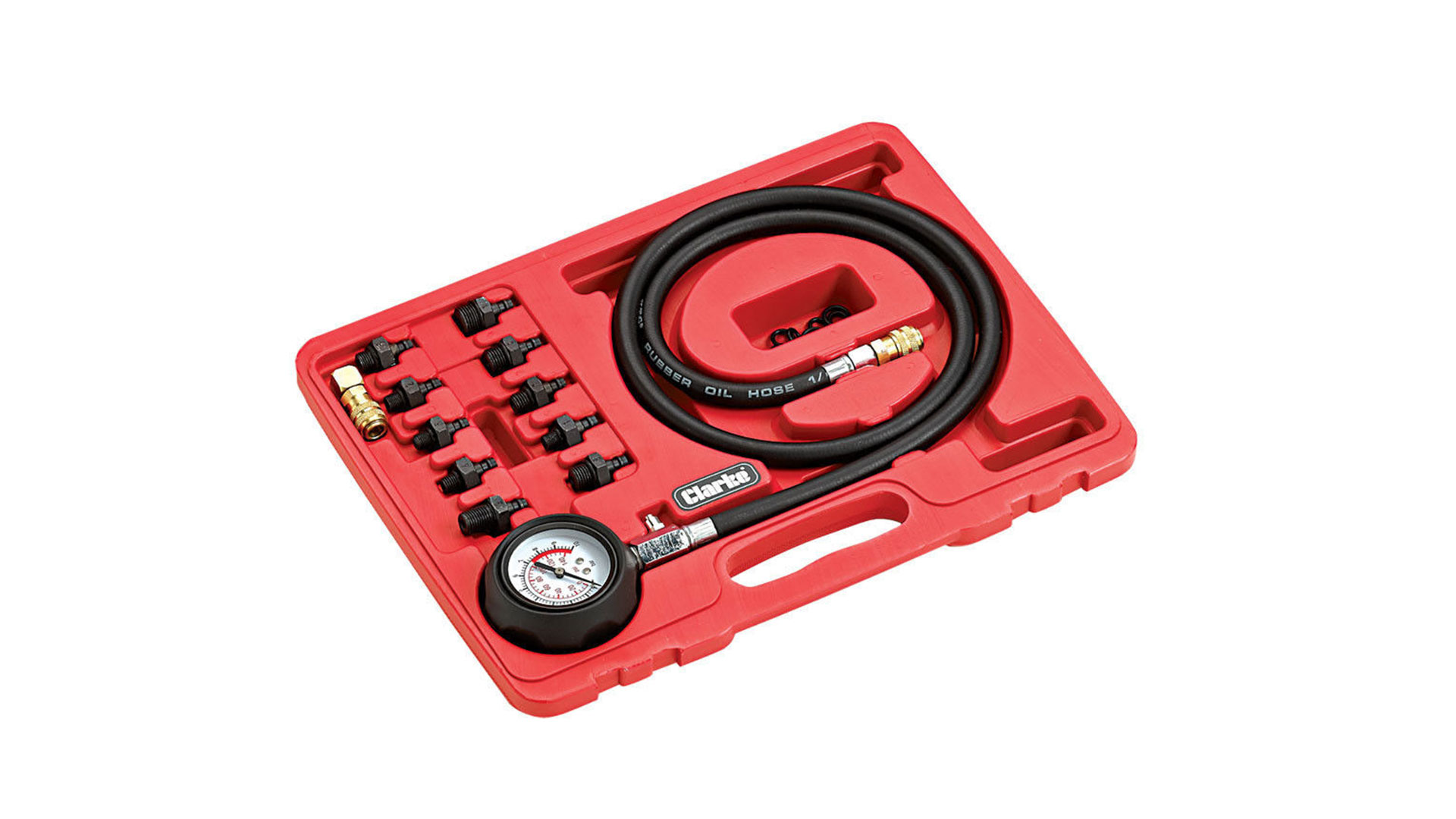 Check the latest price on Amazon
Last up we have Clarke's offering. The company is not as well known as their UK rivals, coming in at a lower price point but promising good quality tools nonetheless. Clarke pride themselves on their rigorous testing, holding all their products to UK and European standards since their inception in 1969. They now carry over 3000 product lines ranging from professional grade power tools to home-biased tools such as their oil pressure test kit.
Like the aforementioned products, this is a 12-piece kit, consisting of 10 threaded adaptors, connector and gauge attached via a flexible hose. The gauge has a clear "red zone" to show excess oil pressure with ease, while the 1225mm flexible hose allows users to read the pressure while next to or inside the vehicle.
10 different adaptors allow the kit to fit almost all UK vehicles, though the lack of angled connector could make it difficult to use in cramped conditions. The kit will work with both petrol and diesel vehicles.
Pros:
Least expensive kit listed
Experienced UK tool designer and manufacturer
10 different adaptors
Clear, easy to read gauge
Cons:
Lack of 90° connector could make use difficult in tight engine bays
In Conclusion
Incorrect oil pressure could spell the end for any engine. Internal damage due to oil pressure that is too high or low will likely cost thousands to fix, not to mention the days/ weeks that the car will be in the hands of the local garage.
Checking the oil pressure of your vehicle, should symptoms arise, could save you dearly. This is also a great check to perform on a recently purchased vehicle, helping ensure long term reliability, performance and engine longevity. These kits don't need years of training or a chest full of specialist tools. You'll likely only need a couple of spanners and an hour at most. What's more, a kit like this can be used over and over and sold on second hand. It could be a great long-term investment in your vehicle's reliability for less outlay than a couple tanks of fuel.
If you liked the article, please share, leave a comment below and check out our other exciting articles.
Categorised in: Tools
Czok Newsletter