The Best Turbo System Boost Leak Tester
We're an affiliate
We hope you love the products we recommend! Just so you know, we may collect a share of sales or other compensation from the links on this page. Thank you if you use our links, we really appreciate it!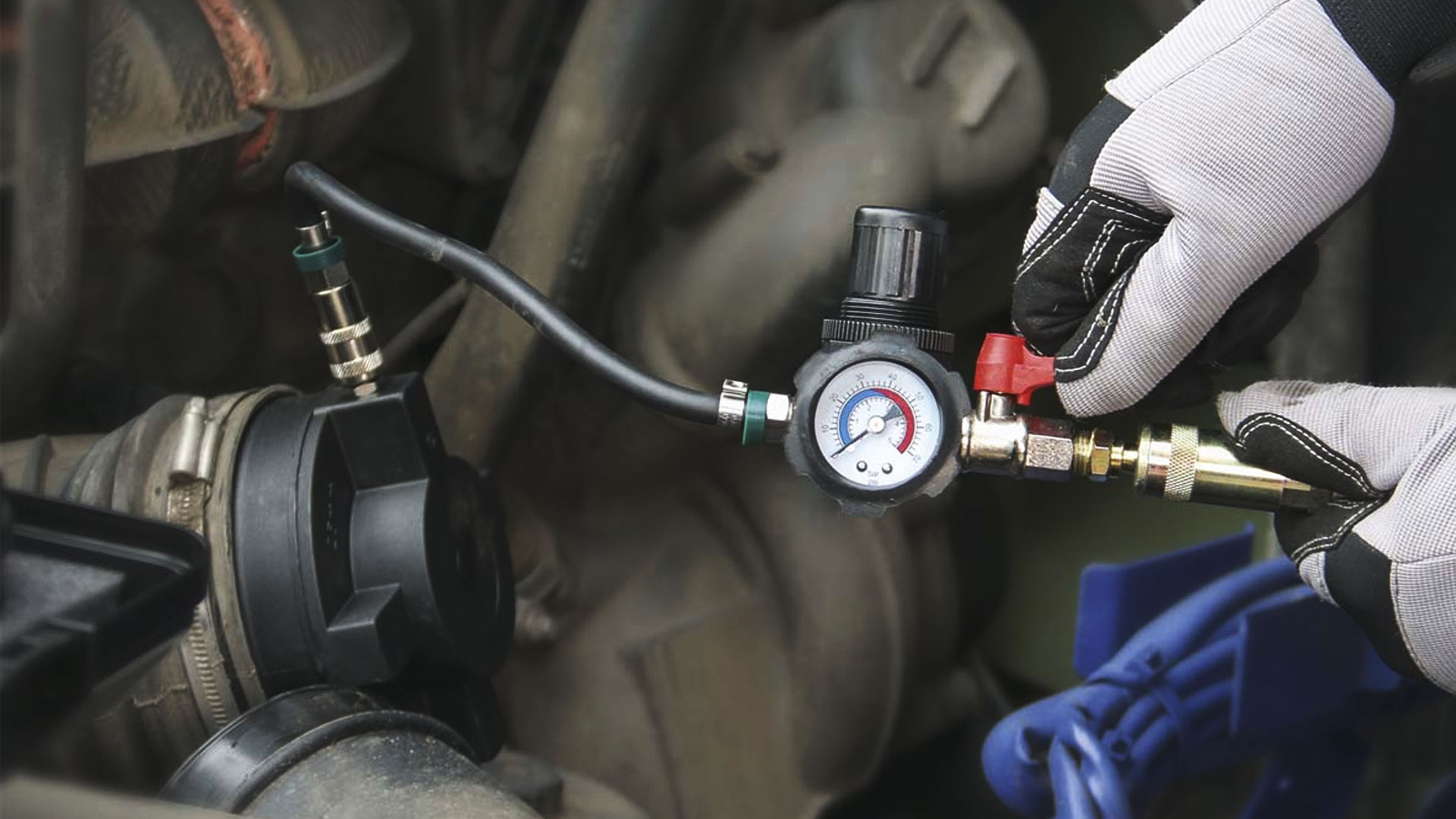 Expensive diagnosis. Without your vehicle for days or weeks. Taking time out of work to visit the dealer. We've all experienced and grimaced at the annoyance that goes hand-in-hand with vehicle malfunctions. Even the smallest of issues, such as an air leak, can leave a vehicle without proper power and performance, likely ruining fuel economy and leading to inevitable garage visits as a result.
With a huge percentage of new vehicles now featuring turbo systems, leaks will and are becoming an increasingly common issue. Leaking turbo boost pressure will significantly drop engine power output and leave the vehicle feeling weak and cause inefficient running. Finding leaks is often difficult without specialist equipment, leaving many home mechanics feeling as though they are chasing their own tail.
Enter the turbo system leak tester. Commonly known as a boost leak tester, these all-inclusive kits that allow for diagnosis and accurate leak finding without the need for external assistance and don't even require the engine to be running. Leak testers pump pressurised air through the turbo system, allowing leaks to be easily spotted and cured, to get the engine running back at its best.
Comparison Table
| | | | |
| --- | --- | --- | --- |
| | | | |
| Product | Sealey VS2030 Turbo System Leakage Tester | Lisle 69930 HD Turbo Test Kit | Laser Tools 7981 Turbo System Tester Set |
| Adapter Sizes | 35-90mm (5mm Increments) | 75-110mm (5mm Increments) | 31-38mm, 46-90mm (5mm Increments) |
| Adapter Type | Stepped | Stepped | Stepped |
| Smoke Adapter | No | Yes | Yes |
| Storage Case | Yes | Yes | Yes |
| Price | | | |
| | Buy on Amazon | Buy on Amazon | Buy on eBay |
Prices last updated on 26-09-2023
Things To Consider
Compressed air source
Boost leak testers will require an external pressurised air source, commonly referred to as "shop air", this requires an air compressor.
Other tools required
Basic tools such as a socket set will also be essential to loosen the correct hoses, allowing fitment of the suitable adaptors.
Basic knowledge/research
Bear in mind that those with no knowledge on turbo systems, intake hoses, intercoolers etc should not attempt to use one of these kits, without doing a little research beforehand.
The Best Boost Leak Testers on the Market
Sealey VS2030 Turbo System Leakage Tester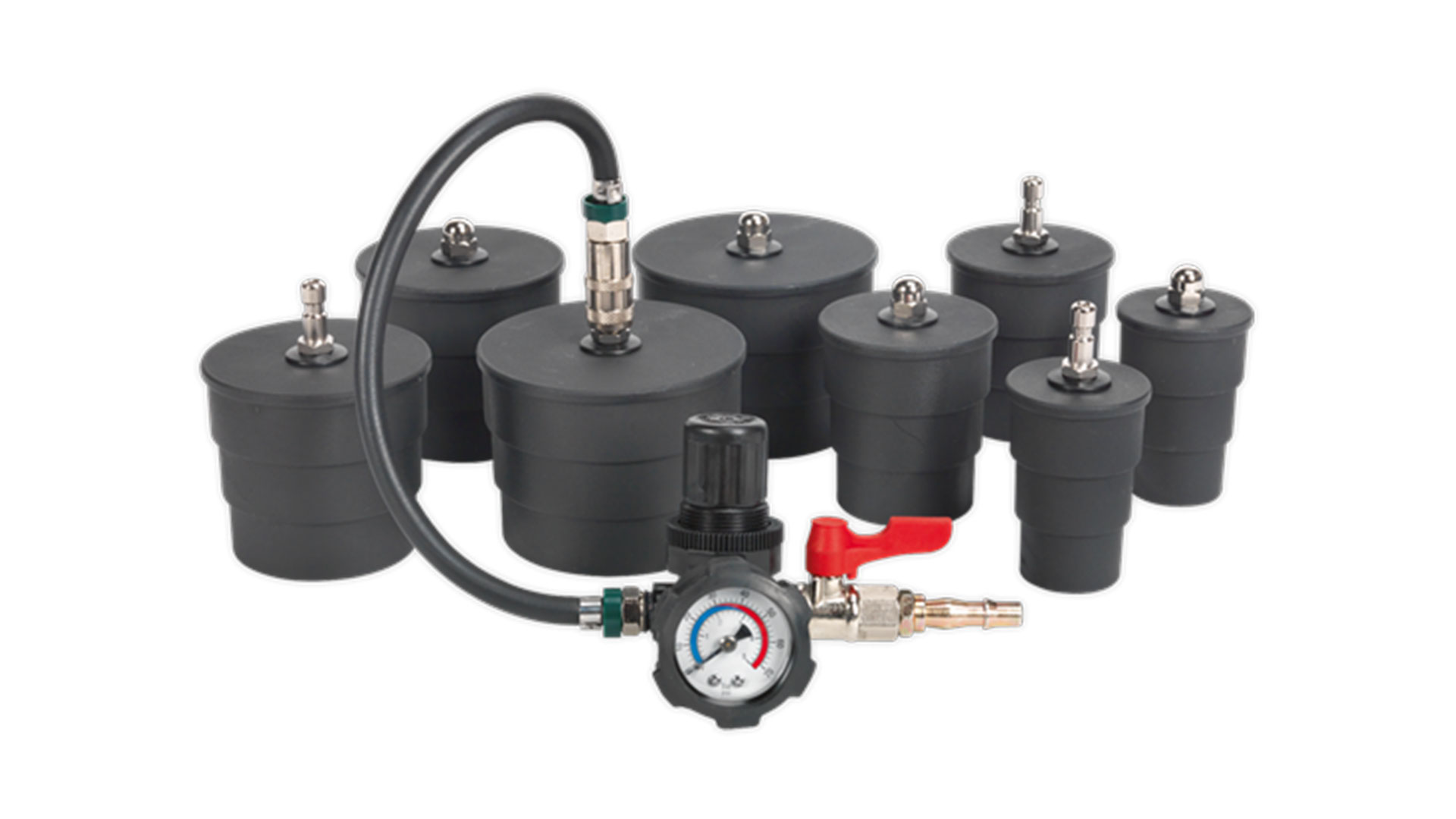 Check the latest price on Amazon
The first boost leak tester comes from UK-tool manufacturer Sealey. They are a brand that needs little introduction thanks to over 40 successful years in the business. Constantly expanding tool line-ups have allowed the established brand to keep attracting new customers, meanwhile, high tool-quality standards mean existing customers are always likely to return. Thousands of DIYers form across the world have benefitted from the brands experience and knowledge over the last 40 years, with Sealey now offering their tools across the globe.
Designed to fit any turbo vehicle, this highly adaptable kit aims to make leak finding easy and accurate. A huge range of adaptors permit fitment of intake pipes from 35mm to 90mm in diameter and allow for quick installation, with the handy pressure gauge giving accurate readouts and clearly showing any pressure drops.
The tester set is also usable on cooling systems, features a safety pressure release valve and comes contained in a handy carrying case. The kit is also backed by Sealey's one year guarantee for faulty tools.
Manufacturer: Sealey
Part Number: VS2030
Adapter Size(s): 35-90mm (5mm Increments)
Smoke Adapter: No
Storage Case: Yes

Pros:
Least expensive boost leak tester featured here
Highly regarded automotive tool brand
Huge number of adaptors to suit nearly any UK vehicle
Pressure release included to safely control air pressure
Cons:
Adaptors may not be large enough for large diesel engines and trucks
Lisle 69930 HD Turbo Test Kit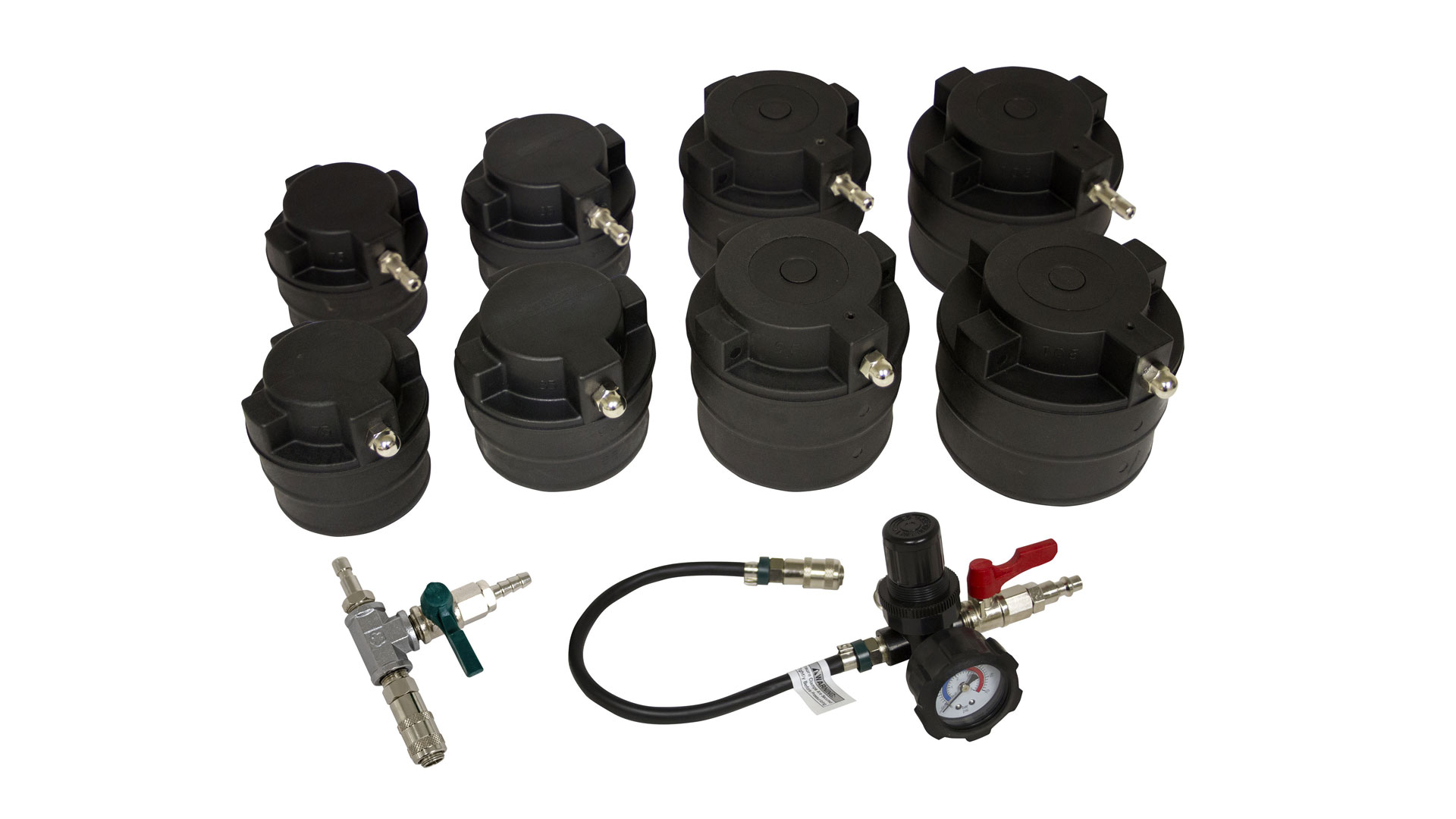 Check the latest price on Amazon
Lisle Corp may not be a brand common with UK customers, but its roots are spread incredibly deeply in the US automotive space. In operation for over 115 years and having spent nearly 100 of those working in the automotive sector, Lisle are no newbies to the game. Their tools have been breaking boundaries and leading to new solutions since the start. Now with over 650 unique products, Lisle Corp is expanding operations and breaking into the UK market with specialist automotive tools such as their HD turbo test kit.
In a kit designed specifically for use in heavy duty applications (such as large diesel engines found in trucks and boats etc), Lisle supplies a set of 10 adaptors to enable fitment to nearly any large turbo system, for accurate leak testing. Smoke can also be piped in, with compressed air, to easily pinpoint leaks in the system.
The set can also be used on cooling system hoses and features a pressure regulator to prevent dangerously high levels of pressurised air.
Manufacturer: Lisle
Part Number: 69930
Adapter Size(s): 35-90mm (5mm Increments)
Smoke Adapter: Yes
Storage Case: Yes
Pros:
Tool brand with extensive automotive history
Heavy duty, high quality tools
Can be used with smoke or compressed air
Cons:
Most expensive set listed
Only suitable for large diameter pipework
Laser Tools 7981 Turbo System Tester Set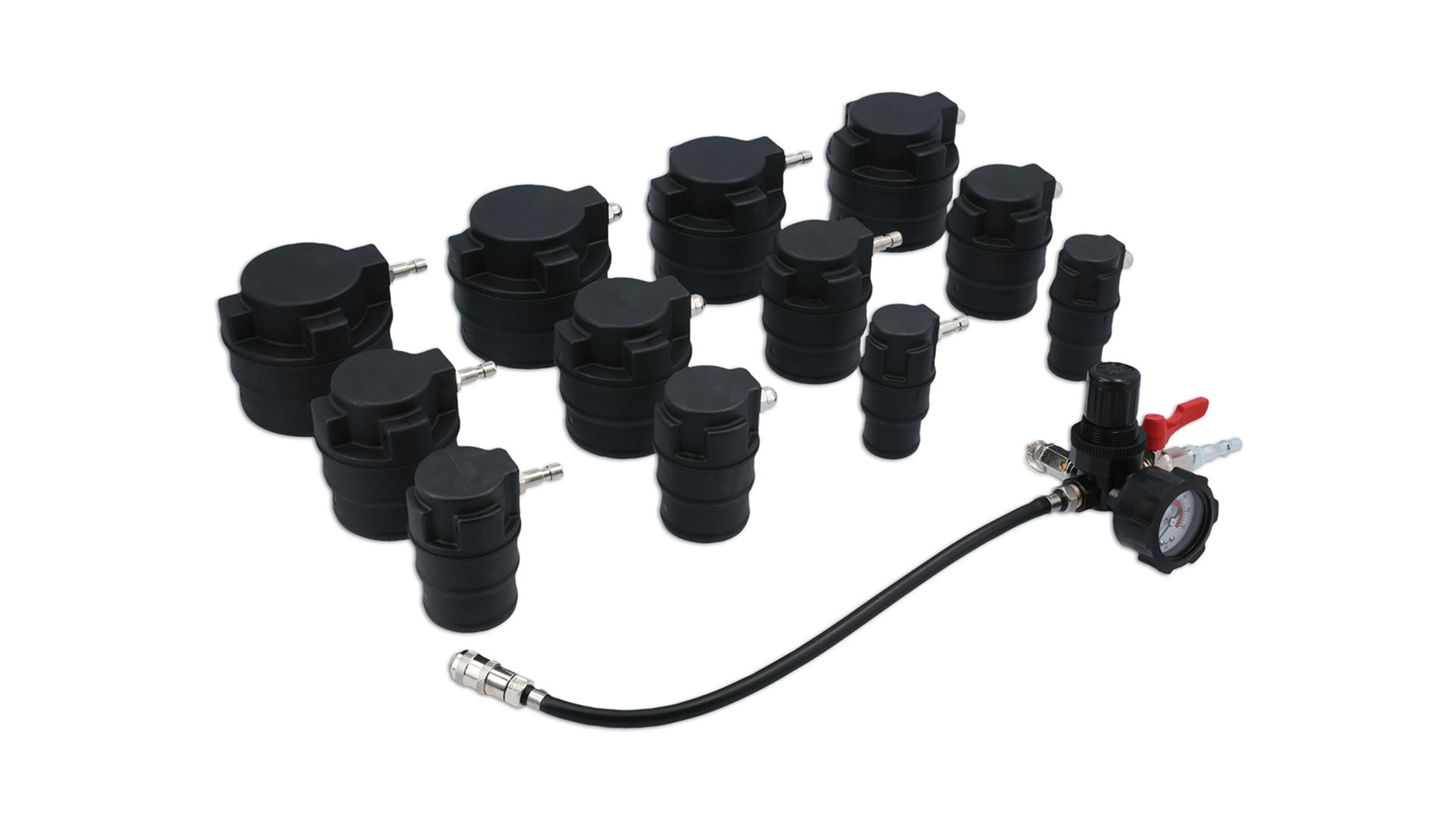 Check the latest price on eBay
Last up we have Laser Tools. Here is another UK tool manufacturer, stocking a huge range of automotive parts and tools to cover almost anything a home mechanic or professional workshop may need. Laser keep their tools up to rigorous quality standards, allowing them to compete at a professional level as well as in the general consumer space. Since their humble beginnings in 1976, the brand has come on leaps and bounds with new tools, though they always keep one eye firmly on current lines to ensure they are up to date and retain superb quality. One such example of this is the brands turbo system tester set.
This 12-piece kit is designed to adapt to the majority of UK vehicles, to allow for easy and accurate resolutions of any leaks in the turbo system. The set is suitable for a huge range of pipe diameters with the included adaptors covering most pipes from 31mm up to 90mm.
Useful for turbo and cooling systems. The set comes with a pressure regulator for safety and a handy carry case.
Manufacturer: Laser Tools
Part Number: 7981
Adapter Size(s): 31-38mm, 46-90mm (5mm Increments)
Smoke Adapter: No
Storage Case: Yes
Pros:
UK tool manufacturer
Suitable for nearly all turbocharged UK cars
Pressure regulator keeps usage safe
Can also be used on cooling systems
Cons:
No warranty given or implied
In Conclusion
Solving a turbo system leak at home can be incredibly rewarding, restoring lost performance and economy without unneeded and expensive trips back to the main dealer. What's more, they take little to no time to setup and can be used on a huge variety of vehicles.
Initial purchase price may seem a little expensive, but with nearly all modern vehicles in the UK featuring a turbo system, it is highly likely that your future vehicles will have turbochargers fitted to them too. This means that one of these kits could come in handy for many years to come.
If you liked the article, please share, leave a comment below and check out our other exciting articles.
Categorised in: Tools
Czok Newsletter