The Best Car Underseal
We're an affiliate
We hope you love the products we recommend! Just so you know, we may collect a share of sales or other compensation from the links on this page. Thank you if you use our links, we really appreciate it!
Rust can be a nightmare for owners of older vehicles. Over time, water, stones and other road debris will attack the underside of your vehicle and take away the protective layers of paint and coating. Once exposed, the raw metal will only last so long before the brown scourge, that is corrosion will begin to take hold.
In particularly harsh environments such as the UK (high levels of rain, salted roads etc..) cars can begin to corrode on their underbody within just 2 or 3 years of leaving the factory. Once it takes hold, rust can spread quickly throughout your vehicle. It can not only ruin aesthetics, but can cause parts to fail and even structural weaknesses created, that could become fatal in the case of an accident.
Protecting your car's underbody then is a really good idea if your value your vehicles road worthiness and safety in the long term.
The Benefits of Underseal
Rust can be repaired once it inevitably appears on your vehicle. It will likely set you back thousands of pounds however and lead to you being without your vehicle for days or even weeks. Some vehicles can rust to the point where they are no longer safe to be driven on the road and need to be scrapped. Why not prevent all this heartache and cost by undersealing your vehicle before the problems start?
Under seal acts as a barrier for the metalwork of your vehicle. It simply coats the metal on your car and protects from the water, salt and other road debris that will, over time, eat away at the paint and start the corrosive processes that lead to terminal rust. Under seal products, such as those listed below, can protect your car for years to come as well as giving a pleasing surface finish without any special skills needed to apply.
The Options for Underseal
When it comes to choosing the right under seal product for your vehicle, it is very easy to become overwhelmed by the types and brands available. For simplicity, most underseals are split simply into either a bitumen-based or waxed-based formula.
Bitumen products are generally found at the cheaper end of the market and are an effective way to underseal your vehicle, albeit one that is unlikely to last more than a couple of years. However, application is fairly straight forward and the products often very inexpensive to purchase, so could be a great temporary solution or long-term option if you're willing to reapply periodically.
Wax products are nearly always the more expensive but harder wearing and longer lasting options available. Traditional underseals have been waxed based ever since their introduction, with many top UK brands finding their feet with this category of underseal product. Though these products will still not have an unlimited lifespan. Extremes in temperature and consistent wet conditions (something we see regularly on our shores) will cause the product to wear, so maintenance and upkeep is still vital to keep your vehicles underbody sealed, away from the elements.
Products will generally be applied via a paint brush or sprayed from an aerosol can. The results will not vary much in quality or strength, so we would recommend choosing the options that best suits your application needs. Brushing on is obviously more accurate, while aerosols make the process quicker but come with a high risk of overspray.
Below are some recommendations for the best products currently available for unbody vehicle coating, to make the choosing process a little easier.
The Best Underseal Products on the Market
1. Hammerite Underbody Seal with Waxoyl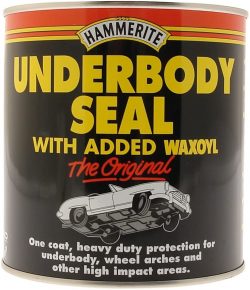 Buy on: Amazon
The classic underbody sealing product that comes in varying quantities, for use with a brush. Arguably one of the finest underseal products on the market. Waxed-based for maximum protection for your vehicle, from a well trusted brand, promising to seal the underside from the elements and road debris. Can be applied to any bare metal, with promises to prevent corrosion from taking hold of the underbody panels.
Hammerite's product is relatively heavy duty thanks to its formula, particularly when compared with bitumen products. Only one coat is required to reach the maximum protection and strength for the underseal, while the can will need to be re-sealed carefully in order to maintain its critical properties and the underseal from denaturing.
Hammerite as a brand is extremely well known for their paint and coating products, constantly topping UK sales charts for these categories of products. Waxoyl has been used by enthusiasts for well over 50 years to protect their vehicles, as vehicles are made of materials with better corrosive materials in recent times, the formula will work better now than ever to protect your pride and joy.
Pros:
High level of protection
Wax-based sealer
One coat application
Corrosion resistance
Cons:
Degrades if left unsealed
Aerosols superior for smaller and harder to reach applications
More expensive than bitumen products
2. Hammerite Underbody Aerosol

Buy on: Amazon
Hammerite's famous underbody seal blend in a simple to use aerosol can. Smaller capacity than the traditional brush-on option, but easier application for those hard to reach areas. Combine aerosol and brush-on for the ultimate combination of products. Apply to any bare metal surfaces, with just one coat needed to cover the underbody and protect your vehicle from the environment, as well as providing protection from salted roads, commonplace in the UK during winter months.
The aerosol can provide ease of use for application, making it much easier to coat difficult parts that are increasingly common on modern vehicles, with the possibility of saving hours of labour if you are having the coating applied by a professional.
As stated on the previous offering, Hammerite is an incredibly well trusted brand, particularly when it comes to paints and coating products, well over 50 years in the industry should give you confidence when making your purchase.
Pros:
Wax-based coating
Long lasting protection
Resistance to corrosion and rust
Easy to use aerosol can
Cons:
More product used than brush-on method
More expensive per litre
3. Liqui Moly Bitumen Underseal

Buy on: Amazon
Trusted offering from Liqui Moly. Bitumen-based aerosol can for vehicle undercoating, protection and corrosion inhibition. For coating bare metal or to top-up existing coatings already applied to your vehicle. Liqui Moly is unique in its claims to patch any areas of existing coating that have worn off over the months and years. The aerosol is sprayed on in a single layer and will leave a pleasing smooth satin black finish.
The highly resistive product promises to provide protection on par with that of wax-based products, preventing damage and corrosion from blighting the underbody of your vehicle. The thick material also promises to provide sound deadening to reduce the amount of road noise entering your cars cabin.
Before application Liqui Moly states that the underbody should be thoroughly cleaned, with all paint removed, corrosion treated and any contamination cleaned from the metal before application. Any errors in application may lead to the coating failing more quickly, while the bitumen-based underseal is likely to last less time than a wax-based alternative.
Pros:
Highly resistive formula
Good corrosion resistance
Ability to patch previous underseal
Thick layers providing good protection and sound deadening
Cons:
Requirement for clean underbody
Large amount of preparation for application
Can become brittle due to bitumen-based nature
4. Comma Underbody Seal

Buy on: Amazon
Budget underbody coating offered by Comma. Simple to apply aerosol formula, though not obvious whether based on wax or bitumen (price suggests bitumen). Rubberised coating to protect against grit, stones and weather. Comma have been in the industry for over 50 years and are well trusted y their customers to provide a product that meets the high standards they have become accustomed to.
The rubberised nature of coating promises to protect against stones and grit from damaging underbody panels, while also sealing the metal away from corrosive weather and conditions. Sound deadening within the vehicles cabin should also be reduced as a by-product of the coating's nature.
While the product may not carry the prestige of brands such as Hammerite, the product does come at a lower price point and should cover the underbody easily, with the aerosol can providing an easy method for application, particularly in those hard to reach areas.
Pros:
Thick rubberised coating
Prevents damage and corrosion to vehicle underbody
Sound deadening effect
Low cost
Cons:
Less trusted than wax-based products
May require multiple cans for full underbody vehicle coating
In Conclusion
The type of product you choose should really be based firstly on your ability to apply and then secondly on how the product is rated and what the manufacturer says about the products performance. All underseals will do a better job of protecting your vehicle than no underseal at all, the difficulty you may have is applying the underseal onto your vehicle. Brushed on underseal may be a better option for reaching into all the nooks under your car, if you have good access and can get under and into all areas. An aerosol can on the other hand is a quicker option and may be better where you cannot physically get your brush into small spaces and don't mind some small amounts of overspray.
As long as you have access to all areas of the underbody and somewhere the underseal can dry, there isn't much more skill or training required to use these products. Any car enthusiast that cares about the longevity of their vehicle, particularly in the UK, should seriously consider coating their vehicle before it's too late. Once rust sets in, it cannot simply be coated over, it must first be removed. Rust underneath a coating will continue to spread and damage your vehicle, without your knowledge.
Prevention is always the better option when it comes to automotive care. Preventing rust could save thousands, will almost certainly lead to lower maintenance levels in the future and will likely improve the safety of your vehicle over the longer term. For those who value their investment and want to protect it against the elements, look no further than one of the simple products listed above. Get it on before it's too late.
If you liked the article, please share, leave a comment below and check out our other exciting articles.
Categorised in: Buying Guides
Czok Newsletter