The Best Radiator & Cooling System Stop Leak Additive
We're an affiliate
We hope you love the products we recommend! Just so you know, we may collect a share of sales or other compensation from the links on this page. Thank you if you use our links, we really appreciate it!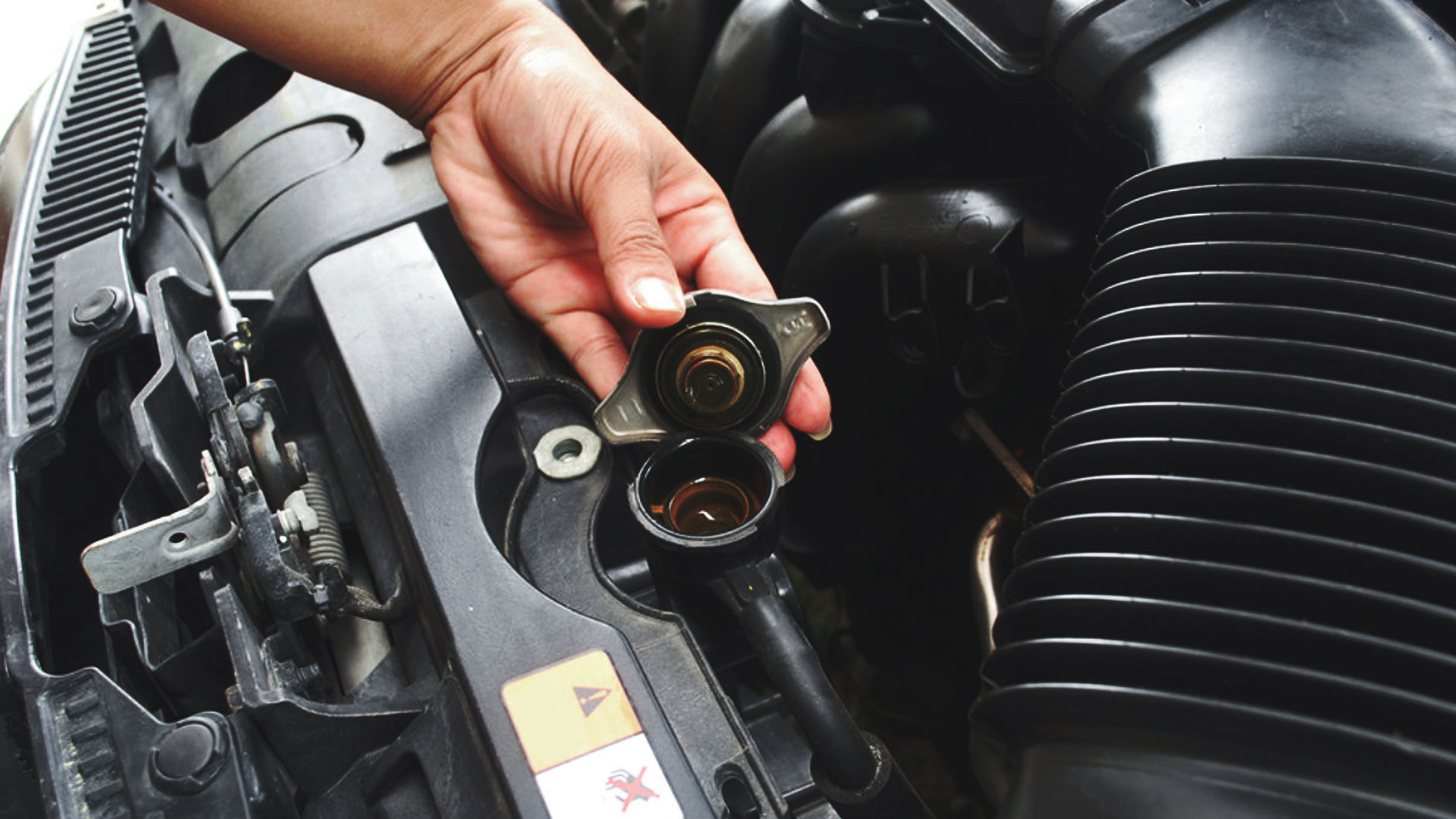 We've all seen the movies and the TV shows. Almost every breakdown depicted on our screens is one of a car pulled over, inevitably pillowing steam and overheating. Now this may not be all that common a sight on roads in modern times, due to improved cooling systems and heat management, but you'd be surprised how often leaks in car cooling systems can manifest themselves.
Poor quality materials, fouling components and insufficient clearances are all commonplace in modern vehicles. Cost-saving measures give us poorer quality plastics for expansion tanks and thinner aluminium radiator housings. Meanwhile, more advanced and increasingly complicated engines create tight engine bays and (particularly if maintained by untrustworthy garages) parts fouling and clashing. That's before we get started on head gasket issues, that send many a used vehicle directly to the scrap pile every year.
How Stop Leak Works and How it Benefits your Vehicle
So, at this point you need a solution to these inevitable leaks, but don't have the time just now for those garage repairs or the money for inevitably large bill that follows. While not a permanent solution (in most cases), an additive to stop radiator and coolant system leaks could buy you the time you need, allowing you to continue driving.
Radiator stop leak products are mixed with your regular coolant and, as they are pushed around the engine and pipework, will seal holes and cracks throughout the cooling system. Most will work to fix leaks on both metal and plastic parts, while others will also reduce corrosion and clean out the cooling system for more efficient running and reduced likelihood of future overheating issues.
The Radiator & Cooling System Stop Leak Additives on the Market
Liqui Moly Pro Line Radiator Stop Leak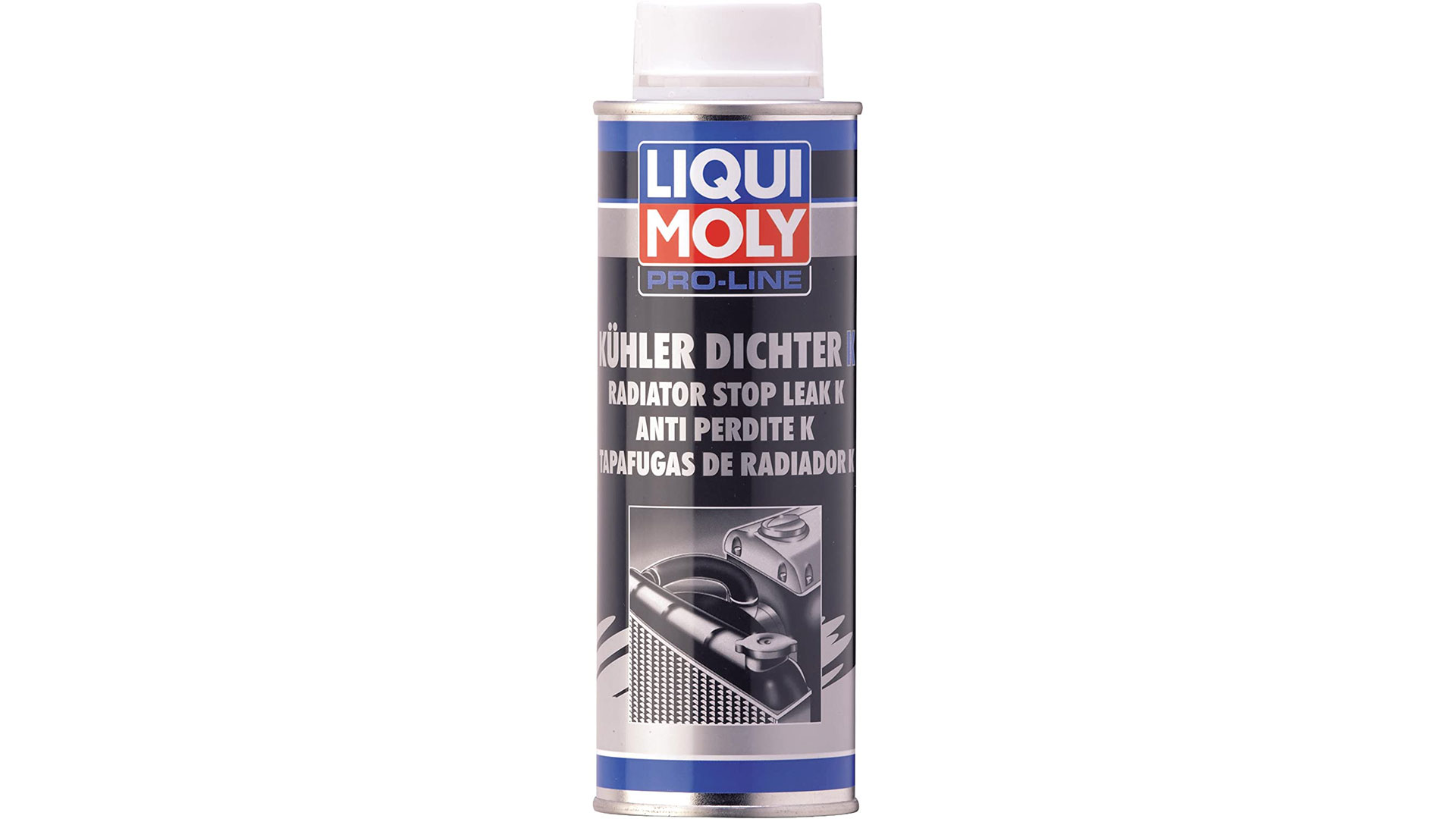 Check the latest price on Amazon
Our first solution comes from industry leaders Liqui Moly. Known for their range of additive products for performance and reliability enhancement, they are a well trusted choice for a professional quality product. Their pro-line contains the brands best additive formulas, with their radiator stop leak being one of the top sellers.
As the specifically formulated paste mixes with the coolant, it will seek and seal all pesky cracks and fractures in your cooling system. Alternatively, it could be used as a preventative maintenance item, to not only prepare your cooling system if the worst was to happen but also to work on engine internal leaks that you wouldn't even have considered could be happening (such as a leaking head gasket).
One can mixes with up to a massive 40 litres of coolant, making it suitable for pretty much every vehicle on UK roads. It is also compatible with all different manners of cooling systems; hot water, cold water, with filters and without, there isn't a vehicle this product won't offer some benefit to.
Pros:
Well trusted additive product manufacturer
Quickly seals internal and external cracks
Excellent preventative maintenance
Mixes with up to 40l of coolant
Suitable for any vehicle and cooling system
Cons:
Not the cheapest product available
K-Seal Coolant Leak Repair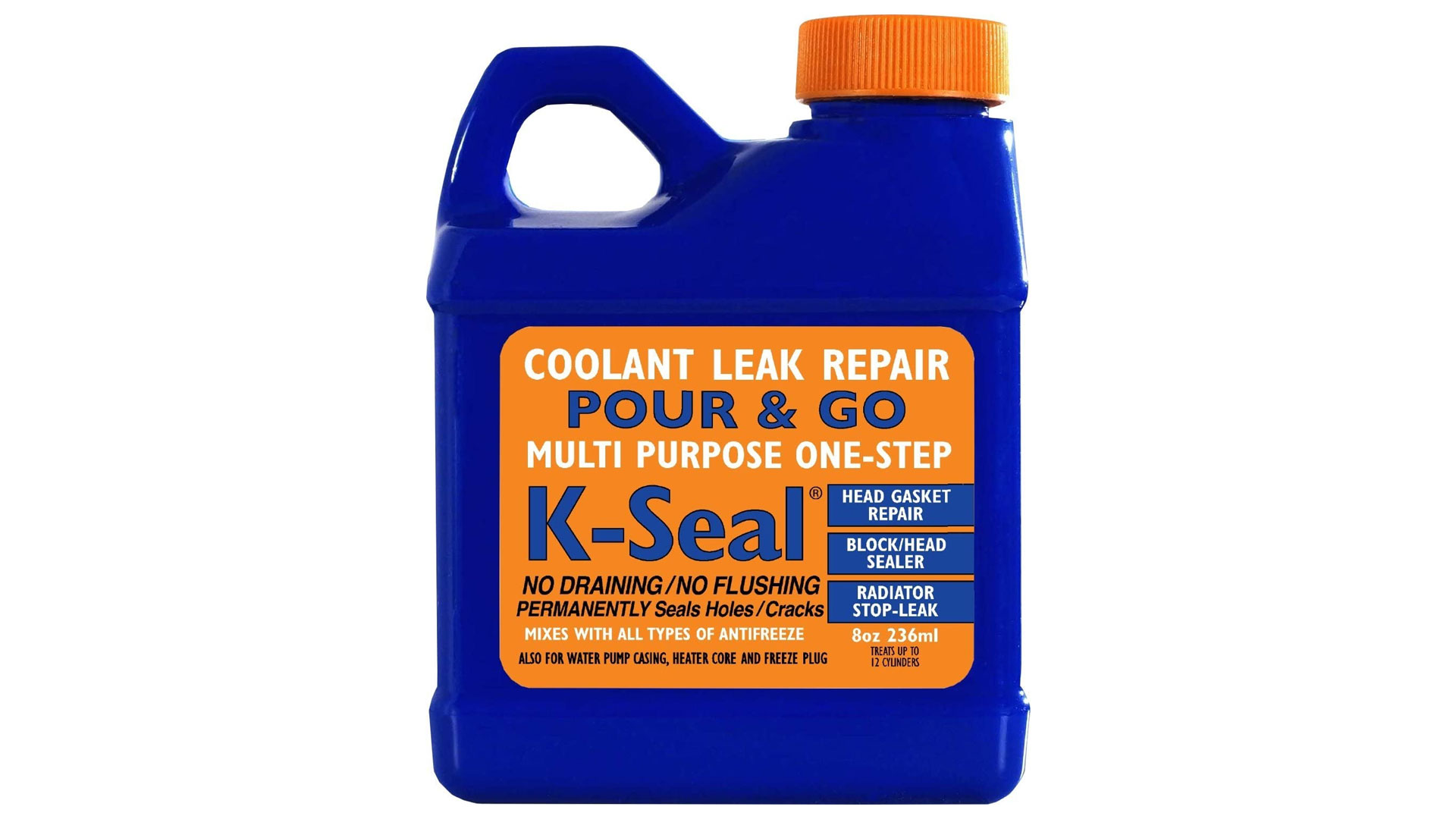 Check the latest price on Amazon
Our next offering comes with a different approach to it's rivals. K-Seal is well known in the industry for their bespoke formula, that focusses more intently than competitors on offering a permanent solution to internal engine coolant leaks. Internal leaks such as those around the head gasket will cause poor running and almost certainly lead to expensive, engine destroying, damage.
This is where K-Seal's product comes in. Their formula, once mixed with coolant, will spread around the engine and seal all coolant leaks, even those found in metal passageways of the engine block and around the head gasket. The additive is scientifically tested and backed by hundreds of seriously impressed customers. This is also the only coolant leak repair solution carried by UK breakdown service, AA.
Simply shake the bottle and pour into the coolant system for the product to work its magic. Suitable for all vehicles and coolant systems and capable of mixing with up to 20 litres of coolant with just one bottle (covering nearly all cars on UK roads).
Pros:
Industry proven formula
Fixes internal engine coolant leaks
Highly trusted by customers, including the AA
Stronger formula than rivals, sealing leaks in high pressure areas
Works with all vehicles
Cons:
Most expensive product listed
Wynn's Radiator Stop Leak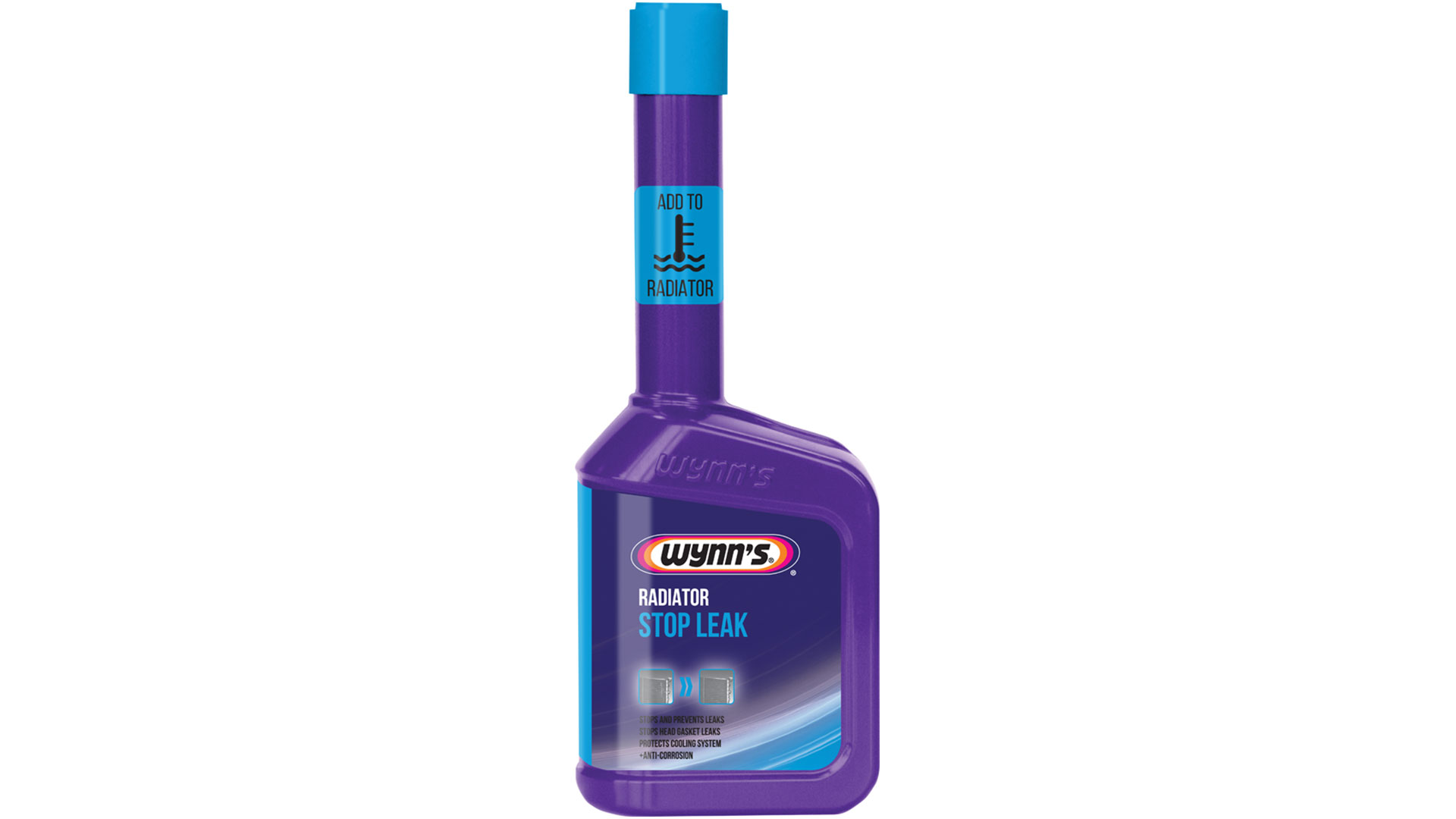 Check the latest price on Amazon
Back down to the consumer level then, with our budget offering, Wynn's radiator stop leak. Budget though, does not mean short on quality. Wynn's has been in the industry for over 80 years and this shows with their well thought out and high-quality products, this additive is no exception.
The radiator stop leak offered here will seal cracks throughout your coolant system, while also containing anti-corrosive properties to help prevent future issues occurring later in your vehicles lifetime. While not as specifically designed for curing engine internal leaks as the K-Seal product, Wynn's radiator stop leak also promises to seal up leaky head gaskets that could otherwise set you back thousands in repair bills.
You can apply the additive without concern as Wynn's promises it will not block or disturb flow of coolant through passageways within the engine, it will instead leave a protective film to enhance rust protection. The product can be used in any coolant system of 5-12 litres.
Pros:
Cheapest product listed
Seals leaks in coolant system and head gaskets
Anti-corrosion properties
No blockage or interrupted flow of coolant
Helps prevent future issues arising
Cons:
Not specifically designed to combat internal engine leaks
Larger vehicles may need multiple bottles
In Conclusion
A stop leak product could come in handy sooner than you think. Your car may be functioning perfectly well right now, but it only takes a big temperature spike to push that hairline crack open or a loose stone flung at the radiator on the motorway to start an annoying coolant leak. Having a stop leak product on hand as a temporary fix could save you on the side of the road or just help you out till next payday when those failing parts can get replaced.
Consider it a lifeline that, for a small outlay, could get you and your vehicle back on the road. We'd say that's money well spent, check out these products above for the best on the market right now.
If you liked the article, please share, leave a comment below and check out our other exciting articles.
Categorised in: Additive Buying Guides
Czok Newsletter