The Best Power Steering Stop Leak Additive
We're an affiliate
We hope you love the products we recommend! Just so you know, we may collect a share of sales or other compensation from the links on this page. Thank you if you use our links, we really appreciate it!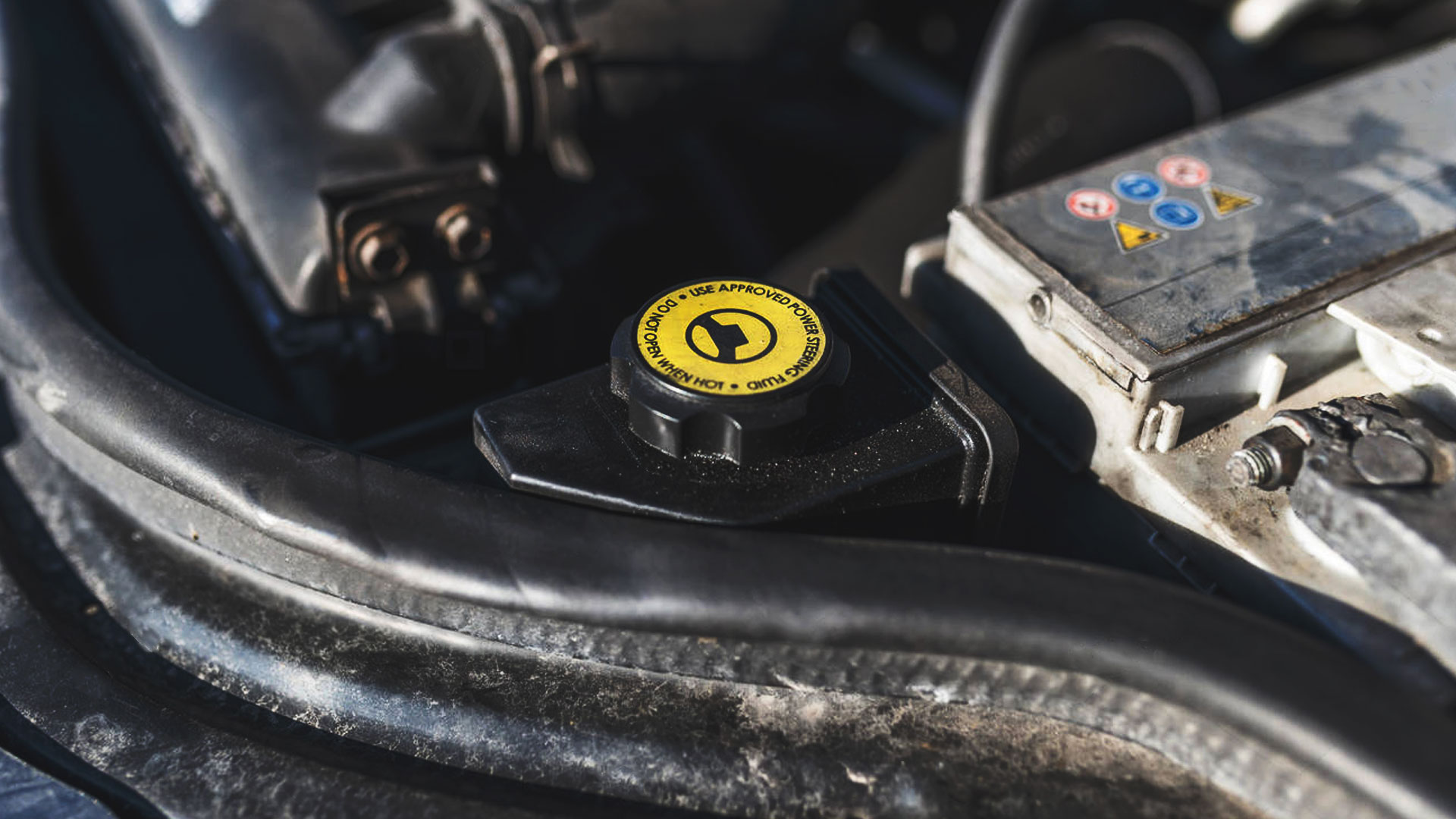 Steering your car is something you probably never put a second thought to. Yet, lurking beneath the surface is a network of pipes, pumps and fluid lines working away, to take your inputs from the steering wheel to the road. Without power steering, turning the steering wheel would require you to use some serious muscle. Power steering may have been fitted to cars for decades, but even now it is by no means bullet proof.
Over the years, miles and thousands of turns the power steering components and seals will wear and loosen. This will inevitably create leaks in the system and, no matter how small, will begin to create issues with the vehicles steering components. Besides having to replace fluid and damaging the environment with hazardous chemicals, you also run the chance of getting dirt into the power steering system and causing expensive damage.
How Power Steering Stop Leak Will Benefit your Vehicle
Power steering stop leak additives mix with your regular power steering fluid, to help seal those pesky leaks and breathe life back into your power steering systems. Stopping leaks is helpful for day-to-day driving while also being important for MOT tests, as a power steering leak is a guaranteed failure if spotted by the testing technician.
Noisy power steering will also become a thing of the past, as seals and O-rings become better lubricated and allow efficient function of the steering system in your vehicle once again. Any of the products below are suitable to solve power steering leaks and help prevent future problems arising.
The Best Power Steering Stop Leak Additives on the Market
Rislone Power Steering Stop Leak Concentrate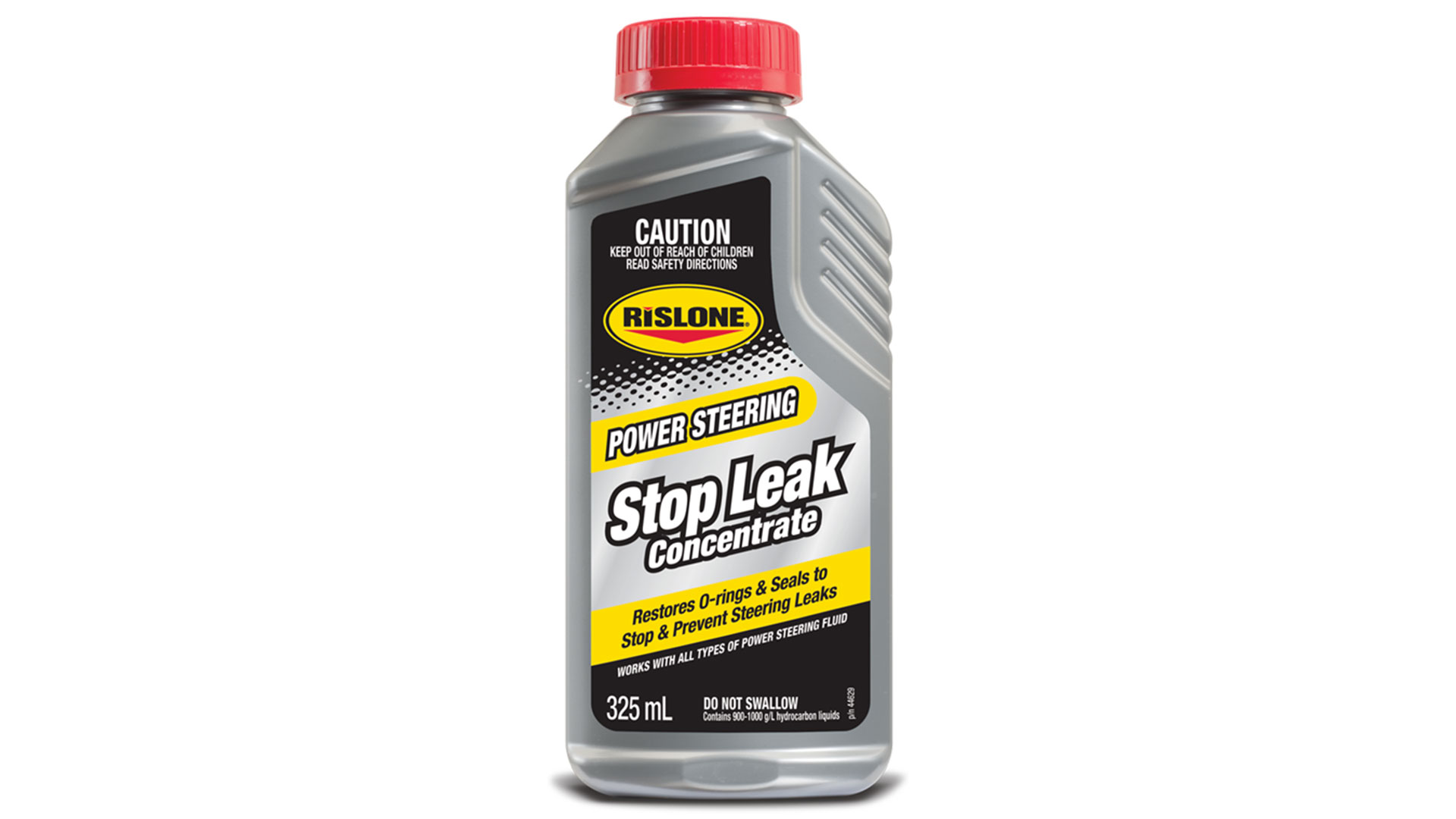 Check the latest price on Amazon
First up is Rislone, the US based additive company that are making big waves here on UK shores. Their steering stop leak may be expensive compared to rival offerings, but promises professional level quality and the ability to plug those leaks simply and quickly, a product you can rely upon.
Their formula is specifically designed to seal leaks from steering system seals and O-rings, that are caused by usual wear and age. Repeated use will then keep the seals soft and pliable, reducing the likelihood of future issues arising.
The product is fully safe for use without chance of corrosion being induced and no clogging of the power steering system. It can be used with all varieties of power steering fluid and most systems fitted to modern vehicles. The fluid is simply added into the reservoir tank, with one bottle treating up to 2.5 litres of power steering fluid. Leaks should be stopped within 200 miles of application, otherwise a second application may be required.
Pros:
Stops power steering leaks
Rejuvenates seals and O-rings
Professional level product, well trusted in the US
No increase of corrosion or clogging issues
Suitable for all types of vehicles and power steering systems
Cons:
More expensive than rivals
No Leak Power Steering Stop Leak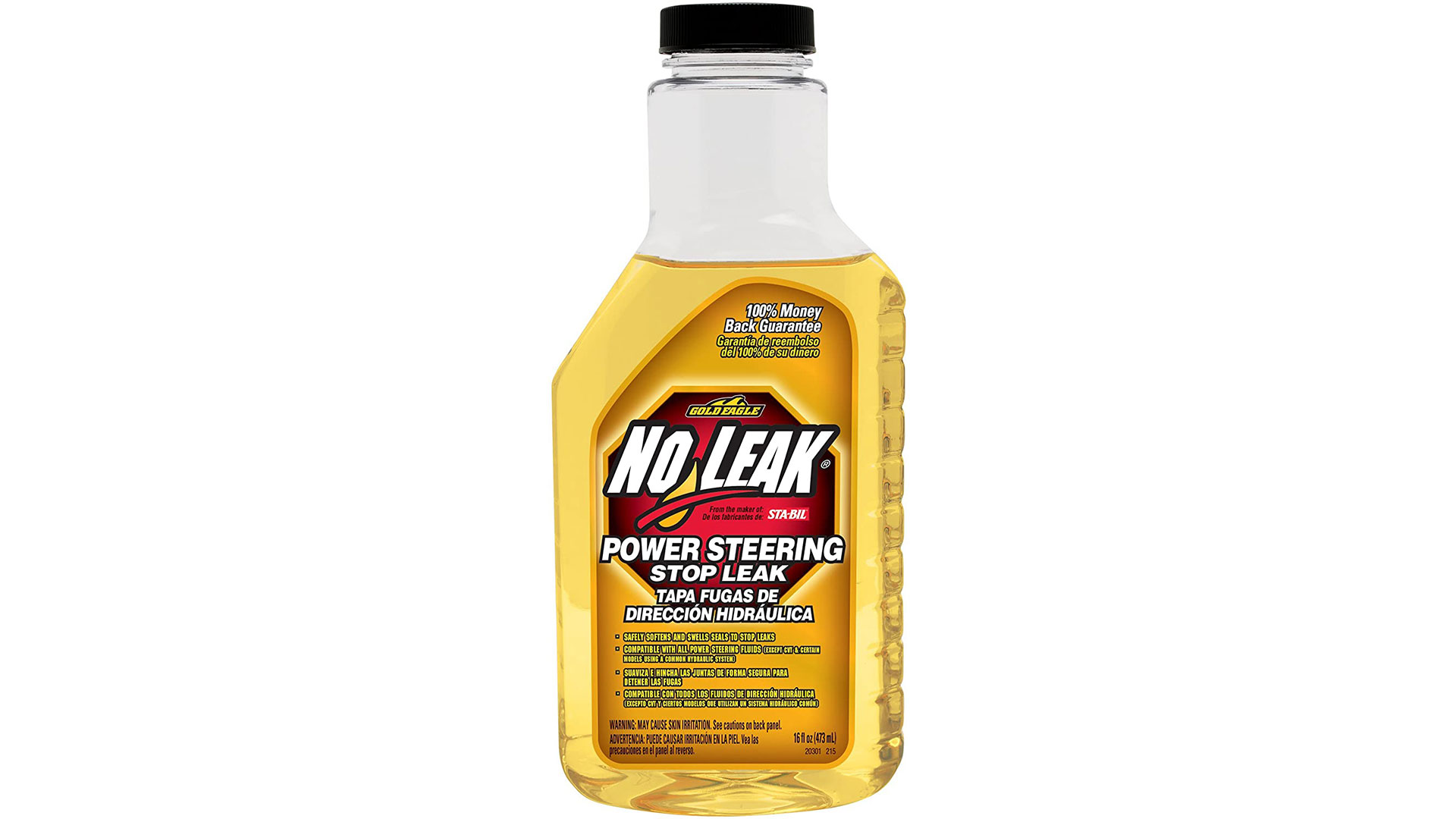 Check the latest price on Amazon
Next, a more budget based offering from Gold Eagle Co, with their power steering stop leak additive. Gold Eagle are another US brand, making strides into the UK additive market, with their low-cost but highly effective products.
Once applied, the additive works to stop leaks throughout the power steering system, also aiming to prevent any further leaks occurring in the future. No Leak will safely soften, swell and condition the rubber seals and O-rings, which will close up enlarged tolerances and stop leaks before they can cause bigger issues.
The additive is safe to use with all power steering systems and is applied simply by pouring into the power steering fluid reservoir. Some fluid may need to be removed to ensure you do not overfill the cars power steering system. Leaks should be sealed within 200 miles of driving; otherwise mechanical repairs could be required.
Pros:
Low price
Well trusted brand
Stops leaks in the power steering system
Breathes new life into rubber seals and O-rings
Suitable for nearly all vehicles
Cons:
No anti-corrosion properties
Lucas Oil Power Steering Stop Leak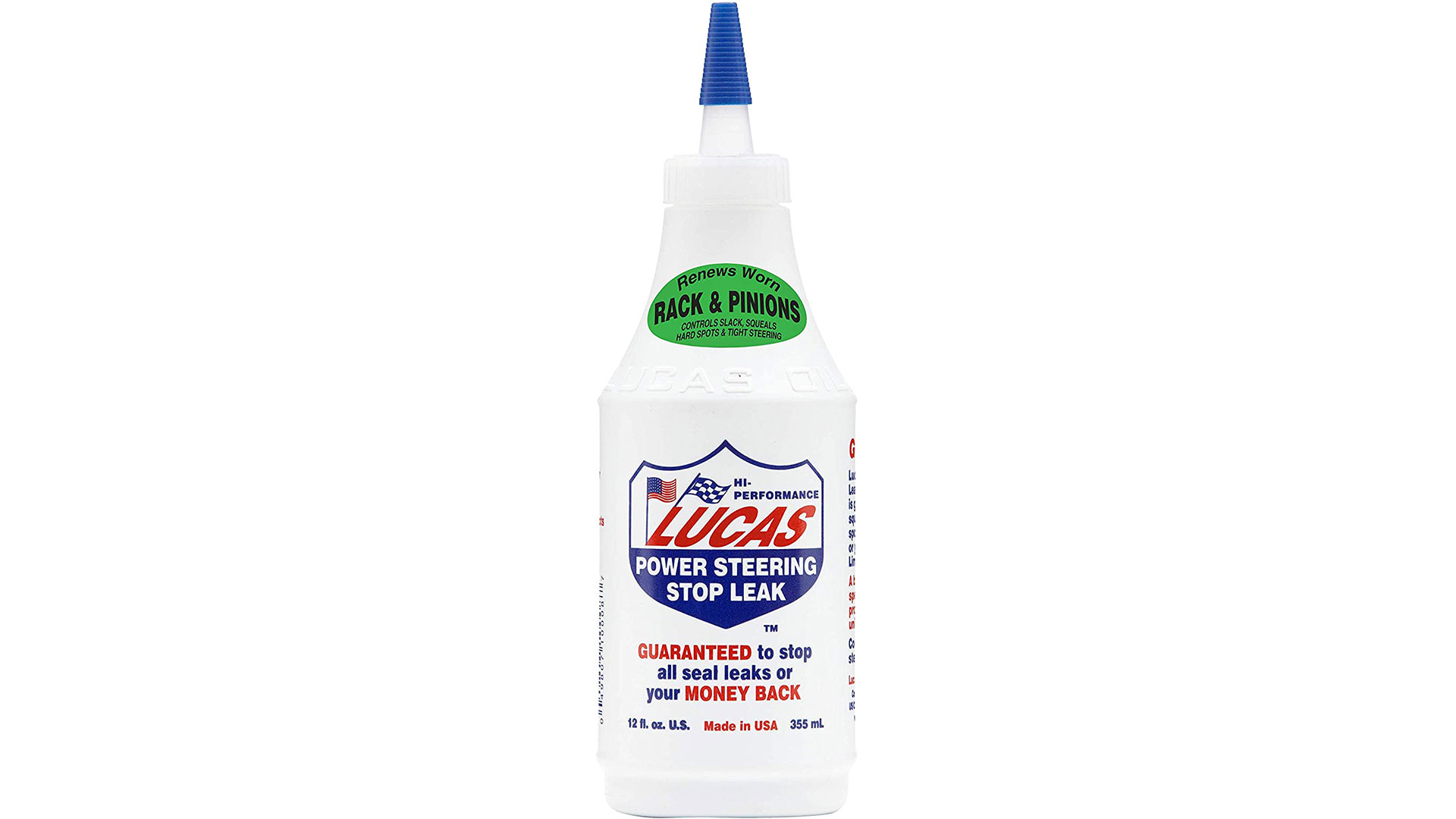 Check the latest price on Amazon
Our final product is from a company you probably recognise. Another US brand, to round out the trio from across the pond, Lucas Oil have specialised in vehicle enhancement products for over 30 years. Their products are thoroughly tested and are used by many motorsport teams throughout the USA, you cannot get a tougher test than that.
Their power steering stop leak product uses a solvent-free combination of oils to stop power steering leaks before they can grow or cause further damage. The rejuvenation of your power steering system will also see a reduction in unwanted squeals and noticeable hard spots within rack and pinion steering units. Also apply for use as a preventative maintenance solution to keep the steering system in optimum condition.
Most leaks should be stopped with a full bottle application, though a second bottle may be required for more stubborn issues. Simply add to your vehicles power steering fluid reservoir (taking out excess fluid as not to overfill) and results should be apparent after the first drive. Lucas Oil are so confident in their product that they offer a 100% money back guarantee, get your money back if the solution doesn't stop those power steering leaks.
Pros:
Highly tested and trusted brand
Solvent-free formula
Reduces unwanted noise and hard spots in the steering
Seals leaks and rejuvenates rubber seals
Money back guarantee
Cons:
May require two bottles to seal larger leaks
No promise of anti-corrosion properties
In Conclusion
Something as silly as a power steering leak causing an MOT failure is not only annoying but also time consuming and could lead to expensive repairs. Modern steering systems are highly extensive, with complex pipework and high-pressure pumps that are hideously complicated and expensive to replace. Parts that are easily damaged, should dirt enter a leaking pipe or cracked hose.
Dumping power steering fluid on the road is bad for the environment, while also being dangerous for other motorists due to the slippery road conditions created. Keep yourself and others safe, while preventing the embarrassment of leaks and failed MOTs by picking up one of the inexpensive products above. Get those power steering fluid leaks sorted and prevent future issues before they begin.
If you liked the article, please share, leave a comment below and check out our other exciting articles.
Categorised in: Additive Buying Guides
Czok Newsletter