The Best EGR Valve Cleaner For Diesel & Petrol: Additive & Spray
on 17 August 2020
/ 1 Comment
Updated on: 17th February 2021
We're an affiliate
We hope you love the products we recommend! Just so you know, we may collect a share of sales or other compensation from the links on this page. Thank you if you use our links, we really appreciate it!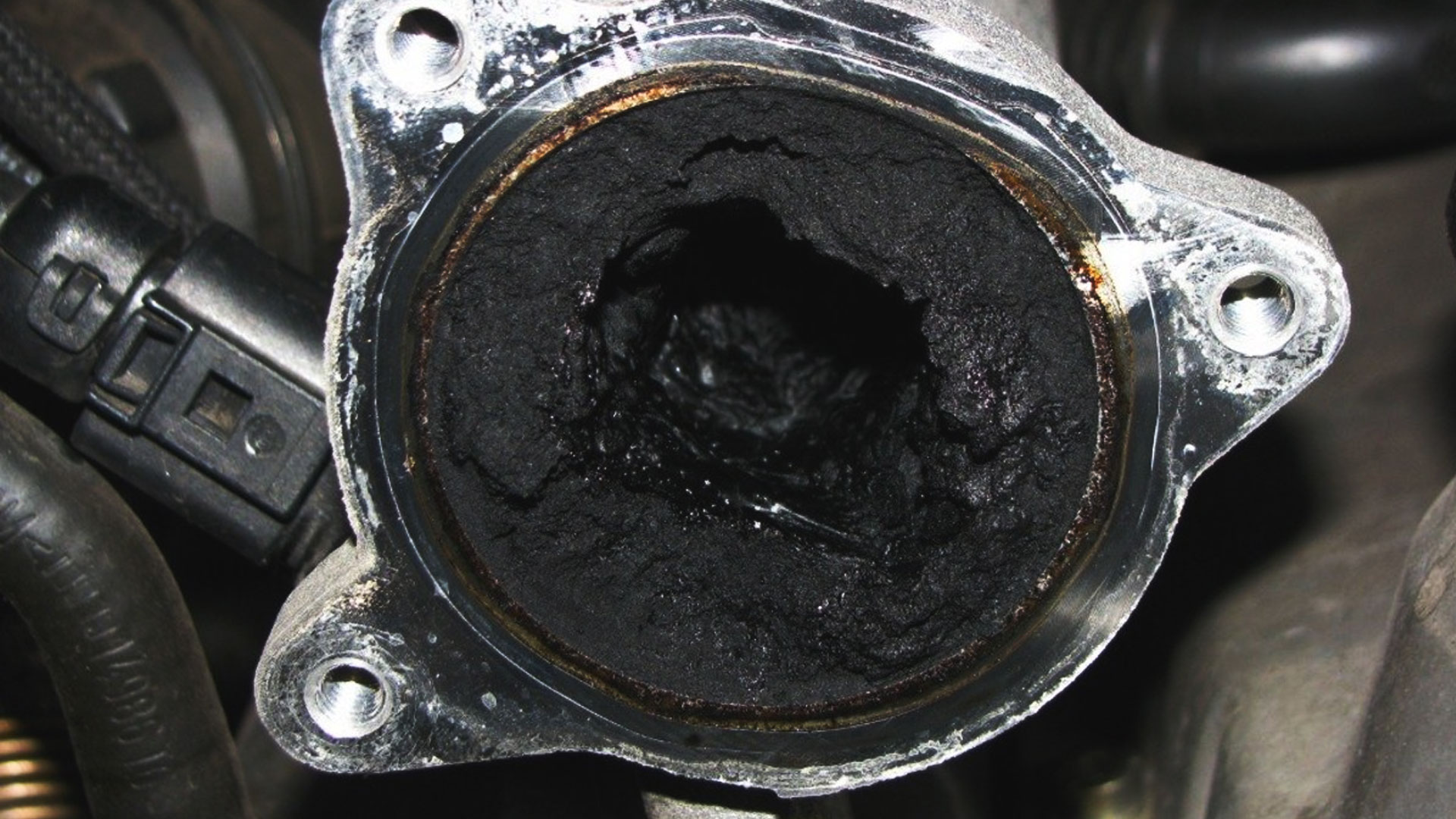 Likely not a car part you've even heard of or had experience with, but the EGR (exhaust gas recirculation) system in your vehicle is paramount to maintaining your cars emissions levels. Clogs in the system could cost you dearly and severely increase your car's harmful emissions.
Now common in almost all new diesel cars and many petrols also, these systems simply use a moveable valve to re-direct a portion of the exhaust gases back into the engine, to be burned again. This reduces the temperature at which combustion takes place, reducing the amount of nitrous oxide (harmful to both pedestrians and the ozone) being released from the exhaust. However, exhaust gasses contain all matter of particles, chief among which is carbon, which will deposit on the EGR valve and cause it to clog after months and years of driving. A valve that will not open, will not allow the EGR system to function efficiently.
Many will simply turn to having the EGR valve removed. However, increasingly stringent emissions targets mean that the government have made it mandatory; that any car fitted with an EGR valve from the factory must have one present for its MOT. Having the valve removed will massively increase any cars emissions.
An EGR cleaner is designed clear all the carbon build-up from the EGR valve and allow the engine to run efficiently and reliably for the foreseeable future. These cleaners are available across the internet and are surprisingly easy to use. They could prevent mechanical breakdowns and allow drivers to feel confident in the fact that their vehicle is not creating excess emissions.
Cleaning the EGR valve will not just give improvements in reliability, but could also increase engine performance and fuel economy, due to the car running at optimum efficiency. The real question is which sort to choose.
Types of EGR Cleaner
Cleaning the EGR valve will not just give improvements in reliability, but could also increase engine performance and fuel economy, thanks to the engine running at optimum efficiency. The real question is which sort to choose.
EGR Valve Cleaning Additives
By far the easiest to use and most commonly available form of EGR cleaner. Pour-in additive solutions are applied within seconds, simply by adding to a tank of fuel. The rest is done by the car, with no further interference from the driver. No mechanical knowledge or experience required.
There are hundreds of brands in the EGR valve cleaning additive sector, giving huge scope for choice. Well trusted, specifically engineered solutions promise to clear EGR valve blockages and prevent future issues from occurring.
Key features of pour-in additives:
Easy to apply
Most commonly available EGR cleaning product
Simply add to fuel tank
Proven results
EGR Valve Cleaning Sprays
Though slightly less common and a little more difficult to use, cleaning sprays are arguably the more intensive cleaning product and promise fantastic results. Cleaning sprays have a more direct effect on the EGR valve, due to the application directly into the vehicle's intake via removal of intake hoses.
Many brands offer spray solutions, giving a huge amount of choice. However, spray products are likely more suited to drivers who require a stronger solution and aren't afraid of a couple of bolts and hose clamps. Not ideal for those with no mechanical knowledge.
Key features of spray additives:
Directly applied into vehicles intake
Requires basic knowledge and tools
Excellent results
Widely available
The EGR Valve Cleaning Additives for Diesels
JLM Diesel Extreme Clean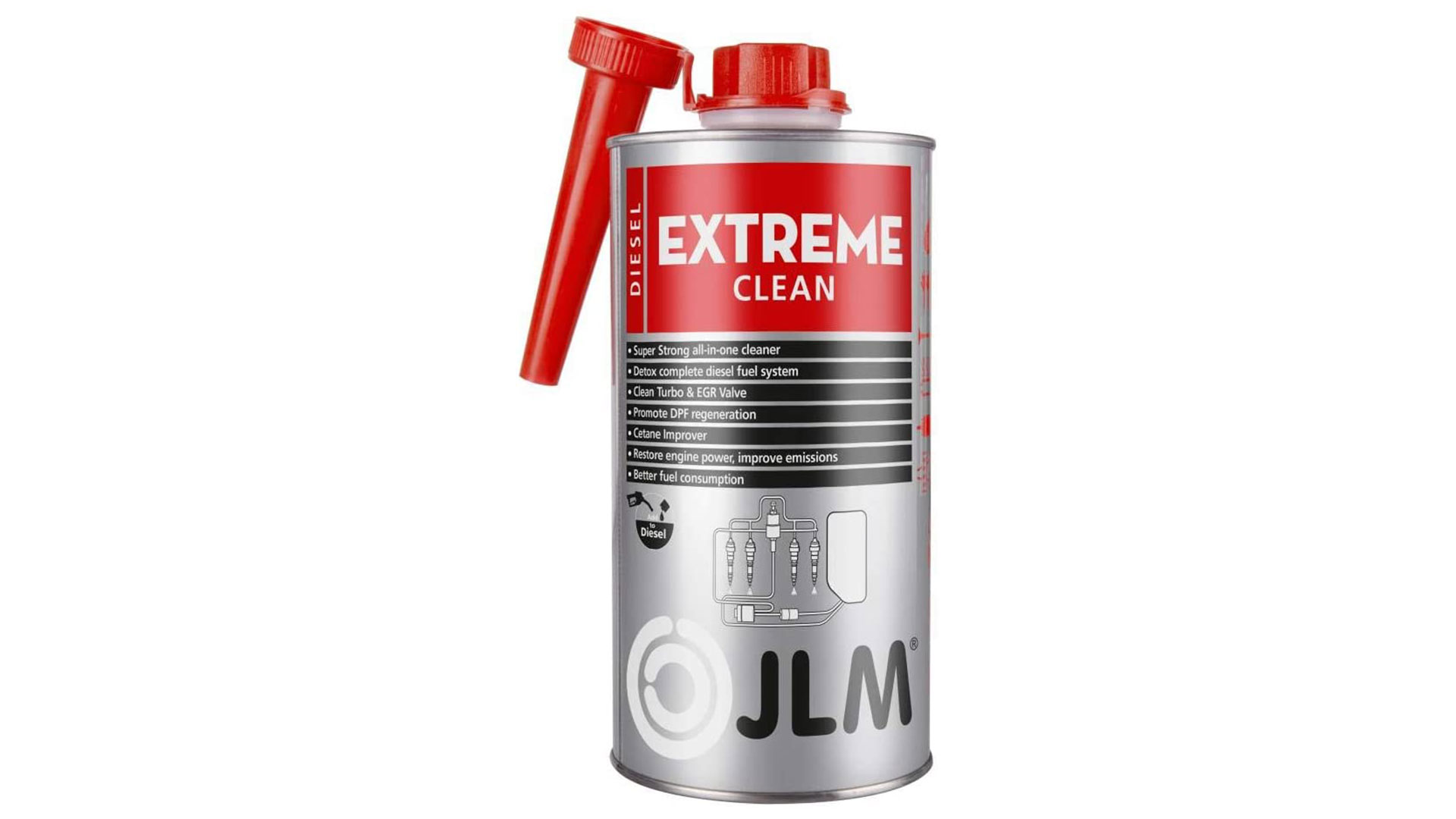 Check the latest price on Amazon
The first of the pour-in additives featured here comes from a firm based in the Netherlands, JLM lubricants. The company is just a decade old but, their use of high-quality testing and serious research is making a big impact on the fuel additive market. Professional level products for the regular consumers are what JLM specialise in, resulting in products such as their diesel extreme clean.
JLM's all-in-one product promises not only to clean the EGR system but also the vehicles turbocharger, fuel system and exhaust system (including the DPF). Removal of blockages in these key areas can alleviate rough running and poor idling, leading to restored performance and fuel economy alongside reduced exhaust emissions. The active components in JLM's formula mean that the EGR valve will not only be cleaned but lubricated and protected from future contamination.
Mix one bottle into a tank containing between 40l and 60l of diesel fuel, then simply drive for 20-30 minutes, ideally incorporating some high RPM's and/ or motorway driving. JLM recommends performing high RPMs and high-speed driving regularly on the treated tank of fuel, for maximum results. The product is suitable and safe for all diesel-powered cars.
Pros:
Professional level formula
Outstanding company reputation for testing and development
Restores performance and fuel economy
Reduces exhaust emissions
Suitable for all diesel vehicles
Cons:
Most expensive diesel EGR additive cleaner
Not compatible with bio-diesel fuels
Wynn's Diesel Extreme Cleaner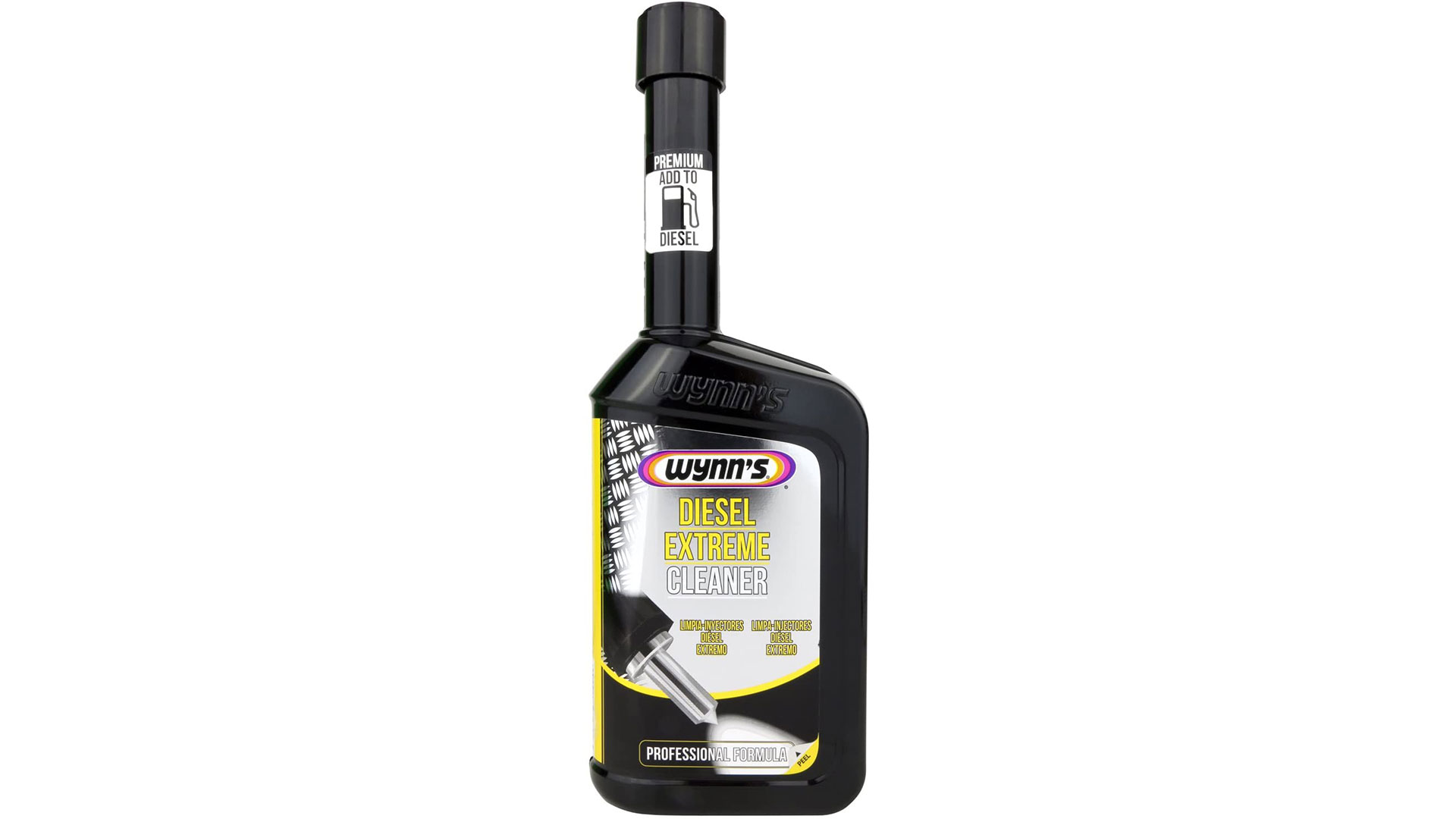 Check the latest price on Amazon
The second diesel additive solution here, comes from US additive manufacturer Wynn's. Their company has been going strong for over 80 years, with specialist products to suit the majority of vehicle owners. Customer reviews show that their products are effective, hence they now have a huge backing in the UK as well as in their native market. Wynn's extreme line offers professional level performance to home consumers, ensuring their diesel cleaner will get that EGR cleaned out pronto.
Another product offering a one-for-all approach, like JLM's product. Wynn's promise that their extreme diesel clean will get rid of nasty deposits on the EGR valve along with thoroughly cleaning the diesel fuel system. The product aims to clean and protect all fuel system components, lubricating for reliable running and decreased chance of future blockage occurring. An efficiently running engine will restore lost performance and bring down harmful emissions levels.
Wynn's formula has been designed to work with all diesel vehicles, including those running a biodiesel blend up to B30. Simply add the bottles contents to up to 60l of diesel fuel and drive. For more serious cleaning, add to 30l of fuel for a more potent mixture.
Pros:
Least expensive diesel EGR valve additive cleaner
Well known and highly trusted additive manufacturer
Cleans all fuel system components and EGR valve
Restores engine efficiency, performance and emission levels
Suitable for biodiesel vehicles (up to B30)
Cons:
Does not promise to clean turbocharger or exhaust components
Forte Advanced Formula Diesel Treatment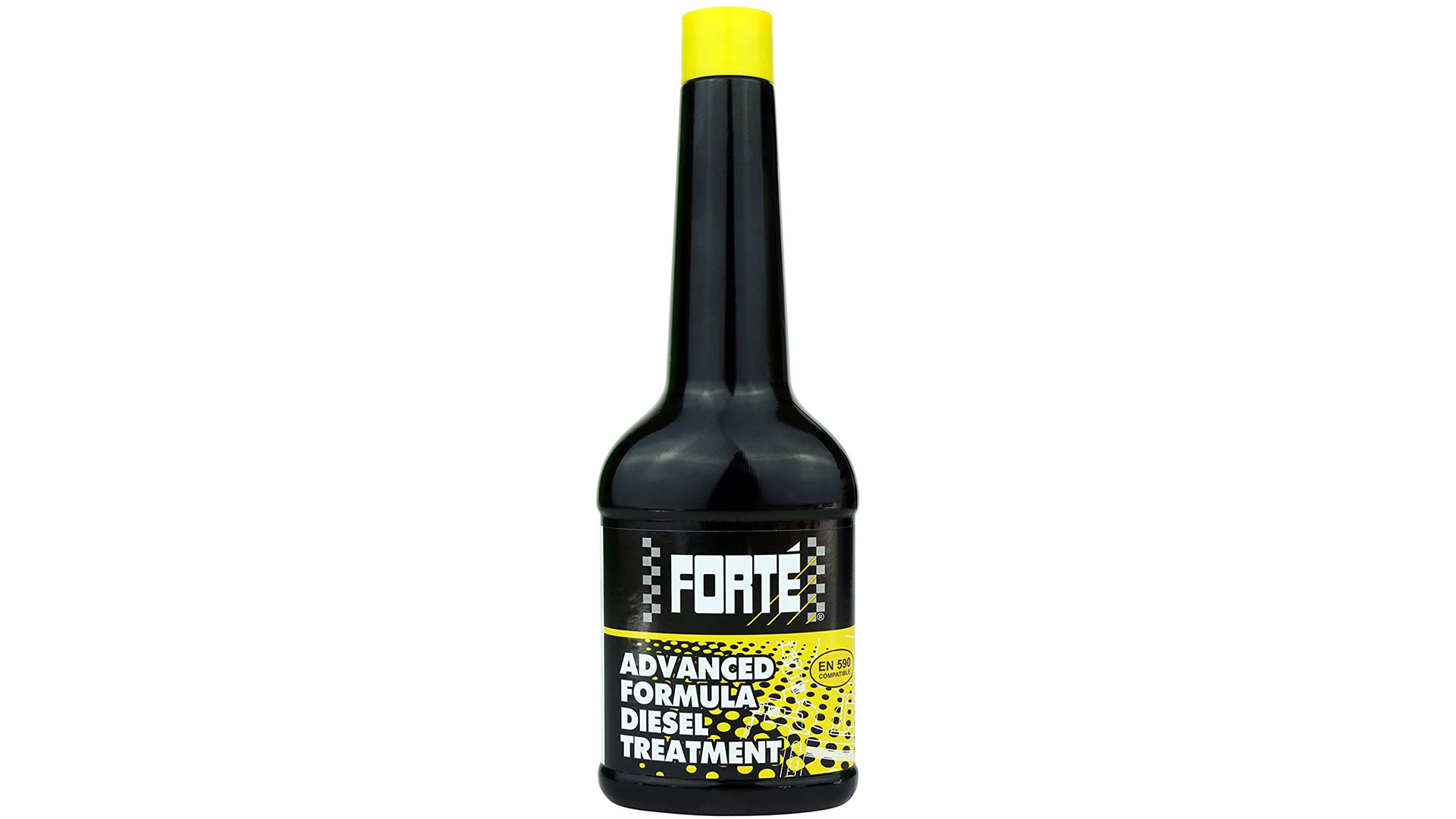 Check the latest price on Amazon
Last up for diesel additive formulas is Forte's advanced diesel treatment. Forte have been working with engineers, mechanics and automotive specialists in the UK for over 40 years, aiming their products squarely at people who care about their vehicles. Thanks to this industry experience, the company offers a wide range of products, specifically tailored to make them easy to use and effective.
Forte have designed their advanced diesel treatment to combat issues faced by many motorists, caused by fuel degradation and combustion by-products, such as the carbon particles that stick to and clog the EGR system. One application, Forte promises, will help clean and lubricate not just the EGR valve but also the complete fuel system, restoring engine power and efficiency without the need for costly dismantling and part replacement.
The product is suitable for all modern diesel vehicles without having any adverse or dangerous effect on the diesel fuel. Simple pour into a tank of fuel and drive for the product to take effect.
Pros:
UK manufacturer
Cleans and lubricates the EGR valve
Restores performance and fuel economy
Saves hundreds in potential maintenance and part replacements
Cons:
No compatibility with biodiesel fuel
The EGR Valve Cleaning Additives for Petrols
JLM Petrol Extreme Clean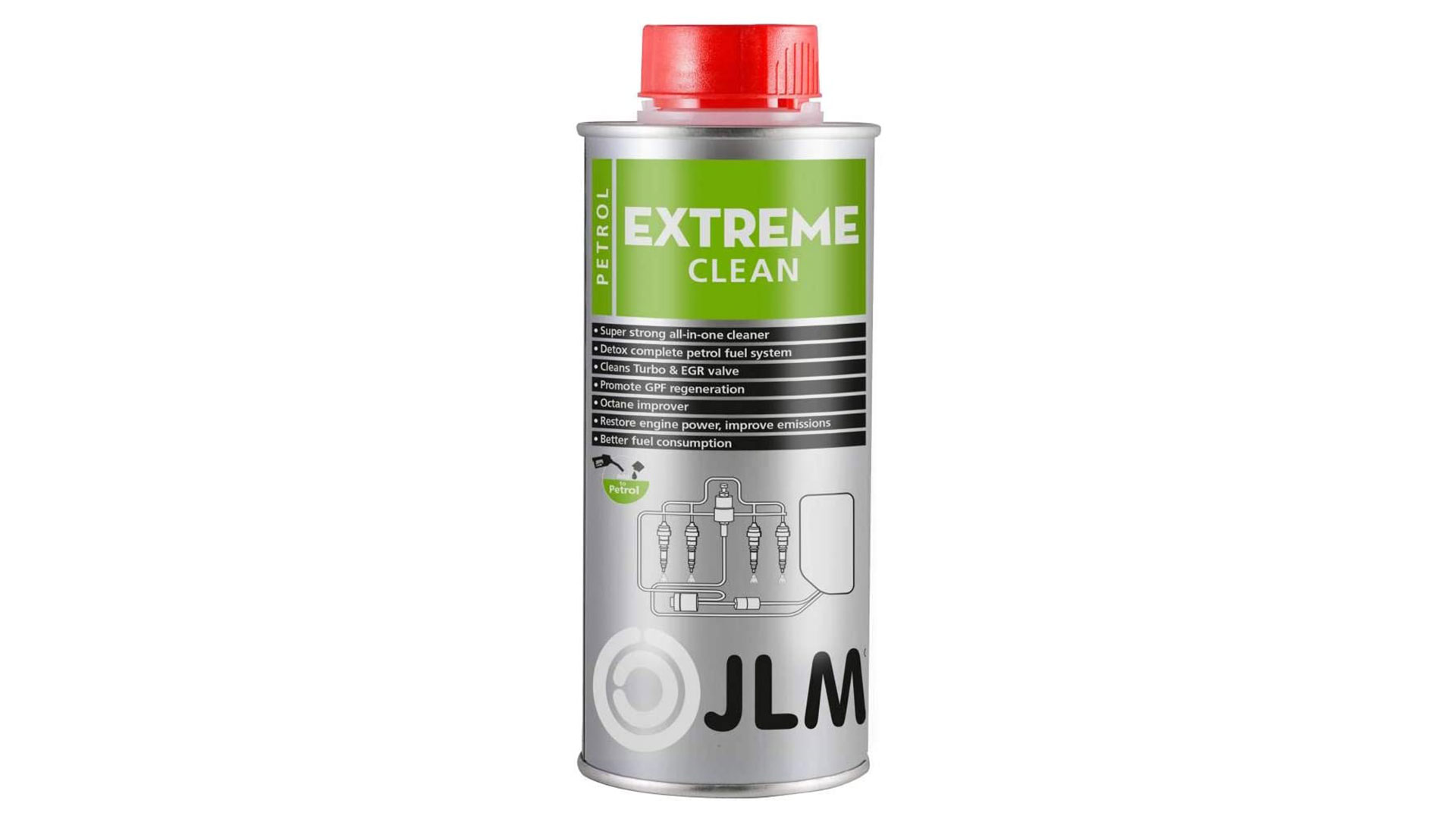 Check the latest price on Amazon
For those searching for that professional standard in a petrol-oriented additive formula, they need look no further than JLM's petrol extreme clean. Another of the firm's bespoke formulas that aim to bring the best of theoretical chemistry to real world applications, for long-standing results and impressive restoration of efficiency.
A product with an aim for clean engine internals, while also increasing performance. JLM has combined a fuel octane boosting product with an EGR cleaner to create a cure-all and its own space in the market. They promise that their bespoke formula not only cleans and lubricates internals such as spark plugs, injectors and the all-important EGR valve, but can also raise vehicle performance above factory levels with raised octane of the petrol fuel.
Suitable for all petrol vehicles, including those fitted with turbochargers and catalytic convertors. Simply pour the bottles contents into a fuel tank with 40l to 60l of petrol and drive for the product to take effect.
Pros:
Professional level product
Cleans internal parts and lubricates to prevent future build-ups
Octane boosting properties for increased performance
Suitable for all modern petrol vehicles
Cons:
Most expensive petrol pour-in additive cleaner
Not compatible with ethanol fuels
Wynn's Petrol Extreme Cleaner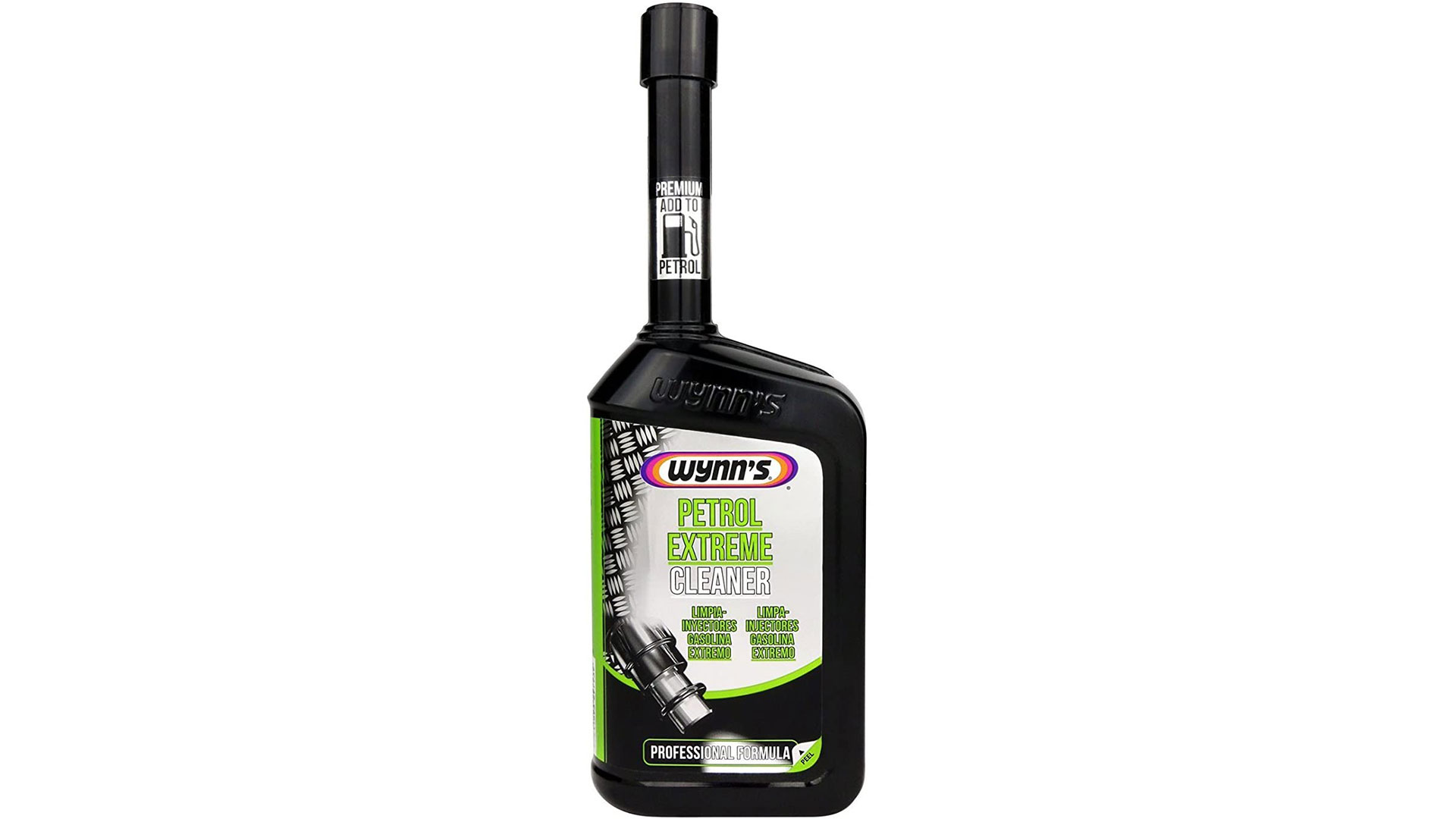 Check the latest price on Amazon
Like rivals JLM, Wynn's also offers a petrol biased version of their "extreme" level cleaner. Also benefitting from the companies rigorous testing and development, to deliver high levels of performance that have come to be expected from the company.
Wynn's petrol extreme cleaner, like their diesel offering, is designed to clear debris not only from the EGR but the entirety of the intake and fuel systems, from injectors right the way to the fuel tank. Unclogging the EGR, they state, will restore engine performance and cure common reliability issues associated with combustion by-products clogging internal engine components. In the long run the product should increase reliability and save drivers money with restored fuel economy.
Petrol extreme clean meets all the latest Euro 5 and Euro 6 emissions standards, while being safe for use in all petrol-engined vehicles and petrol hybrids. The formula is also safe for use in ethanol fuelled vehicles using E10 or E85.
Pros:
Budget friendly pour-in petrol additive cleaner
Cleans the entire fuel system
Restores performance and fuel economy
Meets latest European emissions standards
Compatible with ethanol fuels
Cons:
No octane boosting properties
Forte Advanced Formula Gas Treatment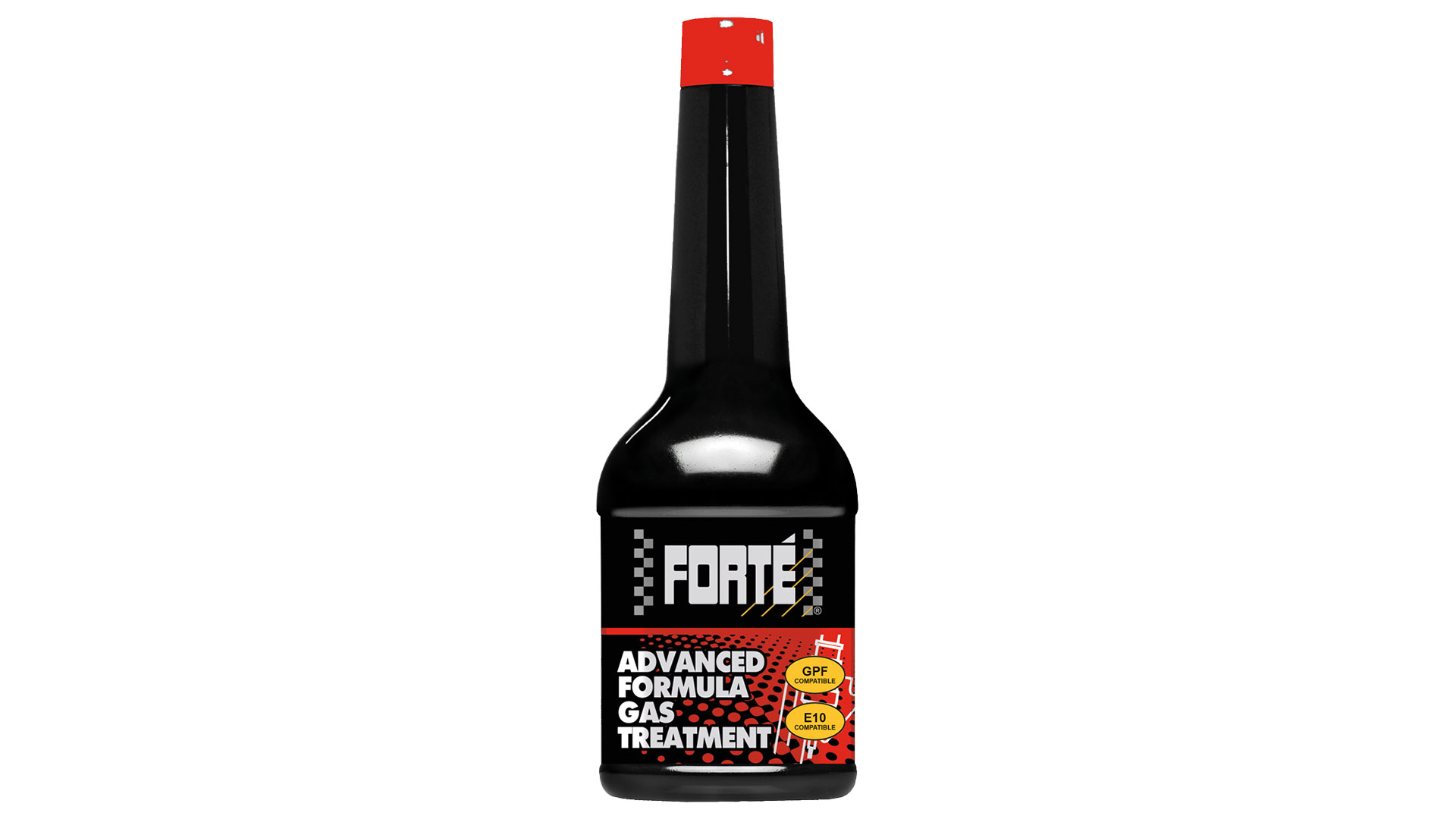 Check the latest price on Amazon
To round out our petrol trio we turn again to Forte. Their advanced gas treatment is designed to be every bit as impressive as the diesel product, benefitting from Forte's huge industry-based experience and consistently impressed customer base.
Like Wynn's offering, Forte promises that their formula can clean the entire fuel system of a petrol engine in both the pre- and post-combustion environments. This means that the product will clean everything from fuel injectors to exhaust oxygen sensors. The removal of build-ups and debris will allow the EGR valve and associated components to function as the manufacturer intended, restoring any lost fuel economy and greatly decreasing harmful exhaust emissions.
Forte recommends use of their product whenever EGR-related issues occur or simply pour in at regular service intervals. As with all pour-in additives, the bottles contents are simply added to a tank of petrol to start the cleaning process.
Pros:
Industry tested solutions
Cleans and protects the entire fuel system and exhaust components
Removes debris from the EGR valve
Reduces harmful exhaust emissions
Cons:
No mention of ethanol compatibility
The EGR Valve Cleaning Sprays for Petrols & Diesels
JLM EGR & Air Intake Cleaner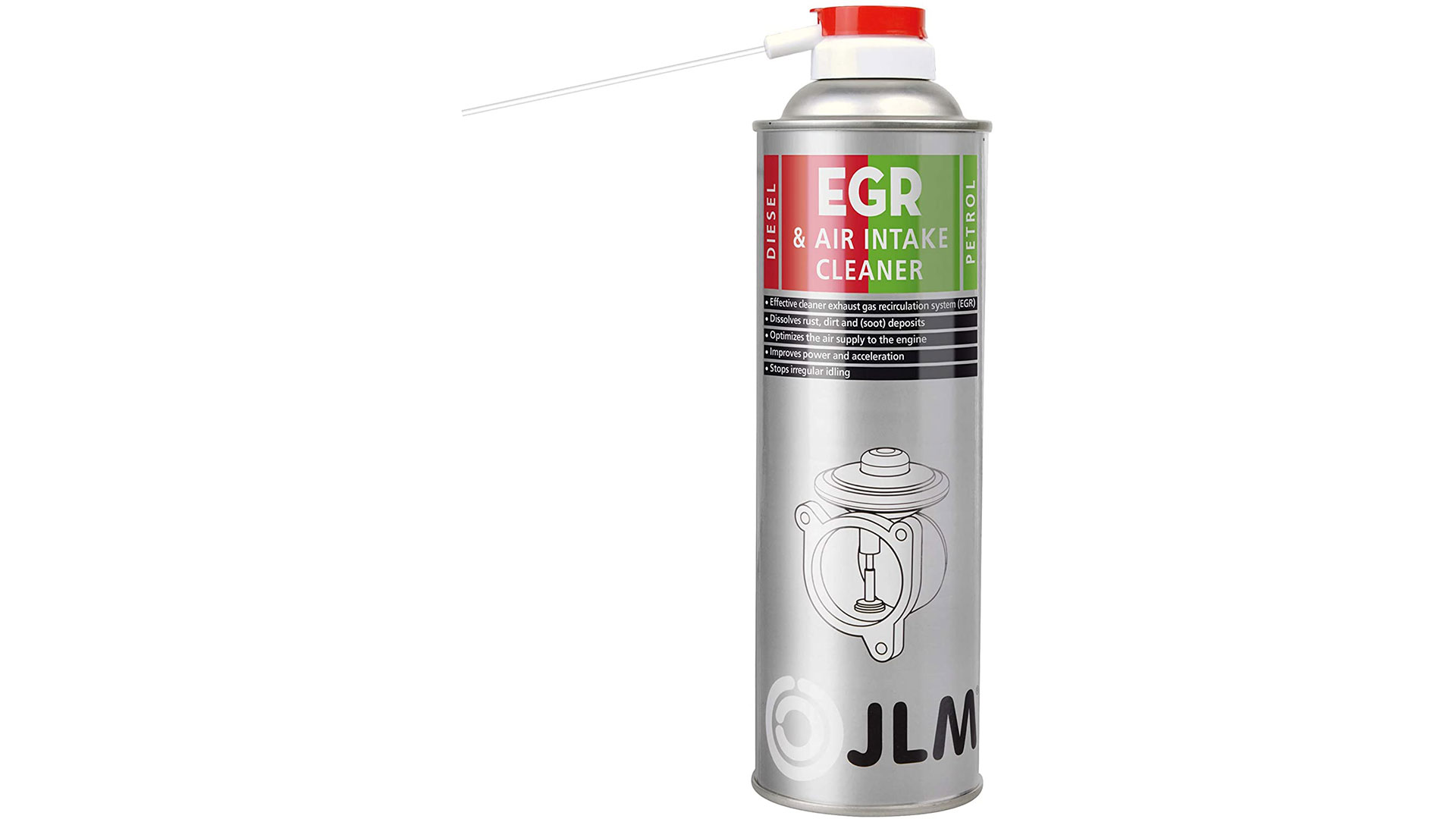 Check the latest price on Amazon
Rounding out their EGR cleaning line is JLM's recently introduced Intake and EGR spray cleaner. The company spends as much time improving and refining the spray-style products as it does with the pour-in additives. The brand won't put their name on any old cleaners and so they ensure with this formula, as with the pour-in variants, that the product is up to their rigorous standards and will not let customers down.
JLM promise that their EGR and intake cleaner has the power to clear debris and soot formations from the EGR, as well as clearing the intake system and intake valves within the engine. A clear intake and EGR will allow proper airflow to the engine's cylinders, giving increased performance, restored acceleration and fuel economy that matches that achieved by the vehicle when brand new. Clearing the debris, they promise, should also put an end to rough idling and poor performance caused by valves that are blocked or have impinged movement.
The product is applied directly into the intake, after the intercooler (on vehicles equipped with turbochargers) and before the EGR valve. Apply with the engine warm and idling to ensure the cleaner can spread quickly through the intake and activate to begin lifting dirt and debris. Half a can should be sufficient for one vehicle.
Pros:
Highly developed and rigorously tested product
Powerful cleaning formula
Restores performance and acceleration
Decreases chance of rough running and poor idling issues arising
One can should cover two vehicles or two uses on the same vehicle
Cons:
Most expensive EGR spray cleaner
Wynn's EGR Cleaner Spray Petrol & Diesel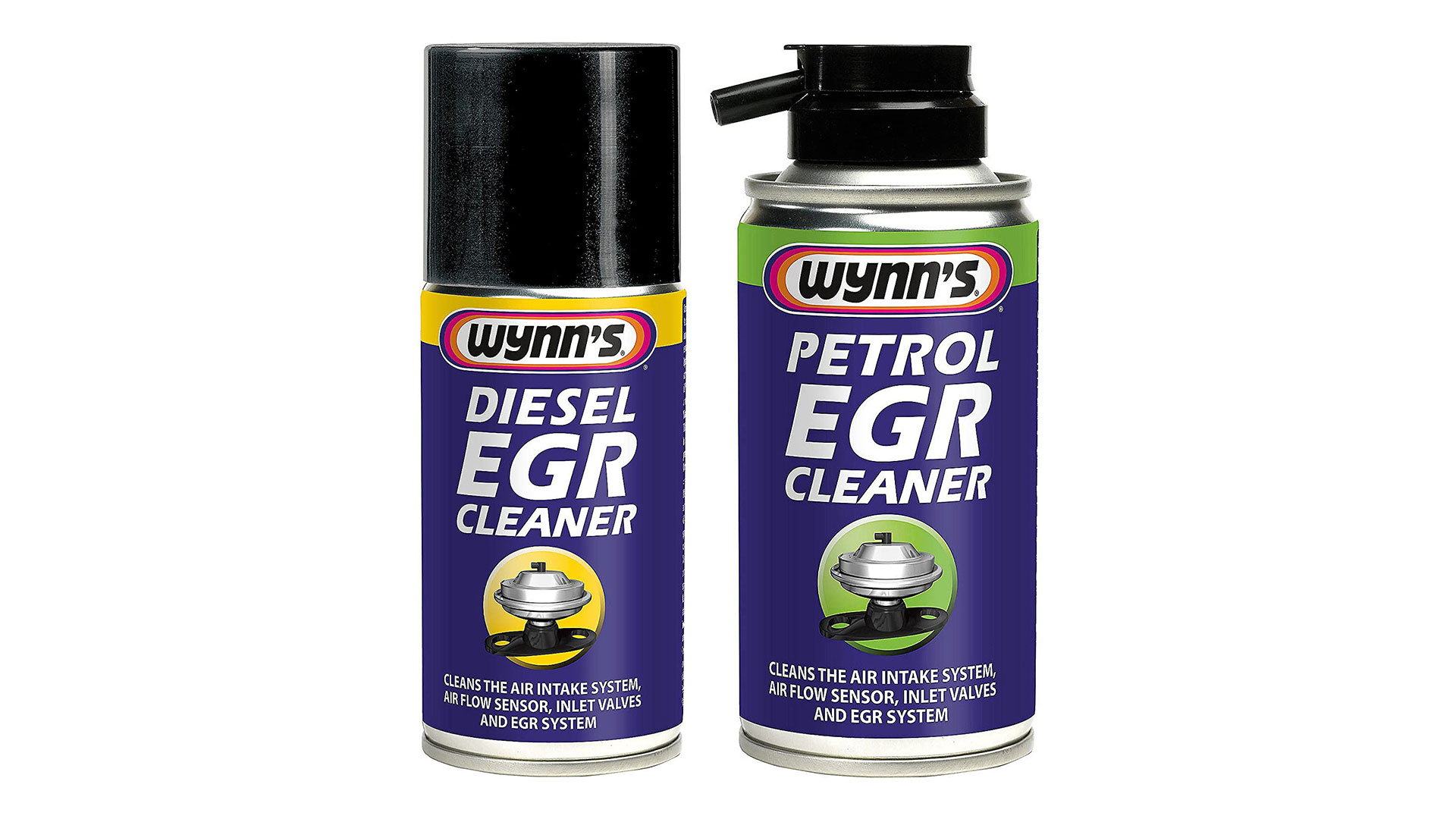 Check the latest price on Amazon
Rounding out the offerings from Wynn's brand is their petrol and diesel variants of EGR valve spray cleaner. Like the additive products mentioned earlier, Wynn's has put large amounts of time and resources into ensuring these spray cleaners are up there with the best of the competition. Unlike JLM or Holts, Wynn's splits their spray cleaner to diesel and petrol versions with the emphasis on specific benefits for the different fuel types.
Both variants of Wynn's EGR and intake cleaner promise to rid the dirt and debris from the EGR and intake system of the engine. The direct effect of the spray allows for removal of even the most stubborn deposits to allow efficient functioning of the moving valves. A fully functioning EGR system will restore any lost performance and fuel economy, while drastically reducing tailpipe emissions and black smoke in diesel vehicles.
Wynn's recommends using on a semi-regular basis to keep the intake system components lubricated, helping prevent future build-ups occurring. Application is the same as the JLM product, sprayed directly into the intake of a warm, idling engine after removing the intake hose before the EGR valve (but after the intercooler in turbocharged vehicles).
Pros:
Highly regarded additive manufacturer
Specific products designed for different fuel types
Removes the most stubborn of EGR valve deposits
Regular use helps prevent future issues occurring
Cons:
Entire can used per application
Holts EGR & Carb Cleaner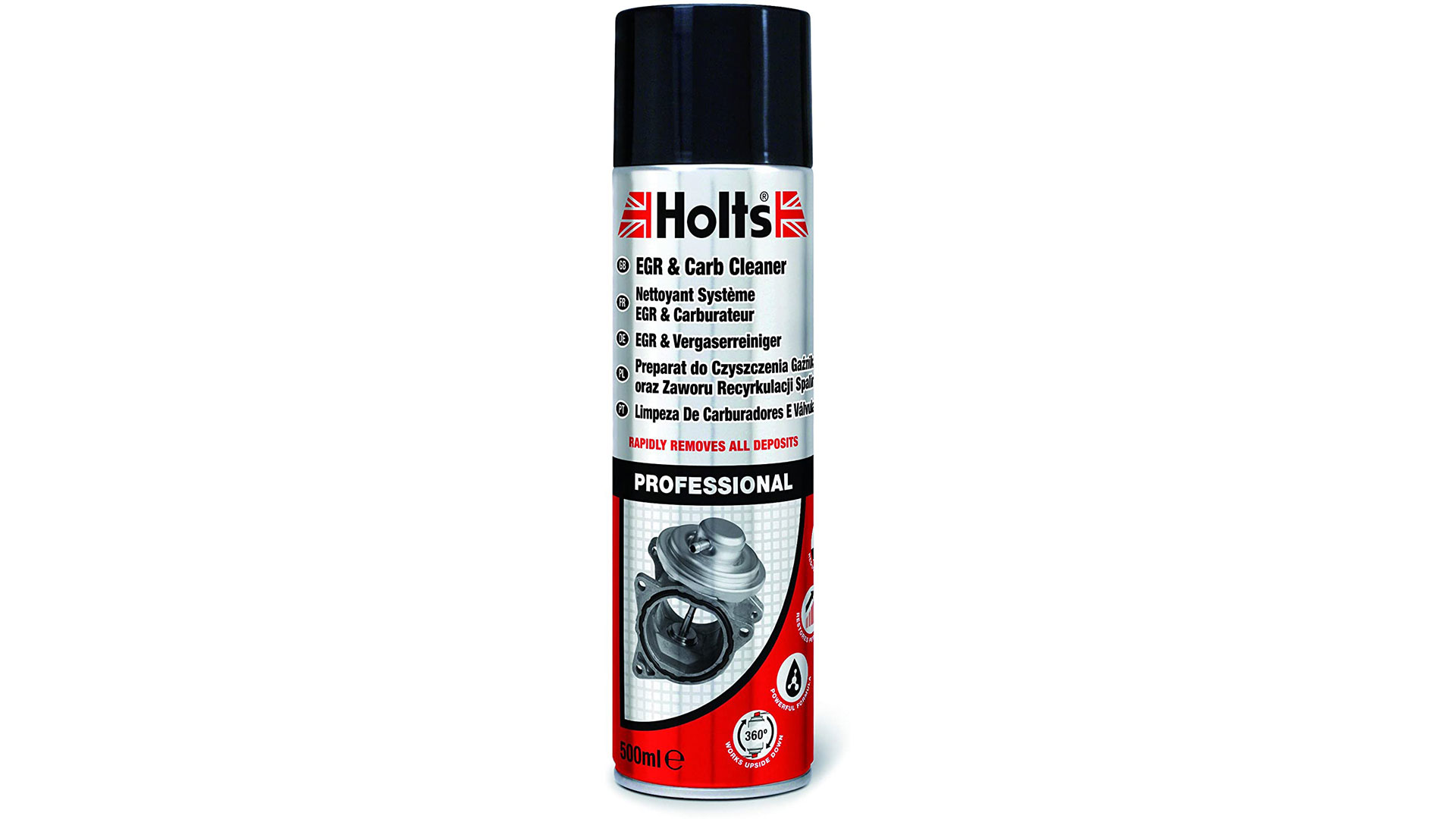 Check the latest price on Amazon
Last but far from least, Holts is a UK brand with over 90 years of additive manufacturing experience, which shows in their current product line-ups. Starting out with leak stoppers and exhaust sealant, the brand has grown massively and offers products to cover nearly all automotive needs and vehicle variants. Their experience and quality products in the sector are well recognised by UK customers who purchase in their thousands, with one of their highly demanded products being this, their EGR and carb cleaner spray.
To compete with rivals in the sector, Holts has designed a powerful cleaning formula that promises to quickly remove deposits in the intake system of petrol and diesel engines, with particular focus on clearing of the EGR system. This, Holts claims, will see a restoration of both power and fuel economy alongside a significant reduction in exhaust emissions.
For best results, spray directly into the afflicted area, in this case directly into the intake tube prior to the EGR valve. Direct application will enable the best removal of harmful build-ups and free sticking valves. Apply when symptoms of poor running or rough idling are noticed, common signs of a faulty EGR valve.
Pros:
Least expensive EGR spray cleaner
UK brand, established for over 90 years
Powerful cleaning formula, applied directly to the EGR
Restore engine efficiency and performance
Cons:
No promise of lubrication to protect parts from future build-ups
In Conclusion
With immediate effect after application, cleaners that remove carbon build-ups and other deposits from the EGR system will allow restoration of lost efficiency, reliability and performance.
Removal of the EGR system when faults occur, is not only ill-advised but also illegal and can vastly increase the emissions of your vehicle. This is not only bad for the environment, but also bad for your wallet. Garage services for removal or cleaning of the EGR valve will cost you much more dearly than the products above, as well as taking your car off the road for hours or even days.
Don't wait till issues start arising, using one of these EGR cleaners will remove current deposits, while regular use will see that large build-ups do not occur and should prevent major EGR-related failures down the road. Prevention is always better than chancing mechanical failure, being stuck on the roadside or limping home is embarrassing and always happens when you need it least.
If you liked the article, please share, leave a comment below and check out our other exciting articles.
Categorised in: Additive Buying Guides
Czok Newsletter