The Best Turbo Cleaner For Diesel & Petrol: Additive & Spray
We're an affiliate
We hope you love the products we recommend! Just so you know, we may collect a share of sales or other compensation from the links on this page. Thank you if you use our links, we really appreciate it!
Turbochargers, the automotive worlds current solution to all customer needs. Need more power or torque from an engine? Turbocharger. Require lower emissions and a smaller engine size? Turbocharger. The efficiency, power and emissions standards required from modern engines have led the majority of vehicle manufacturers to offer nearly all product lines with turbo-enhanced combustion engines. They enable small engines to make large power outputs, without the extra emissions and size restraints imposed by a larger engine or one with a greater cylinder count. This is something that is becoming more relevant by the day, in an industry obsessed with environmental factors and carbon emissions.
A common issue however, that does crop up for modern turbocharged vehicles, is clogging of the turbocharger and its internal components, particularly on diesel engines. Exhaust gasses (that pass through the turbocharger) contain unburnt fuel and soot, carried out of the engine after it's combustion cycle. This dirty air, which is particularly foul in diesel-engined vehicles, will deposit onto components within the turbo and lead to improper function, damage and even failure in extreme circumstances.
Removal and replacement of turbocharger components could be one option to solve the issues, though expect a bill running into thousands rather than hundreds of pounds. For a simple, cost-effective solution, that you can implement at home, look no further than one of the turbo cleaning products below.
The Types of Turbo Cleaner
Turbo cleaning products are found in many varieties, the most common and widely available being pour-in or spray additives. Both can be used at home, without lots of specialist tools or knowledge. This can potentially save owners thousands on garage services, without the car leaving the driveway.
Turbo Cleaning Pour-in Fuel Additive
Pour-in turbo cleaners work by adding the contents into the fuel tank, to mix with the diesel inside. This mixture will pass through the fuel system and engine before finding its way to the turbo. Improvement in performance and fuel economy should be noticeable almost immediately, as well as preventing issues with further build up if applied at regular intervals, as recommended by the manufacturers.
These additives are super easy to implement, requiring no special tools or knowledge and very little time. It is important though to ensure a full or nearly full tank of fuel in the vehicle before use. The car then needs to be taken for a good drive, ensuring the product has made its way through the turbo before full benefits can be realised.
Key points for pour-in additive turbo cleaners:
Extremely easy to use
Low outlay
Great for those with no tools and/ or no DIY experience
Less direct application when compared to spray products
Only suitable for diesel vehicles
Turbo Cleaning Spray
Spray cleaners work slightly differently to pour-in additives, in that they are not added into the fuel tank but directly into the turbo via the inlet pipework. These solutions are sprayed through the inlet hose, after the filter and sensors, allowing it direct access to the turbocharger.
This approach should ensure that the product can set to work quickly and have an increased cleaning effect for the turbocharger. These additional steps however, will increase the amount of time needed to implement. Spray additives also require the user to have at least a couple of basic tools and a little knowledge of basic mechanics or a knowledgeable friend.
Key points for spray turbo cleaners:
Very direct application to the turbocharger
Only requires basic tools and knowledge
Longer process compared to using a pour-in additive
Products to suit petrol and diesel vehicles available
The Best Turbo Cleaning Additive For Diesel Vehicles
JLM Lubricants Diesel Turbo Cleaner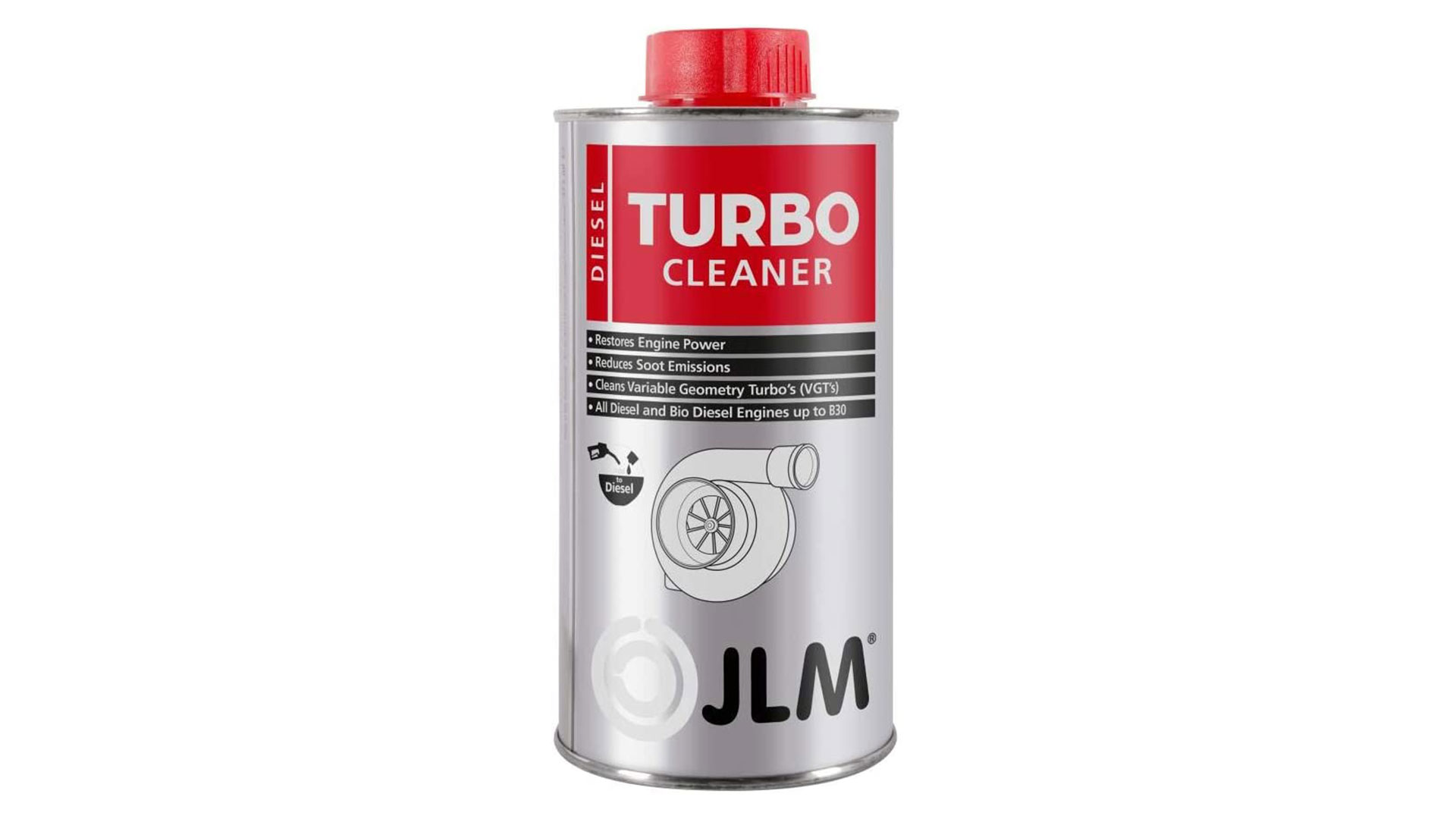 Check the latest price on Amazon
The first of the pour-in additives featured here comes from a firm based in the Netherlands, JLM lubricants. The company is just a decade old but, their use of high-quality testing and serious research is making a big impact on the fuel additive market. Professional level products for the regular consumers are what JLM specialise in, resulting in products such as their diesel turbo cleaner.
They claim their turbo cleaner to be the best on the market, removing effectively all soot and dirt for improved efficiency and restored performance, for any diesel-powered turbocharged engine. The product claims to reduce soot emissions produced by the engine to ensure the turbo system stays clean too, allowing ideal air: fuel ratios and maximum longevity for the turbocharger.
JLM's product is suitable for all turbo-powered diesel engines, applied simply by adding into the fuel tank. One bottle is suitable for mixing with up to 70 litres of diesel fuel, to ensure maximum effect. No further dismantling or assistance is required, simply drive.
Pros:
Well researched and tested product
Removes high amounts of dirt and soot build-ups
Improves performance and fuel economy
Reduces engine soot emissions
Increases service life of the turbocharger
Cons:
Most expensive pour-in product
No biodiesel compatibility
Wynn's Diesel Turbo Cleaner Additive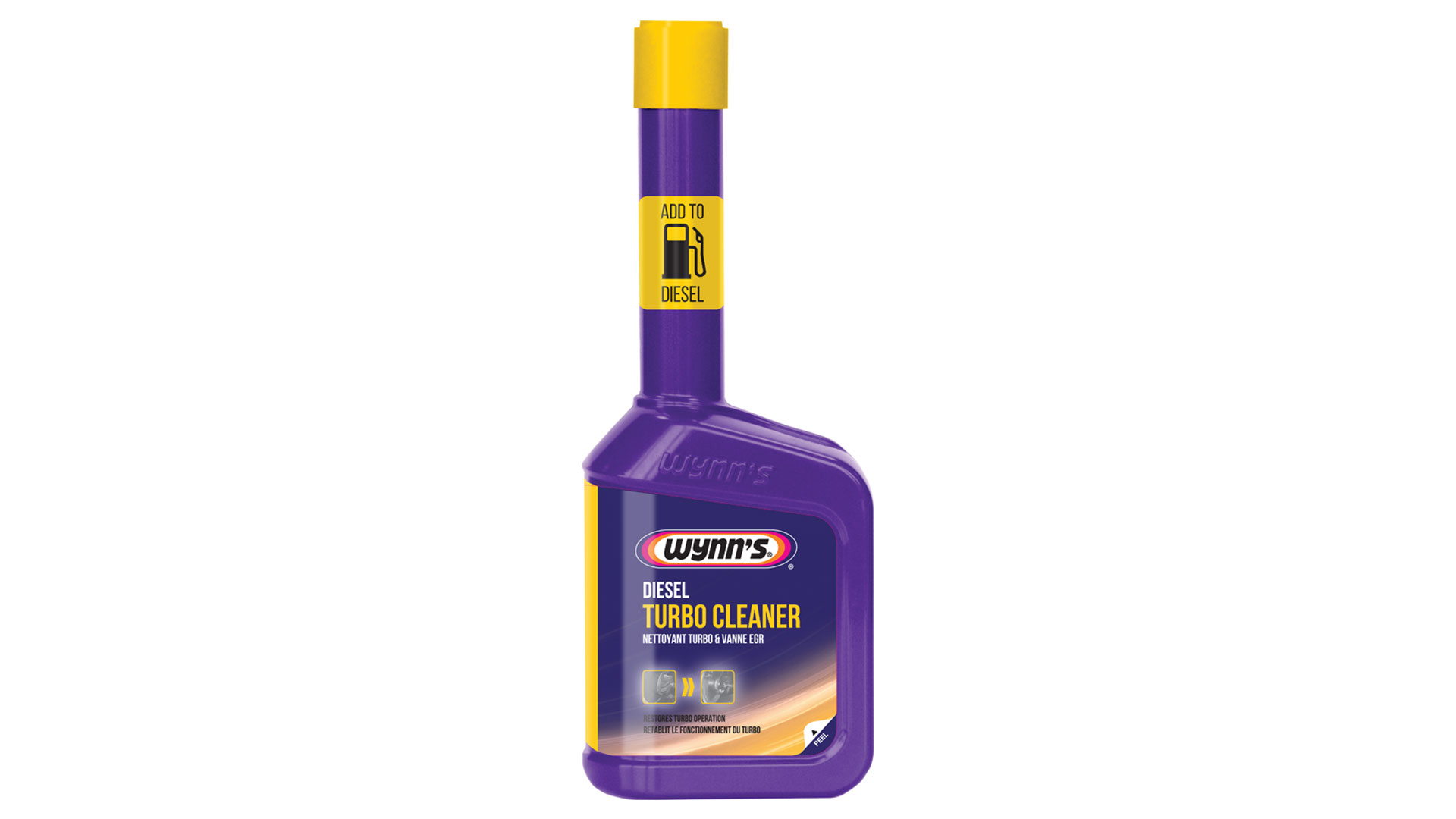 Check the latest price on Amazon
80 years in the industry have made US-based Wynn's one of the top players in the market. The company sells products across the globe, with their specialised vehicle additive lines. Products from Wynn's are time tested, with glowing customer reviews and a huge backing in the sector. All their products are held to high standards including this, their diesel turbo cleaning additive.
Designed to clear and free sticking vanes within the turbo, Wynn's pour-in additive cleaner promises to remove nasty build-ups created in the turbo of diesel engines. A turbocharger working at maximum capacity will restore any lost performance and fuel economy. Once into the engine, the product reduces soot emissions with more efficient fuel combustion. The additive can also have a positive cleaning effect on the engines EGR valve system (another exhaust component subject to dirty exhaust gasses).
Wynn's solution is suitable for all turbo-equipped diesel vehicles and those powered by biodiesel also (up to B30). Add a full bottle to at least 40 litres of diesel fuel and for best results, Wynn's recommends using every 3rd tank.
Pros:
Highly-trusted additive brand
Clears and frees sticking turbocharger vanes
Restores lost performance and fuel economy
Additional cleaning effect on the EGR valve
Suitable for bio-diesel vehicles
Cons:
Recommended use every 3rd tank will add serious expense over time
Forte Diesel Turbo Cleaner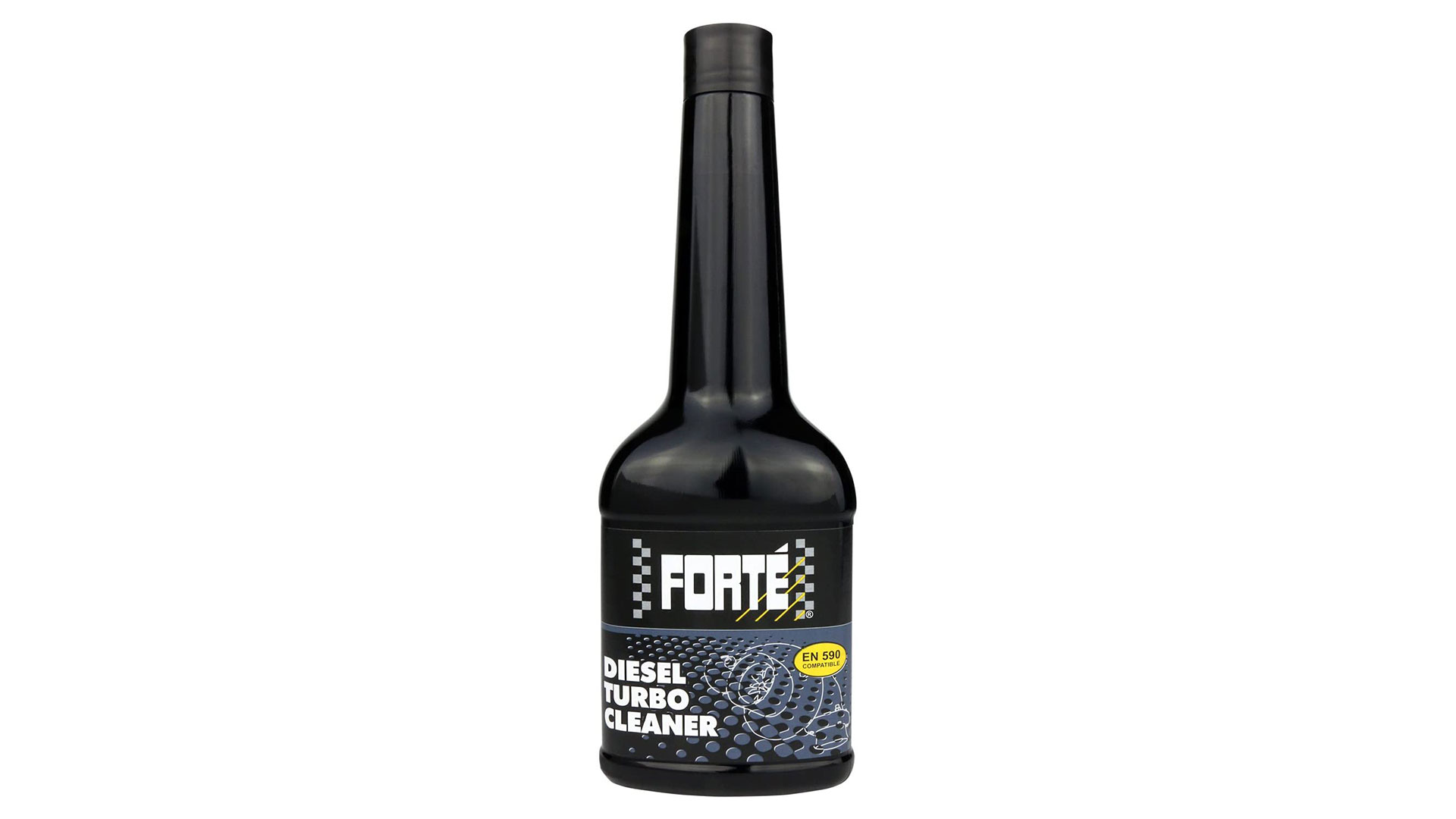 Check the latest price on Amazon
Last but by no means least, Forte's products promise no lesser results than those of its rivals. Forte have been working with engineers, mechanics and automotive specialists in the UK for over 40 years, aiming their products squarely at people who care about their vehicles. Thanks to this industry experience, the company offers a wide range of products, specifically tailored to make them easy to use and effective.
Forte's diesel turbo cleaner is no exception to the company's high standards. Their product is specifically formulated to work with variable geometry turbochargers (fitted to many modern vehicles), aiming to free blocked and/ or sticking vanes and allowing the turbo to work as intended. The solution will also clean EGR valves and reduce soot emissions to minimise future blockages.
Suitable for all diesel engines and those that run biodiesel blends up to B30. Forte recommends using at regular service intervals to remove existing build ups and prevent future issues occurring or to treat existing symptoms when they arise.
Pros:
UK manufacturer
Specialist industry knowledge
Designed for modern turbocharger technology
Also cleans EGR valves
Suitable for all diesel vehicles and biodiesel up to B30
Cons:
The Best Turbo Cleaner Spray for Diesel & Petrol Vehicles
Wynn's Turbo Cleaner Spray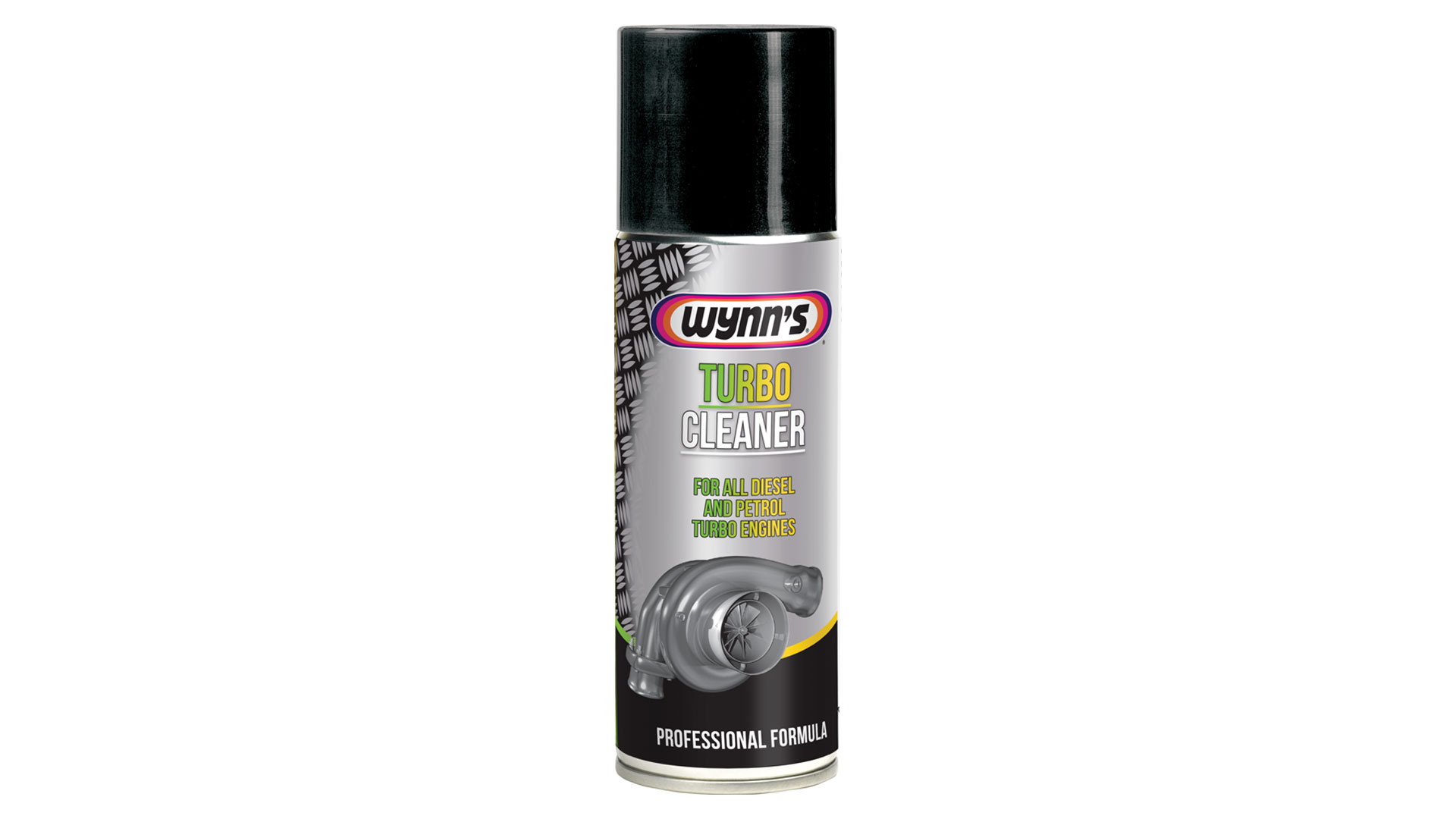 Check the latest price on Amazon
As mentioned above, Wynn's have spent their many years in the industry vastly expanding their product portfolio. This means that they have also ventured into the spray turbo cleaner market, understanding the need for a more direct product aimed at those with the know-how and time to implement such a product.
Wynn's claim their formula will clean and unblock dirty turbocharger components without the need for dismantling. They claim the product can clear common contaminants like tar, carbon and lacquer, restoring turbocharger function to maximum efficiency. This will allow the vehicle to achieve optimum air: fuel ratios, restoring any lost power and fuel economy.
The solution is sprayed into the inlet pipe, before the turbocharger (but after the air filter), allowing direct action to the dirt and build-ups. Wynn's states that the product is suitable for all turbocharged petrol and diesel engines. For those who are so inclined, the cleaner can also be used with the turbocharger removed from the vehicle, useful to clear severe blockages.
Pros:
Trusted additive manufacturer
Cleans and unblocks turbocharger components
Removes tar, carbon and lacquer
Restores lost performance to the engine
Simple to apply
Cons:
Requires turbocharger removal in extreme cases
Ecomotive Turbo Clean/Restore Spray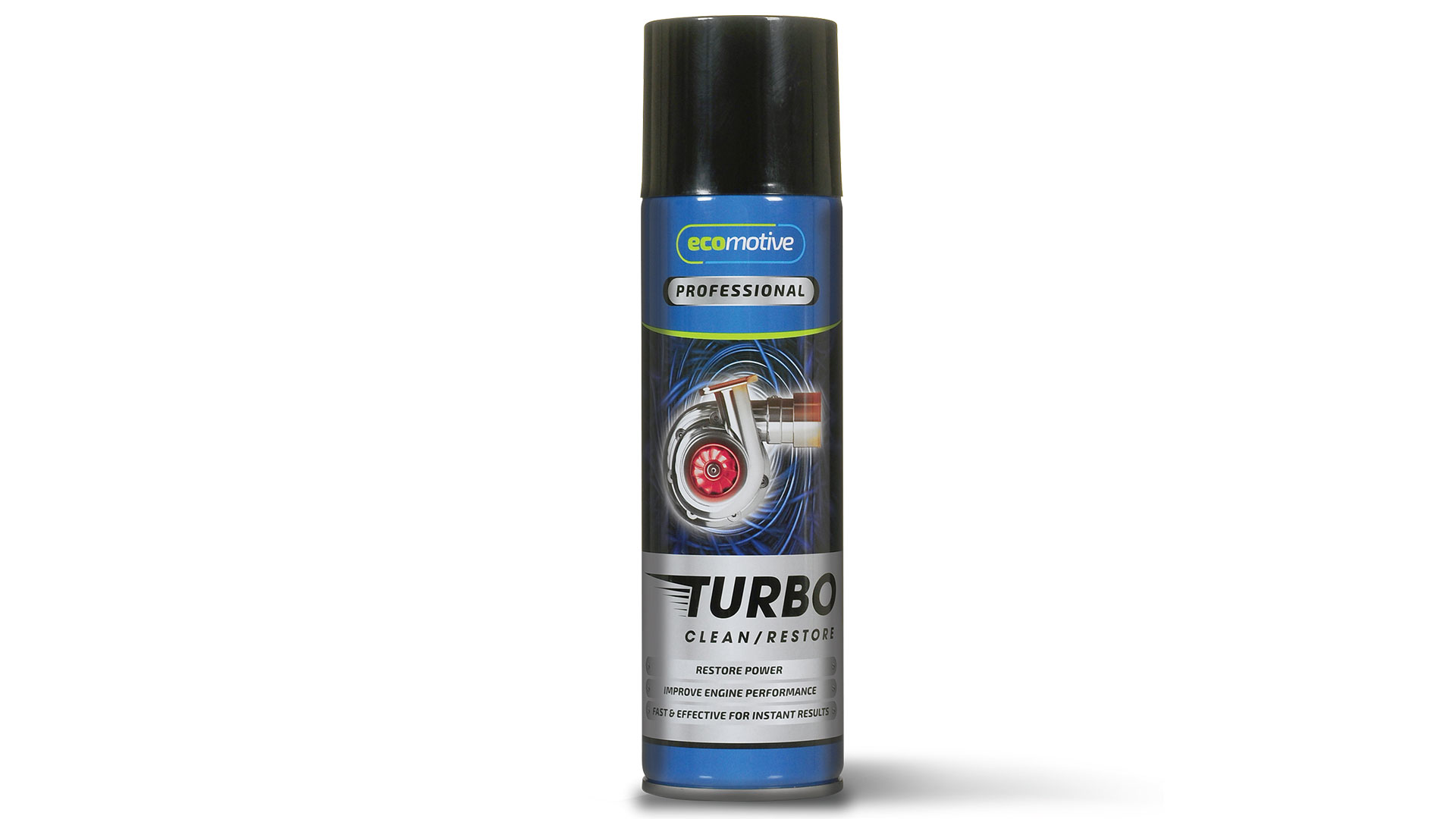 Check the latest price on Amazon
Made and tested in Britain, Ecomotive's additive line has been steadily growing since the company's beginnings in 2010. Ecomotive operate with very modern business aims, to reduce their environmental impact, improve safety and highly research all products before manufacture. The aim of all their products is to enable customers to better maintain their vehicle and achieve optimum performance and fuel economy.
For such a cutting-edge business, Ecomotive's turbo cleaner is very much in-line with competitors' offerings, that's not to say this is a bad thing however. Like rivals, Ecomotive's turbo cleaner spray promises to clear turbochargers of unwanted contaminants, restoring conditions to manufacturers specifications. This will allow resumption of correct air: fuel ratios along with optimum performance and restored fuel economy as a direct result.
The product is safe for use in all diesel and petrol engines, while Ecomotive recommends using the spray around every 3000 miles to keep parts clean and issues to a minimum.
Pros:
Brand focussing on environmental awareness
UK-based manufacturer
Clears turbochargers of dirt and build-ups
Restores parts to manufacturers specifications
Suitable for all turbocharged diesel and petrol vehicles
Cons:
Requires use every 3000 miles for optimum results
Brand hasn't yet built a strong reputation
Revive Turbo Cleaner & Power Restorer: Diesel/Petrol
Check the latest price on Amazon
Revive is a manufacturer that operates a little differently to those featured above. Unlike competitors they do not have wide range of additive lines, instead they focus purely on their internal engine component cleaning products. Their attention to detail in this sector shows, with them being the only brand listed that offers separate petrol and diesel offerings, both with the same aim but with different construction in order to satisfy specific engine conditions.
Both formulas contain active ingredients that are said to bind to dirt and soot particles, removing them as the air passes through the turbocharger. The tiny particles can pass safely through the exhaust and catalytic convertor, ensuring no further blockages or damage is caused. Revive promises that the solution will allow full function of the moving turbocharger vanes, as well as having positive cleaning effects across the whole of the engine. This, they promise, will give restored performance and increased longevity for the entire engine.
Revive's water-based formula is said to be bio-degradable and non-toxic, really emphasising the companies focus on environmental impact and sustainability. Simply sprayed into the inlet, after the air filter, the solution will pass through the turbo and engine to remove all build ups, though this may require multiple applications. Thanks to the large quantity provided, this product should support multiple uses.
Pros:
Manufacturer specialising in engine cleaning products
Focus on environmental impact
Separate petrol and diesel formulas to ensure optimum results
Binds to dirt and removes from the turbocharger
Safe formula, non-toxic and non-flammable
Large quantity of product, suitable for multiple vehicles
Cons:
More expensive than competitive spray additives
In Conclusion
Simple to apply and massive in potential gains, turbo cleaners are a product that is becoming ever more relevant in today's modern era of turbocharged engines. Nearly all performance cars of the last 5 years have come fitted with a turbo, while you will struggle to find a diesel vehicle without one made in the last decade. Trying one of these inexpensive turbo cleaning products could not only save you thousands in garage repair bills, but should give any turbo-powered vehicle an entirely new lease on life.
Think of it this way. You will happily spend a little extra for more data on your phone, a nicer bottle of wine and that slightly plusher sofa. Turbo cleaners simply aim to improve the driving experience of your vehicle. They will maintain its efficiency and reliability, whilst also saving you from expensive repairs in the future. For such a small outlay, there really is a lot to gain and not a lot to lose.
If you liked the article, please share, leave a comment below and check out our other exciting articles.
Categorised in: Additive Buying Guides
Czok Newsletter