The Best Carburettor Cleaner: Additive & Spray
We're an affiliate
We hope you love the products we recommend! Just so you know, we may collect a share of sales or other compensation from the links on this page. Thank you if you use our links, we really appreciate it!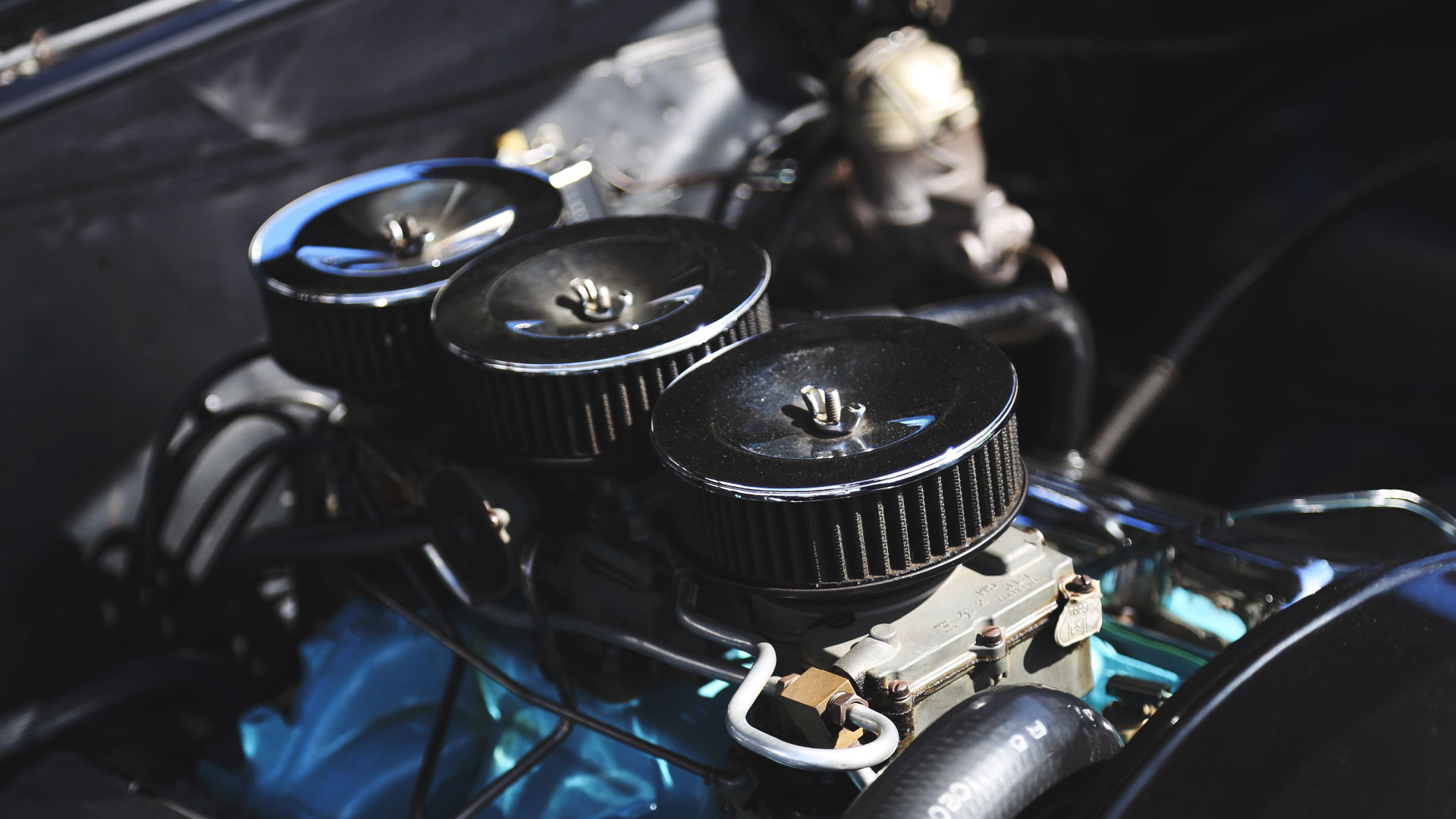 Carburettors may well be a technology of the past but that doesn't stop them being relevant in todays automotive scene. Nowadays, most vehicles use fuel injectors for extra efficiency, lower emissions and increased performance, but this wasn't always the case. Carburettors were fitted to cars for many decades and keeping them in good condition is paramount to efficient running.
Like modern fuel injectors, carburettors work with tight tolerances and contain many narrow passageways. Over time the carburettor can begin to build up with dirt and contaminants from the fuel and air that pass through. Build-ups like these can wreak havoc on the air: fuel ratios, as the carburettor cannot function as intended.
Expect a dirty carburettor to reduce performance and fuel economy, while also giving rough running and poor overall engine efficiency. Contaminants left on the metal surfaces can also cause lasting damage, corrosion and metal breakdown, leading to replacement or a carburettor strip down, both expensive and lengthy processes. Carburettor cleaners on the other hand are budget-friendly and easy to administer, no need for specialist knowledge or hours of labour. They will clear your carburettor and keep it clean, for long term efficient running and solid reliability.
The Different Types of Carburettor Cleaner
Almost any fuel system/ intake cleaning pour-in additive will clean the carburettor, while specialist products are often available in the form of spray cleaners. Ultimately both will achieve the same goal, but with different application methods and varying levels of results.
Carburettor Cleaning Fuel Additives
Without doubt, the easiest form of mechanical maintenance possible is via a pour-in fuel additive. Simply added into a tank of fuel, these additives will mix and pass through the fuel system and into the engine. Along the route they will pick up dirt and contaminants to be expelled via the combustion cycle.
One of the key components that will be cleaned during this process is the carburettor as fuel passes through here, as it does with modern fuel injectors, before entering the engine. These additives will continue to clean the carburettor as the vehicle is driven, with no further intervention needed once administered.
Key points on pour-in additives:
Simple to use
Effective at cleaning fuel system and carburettors
No tools or mechanical knowledge required
Less direct effect, compared with spray products
Huge variety of suitable products on the market
Carburettor Cleaning Spray
Most carburettor-specific products will be of the spray can variety. These sprays take a little more time and effort to implement, compared to pour-in fuel additives, but will directly clean the carburettor and clear dirt with the air pressure expelled from the can. Spray cleaners are applied directly to the carburettor, removing the air filter and intake pipe is often required, so basic tools and a little mechanical knowledge will benefit the user when utilising an aerosol-based cleaner.
For those looking for that extra impact and in worst-case scenarios, these spray cleaners are also highly effective with a carburettor that has been removed from the vehicle. The nature of a spray aerosol means that the product can be applied in narrow passages and hard to reach areas that could not be accessed through alternative means.
Key points on carburettor spray cleaners:
Direct cleaning effect on the carburettor
Simple dismantling required
Easy to use in tight spaces
May require use of basic tools
Designed specifically for use with carburettors
The Best Carburettor Cleaning Additives
SeaFoam Motor Treatment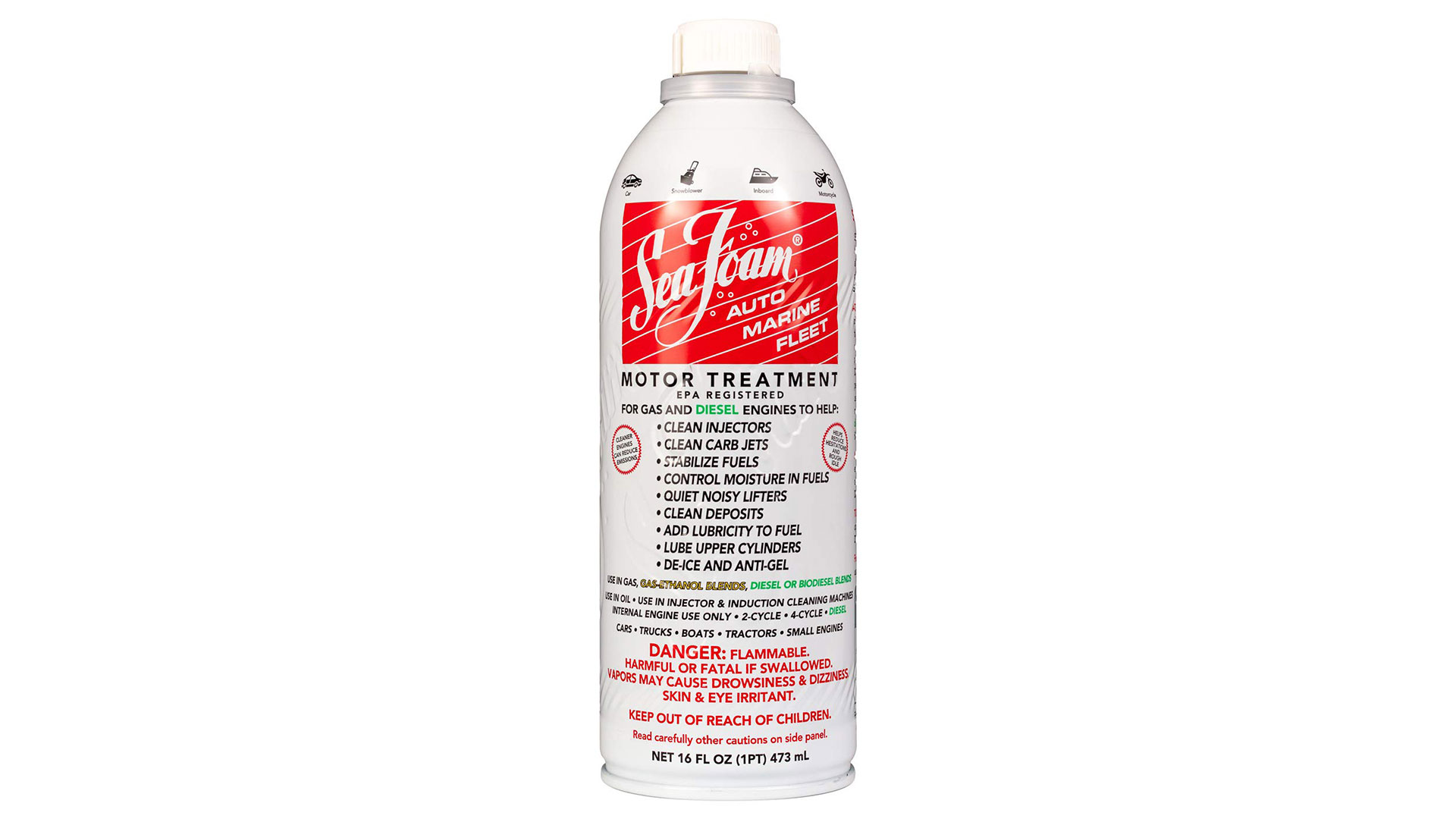 Check the latest price on Amazon
The first of our pour-in additives is a full motor treatment product from SeaFoam. The US brand is well known, particularly in its native market, for top quality products in the additive sector. Operating since 1942, the company has a wide range of products that promise top results without using harsh or toxic chemicals. SeaFoam is a brand that is relatively unknown in the UK market, but they are increasing their market share with products like their motor treatment additive.
Seafoam states that their bespoke formula can clean almost all parts of your engine, certainly all the parts that fuel passes through on the way to the engine. This means that the product, as it travels through the carburettor, will rid of dirt and build ups that would otherwise cause rough running. Regular use, Seafoam states, will ensure that carburettor parts do not get gummed up or covered in dirt and will continue to work well and feed the engine optimum levels of fuel.
The product is incredibly versatile, being useful in both petrol and diesel engines, as well as suiting both 2-stroke and 4-stroke cycles. Simply add one ounce of Seafoam per gallon of fuel in the tank and drive for the product to take effect. Seafoam can also be mixed with oil to help lubricate internal engine parts, though this will not have any effect on the carburettor.
Pros:
Highly trusted product
Versatile solution
Thoroughly cleans all fuel and intake parts including the carburettor
Removes dirt and build-ups for efficient running
Can also be used as an oil enhancing additive
Cons:
Product has less specific focus on carburettor parts, when compared with rivals
Liqui Moly Carburettor and Valve Cleaner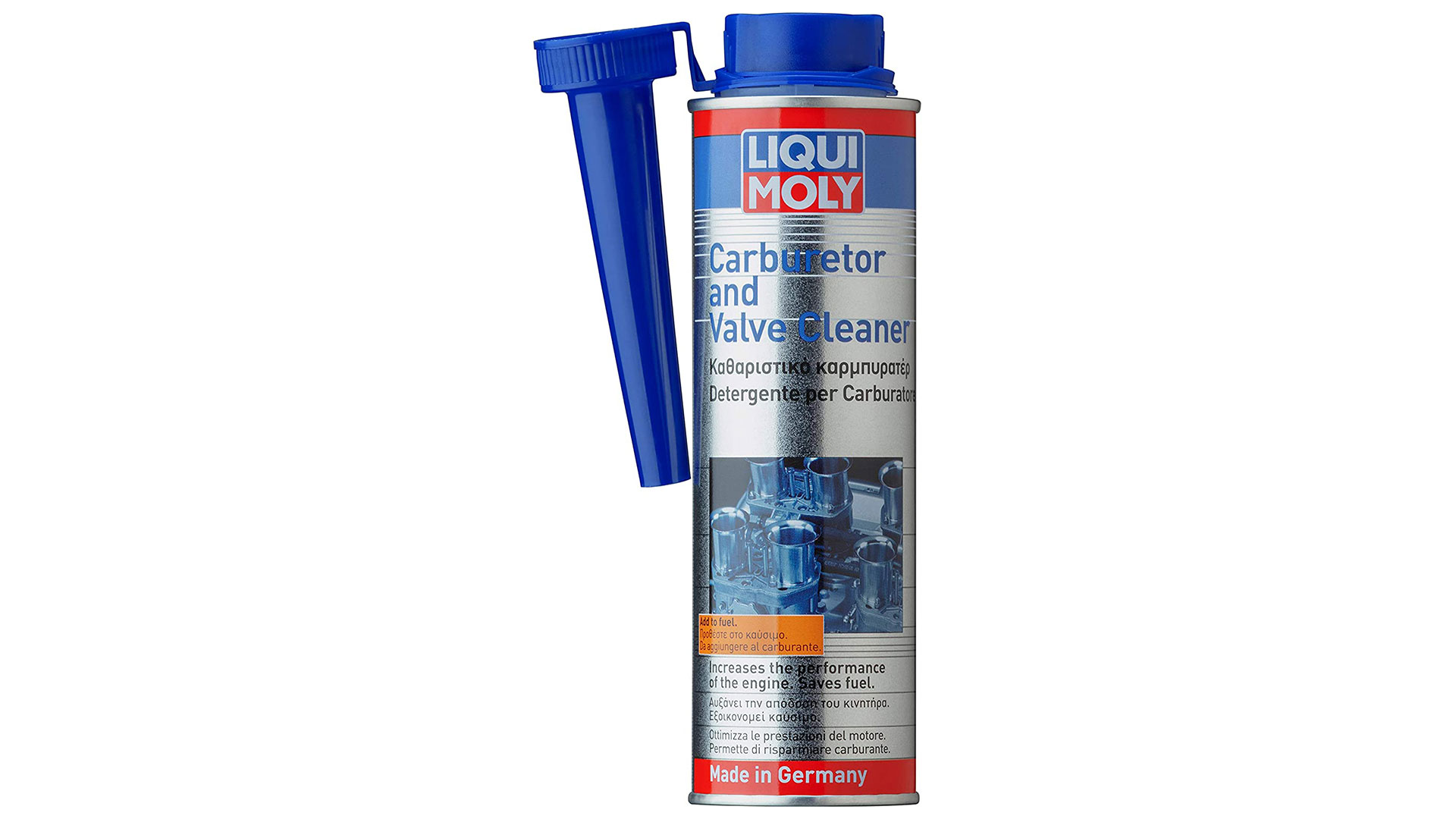 Check the latest price on Amazon
Not the first appearance on Czok for Liqui Moly and likely not the last. Without doubt, some of the best additive products coming out of Europe can be found in Liqui Moly's extensive line-up. The company has been around for over 60 years and they are constantly improving their formulas and researching the next breakthrough. Their product featured here is one of very few pour-in additives with a specific focus on carburettor cleaning.
Suitable as a preventative measure, but also to fix current issues, Liqui Moly's carburettor and valve cleaner promises to remove deposits from within the carburettor, as well as those on the valves and spark plugs. Preventing new deposits will enable efficient running, thus improving performance and fuel economy, while helping to minimise the chance of any poor running or reliability woes.
One can is suitable for 70 litres of fuel (enough for almost all cars on UK roads), suitable for any 2-stroke or 4-stroke petrol engines. Once poured into the tank, owners simply need to drive for the product to take effect and begin cleaning.
Pros:
Cheapest additive solution listed
Designed to work specifically with carburettors
Highly trusted additive manufacturer
Also works as a preventative measure
One can is easily enough product for nearly all cars/ motorbikes
Cons:
Recommended to use every 2000km, will get expensive over the months and years
BG 44K Power Enhancer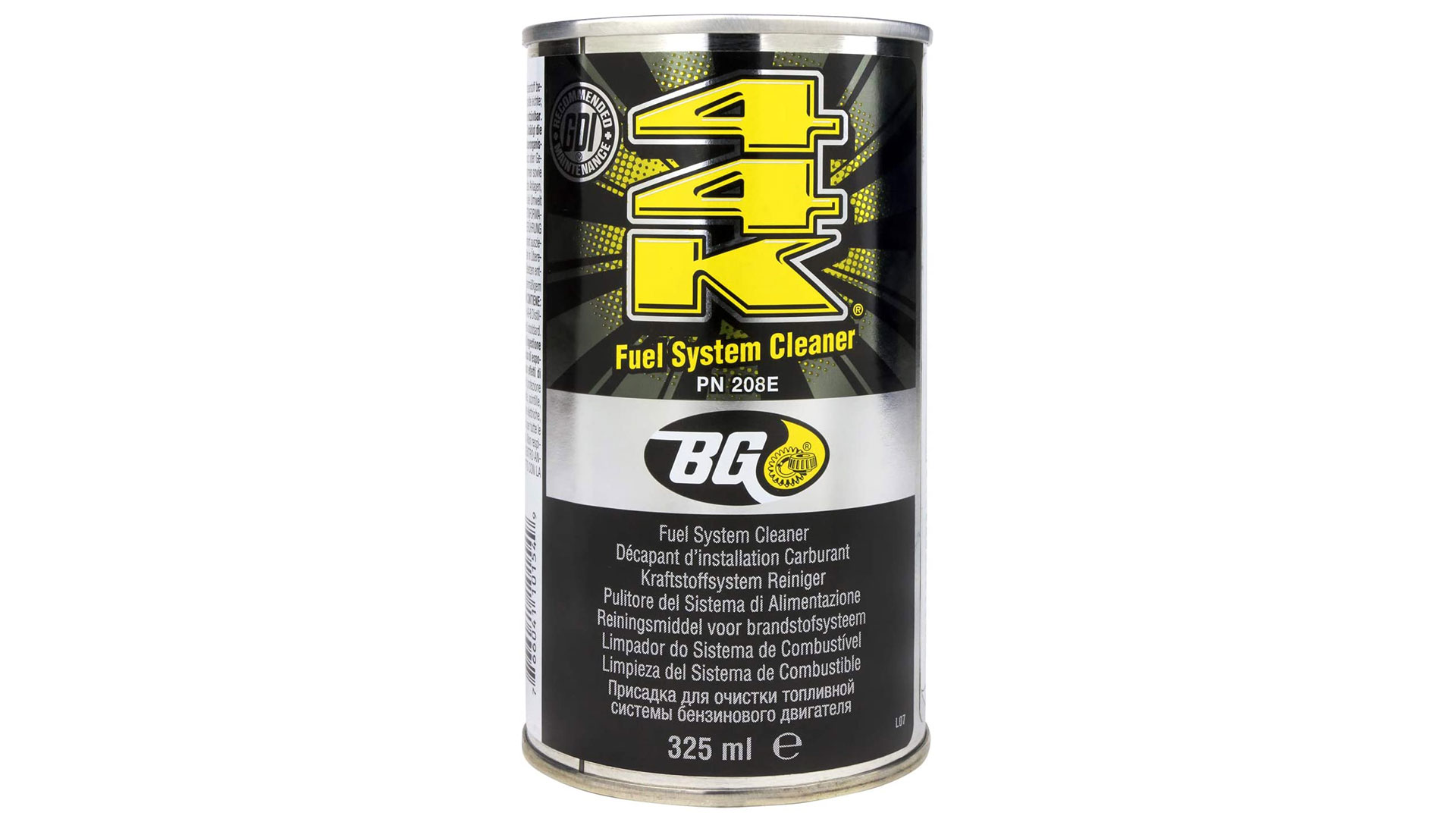 Check the latest price on Amazon
BG may not be a brand that most UK buyers are familiar with, but this is rapidly changing as the company brings more of their products into our marketplace. Formed in 1972, the US firm have been focussing their efforts on quality products, that help motorists keep their vehicles running at their optimum, for nearly 50 years. BG 44K was one of their very first offerings, a product they have continued to develop and likely their biggest seller.
The brand claims that 44K is the "best fuel cleaner of its kind". Cleaning the carburettor (or fuel injectors in newer vehicles), valves, O2 sensors and even the catalytic convertor as the formula is ingested and combusted within the engine. These benefits, BG claims, are down to the product's high levels of Polyether Amine (PEA for short), an expensive chemical that is apparently recognised across OEM manufacturers like Ford and Toyota as being useful for removing hard, baked-on deposits inside their engines.
BG 44K can be used in both petrol and diesel engines, without harm to components such as turbochargers and catalytic convertors. Like the others, BG 44K is simply poured into the fuel tank according to the ratios on the bottle, where it will mix with the fuel and be transported to the engine and carburettor.
Pros:
Highly regarded fuel cleaning product
Cleans most engine parts on the intake and exhaust side
High levels of PEA chemical
Suitable for petrol and diesel engines
One can is enough for a full clean
Cons:
More expensive than rivals
Less well-known brand in the UK market
The Best Carburettor Cleaning Sprays
Wynn's Air Intake & Carburettor Cleaner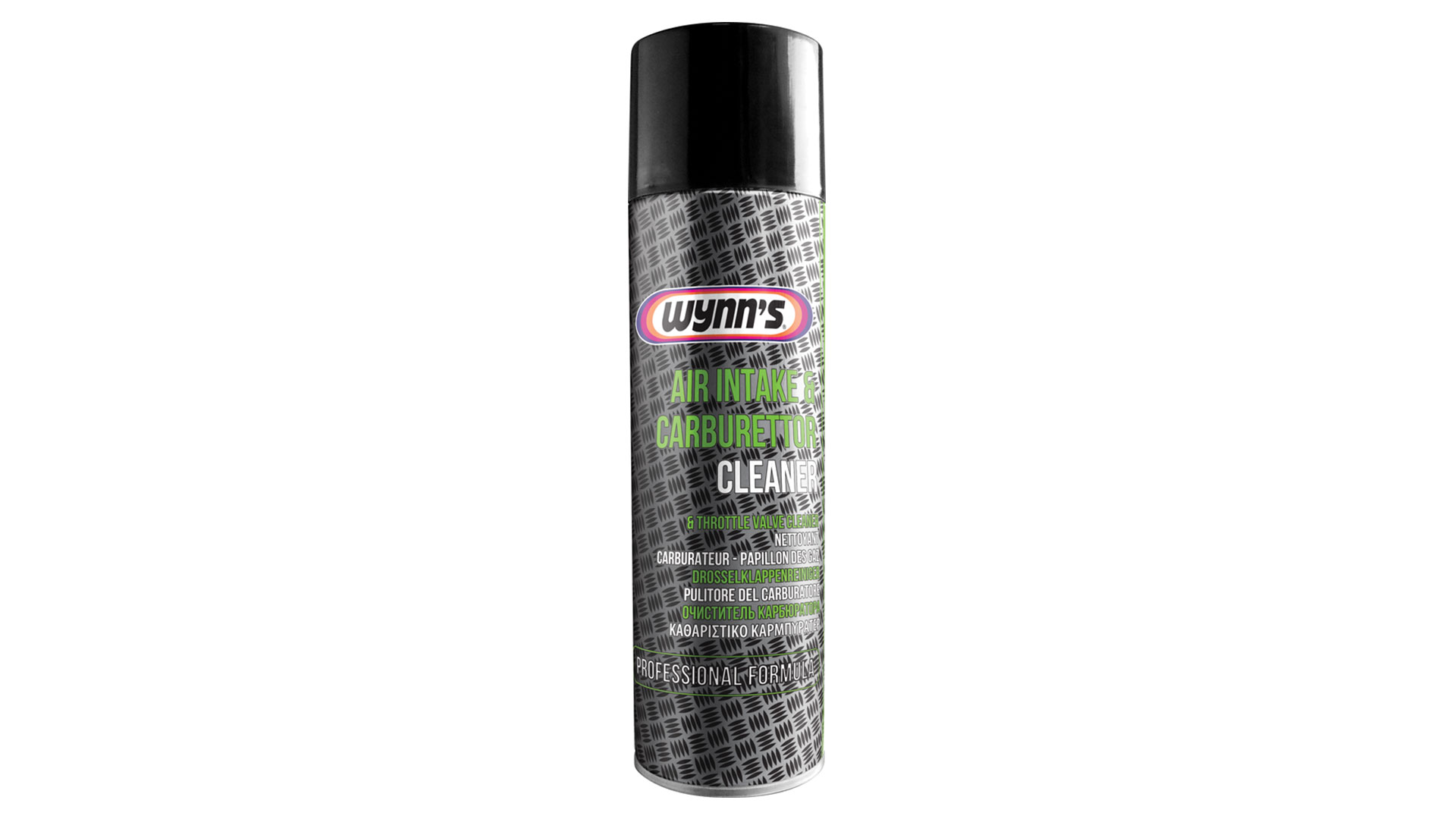 Check the latest price on Amazon
Our first specialist carburettor spray solution comes from US additive manufacturer Wynn's. Their company has been going strong for over 80 years, with specialist products to suit the majority of vehicle owners. Customer reviews show that their products are effective, hence they now have a huge backing in the UK as well as in their native market. Their carburettor cleaner is no exception to the companies rigorous testing and research, ensuring a high performance, consistent product.
The strong solvent will dissolve and, according to Wynn's, remove dirt from the carburettor parts along with cleaning valves and intake manifolds. The strong spray will allow dirt to be lifted from the surface of the metal without the need for difficult disassembly. Wynn's promise that their product can lift the harshest of dirt deposits, gum and lacquer build to increase efficiency and promote reliable running.
To clean the carburettor, the air filter should first be removed and the engine warmed with a few minutes of idling. Put the choke into the open position and spray directly into the intake on the carburettor, focussing on any particularly visible dirt build-ups. This cleaner is suitable for all petrol engined-vehicles.
Pros:
Highly trusted brand
Rigorously tested product
Strong solvents contained within
No need for complex disassembly
Restores performance and promotes efficient running
Cons:
More expensive than rival offerings
STP Carb Cleaner Spray
Check the latest price on Amazon
STP, since 1953 the company has been selling automotive additive products, whilst creating strong links with both motorsport teams and US auto-makers. Often featured in many additive comparisons, STP is a leading US-brand, who are constantly innovating and improving on their product line-up. The brand already has a strong hold in the UK market, thanks to their region-specific products. One particularly useful solution, that is popular here in the UK is their carb cleaner spray.
A fast-acting formula that promises to not only remove dirt but prevent future build-ups from occurring. This will allow efficient running, that will maximise power and performance of your engine. STP claims that regular use will keep carburettor parts clear of dirt and allow for consistent reliability.
The product is applied in much the same way as Wynns offering. Sprayed into the intake side of the carburettor, with the air filter removed and the engine warm and idling. STP recommends spraying and leaving for a minute or two to allow the solution to take effect, before spraying again on obvious areas of build-up. Suitable for all carburetted vehicles.
Pros:
Budget friendly option
Highly regarded brand in the UK market
Removes dirt and prevents future build-ups
Restores power and performance
Easy to apply
Cons:
Regular use required to maintain clean state
Power Maxed Carb Cleaner Spray
Check the latest price on Amazon
Though a relative newbie in the market, UK-based Power Maxed are expanding rapidly. What started as a brand solely focused on car cleaning products, now has a massive product range, spanning from car detailing to lubricants and additive formulas. Since their beginnings in 2014, Power Maxed have made a point of testing all their additive products in their sponsored race cars, proving the formulas are effective and reliable. This bodes well as it passes down to regular consumer products such as their carb cleaner spray.
The brand promises their carb cleaner contains high levels of strong solvents, used to lift and remove the dirt from the carburettor components, helped by the air pressure from the aerosol can. Without need for complicated disassembly, the product will remove lacquer, gum and dirt deposits, while also being useful for cleaning of throttle valves and carburettor chokes.
The aerosol is suitable for use in all carburetted petrol engines, while application is, like rivals, via removal of the air filer and spraying into the intake with the engine warm and idling.
Pros:
Products tested to rigorous levels
UK-based additive brand
Strong solvents to remove stubborn build-ups
Easy to apply
Cleans the carburettor, throttle valves and choke
Cons:
Brand not as well-known as competitors
In Conclusion
Keeping an old classic running at its best doesn't always require specialist knowledge, expensive labour fees or bespoke tools. Often, the most common factor affecting how an older vehicle runs is the state of its carburettor. While it may look clean and shiny on the outside, inside nearly all carburettors their will be dirt and contaminants building with every drive.
A fully functioning carburettor will give great performance, smooth running and long-term reliability, thanks to the engine running as the manufacturer intended. Keeping on top of the issues and preventing potential problems before they arise keeps stress low and enjoyment high. Don't fall prey to something that is so simple to remedy. Give your old-school motor a little bit of old-school love, keep it in tip top shape ready for when that next sunny weekend arrives.
If you liked the article, please share, leave a comment below and check out our other exciting articles.
Categorised in: Additive Buying Guides
Czok Newsletter