The Best Volkswagen Transporter Wheel Bearing Tool
We're an affiliate
We hope you love the products we recommend! Just so you know, we may collect a share of sales or other compensation from the links on this page. Thank you if you use our links, we really appreciate it!
Quite simply, the best-selling van of all time. Since the original VW Type 2 broke onto the scene in 1950, over 12 million "Transporter" models have rolled off of VW production lines. VW officially changing the name to Transporter in 1990 (starting with the T4 model). Over the years they've come in all shapes and sizes from basic work vans to £100,000+ limited edition campers. Their popularity remains as high as ever thanks to excellent (car-like) driving manners, refinement and reliability.
As with any vehicle that takes heavy loads however, wheel bearings and other suspension components do tend to take a serious beating. Bulbous cargo loads, large numbers of people or bundles of camping equipment all bear extra load on the suspension system, making wheel bearing replacements a common repair, especially as the earlier T4 (1990-2003) vans are now the wrong side of 30 years old.
Bearing replacement is a common task, particularly on the T4 (1990-2003), though a hydraulic press makes light work of releasing inner bearings. T5/T6 models (2003-present) however, use the Gen2 VW wheel bearing design, incorporated into the hub and hence very difficult to separate with generic tooling. Thankfully, many tool manufactures realised the need for specialist tools and have come to market with bespoke equipment to make easy work of wheel bearing changes.
Things to Consider Before Purchasing
Vehicle Wheel Bearing Type
As mentioned, different years of Transporters use different bearing types. The earlier T4 models from between 1990 and 2003 used a common wheel bearing interface to the hub, allowing removal with a hydraulic press, once the hub has been removed from the vehicle.
Those with the later T5/T6 models from 2003 onwards have the more difficult job. Gen2 wheel bearings promise good strength against failure from heavy loads and high refinement but, are more difficult to change. Using a standard press can cause damage to the bearing mounting/ hub, meaning specialist tools can save serious time and money. Removal kits also allow bearing removal without the need to take the hub off the vehicle.
Tool Warranty
Well-known brands will often provide long warranties on their tools, this is thanks to their confidence in design and production quality. Having equipment that is guaranteed against failure in regular use is ideal, especially for those in the professional trade, where a failed tool could stop profits.
Owners working on their own vehicle at home may get away with the cheaper tools however, ones made by smaller independent brands without the reputation but able to sell their tools at a lower price.
The Best T5/T6 VW Transporter (2003-Present) Wheel Bearing Tools on the Market
Laser Tools 5582 Gen2 Wheel Bearing Kit 85mm
Check the latest price on Amazon
First up we have the Gen2 wheel bearing kit from UK-based Laser Tools. This is a manufacturer that thrives on making automotive-specific products to tackle the most difficult of repairs. High production standards and outstanding tool design are the qualities that have allowed Laser Tools to grow over the past forty years. They likely have the right product for any driveway job.
Laser's Gen2 85mm bearing kit allows for the safe and easy removal and replacement of wheel bearings on the T5/T6 Transporter. This set may look complex, but the associated clamshells and plates allow for stresses to be exerted only on the outer race of the bearing, preventing undue damage. Removal is also possible without removing the ABS sensor, which should save even more time.
The kit will suit all T5/T6 VW Transporters and can be used on both the front and rear wheel bearings.
Tool reference: 5582
Used in situ: Yes
Warranty: 1 Year
Pros:
Highly regarded UK tool brand
Applies even pressure across the outer race of the bearing to prevent damage
Vastly reduces time taken to replace wheel bearings
Quality guaranteed with 1-year warranty
Cons:
Most expensive T5/T6 Transporter tool featured
VidaXL 210187 Wheel Bearing Tool 85mm
Check the latest price on Amazon
Though not a specialist tool brand, VidaXL are building a growing range of automotive products for the amateur DIYer. The company, based in the Netherlands, aims to create quality products that undercut the prices of UK-based rivals. Many of their tools are created in Asia and then shipped over the Europe in vast quantities, which helps reduce price but does raise some question marks around quality and longevity.
Another Gen2 VW wheel bearing specific set, VidaXL promises damage free removal and refitting of wheel bearings without the need to remove the hub from the vehicle. Pressure pins and plates allow equal distribution of force, ensuring a proper replacement as well as taking much less time than attempting the job with common tools.
This kit is suitable for both the front and rear wheel bearings for all models in the T5/T6 VW Transporter range.
Tool reference: 210187
Used in situ: Yes
Warranty: No
Pros:
Most affordable T5/T6 tool listed
Allows for safe removal and refitting of wheel bearings
Pressure plates and pins spread loading force equally
Reduces time taken to change wheel bearings
Cons:
Quality standards arguably lower than UK toolmakers
Asta Tools Satra S-XB85R Wheel Hub Bearing Removal Tool Set
Check the latest price on eBay
Asta/ Satra tools may not be names synonymous in the UK tool market, but the Taiwanese brands shares in the sector are growing rapidly. Their global network includes bases in the US and Europe, allowing the brand to develop specialist products, aimed directly at the automotive mechanics and enthusiasts in those regions. Asta is aiming to bring high quality tools to UK buyers at a much lower price point.
Much like the previous tools listed, this set is designed specifically for use with the 85mm diameter Gen2 VW wheel bearings seen on the T5/T6 Transporters. Usable in-situ, on the vehicle, this kit claims to save huge amounts of time removing and refitting wheel bearings. Associated plates and pins give accurate removal angles and force spreading to prevent undue damage to bearings and surrounding parts.
The kit, which is housed in a handy storage case, will suit all T5/T6 VW Transporters and can be used for both front and rear wheel bearing replacements.
Tool reference: S-XB85R
Used in situ: Yes
Warranty: 1 Year
Pros:
Automotive tool specialists
Designed specifically for 85mm Gen2 VW wheel bearings
Allows for safe removal and accurate refitting
Saves huge amounts of time replacing wheel bearings
Cons:
Brand is not well established in the UK
The Best T4 VW Transporter (1990-2003) Wheel Bearing Tools on the Market
Sealey YK4B Hydraulic Press Bench Type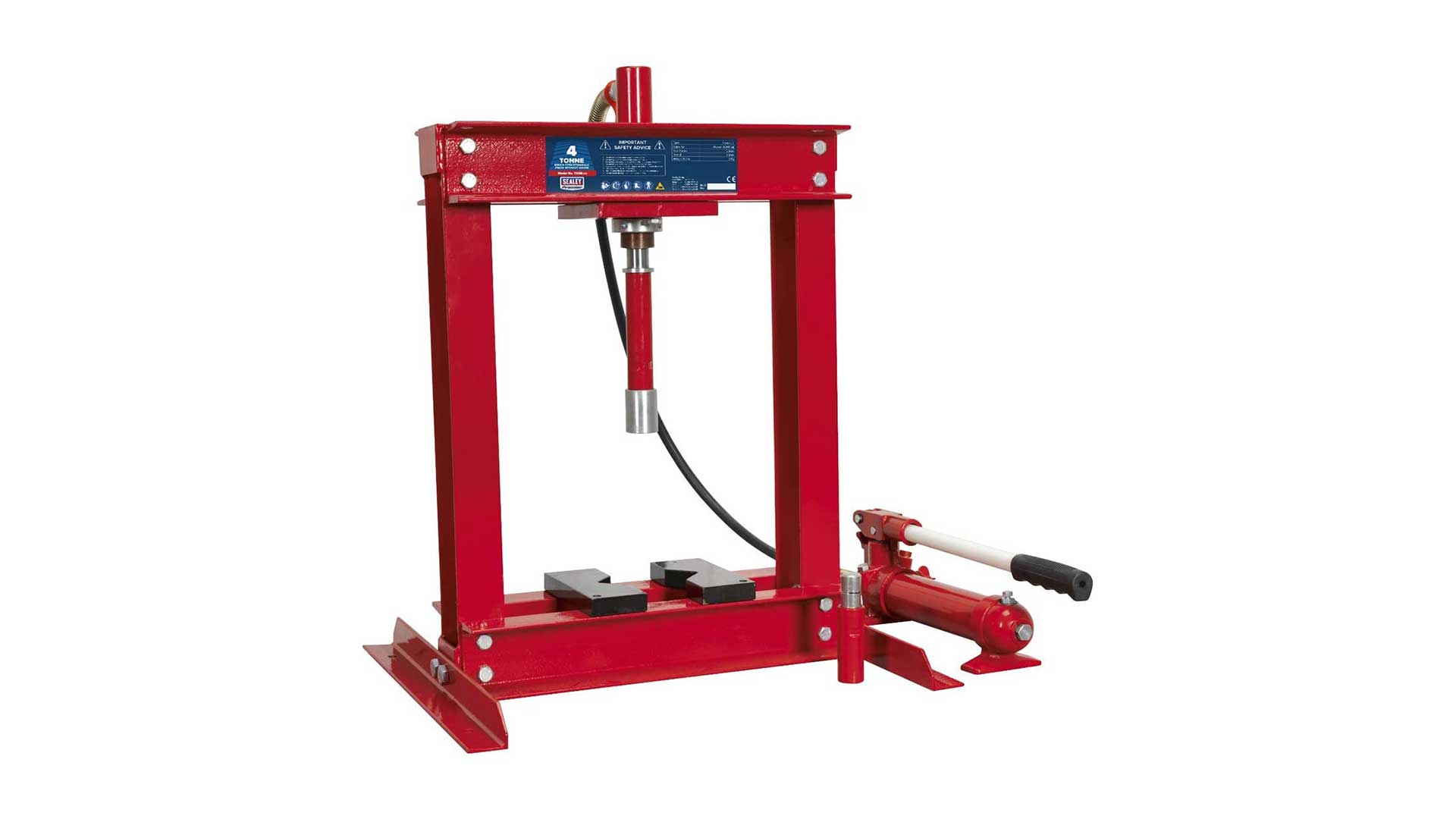 Check the latest price on Amazon
Sealey is a brand that needs little introduction, it's 40+ year experience in the UK tool market has seen the brand constantly grow and evolve, while remaining true to the company's high tool standards and exceptional build quality. The continued growth of the product line-up now sees Sealey competing in Europe as well as the UK, making it ever more likely to see Sealey tools in most tool boxes and workshops.
The first of our hydraulic presses featured for T4 Transporter wheel bearing changes is a bench type item. This means a compact unit that sits on a bench top but still allows for the large forces required to change wheel bearings and safely remove them from the vehicle's hub. Sealey states that this bench hydraulic press can provide 4 tonnes of pressure, despite weighing just 30kg. It's small dimensions and huge pressing force will make light work of safely removing stubborn wheel bearings.
This tool is designed for use by enthusiasts and professional mechanics, with solid build quality and a one-year warranty for faulty parts and undue wear.
Tool reference: YK4B
Used in situ: No
Warranty: 1 Year
Pros:
Highly regarded UK tool brand
Solid build quality
Compact dimensions and low weight make it easy to place in smaller work areas
Easily removes stubborn wheel bearings
Cons:
Less force compared with comparably priced floor type hydraulic presses
Sealey YK10ECF Economy Floor Type Hydraulic Press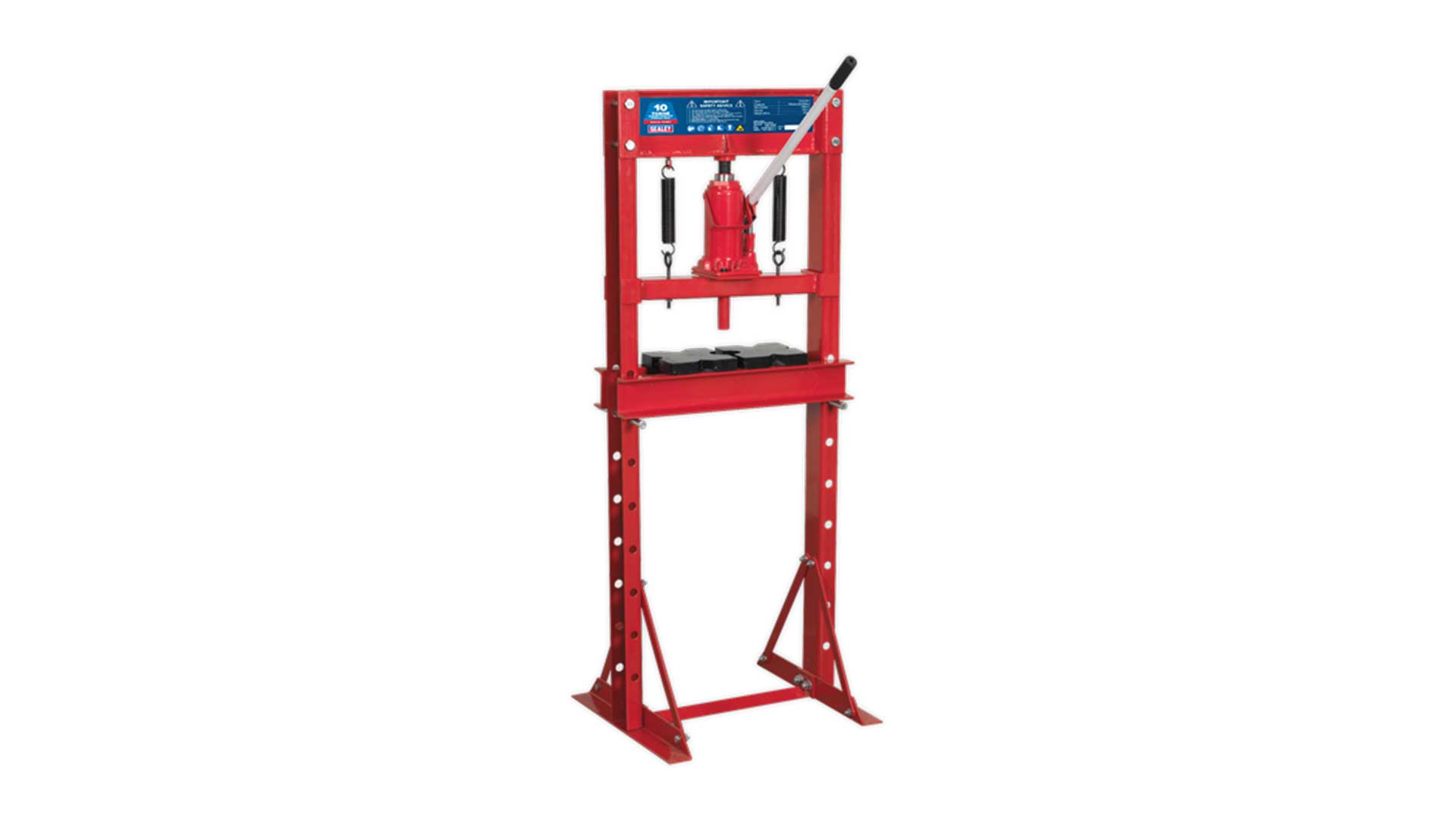 Check the latest price on Amazon
For those with more room and in need of the extra force, Sealey has created their economy floor type hydraulic press. As the name suggests, this is their budget offering in this category, though the press still promises 10 tonnes of hydraulic force.
Huge force will allow for easy removal and refitting of wheel bearings for the T4 Transporter, without the need to resort to large hammers and pry tools that can quickly cause damage to surrounding parts. High quality steel and a durable paint finish should also keep the press in good condition for the long term.
One year warranty is thrown in by Sealey for peace of mind and to show their confidence in product quality. External gauges can be added to monitor pressure being applied.
Tool reference: YK10ECF
Used in situ: No
Warranty: 1 Year
Pros:
Well trusted UK tool maker
Huge 10 tonnes of pressing force
Makes light work of wheel bearing changes
High quality steel and durable paint coating to prevent corrosion
Cons:
Pressure gauge not included
SGS HHP20 20 Tonne Hydraulic Press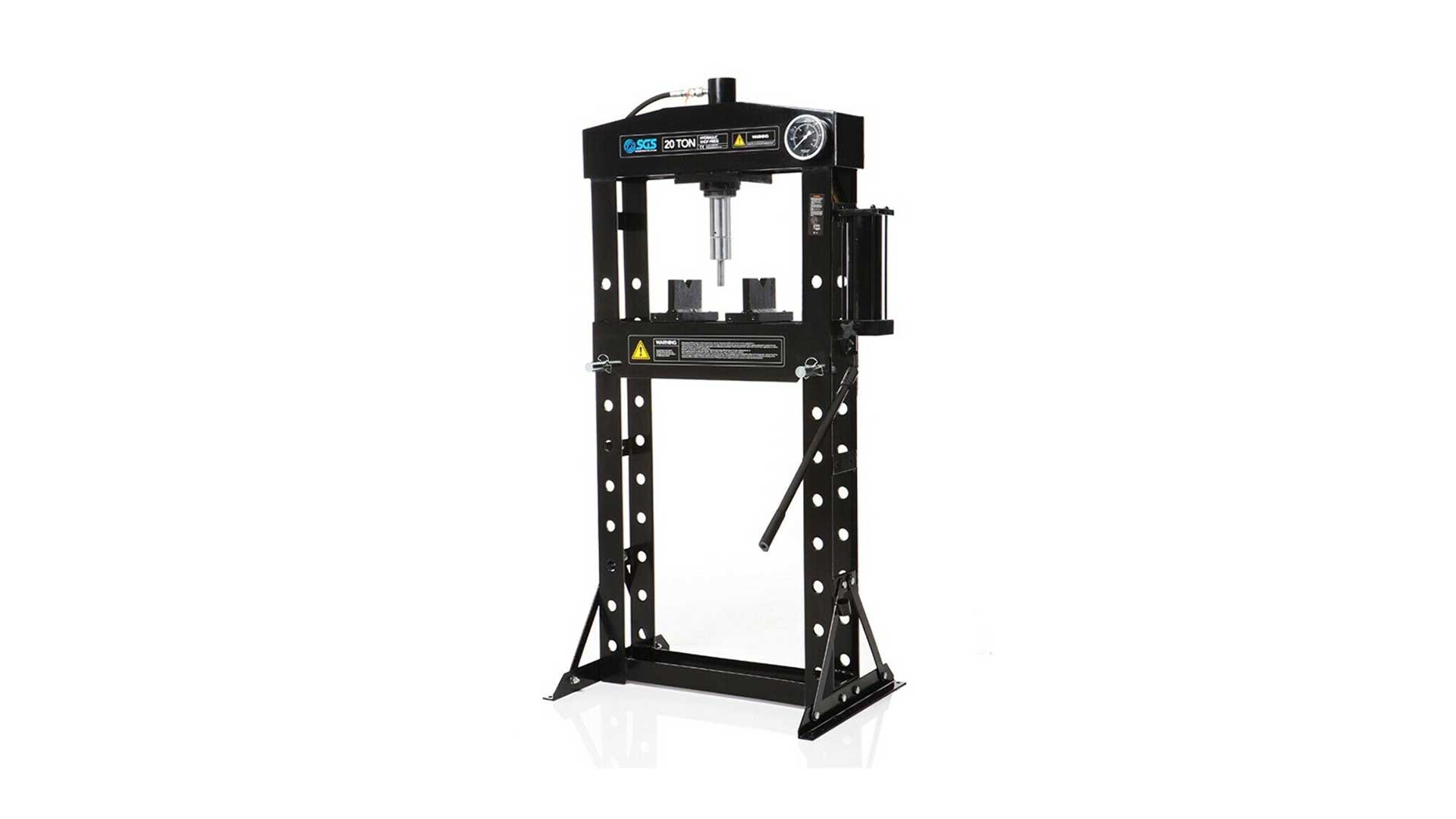 Check the latest price on eBay
Last but by no means least we have the SGS hydraulic press. SGS are a UK tool brand known for their large storage and workshop tools, working to the upmost quality standards and constantly providing top tier products. Their loyal customer base and huge warranties speak for themselves, cementing SGS as one of the UK markets favourite brands over the last 30 years or so.
Another step up in size and force from the Sealey products, this 20-tonne hydraulic press is aimed directly at the serious mechanic that needs high force to remove stubborn or seized wheel bearings. Old T4 Transporters are likely 20-plus years old at this stage, making seized parts all too common, meaning a high-powered press like this could definitely come in handy. High-end presses such as these also come with different sized mandrills included and an accurate pressure gauge.
Like many of its products SGS supplies this hydraulic press with a massive 10-year warranty. The press also exceeds all current UK safety standards as well as receiving certification in certain European countries.
Tool reference: HHP20
Used in situ: No
Warranty: 10 Years
Pros:
SGS well known for high quality products
Huge 20 tonnes of pressing force
Makes light work of wheel bearing replacements
Massive 10-year extended warranty
Cons:
Most expensive hydraulic press featured
In Conclusion
Wheel bearing removal needn't be difficult on any Transporter model. This selection of tools will cover most scenarios and make the job less intimidating than it may sound at first. Having the ability to change parts like this without external assistance will save time, money and guarantees the job is done correctly and safely.
Having your van off the road could ground a business to a halt, prevent an exciting family getaway or it may just be a general annoyance. Limit the stress, save yourself the time of taking the vehicle to the dealer for repairs and get it done right. Low outlay, safe replacement of wheel bearings and some useful skills learnt in the process, specialist tools are here for a reason…
If you liked the article, please share, leave a comment below and check out our other exciting articles.
Categorised in: Vehicle Specific Tools
Czok Newsletter