The Best Vauxhall Zafira Rear Axle Bush Tool
We're an affiliate
We hope you love the products we recommend! Just so you know, we may collect a share of sales or other compensation from the links on this page. Thank you if you use our links, we really appreciate it!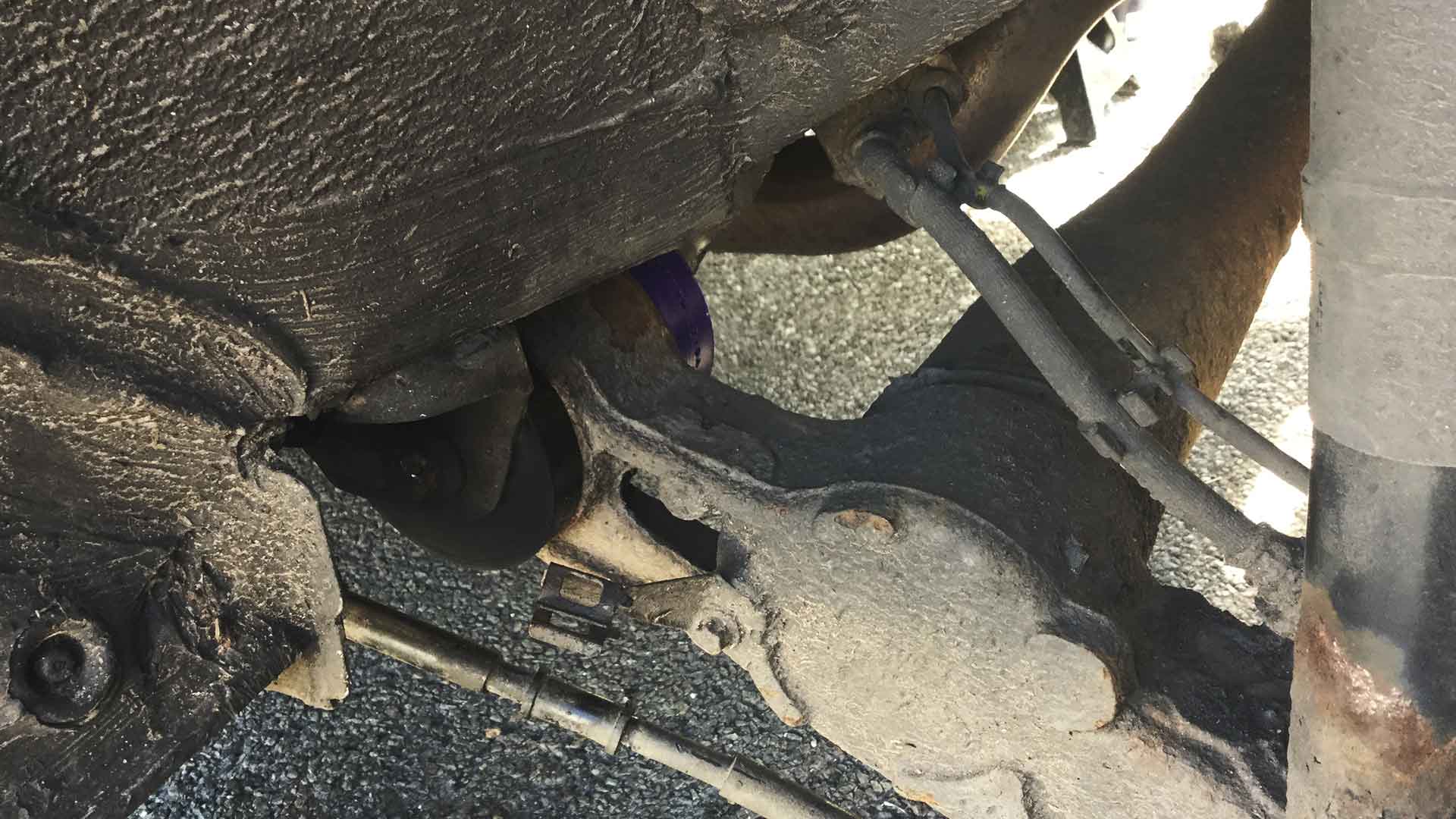 One of the most affordable and popular family cars in the UK for the past two decades, the humble Vauxhall Zafira. These cars have been used religiously by families since their induction in 1999, thanks to reliability, simplicity and good value. Super high mileages are not uncommon, with many having travelled the length and breadth of the island on more than one occasion. This usage however, all takes its toll.
Zafiras are often loaded up with children and heavy items in the boot, leading to increased wear on rear axle components, when compared with smaller hatches. This leads to quicker breakdown of rubber components, in particular rear axle bushes. Deteriorated bushes will often increase noise from the rear, decrease ride quality and lead to a poorly handling vehicle, not what you want with the whole family on board.
Luckily rear bush replacement tools remove the need for expensive garage services and heaps of fancy specialist tools. These kits allow for bush replacement almost anywhere with basic hand tools and a couple of hours.
Things to Consider Before Purchasing
Vehicle Compatibility
Luckily Vauxhall Zafira's have been split into rudimentary letter codes (A, B, C), with suspension parts largely unchanged during each model cycle. This means that using the subheadings below, you will likely be able to find the correct tool for your vehicle, though tool sellers are often happy to help ensure the tool is correct via a quick call or e-mail.
Use in Situ
Having the ability to remove rear axle bushes without dismantling large parts of the vehicle's suspension is a great benefit. Not having to remove suspension and brake components decreases time taken and more importantly, lessens the chance of damage to surrounding parts and rounded bolts/ screws.
Tool Manufacturer
Kits like those listed below are available from a huge variety of manufacturers. UK tool makers often provide high quality and long warranties but will cost significantly more than kits often sourced from Asia. Cheaper kits however, may lack in quality and are rarely covered with any sort of guarantee. The choice is essentially up to the buyer where they draw the line on price vs tool quality.
The Best Vauxhall Zafira A (1999-2005) Rear Axle Bush Tools on the Market
MP Tools Rear Axle Bush Replacement Tool
Check the latest price on eBay
Axle bush tools for the Zafira A are relatively limited, leading to us featuring only the one product for these early models. The product is sold under the MPTools banner. Though this company hasn't got its own website, they do sell a vast range of automotive specialist tools via their eBay store. With good positive feedback, high sales and a breadth of products, it seems that the brand knows their automotive specialist tools. Without the brand premium, the tools are also very reasonably priced.
The rear axle bush tool provided is designed for use in situ, meaning minimal dismantling of suspension and brake components is required. This not only saves time but also makes the job less complex and lessens the chance of rounded bolts and broken parts. Once the old bushing is removed, the new bushing can then be installed with the tool and seated correctly for a safe and effective replacement.
The tool is designed for use with the early Zafira A models. It is recommended to grease the threads before every use to maintain tool longevity and reliability.
Tool Reference: N/A
Can be used in situ: Yes
Warranty: Not stated
Pros:
Cost effective tool
Makes bushing replacement quick and painless
Can be used in situ, without removing the rear axle from the vehicle
Ensures correct placement for bushing installation
Cons:
No warranty given or implied
The Best Vauxhall Zafira B (2005-2014) Rear Axle Bush Tools on the Market
Laser Tools 6603 Rear Axle Beam Bush Kit
Check the latest price on Amazon
The first of our rear axle bush tools for the later Zafira B comes from Laser Tools. A UK tool brand with a focus on specialist automotive tools, ready with a product to suit pretty much any job on the driveway or in the workshop. Laser Tools started in business over 40 years ago and have kept a steely focus on maintaining their high-quality tool standards. Thanks to this, the brand is known well across the UK and featured in the toolbox of many professional and amateur mechanics alike.
Designed to be used in situ, Laser's offering here will save time and effort when replacing rear axle bushes on the Zafira B models. This tool allows for safe removal and replacement of rear axle bushes, without the need for lots of specialist tools, expensive presses or professional assistance. The lack of dismantling should also make the job less daunting for those with less experience.
Backed by a 12-month warranty and sold with a handy storage case. This tool will suit all Zafira B models 2005-2014.
Tool Reference: 6603
Can be used in situ: Yes
Warranty: 1 year
Pros:
UK brand with excellent reputation
Saves time on bushing replacements
Correctly locates new bushing into position
Can be used in situ, without removing large parts from the vehicle
Cons:
Most expensive product featured for the Zafira B
Sealey VSE4787 Trailing Arm Bush Tool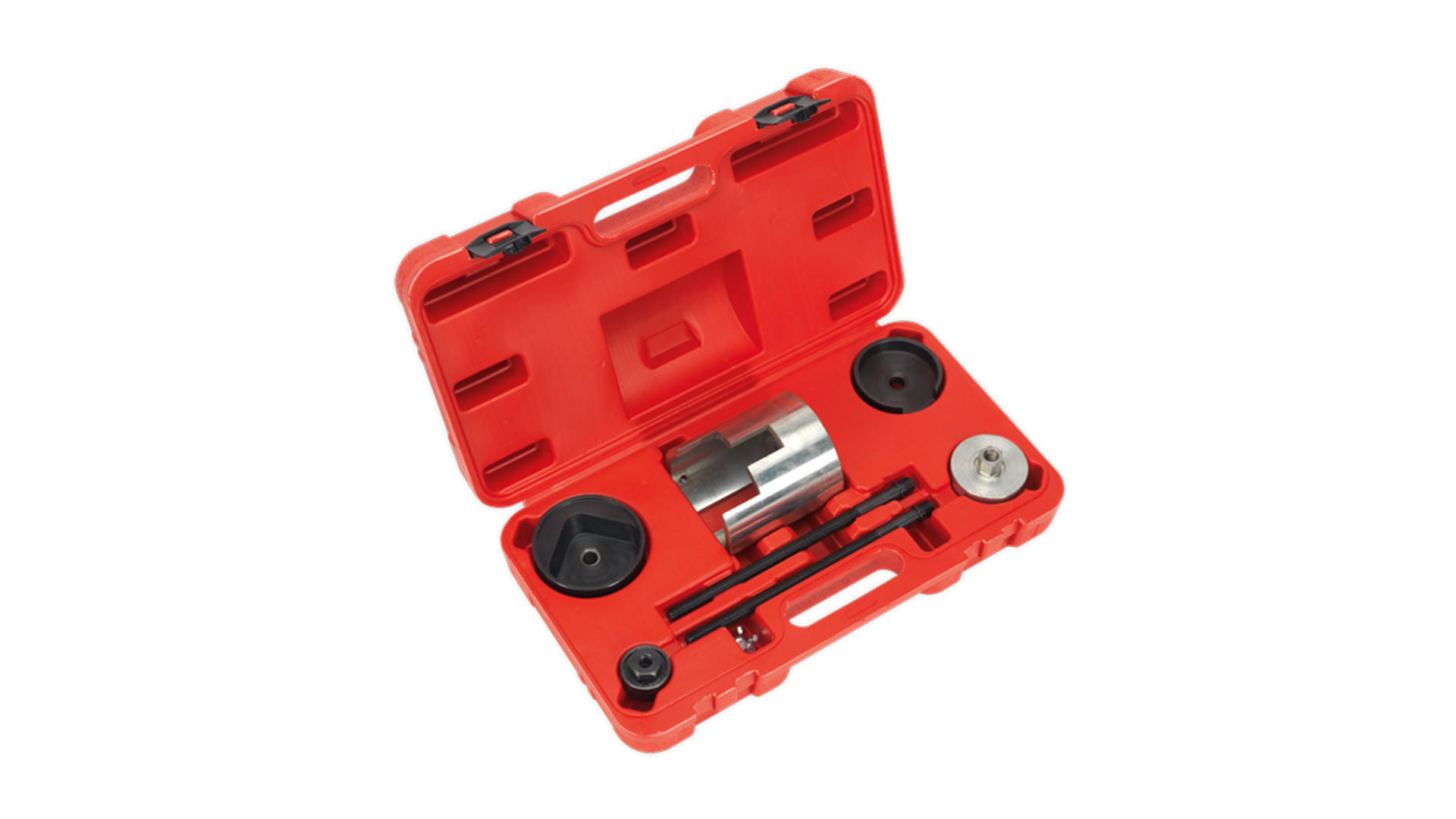 Check the latest price on Amazon
Our second Zafira B rear axle bush tool is manufactured by Sealey, a well-known UK tool specialist. Four decades of experience and sensibly priced, well-built tools have given the company a great reputation in the UK and, more recently, in mainland Europe. Huge ranges of products and the brands outstanding reputation has seen them featured in the toolbox of many mechanics, home DIY enthusiasts and professional trades people.
Sealey's rear axle bush tool is designed in a very similar fashion to the Laser offering, despite their difference in appearance. Easy removal and refitting of the rear axle bushes are promised and like rival offerings, the job can be completed in situ, on the vehicle. This saves time and complexity which is handy for home mechanics and could increase profits for those involved in professional automotive repairs.
This tool set also comes with a 12-month warranty and a handy carry case. Spare parts are also easily ordered from Sealey in the case of just one small piece having an issue or wearing out.
Tool Reference: VSE4787
Can be used in situ: Yes
Warranty: 1 year
Pros:
Highly regarded automotive tool specialist
Allows for bushing replacement in situ on the vehicle
Saves huge amounts of time replacing rear axle bushes
Comes with a 12-month manufacturer warranty
Cons:
Painted finish is likely to scratch and chip
Mark Moto WAR372 Rear Suspension Bush Axle Tool
Check the latest price on eBay
Though appearing to be another tool sold without brand backing, this tool set can actually be traced back to a Polish brand, named Mark Moto. Since their beginnings in 2007, the brand has quickly expanded their tool line-up, mainly offering specialist automotive products. Mark Moto claims to be constantly striving for high quality, but also manages to severely cut down on the price, when compared to the UK-made competition.
Like it's more established rivals, the tool from Mark Moto allows for safe and easy bushing replacement without the need for dismantling safety-critical suspension or brake components. Proper seating and position of the new bushing is guaranteed with proper use, ensuring a successful replacement and proper driving characteristics returned to the vehicle, without the need for extra specialist tools or outside help.
Unfortunately, there is no warranty given, but the tool does vastly undercut UK competition on purchase price.
Tool Reference: WAR372
Can be used in situ: Yes
Warranty: Not stated
Pros:
Allows quick and easy rear axle bushing replacement
Removes the need for extensive suspension dismantling
Can be used by non-professional mechanics
Least expensive tool featured for the Zafira B
Cons:
Brand doesn't hold the same cache as UK-tool makers
In Conclusion
Whether a failed MOT, poor ride or awful noises from the rear suspension have led to bushing replacement, one of these tools will take out the hard work and allow for easy and safe removal and reinstallation, without damage to surrounding suspension components.
Having your vehicle back on the road quickly means less likelihood of disturbing work schedules and important family activities. Tools like these can be used anywhere from the road side to a professional workshop but always promise a clean and effective replacement of the bushings. A small outlay for a huge time saving and potential for great improvements in driving characteristics, what's not to like…
If you liked the article, please share, leave a comment below and check out our other exciting articles.
Categorised in: Vehicle Specific Tools
Czok Newsletter