The Best Vauxhall Astra Rear Axle Bush Tool
We're an affiliate
We hope you love the products we recommend! Just so you know, we may collect a share of sales or other compensation from the links on this page. Thank you if you use our links, we really appreciate it!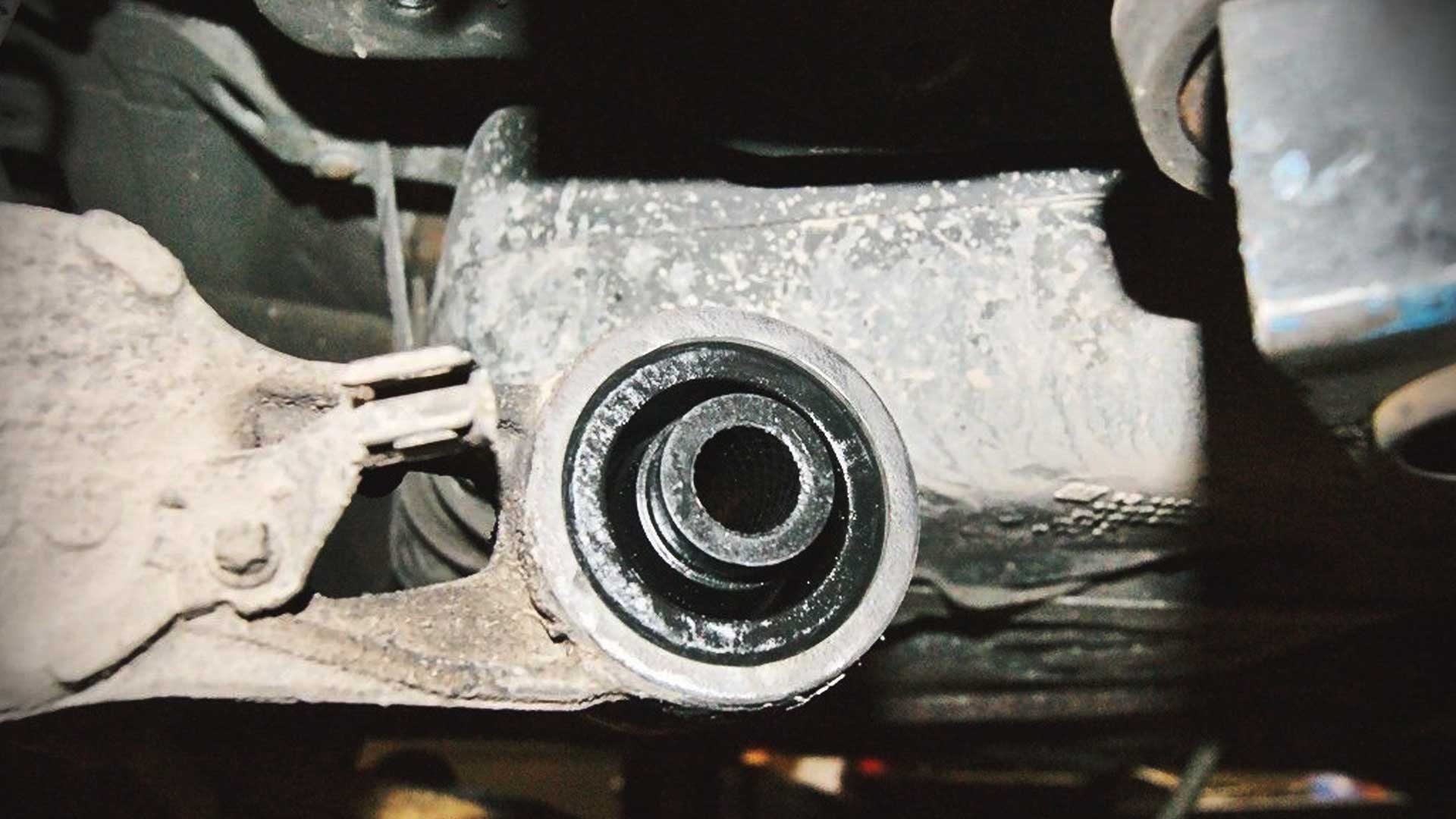 The humble Vauxhall Astra is a vehicle we see a lot of here in the UK. In it's 40 plus year existence, there have been seven generations of the reliable, affordable hatchback. Huge sales and affordable prices mean that the markets new and used are flooded with them, striking some real bargain used car picks and handy run-arounds, particularly in the G/H model ranges (4th and 5th generation models).
Astra G/H models are now however, at least 10 years out of the factory and hence will often need some part refreshment, particularly consumable rubber suspension components like rear axle bushings. Many inexperienced hands may quickly assume replacing suspension bushings is a job for a professional with specialist, expensive tools and lots of know-how. Rear axle bush tools however, make replacement of these bushes a job that most can handle at home on the drive or in the workshop.
Rear axle bush tools for the Astra G/H allow for removal and replacement of the rubber bushes in situ, without the need for dismantling large amounts of suspension or braking components. This makes the entire process much quicker and a much more manageable job for those with limited experience.
Things to Consider Before Purchasing
Vehicle Compatibility
Luckily there is little change in the suspension components of the Vauxhall Astra between model updates. Use the subheadings below to ensure the tool is the correct type for your make, model and year of vehicle. Contact tool seller if still uncertain.
Use in Situ
Being able to remove suspension bushings on the vehicle can be a real life-saver. This means less need for dismantling of safety-critical suspension and brake components, with the added benefit of time saved and less rusty bolt heads rounded off.
Manufacturer Warranty
Warranties attached to tools is often a good sign that a manufacturer is confident in the tool quality and longevity. This is confidence building for home mechanics and can make the difference between making profit and a loss in a professional workshop.
The Best Vauxhall Astra G (1998-2004) Rear Axle Bush Tools on the Market
MP Tools Rear Axle Bush Replacement Tool
Check the latest price on eBay
Our first and only tool suitable for the Astra G is not from one of our commonly featured big-name UK brands. Instead, this tool is sold by MP Tools. While they may not boast their own website, the company does retail a vast range of tools, mostly aimed at specialist automotive applications. Their product quality is backed by large sales and excellent customer feedback. Without that typical big-brand premium, the tools are also very reasonably priced.
The rear axle bush tool provided is designed for use on the vehicle, this means minimal effort is required to get the bushing ready for removal. A huge time saver no doubt, this could also save many mechanics the embarrassment of rounded bolts or broken parts along the way. The tool not only allows for safe removal but also ensures correct fitment of the new bushing, positioning the part correctly in the axle for a quick install.
This product is designed for use with the Astra G models specifically. It is recommended to grease the threads before every use to maintain tool longevity and reliability.
Tool Reference: N/A
Can be used in situ: Yes
Warranty: Not stated
Pros:
Cost effective tool
Makes bushing replacement quick and painless
Can be used in situ, without removing the rear axle from the vehicle
Ensures correct placement for bushing installation
Cons:
No warranty given or implied
The Best Vauxhall Astra H (2004-2010) Rear Axle Bush Tools on the Market
Laser Tools 6603 Rear Axle Beam Bush Kit
Check the latest price on Amazon
The first rear axle bush tool for the later Astra H model is made by Laser Tools. Laser are a UK tool brand that aims to provide a tool for any job, paying particular attention to automotive applications. The brand has spent over 40 years making tools, this shows in product quality and excellent build standards. Laser's constant output of huge tool ranges has led most mechanics and DIY enthusiasts to purchase at least one of their products over the last four decades.
Having the ability to remove the axle bush in situ, without dismantling of brake and suspension components will save huge chunks of time, promises Laser. Having a specialist tool such as this limits the need for an extensive toolkit, while also saving home mechanics from reaching out for professional help to replace worn bushes. The lack of complexity when using this tool also makes the job a whole lot less daunting, undoubtedly increasing the likelihood of completion.
Backed by a 12-month warranty and sold with a handy storage case. This tool will suit all Astra H models 2004-2010.
Tool Reference: 6603
Can be used in situ: Yes
Warranty: 1 year
Pros:
UK brand with excellent reputation
Saves time on bushing replacements
Correctly locates new bushing into position
Can be used in situ, without removing large parts from the vehicle
Cons:
Most expensive product featured for the Astra H
Sealey VSE4787 Trailing Arm Bush Tool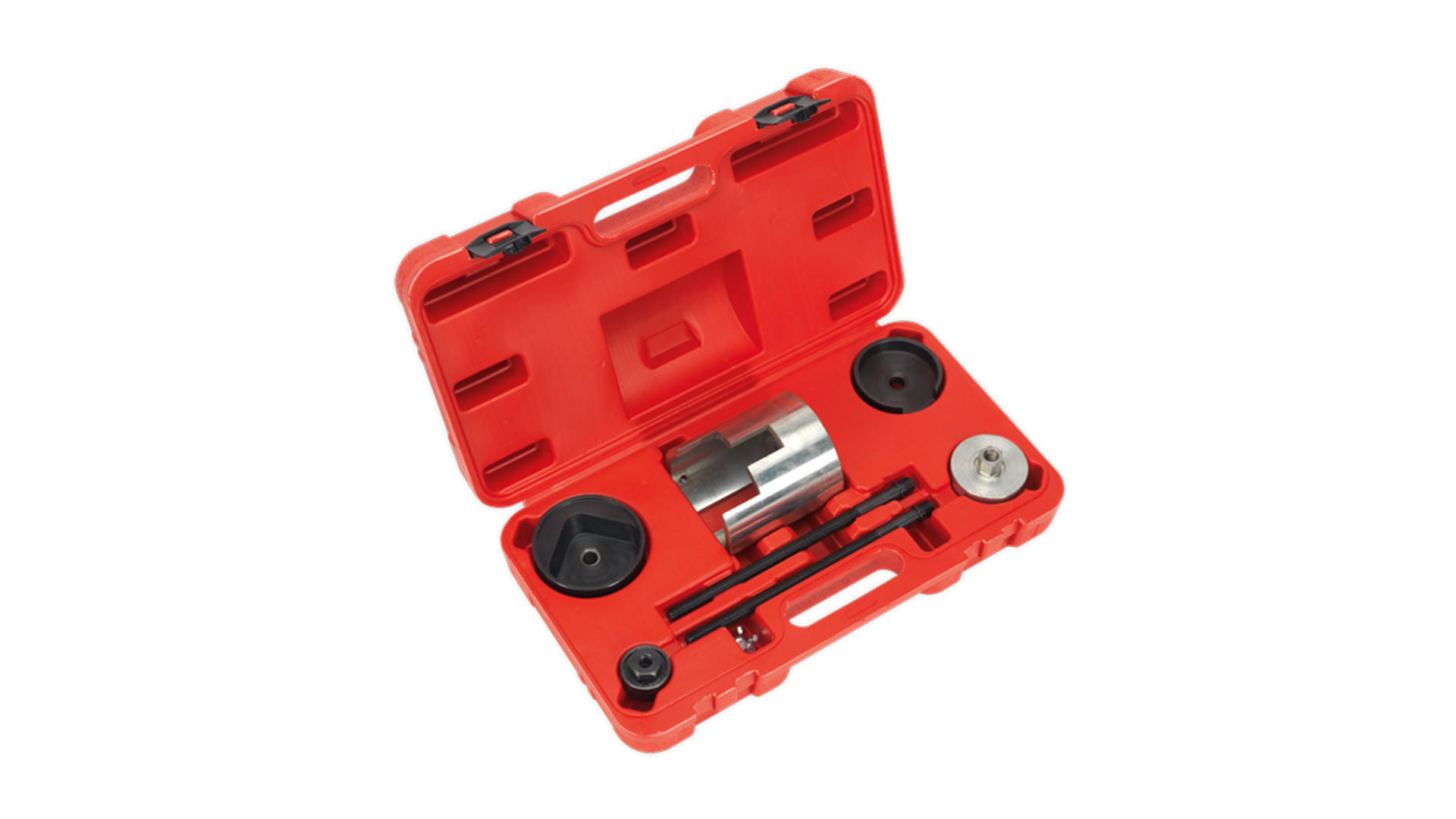 Check the latest price on Amazon
The second of our rear axle bush tools for the Astra H is made by Sealey, another highly regarded UK tool manufacturer. Well priced tools and industry leading quality standards have seen the brand continuously improve since opening their doors over 40 years ago. The brand offers a huge range of products, with many specialised automotive tools, that are used all over Europe. Sealey tools are found everywhere, from small sheds to professional workshops.
Though the looks are deceiving, this tool works in a very similar method to that offered by Laser, aimed at increasing the ease of removal and reinstallation of rear axle bushes. Using this tool also allows the job to be completed in situ, on the vehicle. Professionals could well see increased profit thanks to time saved, while amateur mechanics will likely benefit from the lack of dismantling and lessened risk of damage to surrounding parts.
This tool set also comes with a 12-month warranty and a handy carry case. In the case of the warranty expiring while the tool is still in use, Sealey will sell singular replacement parts for any particular section of the product becoming non-functional.
Tool Reference: VSE4787
Can be used in situ: Yes
Warranty: 1 year
Pros:
Highly regarded automotive tool specialist
Allows for bushing replacement in situ on the vehicle
Saves huge amounts of time replacing rear axle bushes
Comes with a 12-month manufacturer warranty
Cons:
Painted finish is likely to scratch and chip
Mark Moto WAR372 Rear Suspension Bush Axle Tool
Check the latest price on eBay
Our final tool for the Astra H appears at first to be another eBay "non-brand" item, but is in fact built and sold by Polish manufacturer Mark Moto. The brand may have only been around since 2007 but already has a line-up of nearly 400 tools, specialising in automotive uses. High quality is promised, though not at increased cost, as the Polish manufacturer is undercutting many UK rivals on product price.
Another product that allows for safe and easy bushing replacements, without the need for lengthy suspension dismantling, being designed specifically for use in situ, on the vehicle. This tool should limit the need for any professional advice, allowing home mechanics to complete the job on their own. This kit however, could also be beneficial in a professional workshop where time saved gives extra profits.
Unfortunately, there is no warranty given, but the tool does vastly undercut UK competition on purchase price.
Tool Reference: WAR372
Can be used in situ: Yes
Warranty: Not stated
Pros:
Allows quick and easy rear axle bushing replacement
Removes the need for extensive suspension dismantling
Can be used by non-professional mechanics
Least expensive tool featured for the Astra H model
Cons:
Brand doesn't hold the same cache as UK-tool makers
In Conclusion
Neglected rubber bushings in the suspension will not cure themselves. Over time the rubber bush will continue to breakdown, creating unwanted noises, poor ride and possibly leading to MOT failures. Replacing therefore, is always advised at the earliest opportunity when degradation becomes apparent.
Getting your Vauxhall Astra back to riding and handling as the factory intended may be as simple as swapping and replacing a couple of old rubber bushings. Replacement parts are easy to find and very inexpensive. With the right tools and a couple of hours, your car could be kept on the road, kept safe and allow for many more miles of happy, reliable motoring.
If you liked the article, please share, leave a comment below and check out our other exciting articles.
Categorised in: Vehicle Specific Tools
Czok Newsletter