The Best Smoke Machine Leak Tester
We're an affiliate
We hope you love the products we recommend! Just so you know, we may collect a share of sales or other compensation from the links on this page. Thank you if you use our links, we really appreciate it!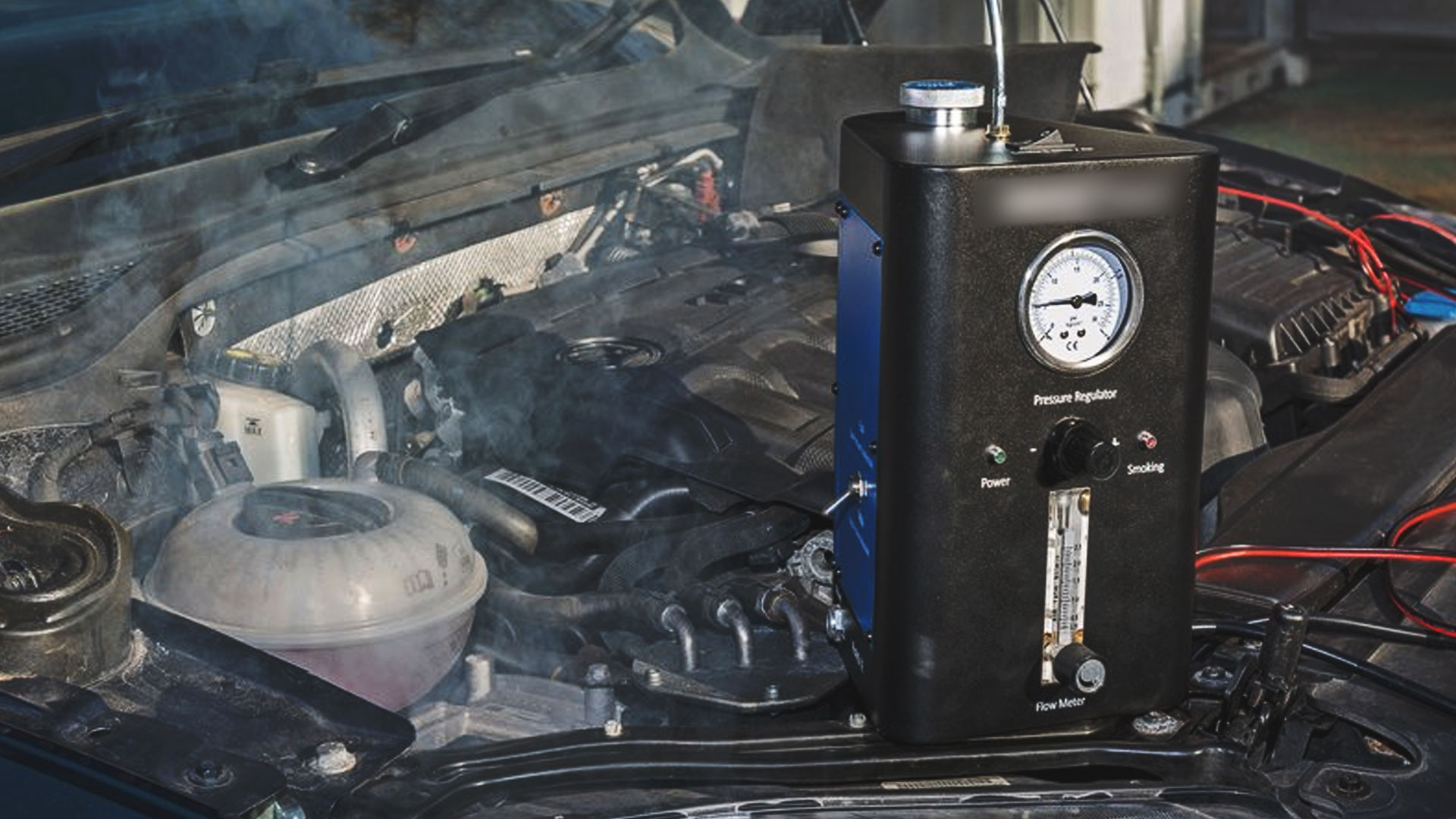 Leaks from your vehicle's engine. One of the simplest and cheapest problems to fix, but also one of the hardest to diagnose. Niggling annoyances, that may simply start by causing a little rough idling or poor fuel economy. Small leaks can turn nasty though, wreaking havoc on air fuel ratios, leaking out coolant and causing overheating or even preventing an engine running at all.
Many home mechanics have turned to compressed air run through pipework to highlight issues, this can be useful but doesn't always make leaks obvious. Enter smoke machine leak testers. These handy devices allow for easy and quick diagnosis of leaks. Visible smoke seeping through cracks and holes firmly shows the responsible pipes, allowing for replacement of faulty pipework/ joiners, permitting the engine to run efficiently once more.
Comparison Table
| | | | | |
| --- | --- | --- | --- | --- |
| | | | | |
| Product | Autool SDT-106 Smoke Leak Detector | Autool SDT-206 Smoke Leak Detector | Draper 94079 Expert Turbo/EVAP Smoke Diagnostic Tool | Sealey VS870 Smoke Diagnostic Tool Leak Detector |
| Built in compressor | Yes | Yes | Yes | No |
| Power source | 12V car battery | 12V car battery | 12V car battery | 12V car battery |
| Air pressure control | No | Yes | Yes | Yes |
| Price | | | | |
| | Buy on Amazon | Buy on Amazon | Buy on Amazon | Buy on eBay |
Prices last updated on 25-09-2023
Things to Consider Before Purchasing
Price
Prices of smoke machines can vary wildly, so consider first the amount of usage and method of testing. More expensive machines will often, though not always, last longer than cheaper alternatives which can suffer from inferior build quality.
Power source
Power supplies are fairly consistent, with nearly all being able to run from a 12V car battery as found in the majority of UK vehicles.
Control of steam/air pressure
Larger, more powerful machines may cost more but will often yield a much higher smoke output and give greater control of the air pressure. This makes it easier to find and fix leaky pipework.
Compressed air source
Lastly, consider whether an external air compressor is required, most smoke machines will not need this but larger machines, designed for heavy workshop use, will often need a source of compressed air, allowing them to produce a lot higher volume of smoke.
The Best Smoke Machine Leak Testers on the Market
Autool SDT-106 Smoke Leak Detector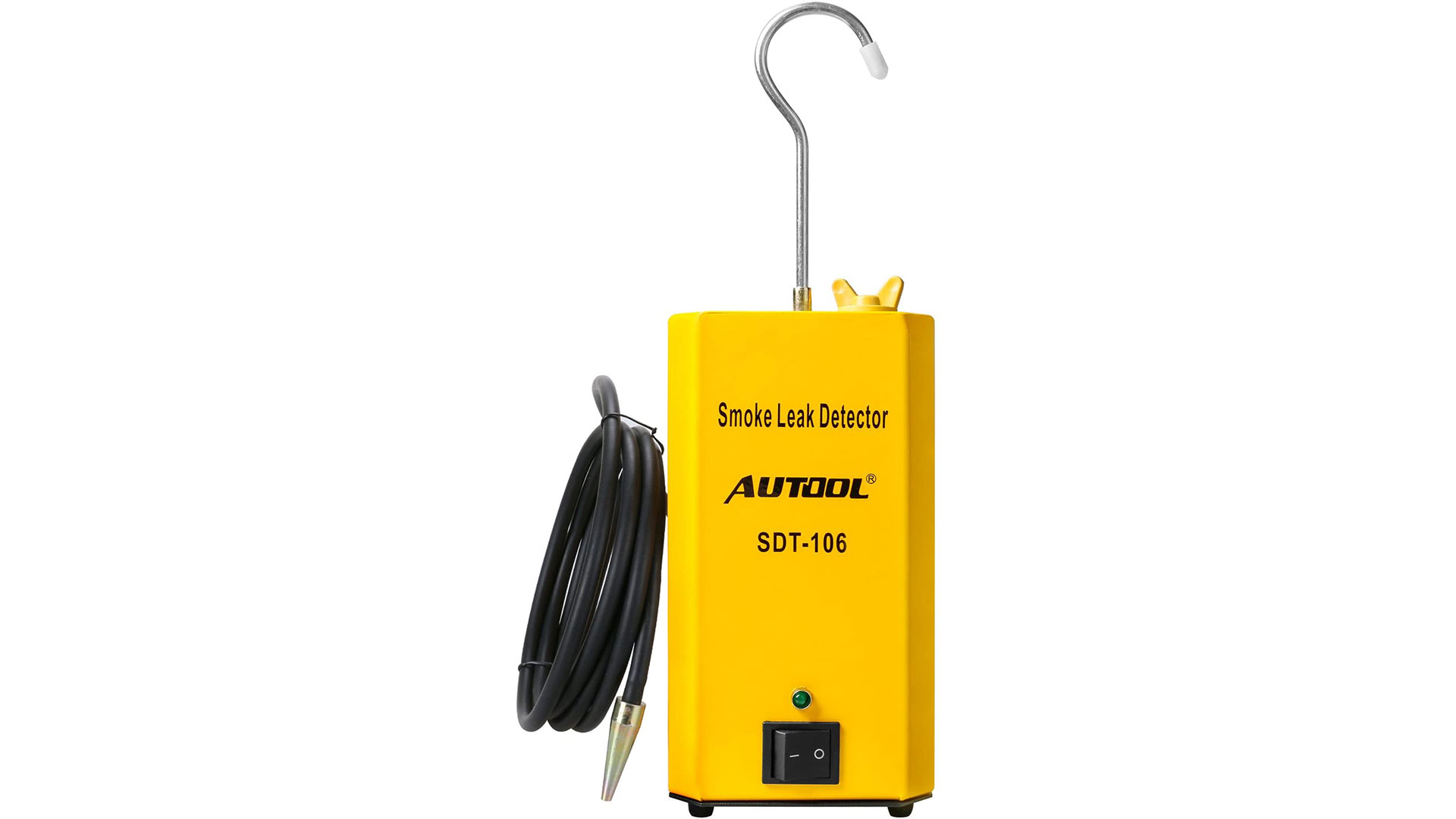 Check the latest price on Amazon
Autool is a brand that has quietly slipped under the radar of most enthusiasts for a while now. The Chinese-based tool manufacturer has been keeping up decent sales volumes however. They tread the line between budget products and those of superior quality, aiming to offer cut price tools without resorting to shabby materials or poor designs. Though only starting operations in 2014, they have managed to gain a decent foothold in the market, thanks to their steadfast focus on automotive products and an eager group of car enthusiasts that founded the brand.
The first smoke leak detector offered is the simplest and cheapest option featured here. The Autool SDT-106 is designed to be a portable solution to smoke leak detection. This easy-to-use product is powered via a car battery and allows for use in minutes. The leak tester will produce smoke quickly and allow the user to quickly pinpoint leaks in any pipework they see fit, such as fuel pipes, intake hoses, coolant systems and EVAP pipework.
The unit is highly portable, thanks to its light weight and small dimensions. There is an inbuilt air compressor and the product comes with a small amount of oil, required to produce the smoke, making it quick and easy to set up. Autool includes a lengthy 3-year warranty on this product, backing their claims about product quality.
Built in compressor: Yes
Power source: 12V car battery
Air pressure control: No
Pros:
Brand that specialises in automotive tools
Cheapest product featured
Useful for almost any kind of engine pipework
Quick and easy to use
Cons:
No control of air pressure
Lower smoke output compared to larger (more expensive) units
Autool SDT-206 Smoke Leak Detector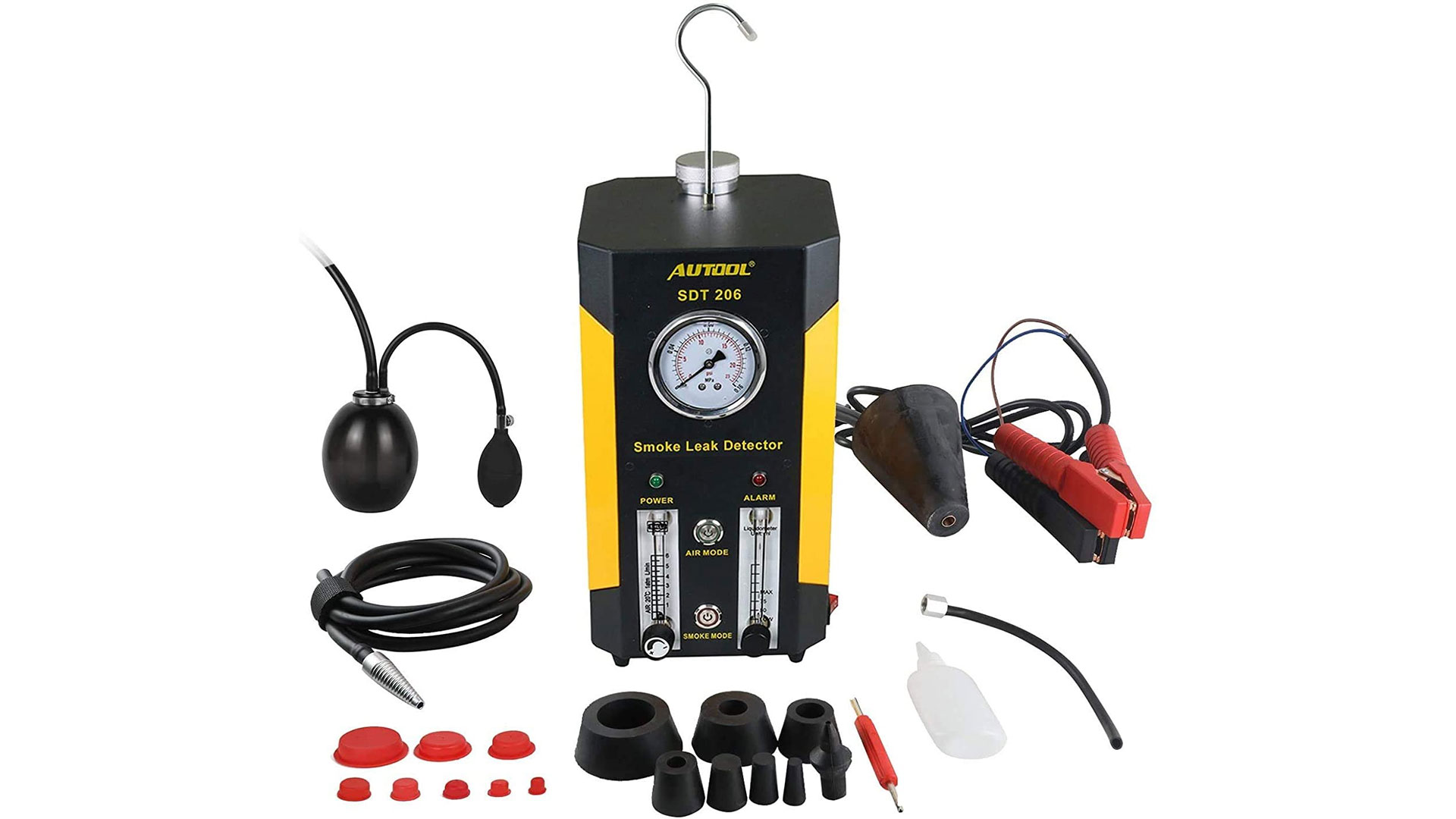 Check the latest price on Amazon
Autool's second offering featured here builds on the lower model's specs. This higher specification model allows for both air and smoke to be passed through pipework, while also increasing the oil capacity and bringing adjustability of air/ smoke volumes.
The SDT-206 claims to cover just about anything you could require of a smoke leak tester. Adaptable for almost any type of automotive pipework, with the added ability to adjust smoke and compressed air levels to suit all applications and pipe diameters. The unit also comes equipped with EVAP adaptors and a long hose for use deep in the engine bay, where required.
Like the less expensive model, this smoke detector is very portable and can be powered by a 12V car battery, allowing for use pretty much anywhere. As with the SD-106, this product contains its own in-built air compressor, meaning testing is as simple as supplying power and topping up the oil reservoir. This tester comes with a 3-year warranty from Autool.
Built in compressor: Yes
Power source: 12V car battery
Air pressure control: Yes
Pros:
Brand that specialises in automotive tools
Highly adaptable for any automotive pipework
Comes with EVAP adaptors
Control of air/ smoke levels
Cons:
Can't product the steam volumes of the more expensive testers
Draper 94079 Expert Turbo/EVAP Smoke Diagnostic Tool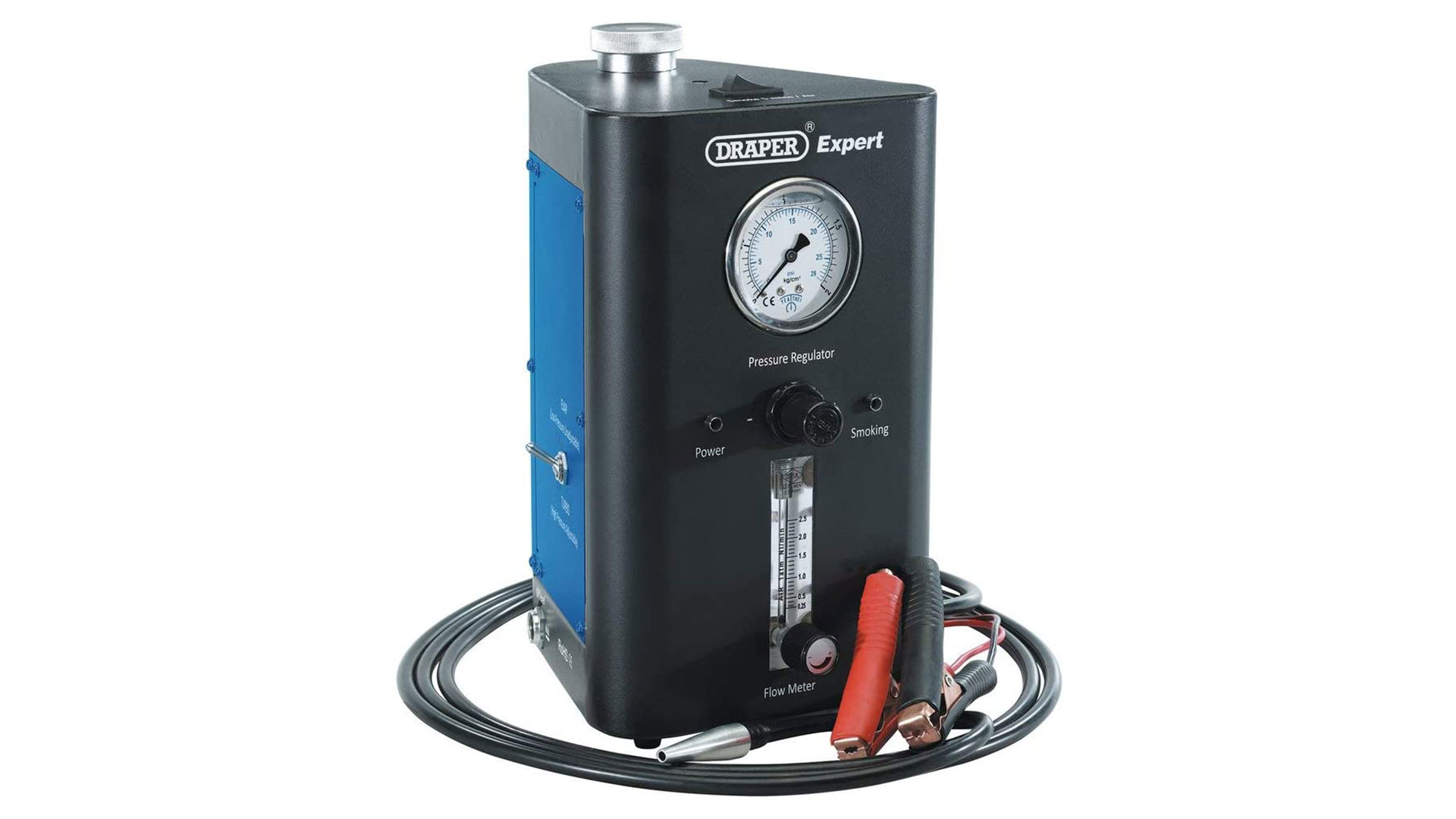 Check the latest price on Amazon
Over 100 years of automotive tooling and a massive range of high-quality products have made Draper one of the most highly regarded UK tool brands. Draper engineers their own tool lines, here in the UK, whilst also overseeing successful operations at well-known tool brands such as Britool and King Dick. Continually impressive sales in their home market have seen Draper products in the toolkit of most garages, with tools to suit everyone from beginner DIY home mechanics to fully trained professionals.
Taking a step up in price and power, when compared with the Autool products, Draper's expert brand aims this tool firmly at those with high usage cases such as professional automotive mechanics. Gauges for flow, pressure and fluid levels will ensure safe use without damaging pipework or running low on oil. High volumes of smoke allow for quick diagnosis and accurate issue resolution. A 3m hose length and included EVAP adaptors make setup easy and simple.
Supplied with an inboard air compressor and a huge set of pipe bungs, this kit is hugely adaptable and also highly portable for use away from the garage. The adjustability means use on any automotive pipework from EVAP to intake hoses and even brake lines, they are all possible with the Draper smoke tester.
Built in compressor: Yes
Power source: 12V car battery
Air pressure control: Yes
Pros:
Well established UK tool brand
Designed for use in professional workshops
Highly adjustable volumes of air/ smoke
Kit contains adaptors and bungs for use on pretty much any pipework
Cons:
More expensive than Autool products
Sealey VS870 Smoke Diagnostic Tool Leak Detector
Check the latest price on eBay
Our final smoke leak tester comes from UK-tool maker Sealey. They are a brand which requires no introduction, thanks to over 4 decades in the industry. Sealey's' ever-expanding tool line-up has allowed the highly regarded brand to keep attracting new customers, while high quality, robust tools mean existing customers are keen to stay loyal. Thousands of automotive mechanics both professional and amateur, form across the world, have benefitted from the brands quality and craftmanship over the last 40 years.
Coming in at a higher price, again building on quality and performance. The Sealey VS870 is clearly aimed directly towards the professional user, that needs high reliability and a tool that will last the distance, being useful for hundreds, if not thousands of vehicles without failure. The high smoke output, thanks to the use of an external air compressor will make leak finding quick and easy.
The product is simple and quick to setup, supplying high volumes of smoke in seconds and coming with plenty of adaptors and bungs to suit most automotive pipework, including intake hoses, fuel system pipework and evaporation systems among others. As per most of their products, the Sealey smoke leak detector also comes with a one-year guarantee.
Built in compressor: No
Power source: 12V car battery
Air pressure control: Yes
Pros:
High quality build, designed for professional workshop use
Quick and simple to setup
Compressed air input allows for huge smoke volumes
Comes with bungs and adaptors to suit nearly all pipework found on any car
Cons:
Most expensive tester featured
Requires external air compressor
In Conclusion
Any of these machines would be a worthwhile addition to a home mechanics toolkit, especially anyone that works on multiple cars, helps friends out with automotive issues etc. The larger scale (and more expensive) machines may be more suitable for professionals and those in the trade thanks to their superior build quality and smoke volume output.
Using a smoke machine leak tester will not only save you time but could point out further leaks that would have remained hidden if you hadn't taken the time to test the engines pipe work. Intake systems, coolant pipework and even EVAP pipes can all be tested once you have the right equipment. Get those pesky leaks sorted without the extra stress and in record time.
If you liked the article, please share, leave a comment below and check out our other exciting articles.
Categorised in: Tools
Czok Newsletter