The Best M9R Injector Removal Tool
We're an affiliate
We hope you love the products we recommend! Just so you know, we may collect a share of sales or other compensation from the links on this page. Thank you if you use our links, we really appreciate it!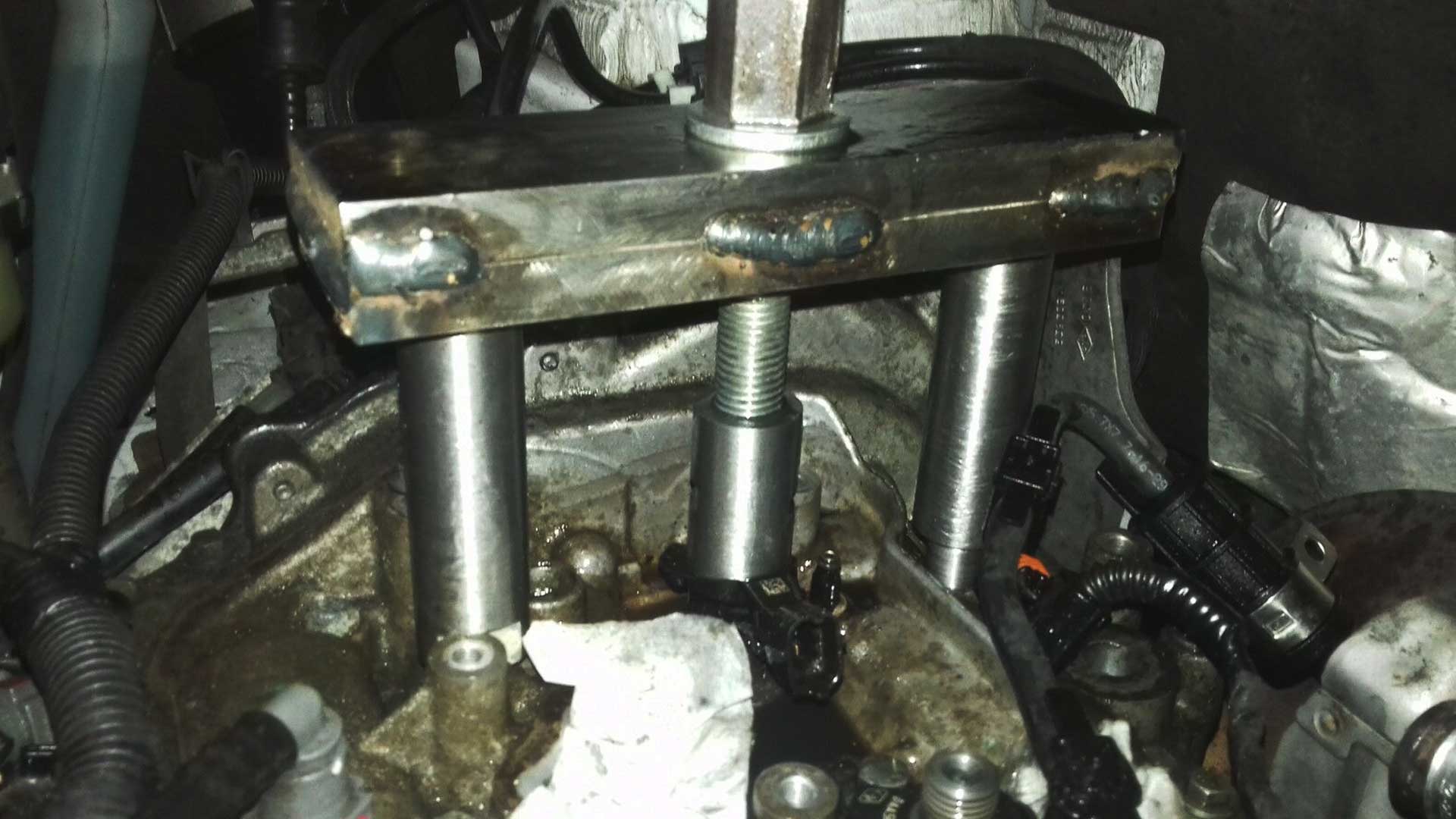 A joint venture between Nissan and Renault, the M9R diesel engine has powered many cars and vans since its introduction in 2006. These engines are built in 2.0-litre capacity and produce power ranging from 130hp to 180hp. Commonly seen on UK roads under the bonnet of Renaults, Nissans and the occasional Vauxhall product.
These engines offer low fuel consumption, impressive emissions levels and pack new age technology such as start-stop functions and active thermal management. Reliability is generally good too, with many engines lasting 200,000 miles or more without major repairs. One common issue however, is removal and replacement of faulty diesel injectors.
It is not uncommon for injectors to seize into the engine, making removal almost impossible, even for professionals. This, luckily is a well-known and well documented issue that has led to the creation of many specialist products, such as those featured below, to allow simple and easy injector removal.
Things to Consider Before Purchasing
Vehicle Compatibility
Engine codes can often make choosing the right part for a specific vehicle very difficult. Here is a quick run down of the vehicles that use the M9R engine, that would benefit from use of the featured tools:
Nissan Qashqai (2007-2011)
Nissan X-Trail (2007-2012)
Nissan Primastar (2006-2014)
Renault Laguna (2005-2015)
Renault Espace (2006-present)
Renault Koleos (2007-present)
Renault Vel Satis (2007-2010)
Renault Trafic (2006-2014)
Vauxhall Vivaro (2006-2014)
Check the engine code via the owner's booklet, under-bonnet panel (which often shows paint codes etc, can sometimes be found in the door aperture) or by contacting your local dealer/ specialist.
Skills & Tools Required
Experience and mechanical skills are highly beneficial for jobs like changing fuel injectors, this is not the simplest of service tasks. Having experience on diesel engines will likely help, though many amateur home mechanics figure it out with the help of online videos and forums.
Basic tools will also be needed to access the injectors, these will vary vehicle to vehicle but specialist equipment is rarely required to remove the correct engine ancillaries.
Brand Reputation
Specialist tools are available nowadays from all manner of different manufactures and sellers. Brands with better reputations and loyal followings have usually built this cache, thanks to high quality offerings and good customer service. Warranties and reputation are important but often, smaller brands and independent toolmakers can create equally useful product for less outlay.
Types of Injector Removal Tool
Removal of seized injectors cannot be done without serious force, here tools are generally split into hand-powered or hydraulically assisted machinery.
Hand-Powered
Tools that use nothing more than the user's strength are generally cheaper and simpler than those powered by hydraulics. They may not provide the same pulling force but generally give better accuracy and aren't as cumbersome to use in cramped engine bays. Less complexity also leads to a lighter tool, as well as reducing the likelihood of failure.
Hydraulic
Though more expensive, larger and heavier than hand-powered equipment, hydraulically assisted tools definitely have their place, particularly in professional workshops. The added assistance allows for quicker removal of stuck injectors, while also placing less stress and strain on the user. Extra assistance and ease of removal however does come at the cost of increased purchase price.
The Best M9R Engine (2006-Present) Injector Removal Tools on the Market
Genuine Renault M9R Injector Removal Kit
Check the latest price on Amazon
Renault may be known better for their cars than their tools but the brand saw the need for specialist tools to help removal of fuel injectors from vehicles equipped with the M9R diesel engine. To help both their service technicians and private customers, they aligned with the creation of a high-quality tool, to ensure vehicles equipped with the M9R could continue to be repaired and kept on the road.
Designed to enable diesel injector removal without damage to surrounding parts and in less time than with standard tools. Without this kit even Renault's trained technicians were having difficulties removing seized injectors, showing just how important this tool is and how much time even the vehicle manufacturer is attempting to save on servicing and repairs.
This kit was designed specifically in partnership with the Renault for use on the vehicles equipped with the M9R engine.
Tool reference: M9R 966
Hydraulically assisted: No
Warranty: No
Pros:
No need for hydraulic assistance
Designed by the vehicle manufacturer
Drastically shortens time taken to remove fuel injectors
Suitable for most M9R engined vehicles
Cons:
Requires strong force and accurate usage
French Auto Specialists FAS-0001 Hydraulic Injector Puller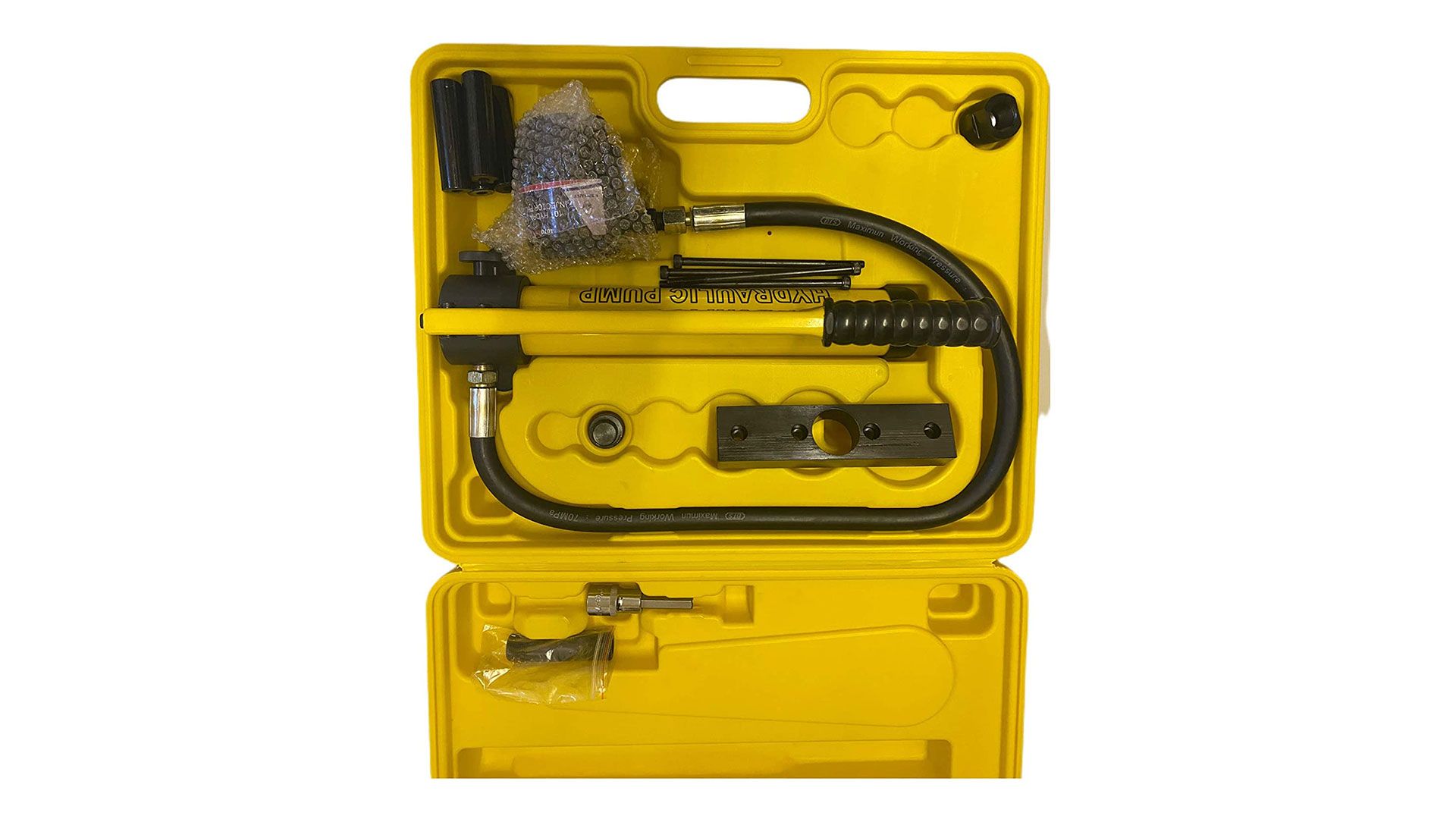 Check the latest price on Amazon
Our second M9R injector removal tool is brought to us by the French Auto Specialist brand. This business is no stranger to these engines, having arguably one of the most experienced centres for service and repair of M9R-equipped vehicles in the UK. This level of expertise and many years of experience makes a solid case for a brand that can create high-quality tools for their own use and now their private customers also.
Hydraulic assistance allows for removal of injectors without the sweat and hand force required by the non-assisted tools. This makes the job much easier as the lack of space, combined with large force required for injector removal can make this job nearly impossible without specialist equipment. Up to 10 tonnes of hydraulic pressure should see easy removal without damage to surrounding parts or the injectors themselves, thanks to the specific M9R injector adaptor.
This kit is designed for use on all M9R-equipped vehicles. The tool also covers some vehicles with M9T and R9M engines found in newer Renault, Nissan and Vauxhall models.
Tool reference: FAS-0001
Hydraulically assisted: Yes
Warranty: No
Pros:
Hydraulic assistance makes light work of injector removal
Brand with huge experience on these specific engines
Up to 10 tonnes of hydraulic pressure
Suitable for all M9R equipped vehicles
Cons:
Most expensive tool listed
Non-brand M9R Injector Remover Puller Tool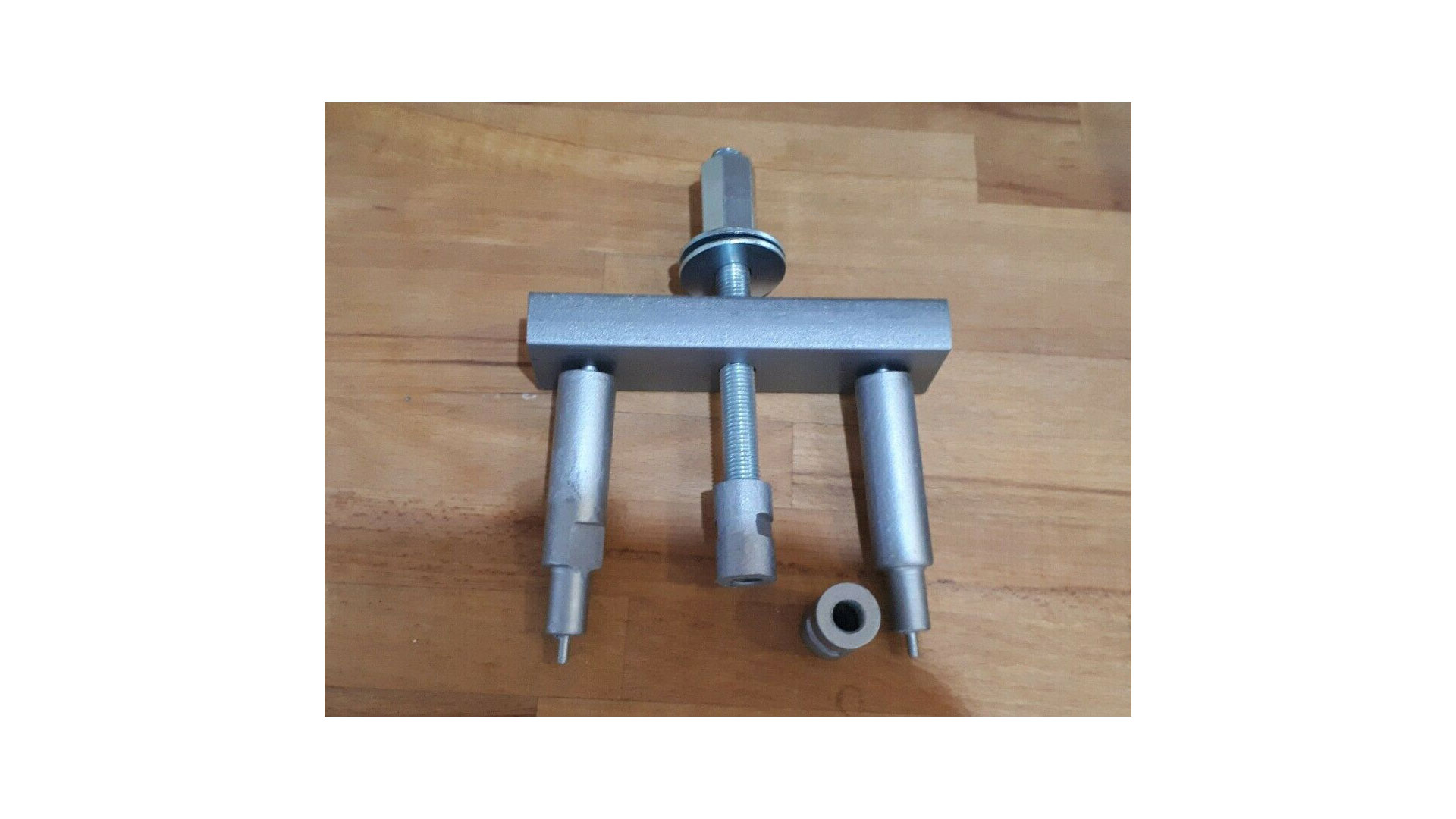 Check the latest price on eBay
Our final injector removal tool is from an independent seller, who created this tool for purely personal use at first. The feedback received on the tool through forums and internet sales was so great that the inventor decided to create small batches of tools to sell privately. Gathering a reputation this good is a sure sign that the product works as designed and can provide suitable help removing seized injectors.
In a similar vein to the genuine Renault product, this tool does not use hydraulic pressure but promises hand force alone will be sufficient to remove stubborn/ seized injectors. 20mm and 25mm solid steel bar used in the construction, promises huge strength and reliability, proven by tests of up to 13 tonnes of force (claims the seller).
This tool was designed for use on vehicles equipped with the M9R engine, it may also work on the later R9M-equipped models thanks to the similar engine configuration and design.
Tool reference: N/A
Hydraulically assisted: No
Warranty: No
Pros:
Least expensive kit listed
Thoroughly tested in the field
Built strongly for excellent longevity
Suitable for use on M9R equipped vehicles
Cons:
In Conclusion
The common woes of seized injectors on M9R engines are put to bed by these specialist tools. Forgot long hours, rounded bolts and broken parts. Specialist equipment, such as the products above, mean everyone from amateur home mechanic to seasoned professional should have no trouble performing diesel injector changes, should failure occur.
Getting your vehicle back to full health means minimal work missed, excess stress is kept down and you are independent and free to roam once again. Bodging the job with regular hand tools may save a few pounds but will add on the hours and could lead to disaster if the repair goes wrong. Specialist tools like these were created for a reason, in this case, it could save many hours and hundreds of pounds…
If you liked the article, please share, leave a comment below and check out our other exciting articles.
Categorised in: Engine Specific Tools Buying Guides
Czok Newsletter