The Best M47 & M57 Injector Removal Tool
We're an affiliate
We hope you love the products we recommend! Just so you know, we may collect a share of sales or other compensation from the links on this page. Thank you if you use our links, we really appreciate it!
BMW's diesel engines have consistently set the benchmark in the industry. Long known for their power, reliability and frugality, the brand always seems to set a high-water mark for all matters under the bonnet. This legacy continued with the introduction of the M57 & M47 engines in 1998. In their 15-year life span the engines saw use throughout BMW's model range along with being sold to other competitor brands.
Though known for being dependable engines, a major flaw shared between them, come service time, is seized fuel injectors. Not uncommon to many diesel vehicles in fact, the heat and stresses on the injectors over time can cause them to seize in place, making removal almost impossible using regular tools. Many have damaged engine cylinder heads and ancillaries with large hammers and pry bars trying to remove M57 and M47 engine diesel injectors.
Thankfully tool manufacturers spotted the need for specialist tooling, allowing for easy and safe removal of seized diesel injectors. No damage will be caused to the expensive cylinder head or delicate engine components that surround it.
Things to Consider Before Purchasing
Vehicle Compatibility
Engine codes can easily cause confusion, though most vehicles will show the correct code via a plate found in the engine bay or drivers/ passenger door aperture. To make it easy here is a list of the most common vehicles fitted with the BMW M57 diesel engine:
BMW 3-series 330d (1999-2008), 335d (2006-2013) & 325d (2006-2009)
BMW 5-series 525d (2000-2010), 530d (1998-2010) & 535d (2004-2010)
BMW 6-series 635d (2007-2010)
BMW 7-series 730d (1998-2008)
BMW X3 3.0d/3.0sd (2003-2010)
BMW X5 3.0d/3.0sd/xDrive35d (2001-2010)
BMW X6 xDrive35d (2008-2010)
Range Rover 3.0l Td6 (2002-2005)
And those that use the M47 engine:
BMW 1-series 118d/120d (2004-2007)
BMW 3-series 318d (2001-2007) & 320d (1998-2007)
BMW 5-series 520d (2000-2007)
BMW X3 2.0d (2005-2007)
Rover 75 CDT/CDTi (1999-2005)
Land Rover Freelander Td4 (2001-2006)
MG ZT CDT/CDTi (2001-2005)
Other models may be included, we recommend checking your owner's manual or contacting a local dealership/ specialist if unsure.
Skills & Tools Required
Replacing fuel injectors is a time-consuming task and one that requires some level of skill and experience. Access to these parts will require some basic disassembly of engine ancillaries. Those with some mechanical experience should have no trouble but, for complete amateurs we recommend getting assistance from someone better qualified or with some level of automotive mechanical experience.
Outside of the kits mentioned below, it is vital to have access to a basic set of sockets, screwdrivers and spanners to allow access to the fuel injectors.
Brand Reputation
Many tools can sell on brand reputation alone, thanks mostly to high quality products, good customer service and long warranties. While more expensive brands may offer confidence in tool quality and longevity (particularly important for professional mechanics), those working on their driveway may find the same practical use in a cheaper "off-brand" tool. They may not hold the same quality but, will likely be good enough for at least a few uses and save some money off initial purchase price.
The Best M47 & M57 Injector Removal Tools on the Market
Sealey VS2075 Injector Puller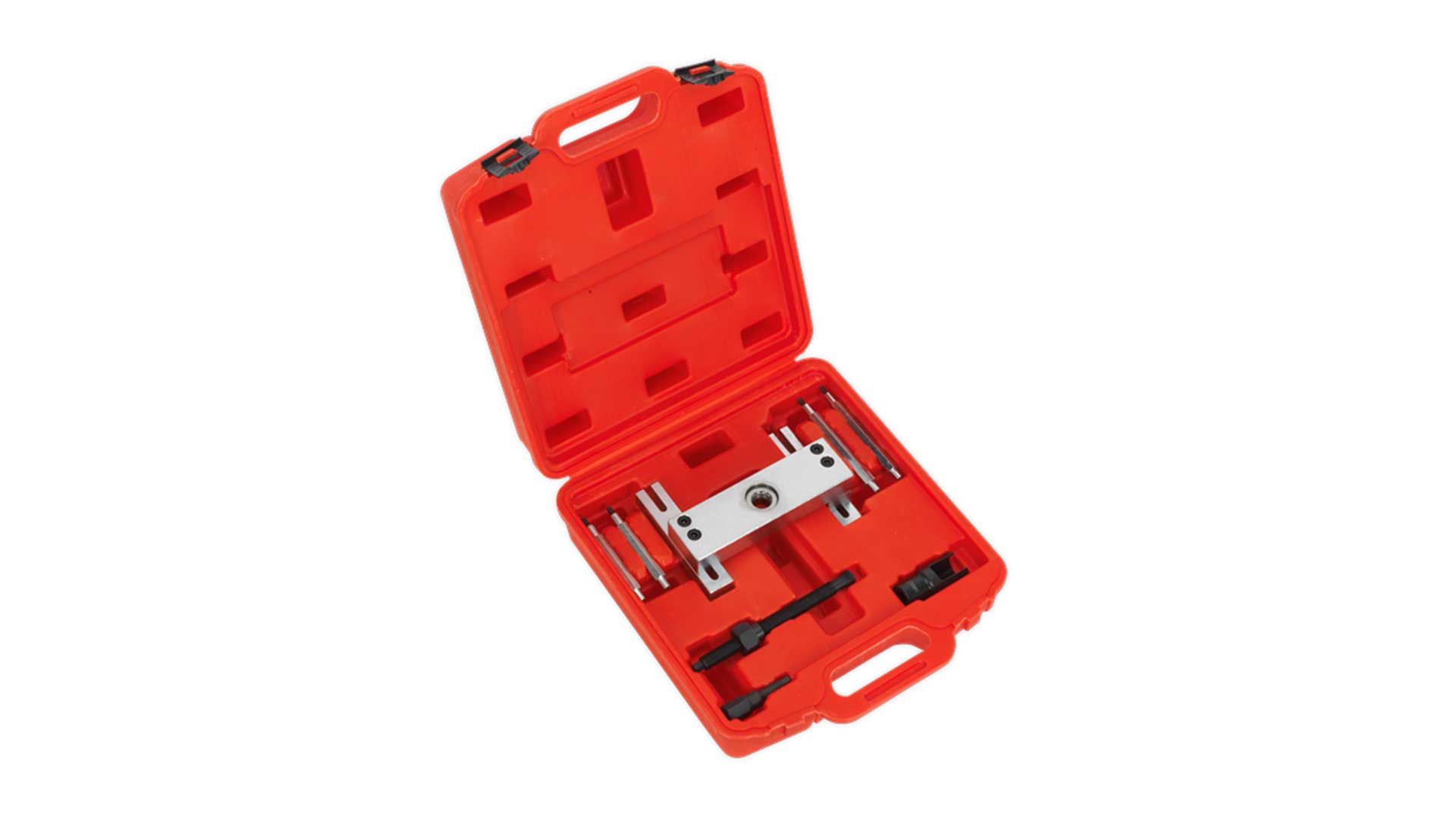 Check the latest price on Amazon
Our first injector remover comes from a brand that needs little introduction. Sealey has been in the market for over 40 years now and continues to meet high quality standards and provide outstanding products to their loyal customers. Their huge line-up and consistent growth mean there are very few toolboxes and garages that go without some Sealey branded tools.
Seized injectors should cause no problem with this kit. Designed specifically for use on the BMW M57 and M47 diesel engines, this tool allows for removal of stubborn injectors without the need to remove the cylinder head. Huge time savings are promised along with prevention of damage to surrounding parts.
The set comes packed in a handy storage case and is guaranteed by Sealey's 1-year warranty period for hand tools.
Tool reference: VS2075
Suitable engines: M57 & M47
Warranty: 1 Year
Pros:
Highly regarded UK tool manufacturer
Designed specifically for M57 & M47 diesel engines
Allows for huge amounts of time to be saved removing injectors
No risk of damage to surrounding components
Cons:
More expensive than "off-brand" options
Asta Tools A-CRI8 Injector Puller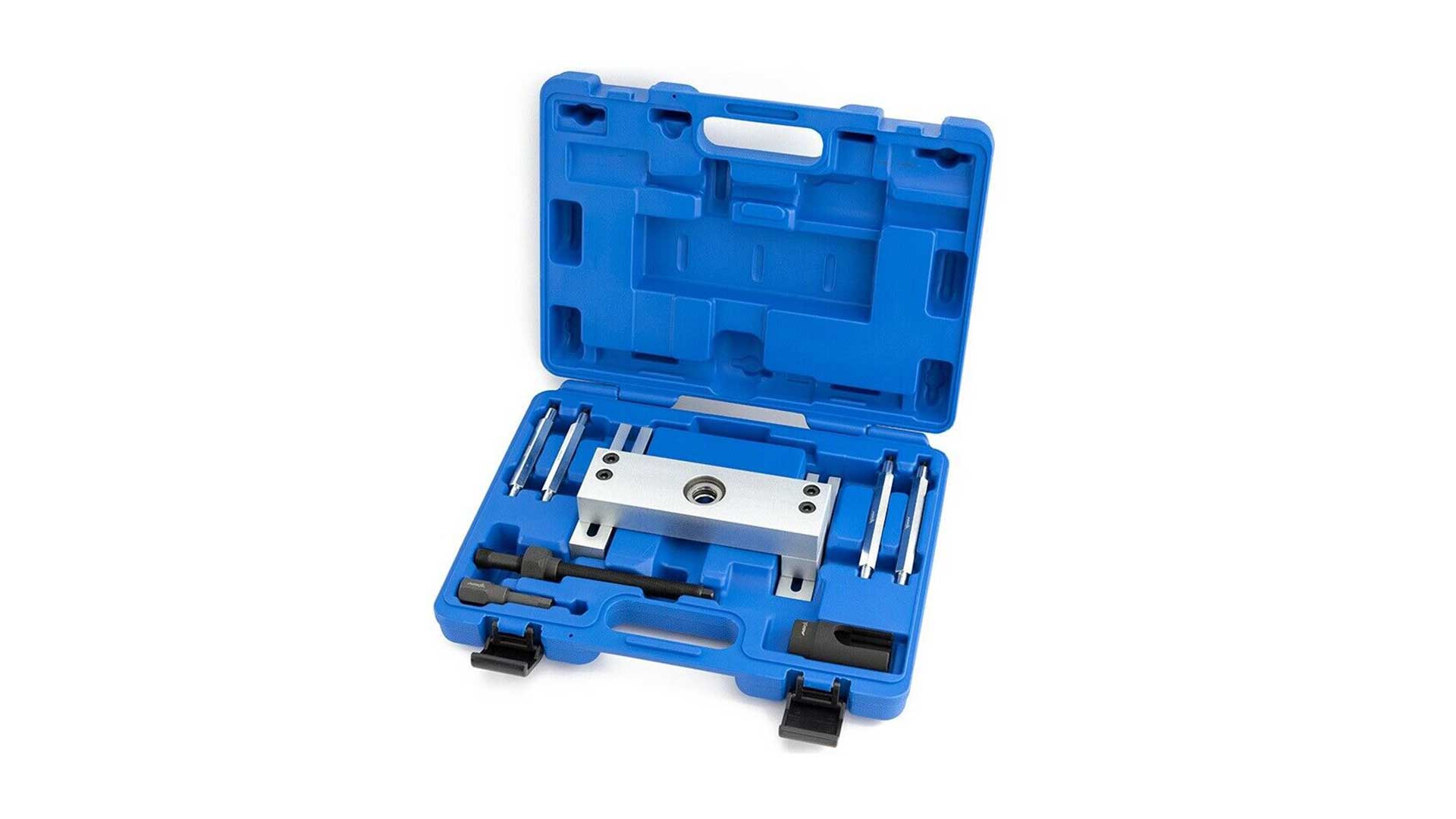 Check the latest price on eBay
Though not a brand seen on every shelf and in every workshop, Asta (or Satra as they are also known) are a growing Taiwanese tool brand with lots of specialist automotive offerings. Time spent addressing customers in Europe and the US is allowing Asta to build tools that end users really need, addressing specific problems on particular vehicles and engines. The brand aims to provide these unique tools at a lower price point than the European-made competition.
Another kit specifically designed for fast and safe removal of seized diesel injectors from the M57 and M47 diesel engines. This tool allows for removal without any need for cylinder head dismantling and no danger of damaging engine components in the process.
The kit is supplied in a handy carrying case, while also, like the Sealey product, being covered by a 1-year manufacturer's warranty.
Tool reference: A-CRI8
Suitable engines: M57 & M47
Warranty: 1 Year
Pros:
Automotive tool specialist
No need for cylinder head dismantling
Suitable for all M57 & M47 equipped vehicles
Fast and safe injector removal promised
Cons:
Most expensive kit featured
Neilsen 3617 Injector Puller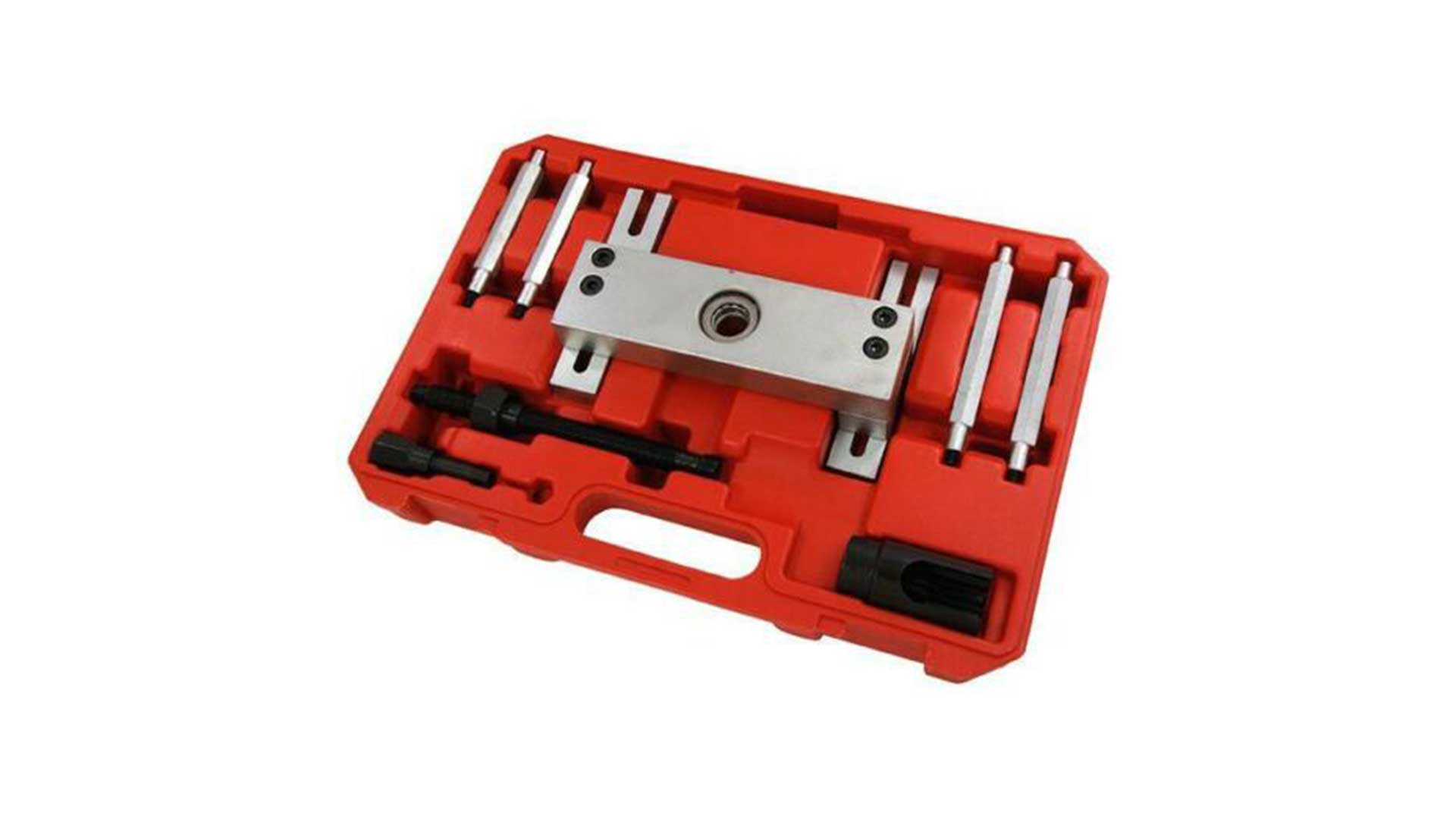 Check the latest price on eBay
Neilsen are uncommon in this space as a relative newcomer to the UK-based tool brand market. Going up against the likes of Sealey and Asta in a space like this isn't easy but, Neilsen have shown steady growth since their inception in 2006. The company is aiming squarely at providing tools that fit the bill for specific automotive jobs, while undercutting more established names on purchase price. They aim to fulfil this all without the common drawbacks on part quality, found when sourcing tools from other regions.
This kit allows for removal of seized or stubborn common rail fuel injectors from the M57 & M47 diesel engines. No need to dismantle the cylinder head or worry about damaging surrounding engine components, this kit should allow easy and safe removal of injectors without resorting to drastic measures.
Tools are supplied in a handy storage case and are suitable for all M57 and M47 diesel engined vehicles.
Tool reference: 3617
Suitable engines: M57 & M47
Warranty: None given or implied
Pros:
Least expensive tool featured here
Brand focussing on automotive specialist tools
Removes the need for dismantling of the engine cylinder head
Allows safe and effective removal of seized diesel injectors
Cons:
Brand doesn't yet have a large reputation in the market
In Conclusion
Getting diesel injectors changed could have a dramatic effect on restoring fuel economy and performance to a vehicle with faulty/ failing parts. Removing them safely and quickly will cut down on time off the road, whilst possibly boosting profits for those using these tools in the trade. All this for less than the cost of the new fuel injector units.
Having the ability to change seized injectors with one of these simple to use tools will not only save time but, also stop the serious headaches caused by stubborn parts. There will be no need to worry about damaging surrounding parts and carving a deeper hole in your bank account, getting the vehicle back on the road and running at its best once more.
If you liked the article, please share, leave a comment below and check out our other exciting articles.
Categorised in: Engine Specific Tools Buying Guides
Czok Newsletter