The Best Fuel Stabiliser
We're an affiliate
We hope you love the products we recommend! Just so you know, we may collect a share of sales or other compensation from the links on this page. Thank you if you use our links, we really appreciate it!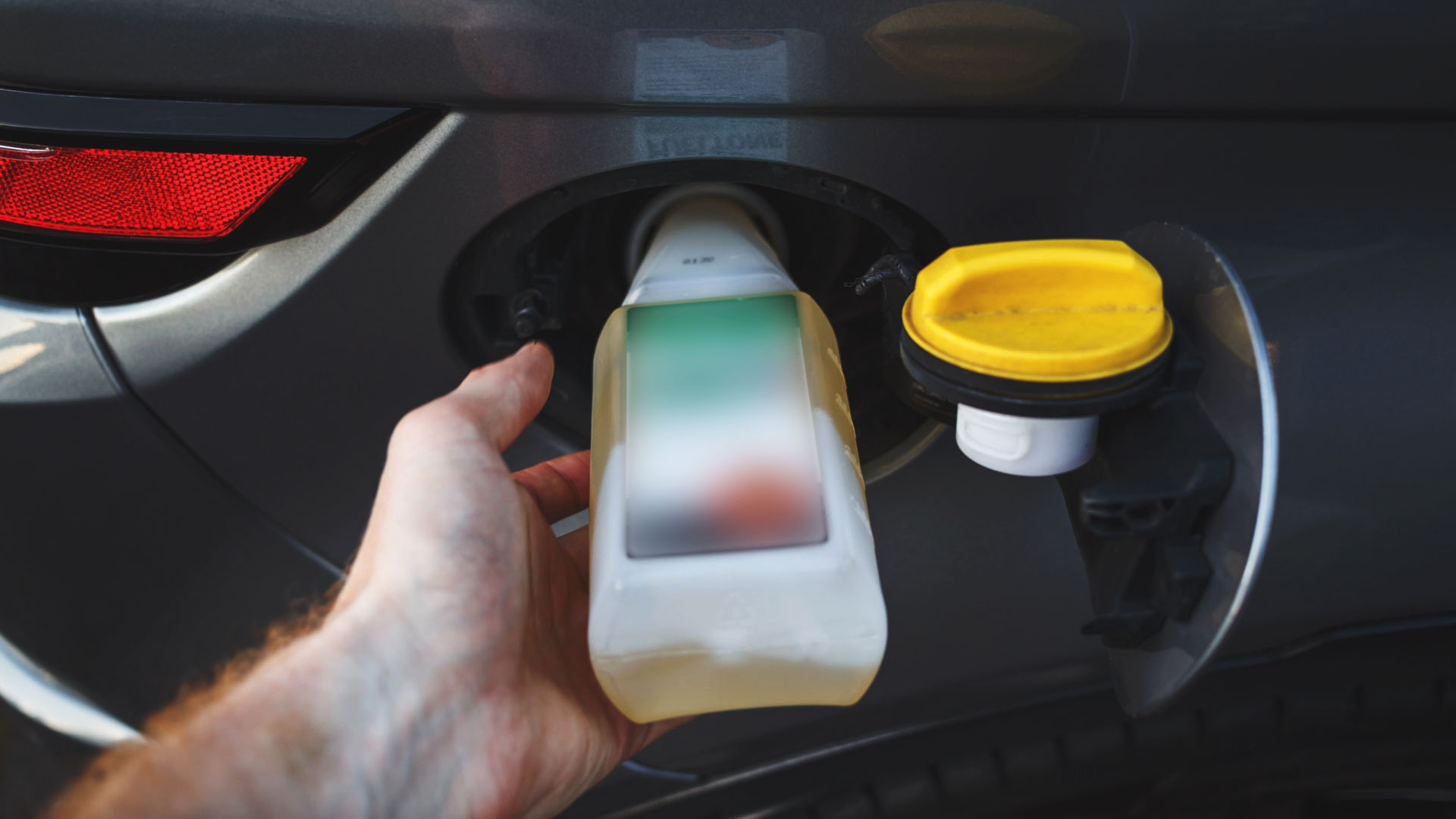 Salted roads, icy patches and slow traffic. Winter is not the time that we normally associate with fun driving. Our weekend toys, classic cars and motorbikes are often tucked up warm in the garage over the cold periods. This, we believe will keep them safe, shiny and reliable for when the sunshine and warmth returns (though let's be real though, we do live in the UK).
Giving your vehicle an easy time over winter is a great way to keep it safe from the harsher conditions and will ensure you can enjoy it once again come spring and summer, but what about that fuel you left in the tank?
When left for long periods fuel can begin to oxidise, break down and lose its qualities for both combustion and protection of your engine. Draining the tank is a sure-fire way to prevent this but is a timely and costly endeavour (for those who will have a professional complete the work). A simpler method would be to add a fuel stabiliser additive, to keep that fuel stable during the vehicle's hiatus.
How a Fuel Stabiliser Will Benefit your Vehicle
Fuel stabilisers are mixed with the fuel in the tank whenever you are parking your vehicle for long periods of time, such as over the winter or when taking a long vacation. These additives stop the fuel from degrading and breaking down, meaning a better and safer fuel for your engine to use. This will help to prevent those first cold-start issues, associated with vehicles that sit stationary for long periods.
Fuel stabiliser can also help improve the day-to-day driving of any vehicle, as it has a secondary purpose as a fuel system cleaner. The stabiliser will help to remove impurities commonly found in modern fuels (even found in the high standards of fuel we have in the UK), to ensure a more efficient and more reliable combustion for your engine. Check out the items below for more info.
The Best Fuel Stabiliser Additives on the Market
Sta-Bil Fuel Stabiliser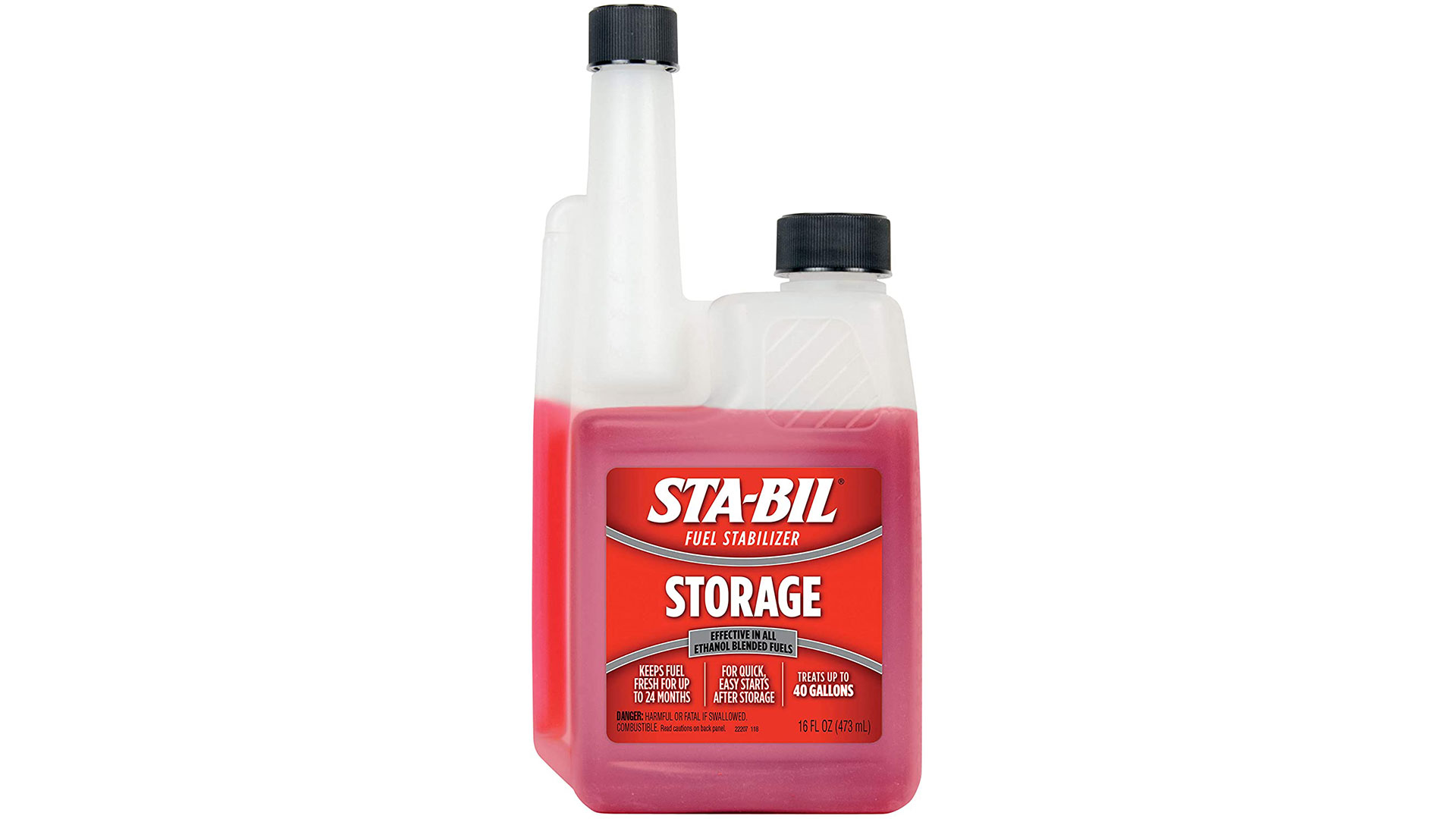 Check the latest price on Amazon
Our first product comes from a company called Sta-Bil. While not so well known here in the UK, Sta-Bil is a branch of the Gold Eagle Co, who are big players in the US additive market. They have been in business over 80 years and certainly have an impressive back catalogue with tremendous experience in the additive sector.
Their fuel stabiliser additive promises to keep your fuel fresh an easy start-up upon return to use. The product will protect your engine from the effects of fuel breakdown, preventing build-ups of gum in the fuel and helping stop any rust forming in the fuel tank. The formula also removes water from the fuel tank, important to promote efficient and safe combustion, potentially prolonging engine life.
This product is suitable for use in all petrol engines, for both 4-stroke and 2-stroke applications. Meaning this product will cover everything from lawnmowers to supercars. Also safe for use in vehicles with catalytic convertors and carburettors.
Pros:
Well experienced company
No more hard starts after sitting for long periods
Prevents rust forming in the fuel tank
Safe for use with all petrol engines
Removes unwanted water from your fuel
Cons:
Most expensive item listed
Lesser known brand in the UK
Wynn's Fuel Stabiliser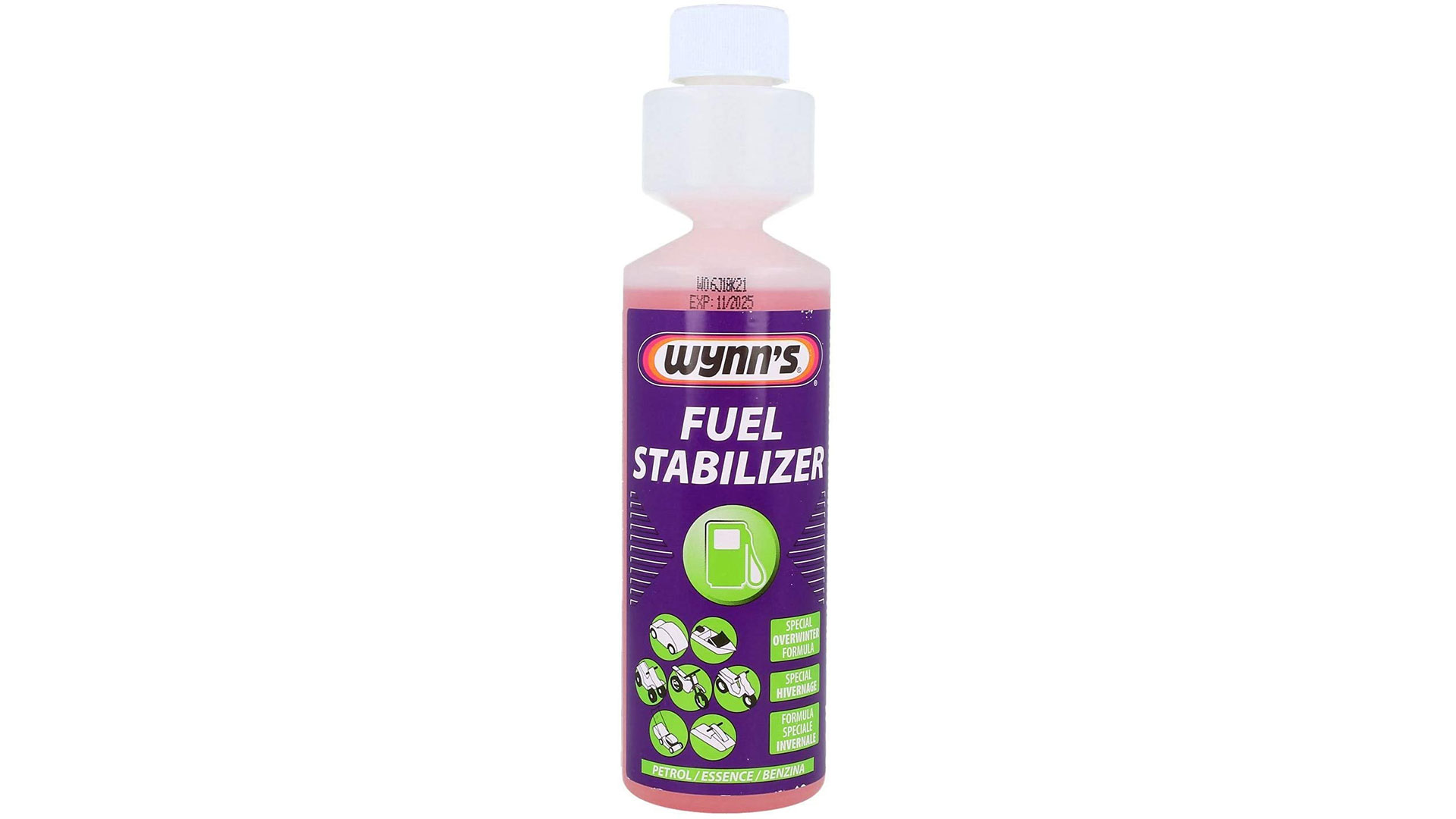 Check the latest price on Amazon
Next, is a very well-known brand in the UK, Wynn's additives. They offer a huge range of performance enhancing products and also, additives to protect your vehicle and increase longevity such as their fuel stabiliser.
Wynn's fuel stabiliser promises to maintain a stable fuel quality, meaning the petrol within the fuel tank will not degrade or break down. This will help prevent fuel oxidisation and the corrosion that can occur as a result. This promises to make the fuel safe and effective to use even after extended periods. The product further promises to protect and lubricate internal engine parts, to additionally increase engine performance and reliability.
Suitable for all petrol and LPG engines for cars, motorbikes, scooters etc. One bottle can treat up to 250 litres of petrol, making it very economical and a great solution for a large fleet of vehicles in storage. Will protect fuel for up to 12 months.
Pros:
Well trusted brand
Maintains stable fuel for up to 12 months
Protects again oxidisation and rust
Lubricates and protects internal engine components
Useful for up to 250 litres of fuel per bottle
Cons:
More expensive than Lucas Oil offering
No fuel system cleaning effects stated
Lucas Oil Fuel Stabiliser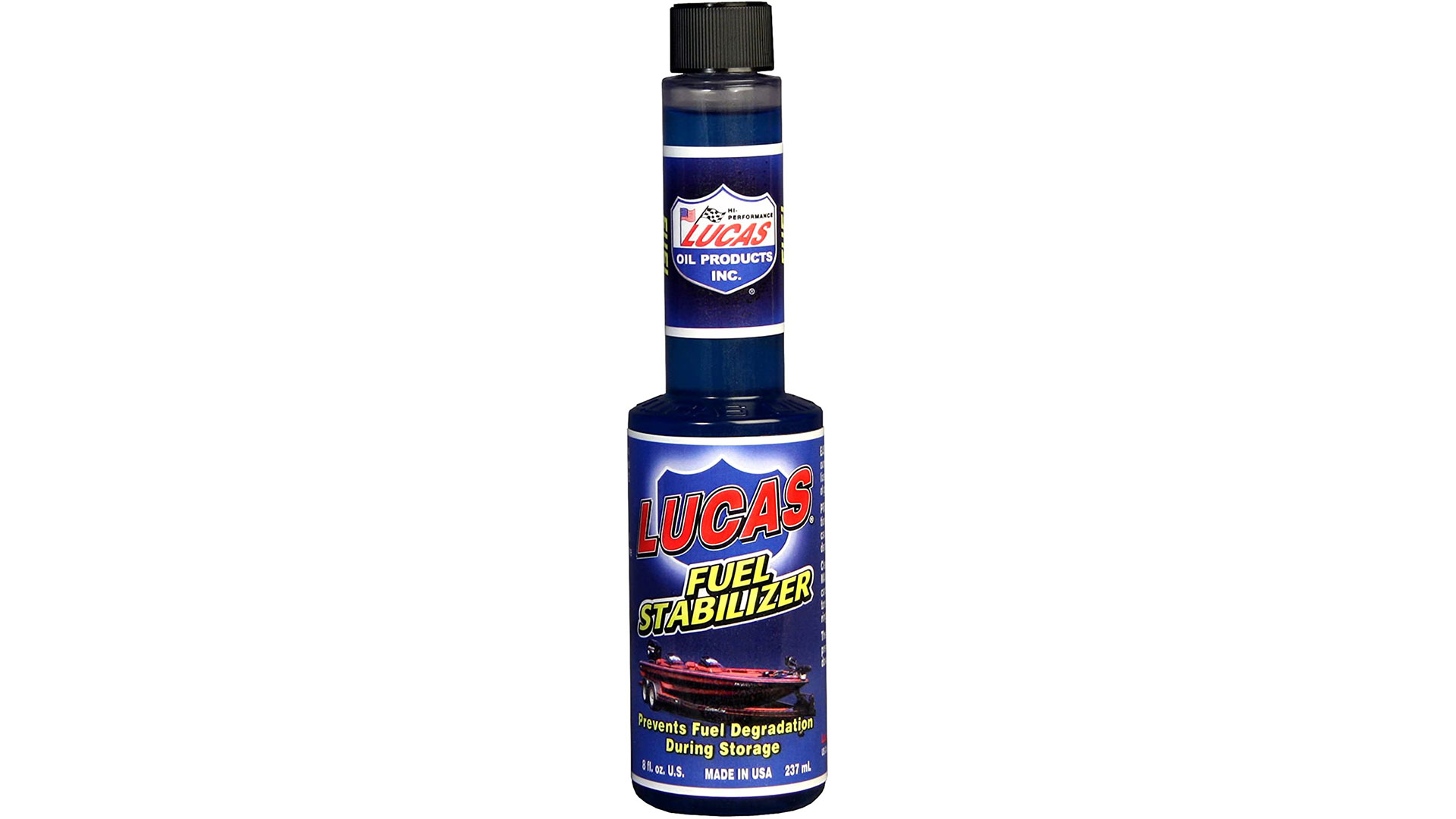 Check the latest price on Amazon
Last, but by no means least, an entry from US big hitters Lucas Oil. Known for their track proven oils and lubricants, the company also offers a huge range of additives, none more impressive than their fuel stabiliser.
Like rivals, Lucas Oil's formula is designed to prevent fuel breakdown over long periods of inactivity, minimising the chances of gum or varnish (chemicals created from oxidised fuel) building within your fuel tank. The additive will also lubricate both fuel system components and engine internals, for increased longevity.
One fluid ounce can treat one gallon of petrol, meaning this bottle will cover around 30 litres of fuel, usually enough as cars are seldom stored with full tanks. The product is safe for use with all 2-stroke and 4-stroke petrol engines, being particularly useful for classic vehicles.
Pros:
Well regarded brand
Least expensive option listed
Prevents fuel breakdown during inactivity
Lubricates fuel system components and engine internals
Cons:
No rust inhibition properties
May need multiple bottles for larger fuel tanks or multiple vehicle applications
In Conclusion
Next time you're throwing that cover on and setting the heater just so for your pride and joy, consider pouring a little fuel stabiliser additive in the tank. After months of sitting stationary and building excitement, the last thing you want is difficulty starting it up or potentially damaging your engine on the first day of spring.
Preventing the fuel breaking down is a much simpler process than all the hassle of draining and refilling the tank. Don't waste your money or time. Make sure your vehicle wakes from its slumber with a fresh tank of fuel and get back to enjoying driving once again.
If you liked the article, please share, leave a comment below and check out our other exciting articles.
Categorised in: Additive Buying Guides
Czok Newsletter