The Best Fuel Additives To Improve Performance Of Diesel & Petrol Engines
on 5 September 2020
/ 1 Comment
Updated on: 17th February 2021
We're an affiliate
We hope you love the products we recommend! Just so you know, we may collect a share of sales or other compensation from the links on this page. Thank you if you use our links, we really appreciate it!
Maintaining and improving the performance of your vehicle is something every car owner can achieve. There are hundreds of fuel additives are currently on sale, the choice is immense. Improved performance means better acceleration, better fuel economy, reduced emissions and may even help prevent reliability issues for your car and its engine.
Achieving the level of performance gains offered by some products could only have been generated by serious hardware changes, just a few decades ago. Nowadays however, with modern chemicals and production methods, fuel additives can offer a huge range of benefits to your vehicle, with simple application and often for a very small outlay.
The Different Types of Fuel Additives
Fuel additives can affect a wide variety of factors within your vehicle. This is a low down of just a few of the most popular and effective types of fuel additive currently in the market. Check out the links on each additive heading for more detailed article.
Fuel System Cleaner – Clear carbon deposits and other contaminants from your vehicles fuel system to ensure proper running and prevent issues caused by poor fuelling.
Injector Cleaner – Specifically formulated to remove deposits and build-ups from high pressure injectors for increased performance and restored fuel economy.
Octane Booster – Instant increase in vehicle performance by boosting the octane rating of the fuel in the tank. Higher octane can give increases in performance and fuel efficiency.
Cetane Booster – Similar to an octane booster additive but designed for diesel-powered vehicles. Improved engine performance and better fuel economy are just a couple of the potential benefits.
DPF Cleaner – Clears soot build-ups on diesel vehicles exhaust particulate filters, without dismantling or expensive garage services. Prevent issues, restore lost performance and avoid huge repair bills.
Catalytic Converter Cleaner – Clear your vehicles catalytic converter of carbon deposits to restore lost performance and prevent expensive issues down the road.
The additives outlined below do not fit into just one of the categories above and are speciality, high level products for those that really care for their vehicle and want lasting longevity and a boost in performance. For more specifically targeted additives, check out the links above.
The Best Fuel Additives For Diesel Engines
STP Ultra Diesel System Cleaner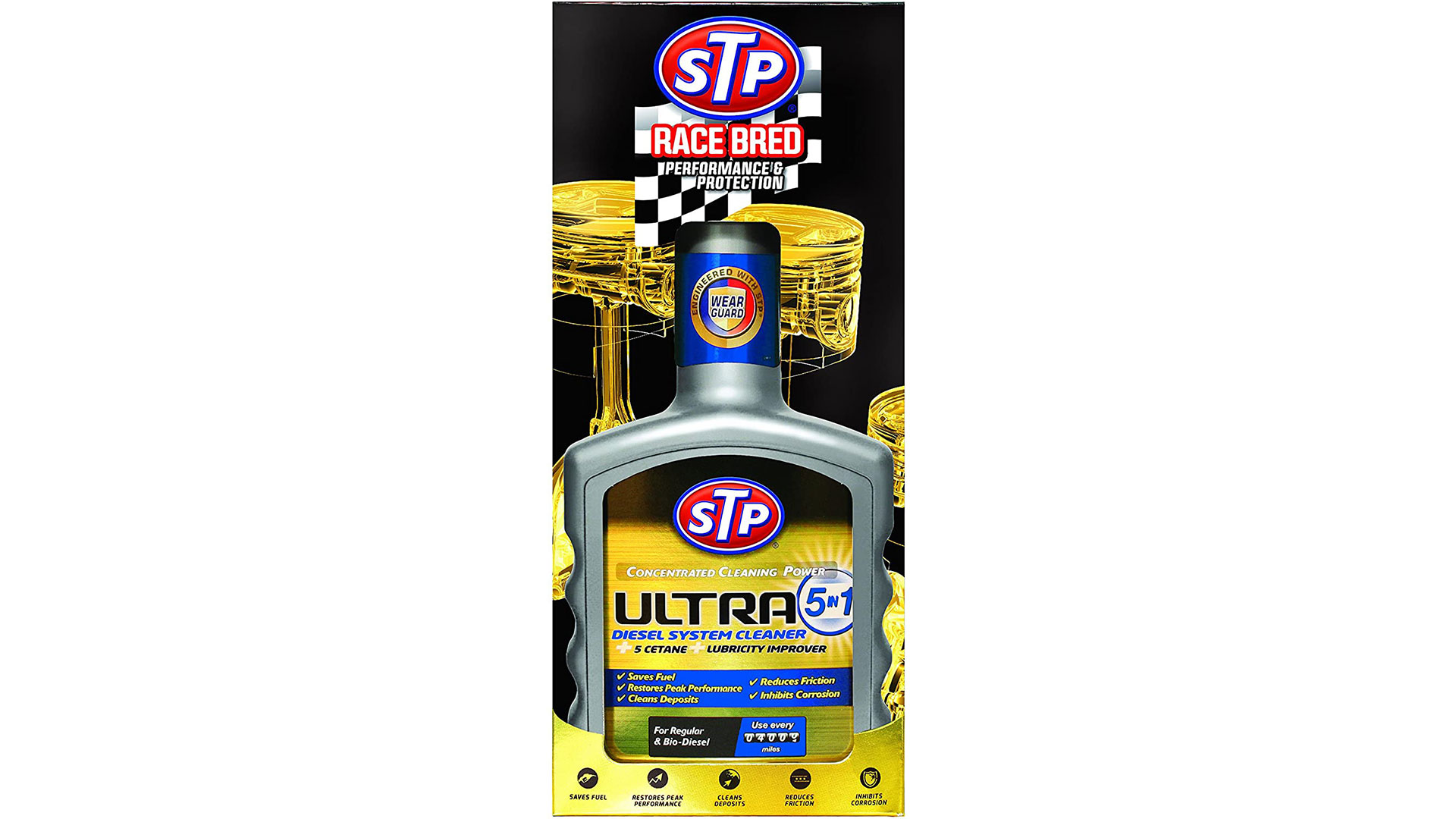 Check the latest price on Amazon
Our first offering and, claims STP, the most complete diesel vehicle additive currently offered by the brand. This 5-in-1 product promises a wide variety of benefits that usually require multiple fuel additives, all within one bottle and with one application. The additive is simply added to a tank full of fuel, with re-application required roughly every 4,000 miles.
The 5-in-1 system promises not only to clean the entirety of your cars fuel system, but also has corrosion prohibiting properties and a cetane booster to improve the performance and fuel economy of your diesel engine.
STP Wareguard contained within the product helps to restore lost lubrication (caused by poor quality diesel fuel) which helps to prevent premature wear of engine components, resulting in improved long-term reliability. Internal engine lubrication is essential for all engines, without this the internal components can get damaged, resulting in embarrassing breakdowns and sky-high garage repair bills.
Pros:
Restores lost performance
Improves internal engine lubrication
Prevents corrosion
Removes carbon deposits and build-ups
Multiple product features in one bottle
Cons:
No mention of biodiesel compatibility
Required to re-use every 4000 miles
Wynns Formula Gold Diesel System Cleaner
Check the latest price on Amazon
Like STP, Wynns is another top fuel additive manufacturer. They also offer a premium line, professional level product to improve the performance of your diesel car. It is suitable for all diesel vehicles and is simply added to a full tank of fuel. But unlike STP's offering it is required every 3 tank fills, meaning much more regular application, though the product comes at a lower initial price.
This high-performance diesel system cleaner is designed specifically to remove the soot and carbon build-up within your engine and fuel system. While cleaning, the product simultaneously protects the fuel injectors allowing for proper function and reduced likelihood of reliability issues or corrosion occurring.
Application of the product will give you vehicle back its lost performance and fuel economy, as well as resulting in a cleaner and more efficiently running engine. An engine running at its optimum level will also help to minimise black smoke from the exhaust. The gold diesel system cleaner is also compatible with all Wynns other fuel additive products for diesel vehicles, such as their turbo cleaner and emissions reducer products.
Pros:
Prevents engine components corroding
Removal of carbon deposits
Restores lost performance
Targets fuel injection systems specifically
Improves long term reliability
Cons:
Needs to be used every 3rd tank refill
No mention of biodiesel compatibility
Redex Diesel Advanced Diesel System Cleaner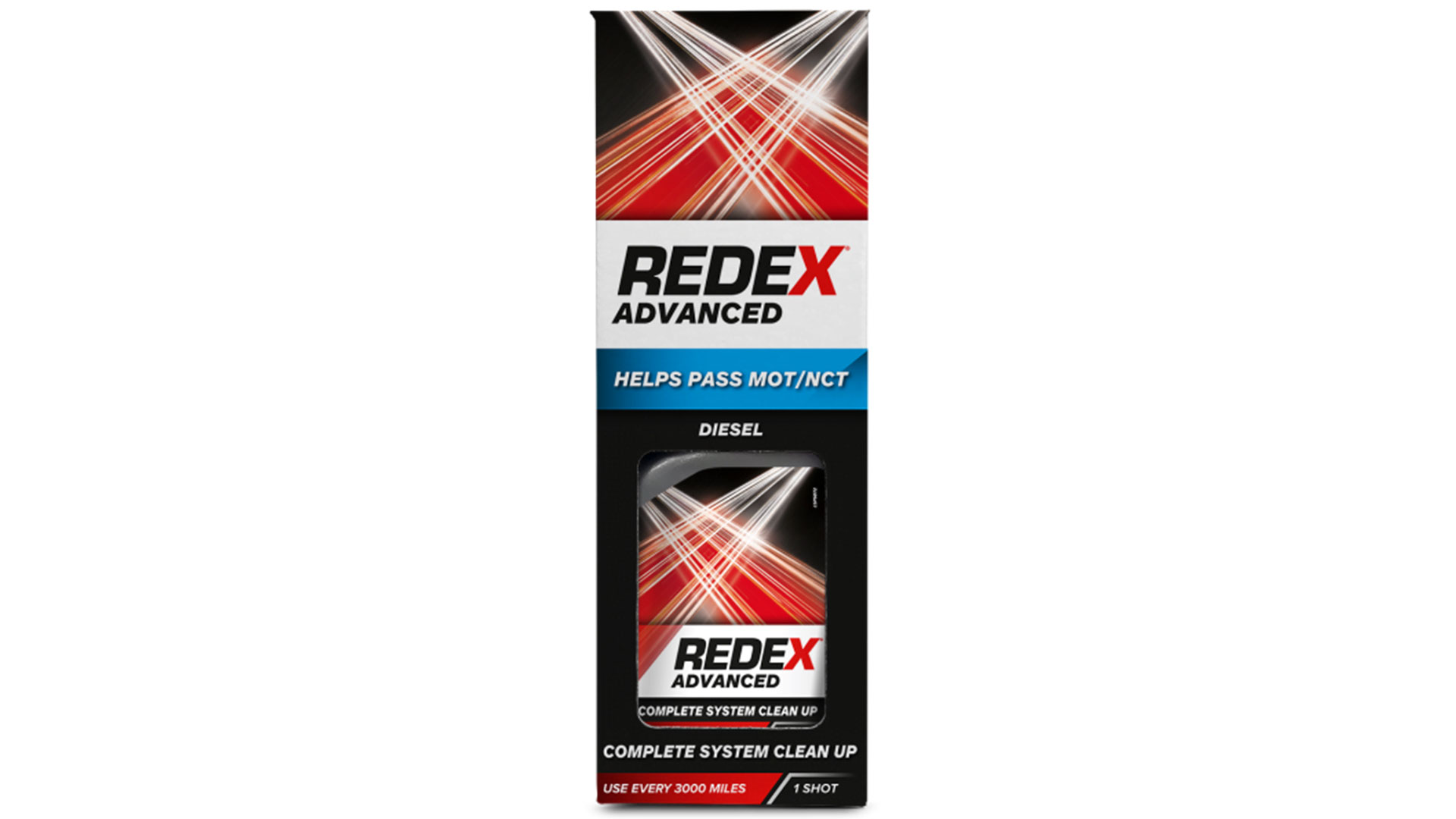 Check the latest price on Amazon
Our final diesel-specific product comes from Redex's advanced range of fuel additive products. Their advanced diesel system cleaner aims to take on the sector rivals to provide the ultimate cleaning of your fuel system and the performance benefits that result from this.
The product will clear the deposits left commonly within diesel vehicles fuel systems and their injectors. This additive is more powerful than Redex's regular fuel system cleaning product, making it the ideal solution if you have neglected to use any fuel additives during your ownership or have recently acquired a used vehicle.
The results of application should be clear almost immediately, with restoration of lost performance and an improvement in fuel economy. An efficiently running diesel engine will also help to reduce black smoke and exhaust emissions (important for your MOT). Also having the added benefit of cleaning carbon deposits from the DPF, found in the exhaust of most modern diesel vehicles.
Pros:
Clears carbon deposits
Restores lost performance
Improves fuel economy
Reduces black smoke and exhaust emissions
Cleans the DPF filter simultaneously
Cons:
No long-lasting lubricating effects
Apply every 3000 miles
No mention of biodiesel compatibility
The Best Fuel Additives For Petrol Engines
STP Ultra Petrol System Cleaner
Check the latest price on Amazon
The first of our petrol-specific products. STP's Ultra 5-in-1 aims to achieve all the benefits of their Ultra diesel system cleaner, but for a petrol-powered car. It combines the benefits found from fuel system cleanings, lubricating additives and octane boosters, all within one bottle.
The specifically designed formula will clear build-ups and debris from fuel system components, allowing for optimum fuel flow and eliminating corrosion opportunities that arise, due to moisture being trapped on metal parts. Performance will also see an increase thanks to an efficient fuel flow and the added octane boosting benefits.
Long term reliability will be increased with STP's offering, due to the increase in lubrication of the full fuel system and engine internal components. The product is safe to use in all petrol-powered vehicles, including those fitted with catalytic convertors.
Pros:
Lubricates fuel system including injectors
Improves engine performance
Clears deposits and build-ups
Reduces chances of corrosion
Boosts petrol octane rating
Cons:
Requires use every 4000 miles
Wynns Formula Gold Petrol System Cleaner
Check the latest price on Amazon
Another high-level offering, designed to clean the fuel system and injector components of petrol-powered vehicles, this time from industry leading brand Wynns. Their gold formula products promise next level performance increases, with a more expensive product that promises higher levels of debris removal and protection when compared with Wynns standard line products.
Simply adding the contents of the bottle into your fuel tank will allow the additive to remove contamination from any petrol vehicles fuel system. This will result in the restoration of performance, lost over years of driving, while also benefitting fuel economy and reducing harmful exhaust emissions (which could make a big difference in your next MOT).
The product will both clean and protect the cars fuel system vital components, eliminating poor running and erratic idle that often results from poor fuelling. Improved lubrication will also aid long-term reliability and reduce build-ups in the future. What's more, this additive is suitable for all petrol vehicles, including those fitted with a catalytic convertor.
Pros:
Reduces harmful exhaust emissions
Improves performance
Reduces fuel consumption
Safe for use with all petrol engines
Lubrication to ensure long term reliability
Cons:
Required to use every 3rd tank of fuel
No mention of corrosion resistance
Redex Professional Complete Petrol System Cleaner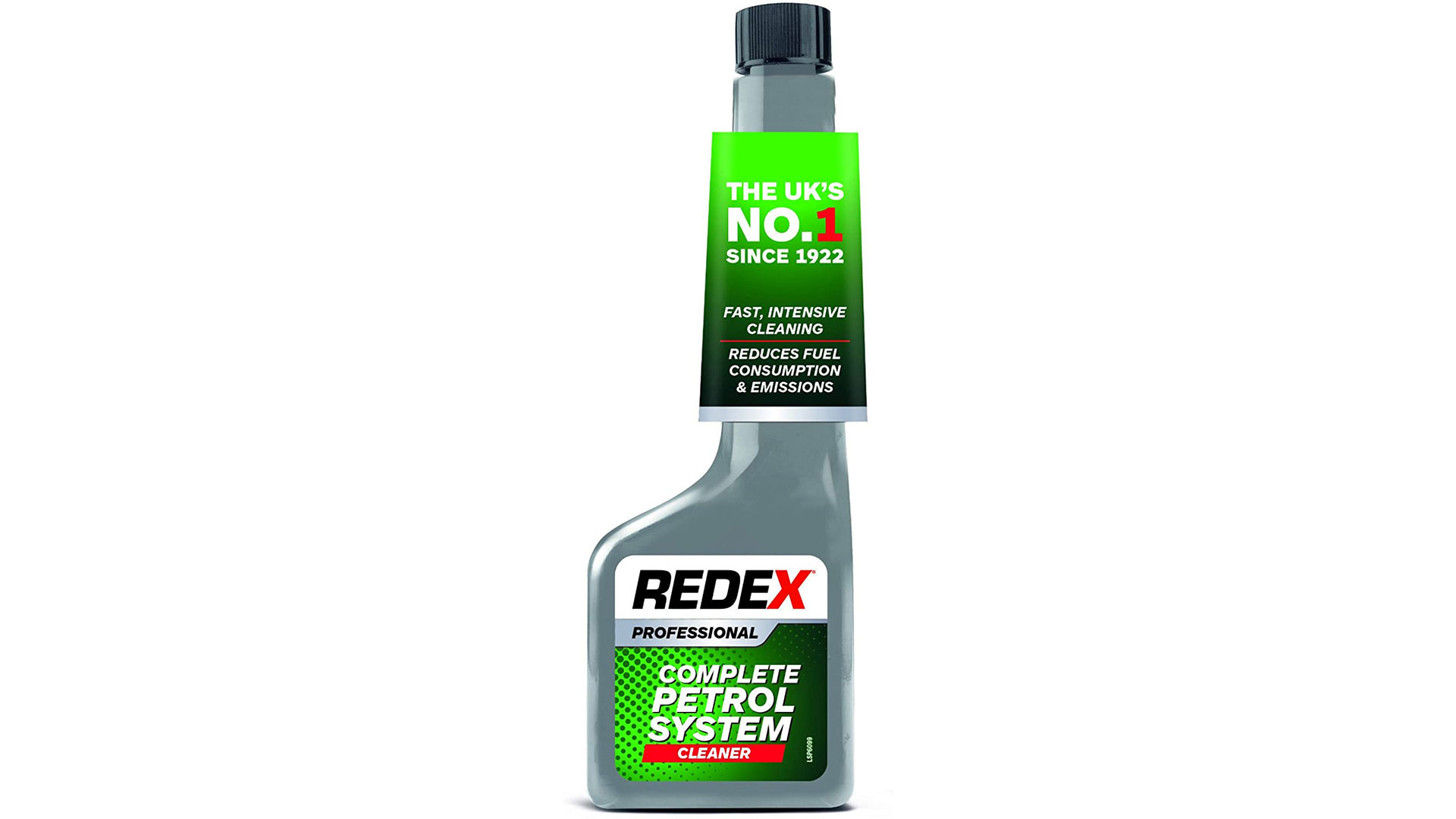 Check the latest price on Amazon
The final petrol-specific additive here is another professional level entry, this time from Redex. As with their diesel additive shown above, this product promises industry leading benefits for your vehicle, while coming in at a lower price than rival brands.
This product is designed for use specifically with petrol powered vehicles to ensure that your car's engine and fuel system are clear of debris and carbon build-ups. This extensive cleaning will allow lost performance to be regained, as well as giving noticeable improvements for both fuel economy and emissions. Not only will performance be enhanced but reliability too, with smoother running almost guaranteed and any rough idle or tough starting issues caused by poor fuelling likely to be a worry of the past.
The Redex advanced system cleaner is suitable for all petrol-powered vehicles, while being particularly useful for older vehicles that have covered more miles. These older vehicles will generally have higher levels of carbon build-up and therefore are more likely to experience fuelling issues.
Pros:
Restore lost performance
Clears carbon deposits from fuel system
Well trusted UK brand
Reduces emissions
Particularly effective in older vehicles
Cons:
Requires use every 3000 miles
In Conclusion
Compare the pricing of these simply applied additives against possible garage bills and the pain of losing your car and that independence for days or even weeks. Many mistake additive products for excess spending that brings no benefit but it could actually save you hundreds or even thousands in the long run.
Fuel additives are suitable for any motorist, with variants and options available for every single type of vehicle imaginable. From cleaning internal engine parts, to boosting petrol octane ratings and even removing carbon deposits from exhaust components, there is likely a fuel additive product that can improve your motoring experience.
Preventing issues before they arise is always preferred to solving problems when they inevitably rear their ugly head. Carbon build-ups, poor quality fuel and clogging of vital components will have a detrimental affect on the way your vehicle performs. Restore your lost performance, claim back your vehicles fuel economy and restore the newness to your car.
If you liked the article, please share, leave a comment below and check out our other exciting articles.
Categorised in: Additive Buying Guides
Czok Newsletter