The Best Ford Transit Front Wheel Bearing Tool
We're an affiliate
We hope you love the products we recommend! Just so you know, we may collect a share of sales or other compensation from the links on this page. Thank you if you use our links, we really appreciate it!
Long known as the working-class hero in the UK haulage business, the Ford Transit. Known for moving goods and services around the country, since its inception over 50 years ago. The UK owes a lot to the Transit and even today thousands of them pound the streets, owned by couriers, business owners and private enthusiasts alike. Their reliability is often taken for granted, until something goes wrong.
Ford Transit's are generally easy vehicles to work on and repair, that is unless a wheel bearing begins to fail. A wheel bearing on the way out will begin with an annoying noise but can lead to failure of the hub and could lead to a dangerous crash if left unattended. Those who use Transits often need the vehicle on the road for work and can't afford to have their van sat in the garage for days getting repaired. This is where a front wheel bearing tool comes in.
These hand-powered tools are inexpensive compared to many garage services, allow wheel bearing changes on the driveway without any requirement for compressed air or an electrical outlet. This means home DIYers and professionals alike can get front wheel bearings changed quickly, safely and without resorting to expensive and difficult to source specialist tools.
Something that often goes unsaid is that to keep costs down and packaging simple, some Transits use front brake components and wheel bearings that are pressed together. This may make using one of these tools essential, even for a simple brake disc replacement.
Things to Consider Before Purchasing
Vehicle Compatibility
Ford Transits have come in all shapes and sizes over the past five decades therefore, choosing the right tool for the right van can be difficult. We've tried to make it clear which tool fits which van using the subheadings below but always ensure to check thoroughly before purchasing. Call the manufacturer if unsure as they can often check compatibility from the registration plate or VIN number on the van.
An important note to check on Ford Transits in particular is the layout. For the vehicles we are investigating here, the FWD and RWD for Mk6 and Mk7 Transit's share the same front hubs (with the RWD receiving a blanking plate over the driveshaft hole). Later Transits split the FWD variant into a model line called the Transit Custom, RWD Mk8 Transits are not compatible with most of the tools below due to a differing hub design, but may work with specialist adaptor tools.
Skills & Tools Required
These tools are designed to take the need for expertise and specialist tools out of the equation, this does not however mean that they are fool proof. Ensuring sufficient knowledge before attempting a safety-critical job such as a wheel bearing change is important, reach out to experienced friends/ colleagues for help if you don't have any prior experience. Simple tools will also be required to remove the bearing/ hub unit in some cases, before the bearing removal tool can be used.
Warranty
Tool warranties can be very important, especially for those using these tools in the trade where breaking tools often can get expensive and cost dearly in delays, when ordering replacements. Long warranties offered, particularly by UK tool manufacturers, is usually a sign of confidence in the products quality and will cover you in the case of a breakage due to faulty tool construction or undue wear.
The Best Ford Transit Mk6/7 (2000-2014) Front Wheel Bearing Tools on the Market
Sealey VS1270 Front Wheel Bearing Removal Tool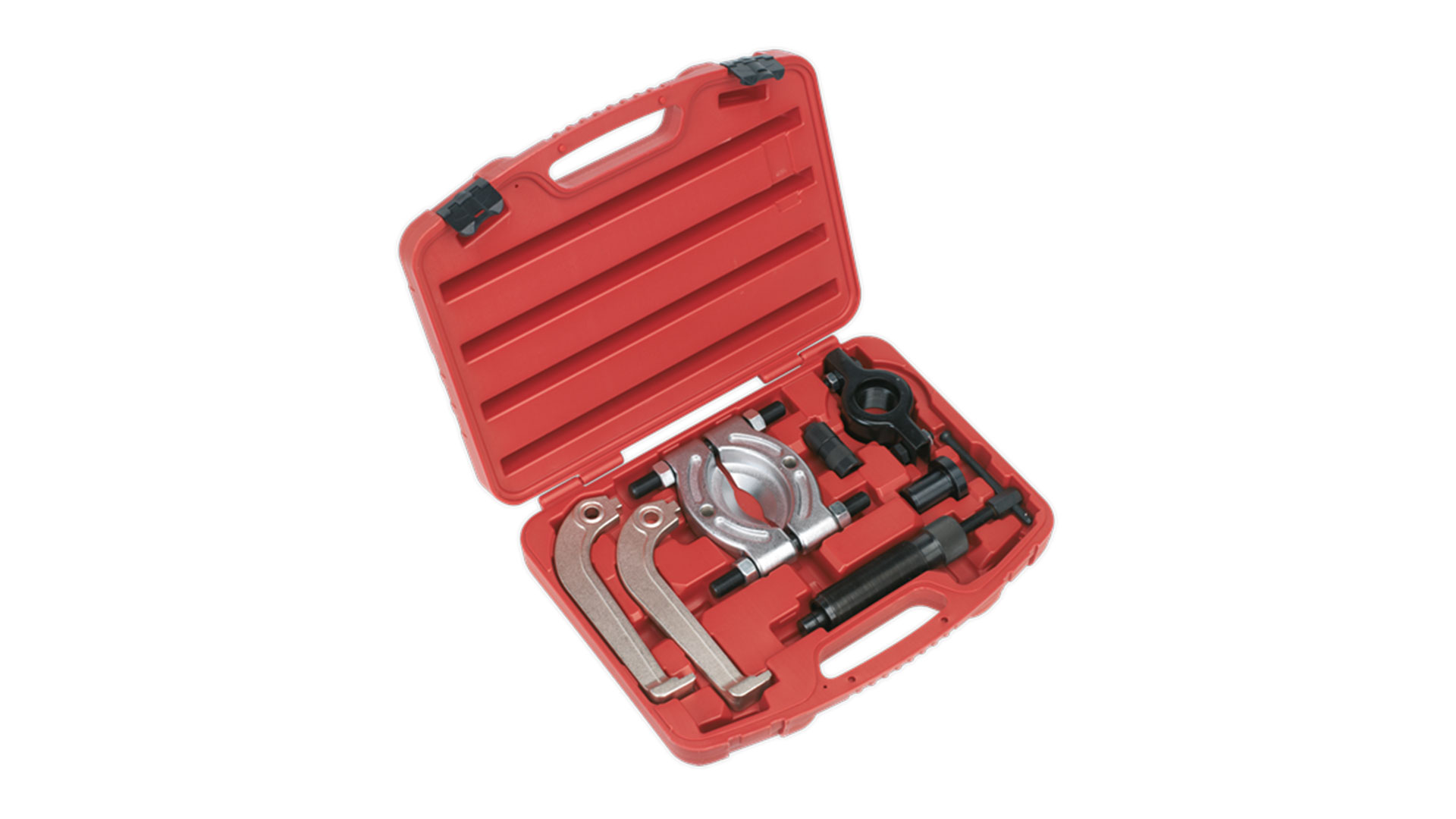 Check the latest price on Amazon
Our first Mk6/7 Transit front wheel bearing tool is manufactured by Sealey, the tool specialists from the UK. Over four decades in the industry have given Sealey a huge wealth of experience to draw on. Sensibly priced tools and high-quality standards have given the brand garner a great reputation, particularly here, in their home market. Thousands of motorists, home DIY mechanics and professionals use Sealey tools every week and wouldn't be without them in their toolbox.
This wheel bearing tool allows for removal of old wheel bearings quickly, without the need for a hydraulic press. This eliminates hours of extra work or extra cost incurred by purchasing a whole new hub and bearing assembly. Parts are made of forged steel for longevity and resistance to the extreme forces involved.
Sealey backs all their hand tools with a 12-month warranty showing their confidence in the brands quality standards. This set will work with all Mk6/7 Ford Transits in both FWD and RWD.
Tool reference number: VS1270
Storage case: Yes
Warranty: 1 Year
Pros:
Highly regarded UK tool manufacturer
Quick removal of wheel bearings
No need for replacement assembly
Forged steel components
Cons:
Most expensive Mk6/7 Transit bearing tool listed
Laser Tools 5545 Front Wheel Bearing Tool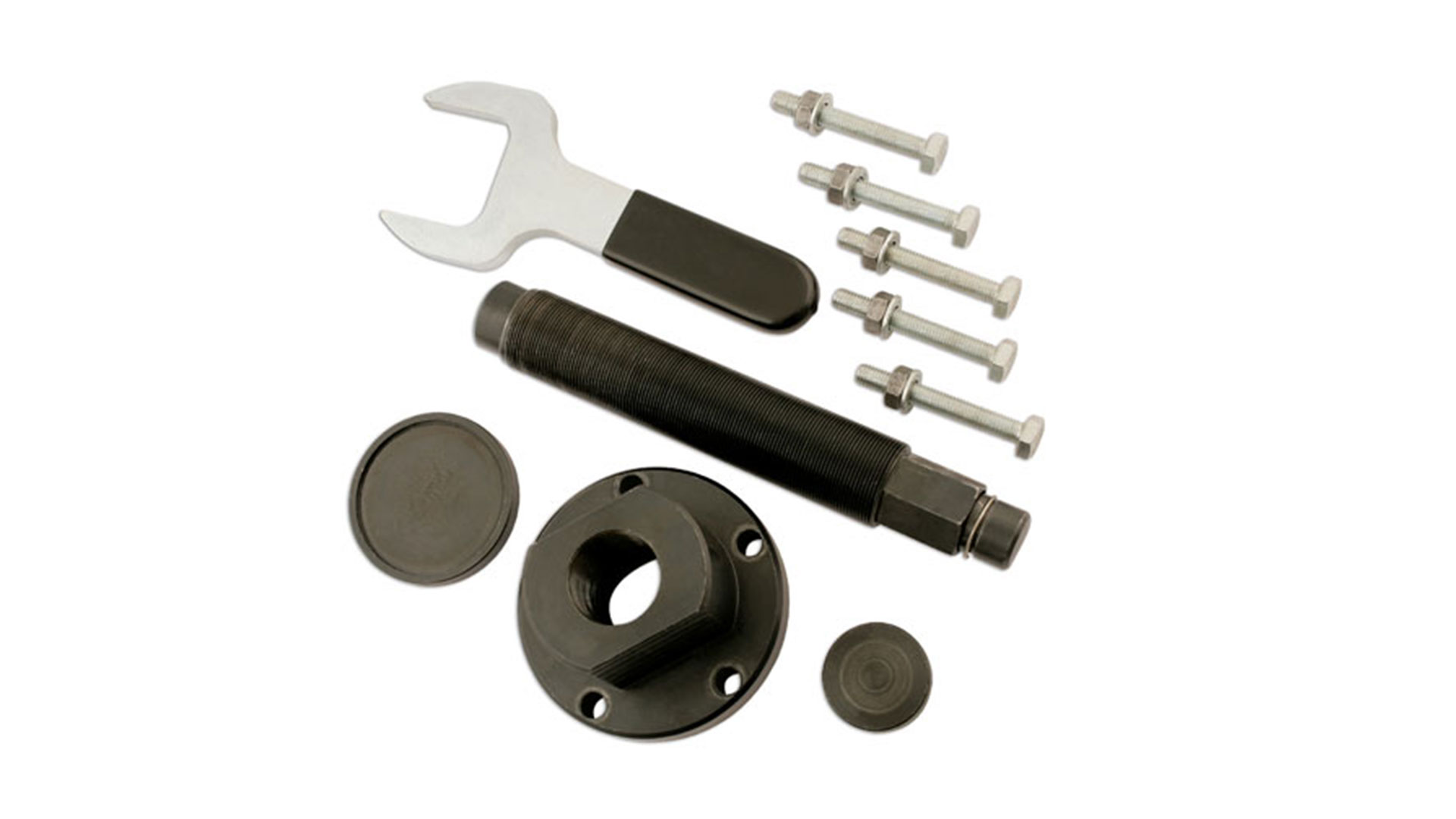 Check the latest price on Amazon
The second wheel bearing tool for the MK6/7 Transit hails from Laser Tools. Yet another UK tool brand that provides the goods needed for specialist automotive work, with something to suit pretty much any task required on a Transit. Since opening their doors over 40 years ago, Laser has kept focus to maintain product quality and tool standards. Due to this the brand is another featured in many toolboxes of professionals and enthusiastic amateur DIYers alike.
Laser created their transit wheel bearing tool for use in situ, on the vehicle, lessening the need for complex suspension dismantling and severely reducing the time required for the job. The kit is designed for safe removal of the bearing from the drive flange, meaning no damage to other parts and clean installation of any new bearings.
Keeping the moving parts lubricated is highly recommended by Laser Tools for longevity. The product also comes with a 12-month warranty.
Tool reference number: 5545
Storage case: No
Warranty: 1 Year
Pros:
Can be used without removing the vehicles hub
Safely removes bearings from the drive flange
Huge reduction in time required for bearing/ brake replacement
Backed by 1-year warranty
Cons:
VidaXL 210416 Front Wheel Hub Puller Bearing Removal Tool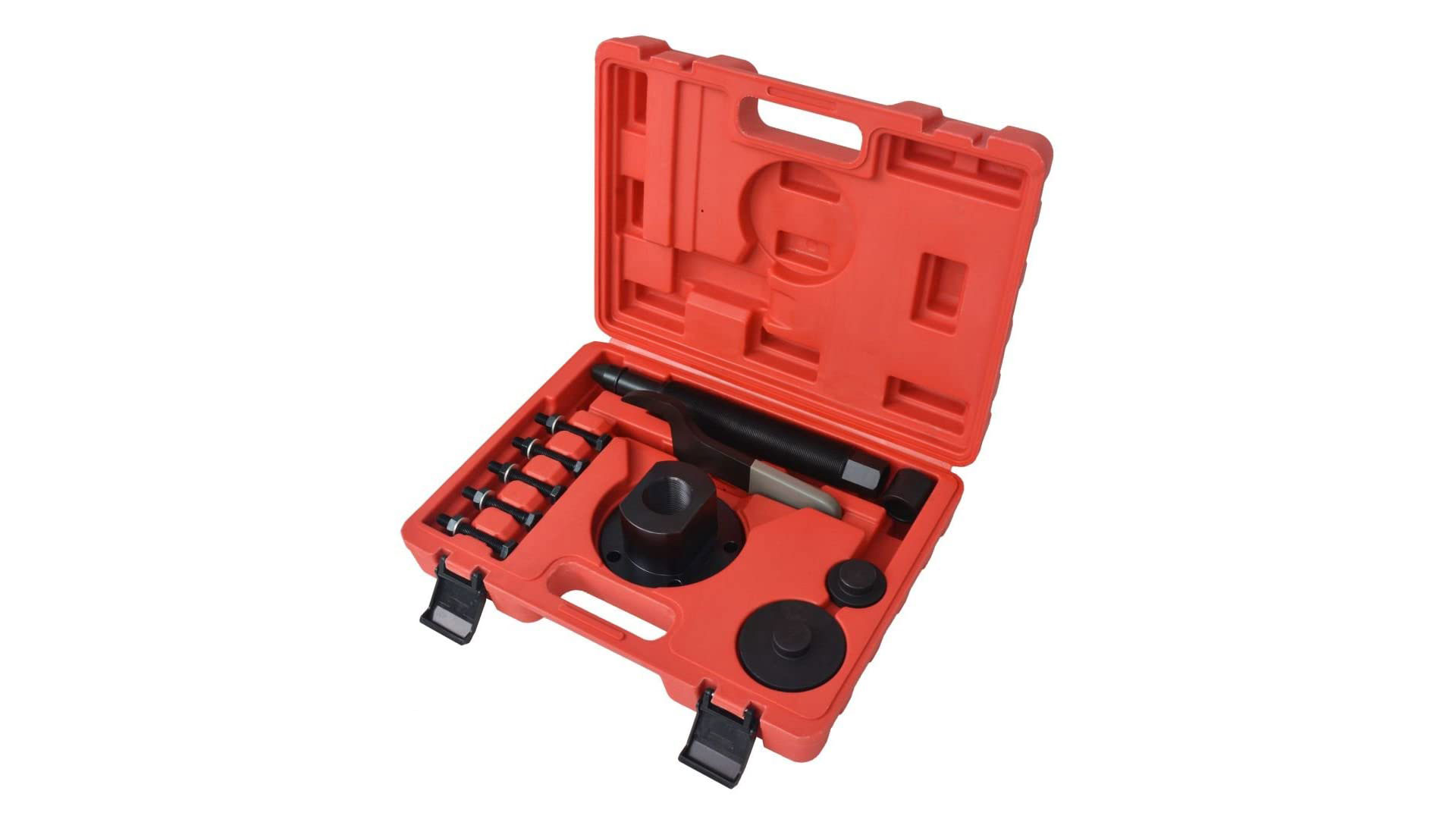 Check the latest price on Amazon
VidaXL are the last brand featured here, to offer a front wheel bearing tool for the Transit Mk6/7, though they are not actually a tool specialist. The company, based in the Netherlands, works with suppliers to create a huge range of products aimed at a lower price point. This applies particularly to their tool ranges, when compared to the more expensive products made in the UK. The tool is likely made in Asia in large quantities before being purchased and retailed by VidaXL. This isn't necessarily a bad thing but has led to inferior quality in the past compared to European/ US-made options.
Coming in at a lower price than UK competition but promising the same ease of wheel bearing removal. VidaXL's wheel bearing removal tool promises safe removal of wheel bearings from the hub assembly and drive flange, allowing for parts to be reused and a clean surface maintained for new bearings. The tool is made from carbon-steel for longevity and resistance against the extreme forces involved in its intended uses.
Unlike UK competition, VidaXL's kit doesn't come with a long warranty but does feature a storage case and vastly undercuts competition on price.
Tool reference number: 210416
Storage case: Yes
Warranty: 30-day returns policy
Pros:
Allows for safe removal of Transit front wheel bearings
Made from strong carbon-steel
No need for extra specialist tools
Cheapest Transit Mk6/7 bearing tool listed
Cons:
Lacks prestige and reputation of UK-based tool manufacturers
The Best Ford Transit Custom (2012-Present) Front Wheel Bearing Tools on the Market
Sealey VS2386 Front Wheel Bearing Puller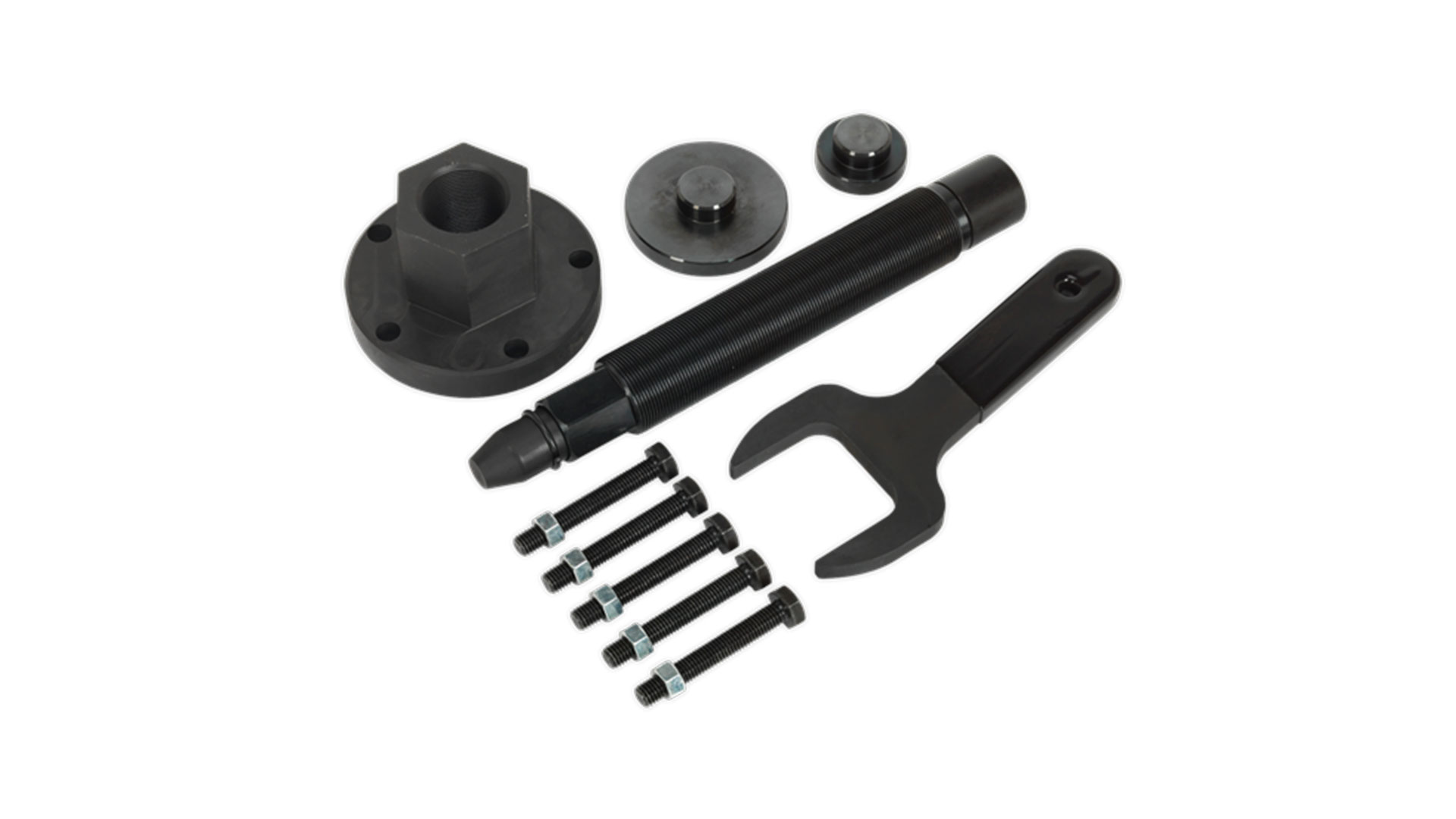 Check the latest price on Amazon
UK manufacturer Sealey are also the makers of the first Transit Custom tool featured. Though specialising in sensibly priced tools for the average consumer, Sealey are also quick to market with tools for newer vehicles that are starting to need specialist products to allow them to stay roadworthy. Tools such as their front wheel bearing puller to suit the newer Transit Custom (2012 on).
Quick and easy bearing removal is promised from Sealey's VS2386 kit, without the need for removing the hub from the vehicle. This tool allows for safe removal of the drive flange from the hub assembly and bearing removal also. Sealey promises huge time savings and safe removal without damage to surrounding parts in the process. This, they promise makes it an essential tool for brake disc changes on your Transit Custom.
The kit is designed to work with the Transit Custom but may also work with earlier FWD Mk6/7 Ford Transits. As always, Sealey backs this tool with a 12-month warranty.
Tool reference number: VS2386
Storage case: Not stated
Warranty: 1 Year
Pros:
Well known UK tool manufacturer
Can be used without removing the hub from the vehicle
Saves huge time and expenditure during brake changes
Backed by a 12-month warranty
Cons:
More expensive than the Laser Tools kit
Laser Tools 7109 Front Wheel Bearing Overhaul Kit
Check the latest price on Amazon
Laser Tools is another UK brand that is quick with offerings for the newer Transit Customs. Laser are a brand that specialise in automotive tooling, hence their manufacturing of such a specific product for a relatively new model line. The high-quality tool standards and great customer feedback give good confidence that their tools will go the distance and allow you to get the job done safely.
Bearing removal on modern Transit's needn't be difficult. Laser promises easy bearing removal with their overhaul kit. The tools here have been designed for safe removal of the bearing/ disc assembly and further separation of the bearing and brake disc. This is essential for brake repairs/ replacement and can save huge amounts of time and money sourcing full brake and bearing assemblies for replacement.
This UK-made tool is not only backed by Laser Tools 12-month warranty but also benefits from supplied grease, to keep the kit in top condition for maximum reliability. Suitable for Transit Customs, Mk6/7 Transits and even Mk8 Transits with the laser tools adapter (tool reference: 7122)
Tool reference number: 7109
Storage case: Yes
Warranty: 1 Year
Pros:
Brand specialising in automotive tools
Safe removal and separation of front wheel bearings
Saves huge time and money on brake repairs
Huge potential for use across Ford Transit range
Cons:
No mention of use in situ on the vehicle
In Conclusion
Getting a wheel bearing sorted and having your van back on the road could mean the difference in a week's work, setting up new business ventures or could just be a stress relief knowing your Transit is back in action.
Jobs like wheel bearing replacements are often viewed as difficult and best left to the experts. However, while professional mechanics have their place and role in the world, some surprisingly in-depth jobs can be carried out at home on the drive. All it takes is a few simple tools and some extra know-how. Don't let a failing wheel bearing stop the UK's favourite van fulfilling its maximum potential…
If you liked the article, please share, leave a comment below and check out our other exciting articles.
Categorised in: Vehicle Specific Tools
Czok Newsletter