The Best Ford Transit Front Ball Joint Tool
We're an affiliate
We hope you love the products we recommend! Just so you know, we may collect a share of sales or other compensation from the links on this page. Thank you if you use our links, we really appreciate it!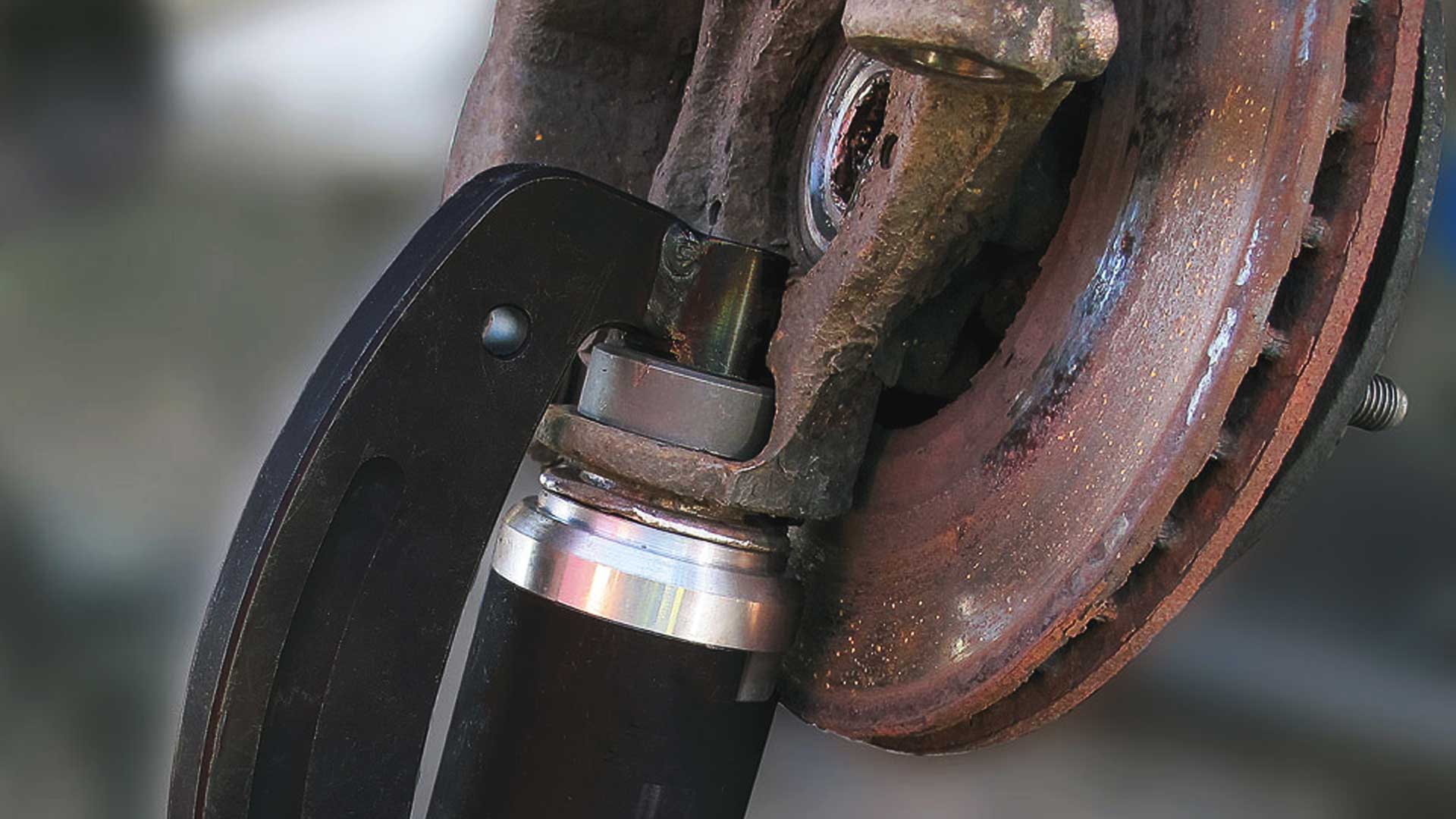 The humble Ford Transit is the UK's workhorse of choice. Essential in most industries, used by solo independents and huge conglomerates alike. Transits of all ages are seen out on UK roads every day, particularly those in Mk6/7/8 guise thanks to their practicality, dependability and very reasonable purchase prices.
Heavy loads and high mileages do punish Ford Transit components however and over time, especially on vans that are 10+ years old, suspension components can begin to falter. Suspension arms and the ball joints connecting them to the hub will likely suffer from degradation and corrosion, leading to failures that will negatively affect driveability and give dangerously uneven tyre wear.
Removing and replacing ball joints sounds a difficult task, but can be made much simpler with the aid of a specialist ball joint tool. The kits below allow for quick and effective replacement of bottom ball joints on Ford Transit front axles, needing few other tools and allowing inexperienced mechanics to complete the job at home.
Things to Consider Before Purchasing
Vehicle Compatibility
Specialist tools such as these can be very specific to vehicle model and year. Luckily in the case of the Transit, common suspension components from the Mk6 through to Mk8 (2000 onwards), means that the tools can be used on any Transit from 2000 or later, including Transit Customs.
The only caveat to this is that some specially adapted four wheel-drive and heavy-duty Transits have had suspension modifications to give increased ground clearance and strength, these may compromise the use of these products.
Use on the Vehicle
Having the ability to remove the lower ball joint with removing the hub and suspension arm assemblies from the vehicle is a huge time saver, while also minimising the risk of damage to surround parts and lessening chances of rounding off rusty bolt heads. This makes the job much more approachable for the less experienced and a much quicker task to tackle in a high-pressure, professional workshop environment.
Manufacturer Warranty
Many high-end manufacturers have such confidence in their tool standards that they will cover tools under limited warranties in use. This gives confidence to the user that the tool is well built and allows professionals to use the product without fear of failure or having to purchase another tool in the case of faulty parts.
The Best Ford Transit Mk6,7 & 8 including Transit Custom (2000 onwards) Front Ball Joint Tools on the Market
Sykes-Pickavant 082560V2 Ball Joint Tool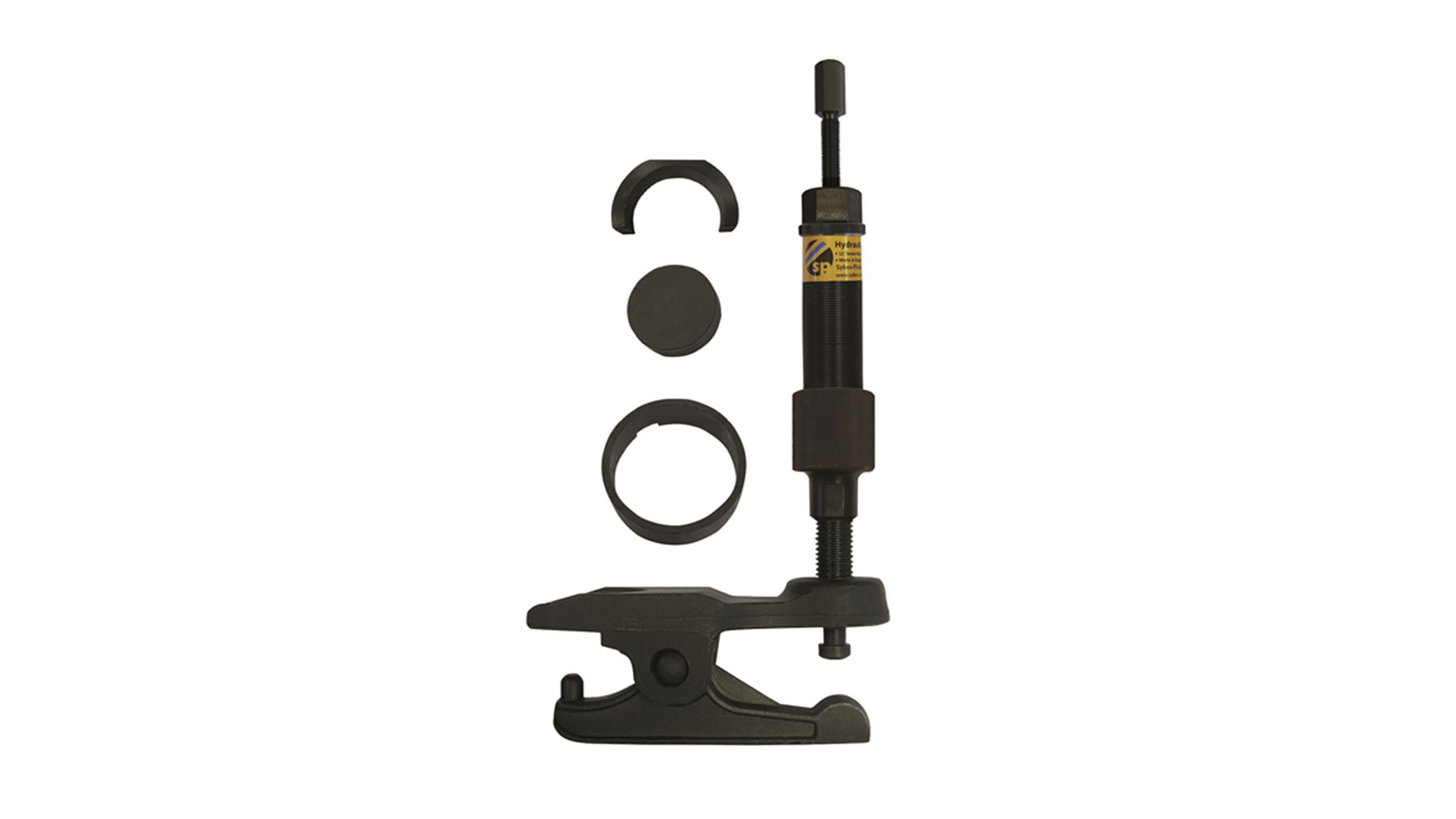 Check the latest price on eBay
The first of our Ford Transit front lower ball joint tools comes the Sykes-Pickavant brand. Since 1921, Sykes-Pickavant has been innovating and creating new technologies in the automotive tools and industrial aids market. With 100 years in the business, the brand is extremely well established across the globe, thanks to the high-quality tools and speciality products they manufacture. Since the early days, Sykes-Pickavant has created tools for all manner of jobs little to large, from car repairs to hydraulic componentry.
One of the more commonly available lines from Sykes-Pickavant are their vehicle-specific tools, such as this Ford Transit ball joint tool. This kit allows for removal and installation of the lower ball joint, without the need to remove large suspension assemblies from the vehicle. The aim here is to save time and prevent needless work dismantling safety-critical areas of the vehicle. The design of the tool allows for use in the awkward confinements of the area that the ball joint is located.
Suitable for use on all FWD and RWD Transit models from 2000 onwards including the Transit Custom line. The product is backed by a one-year manufacturer's warranty.
Tool reference: 082560V2
Use in situ: Yes
Warranty: 1 Year
Pros:
Very well experienced tool manufacturer
Tool designed specifically for access in difficult areas
Allows for ball joint removal in situ
Suitable for all Mk6/7/8 Transit models including the Transit Custom
Cons:
Would benefit from a storage/ transport case
Laser Tools 6614 Ball Joint Tool
Check the latest price on Amazon
The second ball joint replacement tool is made by UK-based Laser Tools. Laser are another UK tool manufacturer that specialises in products for automotive use, to make light work of tricky jobs. The brand is renowned for its high standards of production and tool design, which it has been building on constantly over the last forty years. High quality along with a huge product range means Laser likely has the right tool for any job on the driveway.
Coming in with a compact tool to get into those awkward spaces, Laser provides a great product for use removing front ball joints on the Ford Transit, with no trouble getting into those tight spots around the hub and suspension arm. This tool allows for easy removal of the ball joint with nothing more than a 19mm spanner.
Like all their hand tools, this product is covered by Laser Tools one-year warranty and will suit all Transit models in FWD and RWD (including the Transit Custom) from 2000 onwards.
Tool reference: 6614
Use in situ: Yes
Warranty: 1 Year
Pros:
Brand known for high quality tools
Compact design allows for use in awkward places
Allows ball joint removal in situ
Suitable for all Mk6/7/8 Transits in FWD and RWD variants
Cons:
Most expensive ball joint tool featured
Dr Tools Ford Transit Ball Joint Tool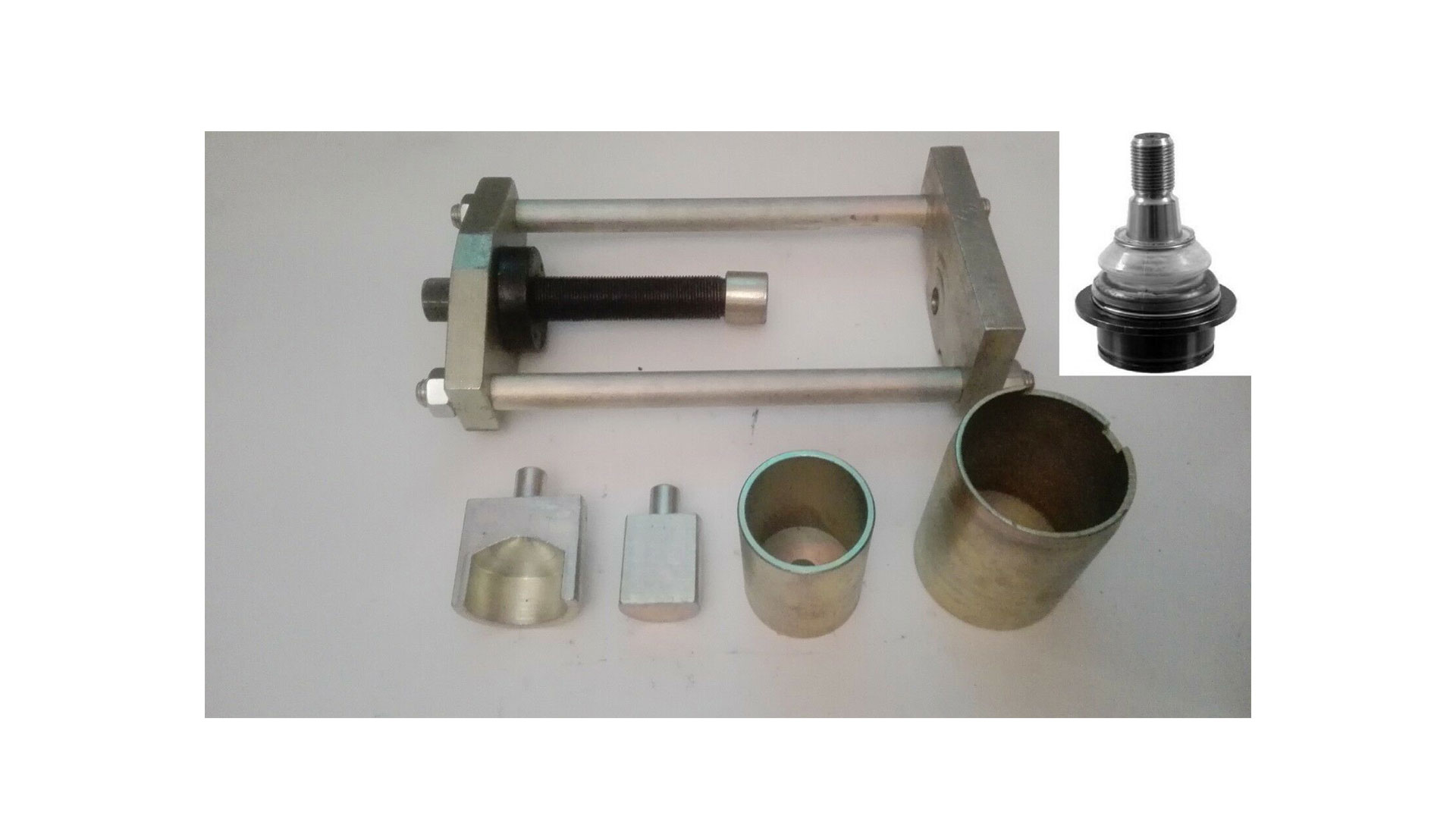 Check the latest price on eBay
The last of our Transit ball joint tools is supplied by Dr Tools. They are a brand that flies under the radar in the UK, though they are actually closely linked with Taiwanese tool maker Satra (who also make Asta tools). Dr Tools holds a huge range of products, with many aimed specifically at automotive applications. The brand aims to provide high quality tools, while undercutting the price of many UK-made rival products.
This simple ball joint tool allows for both the removal of and reinstallation of new ball joints without the need to remove large suspension or braking assemblies. Dr Tools promise that this will save huge amounts of time, while also preventing misalignment or damage of safety-critical components during removal and reinstallation.
Like the competitors, this product should only be used with hand tools and the seller recommends greasing threaded parts before every use, to aid longevity.
Tool reference: N/A
Use in situ: Yes
Warranty: 14-day returns policy
Pros:
Least expensive tool featured here
Shortens time taken to replace front lower ball joints
Accurately locates new part into position
Simple, strong design
Cons:
No long-term warranty given or implied
In Conclusion
Specialist tools may seem like overkill in many applications, where generic tools can often be made to work instead. What is often missed however, is the benefits that these products bring. For the extra outlay job times can be shortened dramatically, less parts are changed or damaged in the process and the whole task can be performed by someone without high levels of mechanical know-how.
Purchasing a ball joint tool will undoubtedly take the stress out of such jobs. Less dismantling of safety-critical suspension and braking components means less to go wrong and hopefully means no suspension re-alignments or brake bleeding required. Get the job done right, without the added stress or time by using the correct tools. These kits will likely pay for themselves in time saved and problems avoided…
If you liked the article, please share, leave a comment below and check out our other exciting articles.
Categorised in: Vehicle Specific Tools
Czok Newsletter