The Best Ford Ranger Roof Tent
We're an affiliate
We hope you love the products we recommend! Just so you know, we may collect a share of sales or other compensation from the links on this page. Thank you if you use our links, we really appreciate it!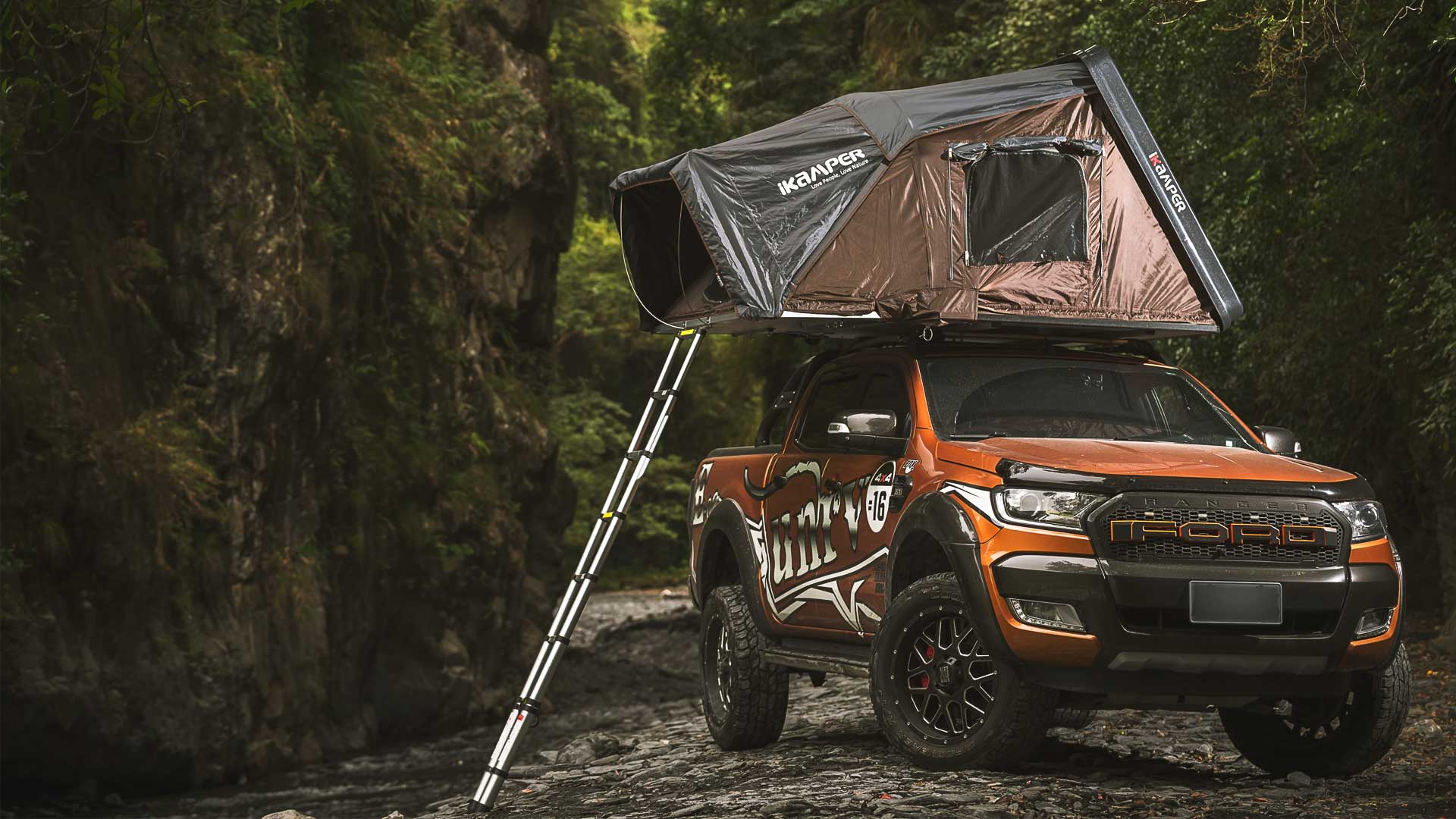 The ultimate solution for comfort and convenience when out in the country. Cheaper than a hotel stay and more glamorous than regular camping. A tent on the roof of a Ford Ranger is just the accessory to have when embarking on countryside adventures, family trips or unscheduled weekends away. The beauty of a roof tent is that there are no bookings required, you can sleep anywhere with a parking spot, high above the wet grass and uneven surfaces.
Vehicle roof tents are simple to install, bolting onto existing roof rails and unfolding into a sleeping area big enough for 2-4 adults. They are highly adaptable and can be changed from one vehicle to the next, requiring almost no maintenance and taking up no room at all in the vehicle. This leaves interior space free for passengers, pets and luggage.
Types of Roof Tent
The main differentiator between different roof tents is the construction, whether it be a hard, plastic-shelled tent or a softer, folding canvas option.
Hard Shell
Hard shell tents are typically the more durable but more expensive option, for those who are regular explorers and/ or want the best protection from the elements. The solid structure allows for good longevity, thanks to better resistance against the elements and travelling conditions atop the vehicles roof. Hard shell tents also generally offer better insulation and sound deadening to help those that may struggle to sleep in canvas tents.
Soft Shell
As expected, soft shell roof tents have a big advantage over hard shell units on weight and foldability. The ability to package neatly often gives these sorts of tents a huge size advantage, as a larger tent can be folded and stored in a much smaller space. Compact folded dimensions can also give the benefit of roof rack space for extra storage boxes and accessories like bike racks. Soft shell items are also perfect for those on a tighter budget, often coming in well under half the price of a hard-shell option.
Things to Consider Before Purchasing
Weight
The weight within the tent is not so much a limiting factor, what can be an issue however is the tents weight on the roof racks of a moving vehicle. Both the roof rails and the vehicle's roof itself will have a maximum load rating, that cannot be exceeded while the vehicle is driving on the road. These limits will be found in either the rail/ vehicle manufacturers handbook or via authorised sources.
Some roof tents may also have a limit for the weight and number of people that it can carry, though this is often high enough that the size becomes an issue before the weight limit can be exceeded.
Size
As with generic ground tents, size is king. A bigger capacity not only makes for a more comfortable experience but also opens up the option to invite more friends or take the whole family along on the next camping trip. Larger tents will come with supports that can be placed to the side/ rear of the vehicle meaning they will still fit on the roof of smaller vehicles.
As mentioned, larger tents will be heavier, meaning big tents on small vehicles may exceed roof weight limits while travelling, read carefully before purchasing.
Material
Another common theme between a vehicle roof tent and generic ground tent is the importance of the material. Whether hard or soft shelled, a roof tents waterproofing, sound deadening, and insulation will be highly dependent on the materials used in its construction.
In general, the more expensive options will utilise stronger and thicker materials, upping the initial purchase price but, at the same time, increasing the longevity and improving the sleeping experience.
The Best Ford Ranger (All Variants) Hard Shell Roof Tents on the Market
| | | | |
| --- | --- | --- | --- |
| | | | |
| Product | RetroRacks Roost Roof Tent Box | Ocean Cross Tamani 145 Roof Tent | Brothers Camp AB-1 Series 210×130 Roof Tent |
| Dimensions | 2.1×1.25m | 2.15×1.45×1.25m | 2.1×1.3m |
| Capacity | 2 adults | 2 adults | 2 adults |
| Weight (empty) | 64.5kg | 70kg | 63kg |
| Material | ABS (predominantly) | GRP plastic and waterproof Oxford 600D fabric | ABS plastic and HIBSTOP life fabric |
| Price | | | |
| | Buy on eBay | Buy on eBay | Buy on eBay |
Prices last updated on 29-11-2023
RetroRacks Roost Roof Tent Box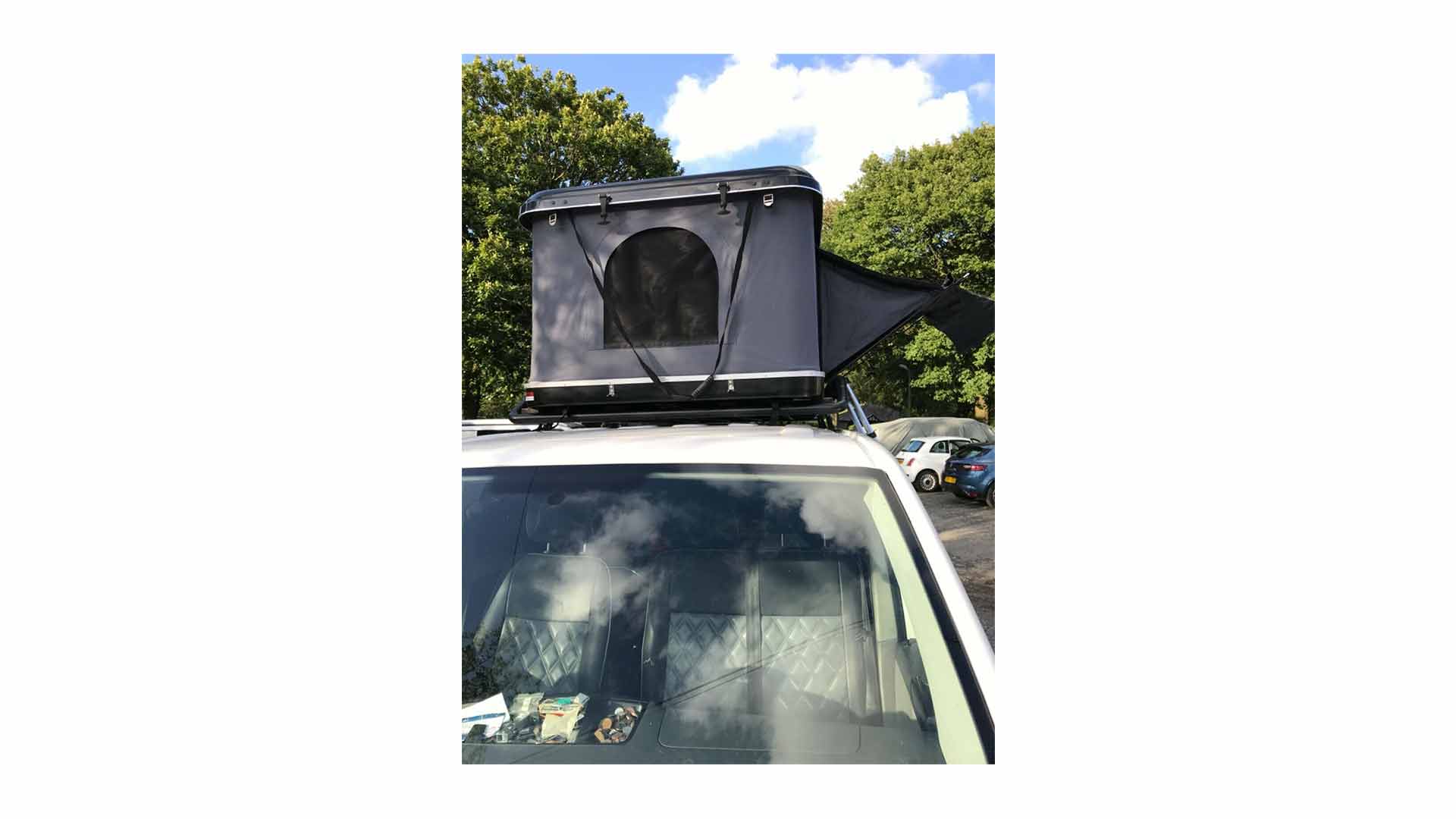 Check the latest price on eBay
RetroRacks are a business born from the passion for VW vans and roof racks. This inevitably led to the business expanding it's portfolio and the creation of vehicle accessories to fit more than just their initial niche offerings. Being a passion project, every product they produce is made to the best possible quality, using high strength, durable materials and assessing every hand-made product before it is sold to customers.
The Roost by RetroRacks is a great offering, for those that wish to opt for a hard-shelled roof tent. The product easily sleeps two adults and simply collapses down into a typical roof box shape when not in use. The strong materials ensure good insulation against noise and the elements, while the star gazing roof allows for that "open air" feel. Also included is a 6-inch-thick memory foam mattress for the ultimate comfort, elevating it above the typical camping experience.
Included in the kit is a collapsible ladder and solar-powered electrical output that make this more "glamping" than camping. Strong materials and excellent build quality promise longevity and durability against even the harshest of UK weather conditions. This roof tent is suitable for almost any vehicle fitted with roof rails.
Dimensions: 2.1×1.25m
Capacity: 2 adults
Weight (empty): 64.5kg
Material: ABS (predominantly)
Pros:
Specialist roof accessory manufacturer
Panoramic roof for an open-air feel
6-inch-thick memory foam mattress provides excellent comfort
Included solar-powered electrical outlet
Cons:
Large dimensions when stored may cause issues for very small vehicles
Ocean Cross Tamani 145 Roof Tent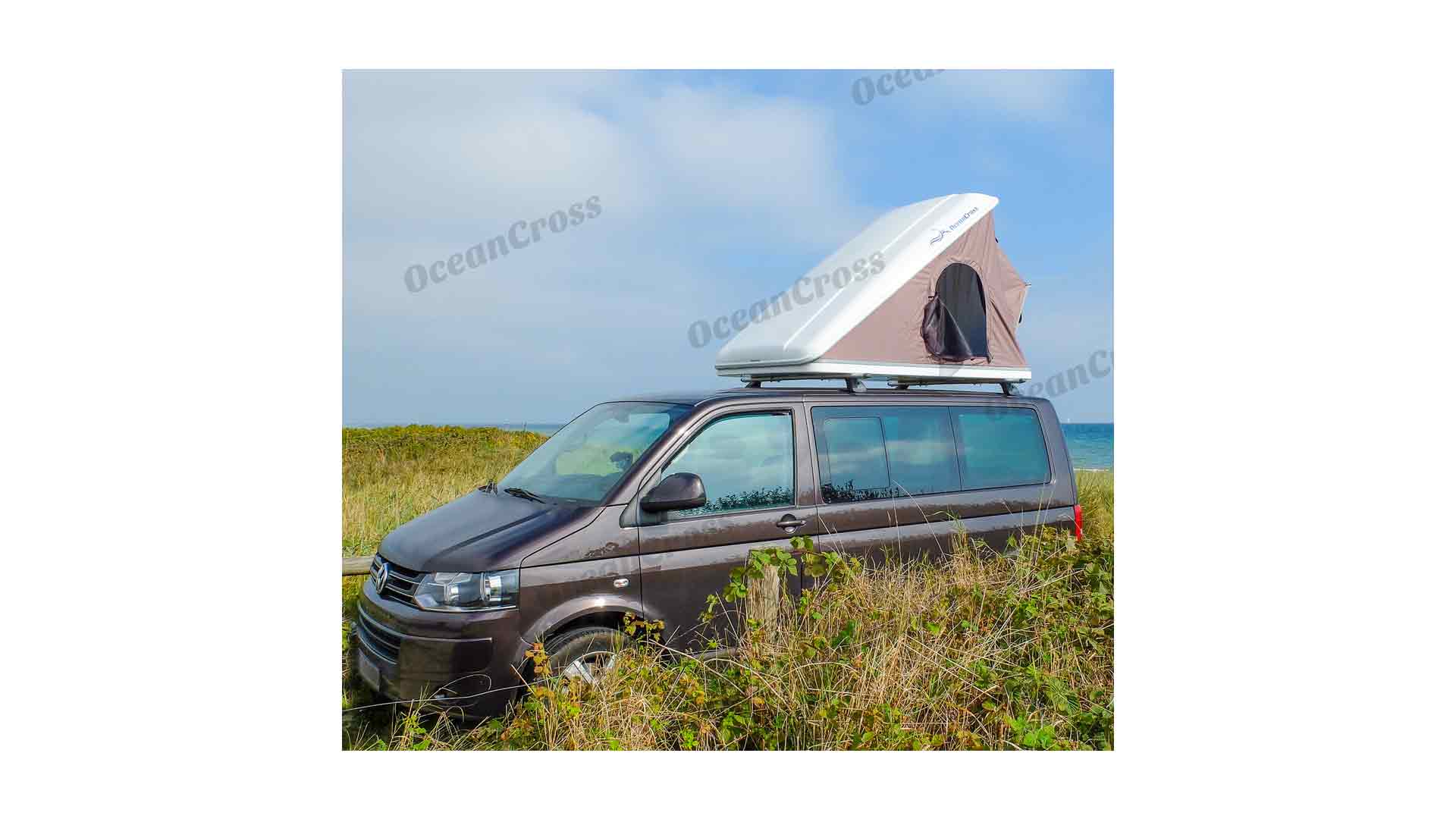 Check the latest price on eBay
Next, we have a brand that's all about roof tents, literally. Ocean Cross began their business building roof tents nearly 40 years ago, aiming squarely at adventurous enthusiasts. Their offerings claim to be the "best in Germany", with customer service to back it up and keep existing customers happy. Their line-up is constantly growing, with an aim to offer a wide variety of high-quality products for customers throughout Europe.
The Tamani 145XL is in the middle of the Ocean Cross range, easily big enough to sleep 2 adults, without increasing dimensions too much, which could prevent fitment on regular cars. The tilting roof design allows for wind to flow over the tent without excess noise or movement, this works both when in use and also minimises excess fuel consumption when travelling with the tent folded. A memory foam mattress is provided to supply ample comfort.
Excellent customer reviews back up the companies stance on aftersales service. High quality GRP plastic is used for the hard shell, while waterproof, breathable Oxford fabric will not only protect from the elements but also prove durable in the long term.
Dimensions: 2.15×1.45×1.25m
Capacity: 2 adults
Weight (empty): 70kg
Material: GRP plastic and waterproof Oxford 600D fabric
Pros:
Included gas struts allow easy unfolding
Large dimensions provide ample space
Built by a brand focussing specifically on vehicle roof tents
High quality construction materials
Cons:
Most expensive hard-shell roof tent
Brothers Camp AB-1 Series 210×130 Roof Tent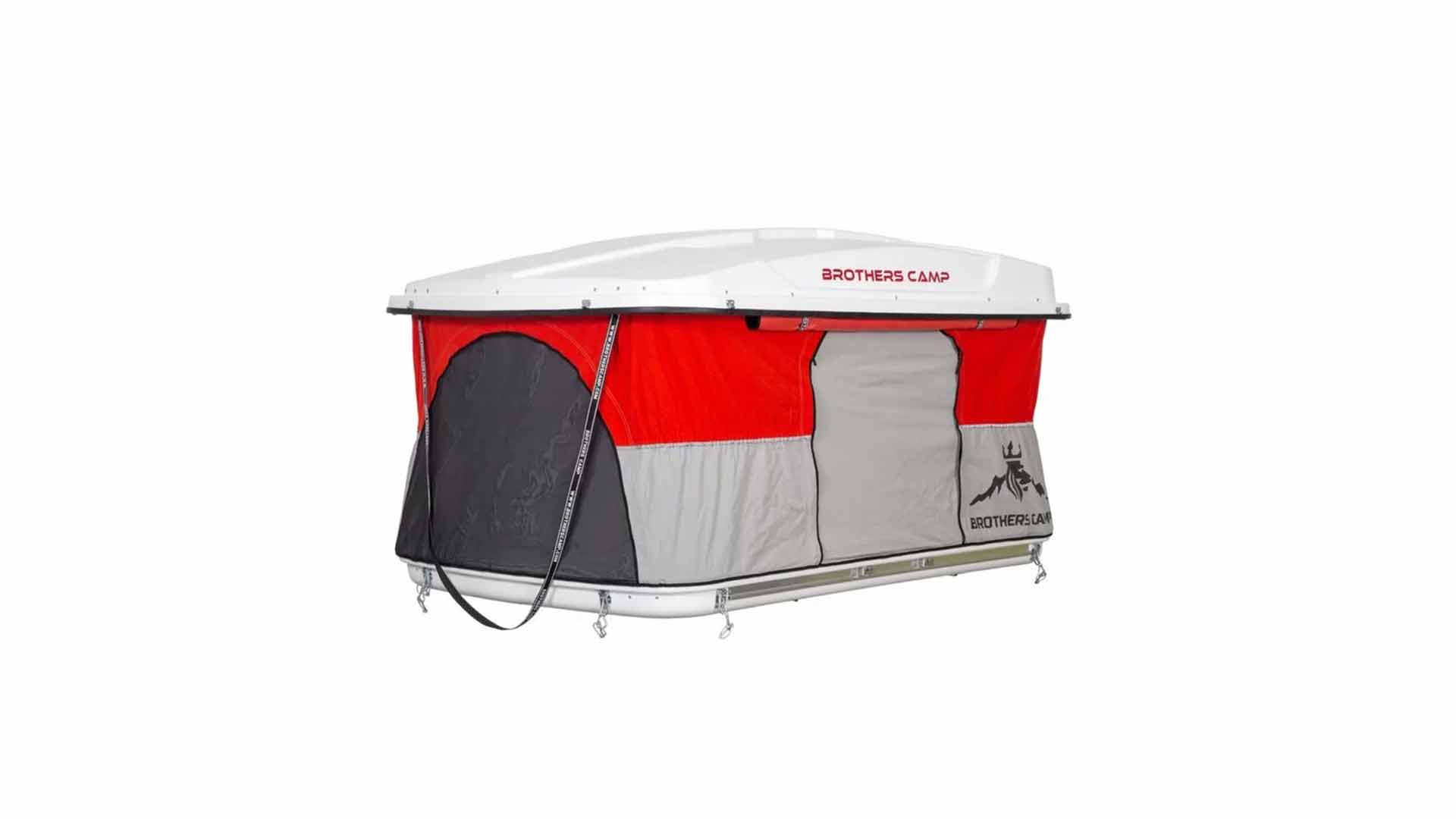 Check the latest price on eBay
Our final hard-shell roof tent is made by Brothers Camp. Like their rivals, they specialise in accommodation that opens the opportunity to new adventures without limits, including caravans and vehicle roof tents. Their rigorous R&D and commitment to quality ensures that the products they sell are suitable and durable. Brothers Camp claim their products allow adventure in all 4 seasons, whatever the weather.
The AB-210×130 is the brands middle-sized, hard shelled roof tent, providing ample room for 2 adults to sleep comfortably. The tent is well insulated from the noise and the elements thanks to the hard-shell construction. Waterproof canvas material on the sides keeps occupants dry, while the fibre-less material prevents foul odours within the tent. Aerodynamic design of the roof tent lid leads Brothers Camp to claim no affect on vehicle driveability or fuel consumption below 120km/h (more than the UK motorway speed limit).
Solid ABS plastic and high-quality canvas promise good durability, even if used, as Brothers Camp suggest, in all 4 seasons. Also included are a 7cm-thick mattress and foldable ladder for easy entry and exit. This roof tent will fit almost any vehicle with roof rails.
Dimensions: 2.1×1.3m
Capacity: 2 adults
Weight (empty): 63kg
Material: ABS plastic and HIBSTOP life fabric
Pros:
Designed for use at any time of the year
Breathable canvas fabric prevents stale and foul odours
Claims to have no detrimental affect on driveability or fuel consumption
Foldable ladder included in the kit
Cons:
No electrical output included
The Best Ford Ranger (All Variants) Soft Shell Roof Tents on the Market
| | | | |
| --- | --- | --- | --- |
| | | | |
| Product | ETO Outdoor SRT.BE-163 Roof Tent | Ventura Deluxe 1.4 Roof Top Tent | Outnests Soft RD01 Roof Tent |
| Dimensions | 3.1×1.6×1.3m | 2.4×1.43×1.26m | 3.1×1.65×1.3m |
| Capacity | 3-4 people | 2-3 adults | 3-4 adults |
| Weight (empty) | 56kg | 45kg | 60kg |
| Material | 420D Tear Resistant Oxford Polyester | Aluminized rip-stop poly cotton canvas | 420D Polyester Oxford PU |
| Price | | | |
| | Buy on eBay | Buy on eBay | Buy on eBay |
Prices last updated on 29-11-2023
ETO Outdoor SRT.BE-163 Roof Tent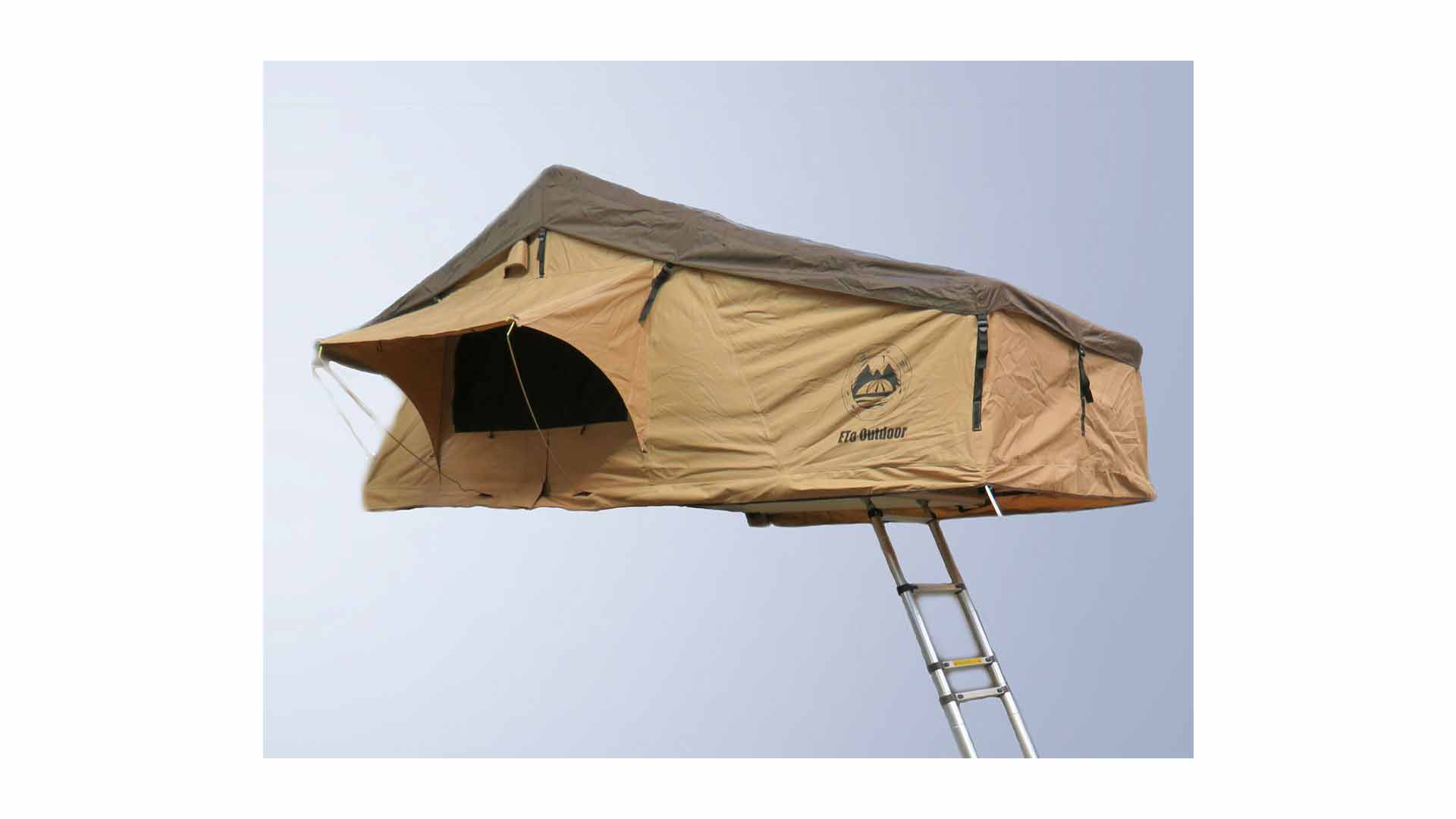 Check the latest price on eBay
As the name suggests ETO Outdoor are all about adventuring, providing products for outdoor pursuits ranging from tents and sleeping spaces to outdoor lights and barbeques. They are a global brand, supplying products to customers from the US, Europe, Asia etc. The company is consistently bringing new products to market every year, with a strong focus on innovative technology and high-quality outputs.
This roof tent from ETO has a huge capacity, easily taking 3-4 adults inside with ample room. Aluminium joints and protected poles make for a sturdy construction, along with an easy fold out procedure to pop the tent up in no time. A telescopic ladder is included for easy access.
Tear resistant, waterproof Oxford 420D polyester material is used to construct the tent, ensuring longevity and protection, even in harsh UK winters.
Dimensions: 3.1×1.6×1.3m
Capacity: 3-4 people
Weight (empty): 56kg
Material: 420D Tear Resistant Oxford Polyester
Pros:
Built by outdoor specialists
Massive internal space, easily sleeping 3 adults
Strong aluminium pole joints
Good quality tent materials
Cons:
Most expensive soft shell roof tent listed
Ventura Deluxe 1.4 Roof Top Tent
Check the latest price on eBay
Though only founded in 2015, Ventura roof tents are already making their own stamp in a competitive market. The brand was created to fill the gap in the market for outdoor enthusiasts that wanted adventure and needed vehicle roof tents to sleep in the most outstanding scenery imaginable. The UK-based company saw that enthusiasts didn't want to spend thousands on a roof tent so started working with global suppliers to bring quality, affordable roof tents to the UK.
The Ventura deluxe 1.4 was the companies first and is still one of its most popular models. Though highly affordable, this roof tent will easily sleep 3-4 people in comfort, thanks to the included high-density foam mattress. Arduous conditions are what the Ventura Deluxe was built for, tested in 55mph winds and at temperatures as low as -27C, this tent will easily survive difficult conditions and comfort occupants in the coldest of British winters.
Solid materials and attention to detail ensure good product longevity. Being the only UK-based brand featured, they also have the upper hand for customer service and support with any issues.
Dimensions: 2.4×1.43×1.26m
Capacity: 2-3 adults
Weight (empty): 45kg
Material: Aluminized rip-stop poly cotton canvas
Pros:
Most affordable roof tent featured
Includes high-density foam mattress
Highly tested and proven product
Lightweight aluminium frame
Cons:
Lacks the capacity of larger tents
Outnests Soft RD01 Roof Tent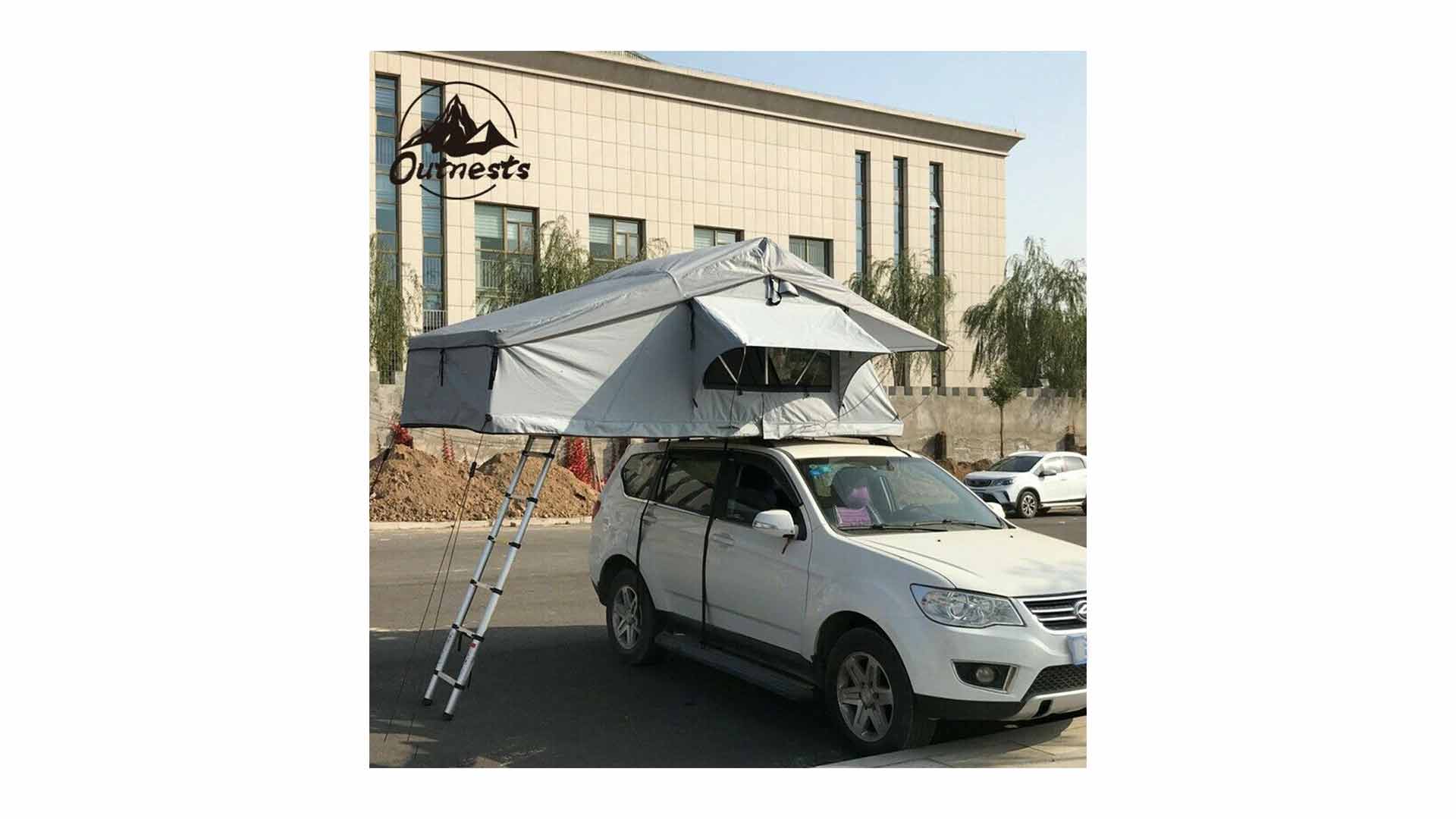 Check the latest price on eBay
Lastly, we have our final soft shell roof tent, offered by the OutNests brand. The Chinese outdoor tent manufacturer was started only in 2009 but have already setup large production facilities and have a growing network to supply their products across the globe. Their beginnings centred on research and innovation of new, affordable products but the company is now aiming to improve their customer aftersales experience and support.
This mid-level tent, including the annex, creates a great space to stop during any outdoor pursuit, with enough floor space for 3-4 adults to sleep in comfort. The tent will easily fit to any vehicle with roof rails and can hold up to 300kg when stationary. A high-density foam mattress and telescopic ladder are also included in the kit for ease of access and the best possible comfort.
High-quality Oxford PU materials are used to keep the elements out and the warmth in, promising excellent durability, having been well tested against weather far worse than we get even on the worst days of UK winter.
Dimensions: 3.1×1.65×1.3m
Capacity: 3-4 adults
Weight (empty): 60kg
Material: 420D Polyester Oxford PU
Pros:
Huge capacity tent, includes annex
Will fit onto almost any vehicle
Includes high-density foam mattress
Rigorously tested in harsh weather conditions
Cons:
Relatively unknown brand in the UK
In Conclusion
A roof tent is not only a convenient solution but also a door to great opportunities in some of the UK's best scenery. No need to try for a reservation in fully booked, over-priced hotels or fight for a camping spot amongst the caravans. Instead, a roof tent on your Ford Ranger allows you to simply pitch up and get some rest at any location with a parking spot and a few feet either side. This is the ultimate in flexible accommodation and a fantastic purchase for any vehicle owner that wants to explore more of the outdoors.
Initial purchase prices may seem expensive when compared with a regular tent but the improved experience and heightened comfort, while taking up no internal luggage space are reason alone to plump for the roof tent option. No more sleeping on uneven, rocky ground or wet, muddy grass. Car roof tents are getting ever more popular here in the UK and it's not hard to see why…
If you liked the article, please share, leave a comment below and check out our other exciting articles.
Categorised in: Roof Tent Buying Guides
Czok Newsletter