The Best Ford Mondeo Trailing Arm Bush Tool
We're an affiliate
We hope you love the products we recommend! Just so you know, we may collect a share of sales or other compensation from the links on this page. Thank you if you use our links, we really appreciate it!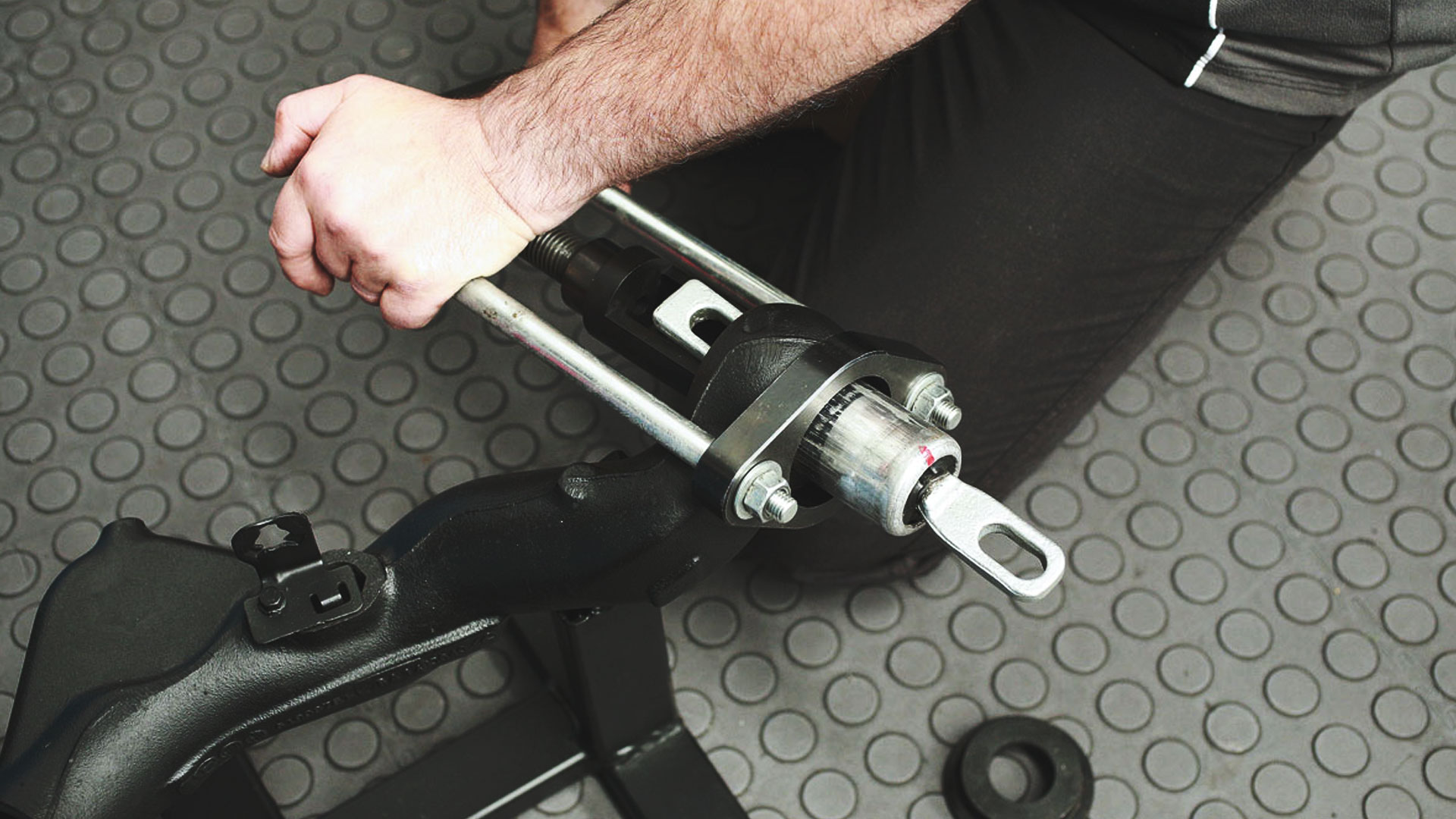 Removing old, worn out bushings can be difficult at the best of times. Having to remove a full suspension trailing arm, brakes, wheels etc before doing so just adds to the time and effort required for the job. Modern vehicles are, in general, very well engineered. Their suspension designs work well to reduce road noise and provide ample comfort. The difficulty comes when the bushes are past their best and need replacing.
Using a tool designed specifically for the job of trailing arm bush replacement, can be a life saver and a great tool to increase profit margins for professional mechanics. Though simple in design and use, these hand tools will save hours, allowing bushes to be removed with the trailing arm in-situ. Not having to remove the trailing arm means the suspension, brakes and even wheels can remain undisturbed. This saves time, complexity and reduces the risk of losing small clips and bolts.
Things to Consider Before Purchasing
Check for vehicle compatibility
Getting the correct tool will mean paying very close attention to the product being purchased. All buyers must ensure that the tool is correct for their vehicle, refunds are not given for ignorance. Manufacturers make it easy though, so just ensure that the product is listed for use with your specific model year etc.
Ability to use without removing parts
Other considerations are whether the tool can genuinely be used on the vehicle, without removing the trailing arm, check for manufacturer instructions or video guides to be sure.
Warranty length
The choice may then come down to warranty length, particularly for those that will use the tool regularly, a product with a multiple-year guarantee is likely well-built and should survive use on many vehicles.
The Best Ford Mondeo Mk4 (2007-2014) Trailing Arm Bush Tools on the Market
| | | | |
| --- | --- | --- | --- |
| | | | |
| Product | Sealey VSE4784 Trailing Arm Bush Tool | Draper Expert 73845 Trailing Arm Bush Removal Tool | Laser Tools 6163 Rear Suspension Bush Tool |
| Storage Case | Yes | No | No |
| Can be used without removing trailing arm | Yes | Yes | Yes |
| Warranty | 1 Year | 3 Years (Extended) | 1 Year |
| Price | | | |
| | Buy on Amazon | Buy on Amazon | Buy on eBay |
Prices last updated on 26-09-2023
Sealey VSE4784 Trailing Arm Bush Tool
Check the latest price on Amazon
Our first trailing arm bush tool is made by UK-based Sealey. Over 40 years in the industry has made Sealey a household name, with thousands of loyal customers across the globe. The brands ever-expanding tool line-up continues to bring in lots of new customers, who are then likely to return thanks to well built, sensibly priced products. Thousands of home mechanics and professionals alike, from all corners of the world, have benefitted from the brands expertise over the last 40 years.
Sealey's trailing arm bush tool is designed specifically for use with the Mk4 Mondeo, allowing for easy removal and replacement of the bushing, without having to remove the trailing arm from the vehicle. A 16mm spanner is all that's required to wind out the old bushing. The new part can then be positioned accurately thanks to positioning plates and pins, included in the set.
This product is backed by Sealey's one-year guarantee and comes in a handy carrying case, for easy transport and storage.
Storage case: Yes
Can be used without removing trailing arm: Yes
Warranty: 1 year
Pros:
Least expensive option listed
UK tool manufacturer
Bushing replacement possible without trailing arm removal
Enables accurate replacement and positioning of new bushing
Cons:
Shorter guarantee when compared to Drapers offering
Draper Expert 73845 Trailing Arm Bush Removal Tool
Check the latest price on Amazon
Draper has spent over 100 years making tools for the automotive industry and it shows. The company designs and engineers their own tools, here in the UK. They also have control of operations at well-known tool brands such as Britool and King Dick, showing their vast experience in the tool business. Continually high sales figures here in the UK, means you are likely to find Draper products in the toolkit of most garages and professional workshops alike.
Like rival offerings, the Draper bush removal tool allows for quick and easy trailing arm bush replacement on the Mk4 Ford Mondeo. In fact, Draper claims that this tool can reduce the 3-hour job, down to less than one hour. The tool is placed around the trailing arm, with included plates allowing for quick removal and accurate re-installation of new bushes.
Drapers product comes with an extended 3-year warranty (applied for on Drapers website) and holds their "Expert" line tool standards, which are promised to be tested and proven in professional workshop environments.
Storage case: No
Can be used without removing trailing arm: Yes
Warranty: 3 years (extended)
Pros:
Over 100 years of automotive tool making experience
Reduces bush replacement time from 3 hours to just 1 hour
Includes plates and pins for replacement and removal
Longest warranty of the three tools listed
Cons:
More expensive than Sealey offering
Laser Tools 6163 Rear Suspension Bush Tool
Check the latest price on eBay
Next up, Laser Tools. Another UK tool manufacturer to round out our trio. Laser Tools specialise in high quality tools and automotive specific products, covering almost anything a home DIYer or professional technician may need. High quality standards have allowed Laser tools to compete since opening their doors in 1976. The brand is constantly bringing new tools to market, though they never forget to keep an eye on current product quality.
In an almost identical fashion to the Draper tool, using the aid of just a 19mm spanner, the Laser Tools rear suspension bush tool is designed for fast and effective rear trailing arm bush replacement. The bushing can be removed in-situ, without the need for lengthy dismantling of suspension and brake components. The new bushing can then be inserted and correctly positioned with the included locator pins.
Reducing the time to a third of that when using traditional tools is sure to relieve stress, as is Laser Tools 12-month guarantee for this product.
Storage case: No
Can be used without removing trailing arm: Yes
Warranty: 1 year
Pros:
UK tool manufacturer
Requires only a 19mm spanner to use
Vastly reduces time taken to replace trailing arm bushes
No need for lengthy removal of the suspension or braking components
Cons:
Most expensive tool featured
In Conclusion
Whether home mechanic or professional technician, saving hours on simple suspension bush replacements will not only increase profitability, but save you stress and frustration at the same time. Quality tools will last years, for use on hundreds of cars and can often be sold on second hand for a decent return.
Having specific tools like this may seem like overkill, like just another product to fill up your shelves. But then think about the agony of doing a job like this without the correct equipment. The investment will likely pay for itself in a professional environment, while home mechanics will benefit from the time saved and the reduced likelihood of breaking/ losing bolts using alternative methods. Having the right tool for the job always makes life so much easier.
If you liked the article, please share, leave a comment below and check out our other exciting articles.
Categorised in: Vehicle Specific Tools
Czok Newsletter