The Best Ford Focus Trailing Arm Bush Tool
We're an affiliate
We hope you love the products we recommend! Just so you know, we may collect a share of sales or other compensation from the links on this page. Thank you if you use our links, we really appreciate it!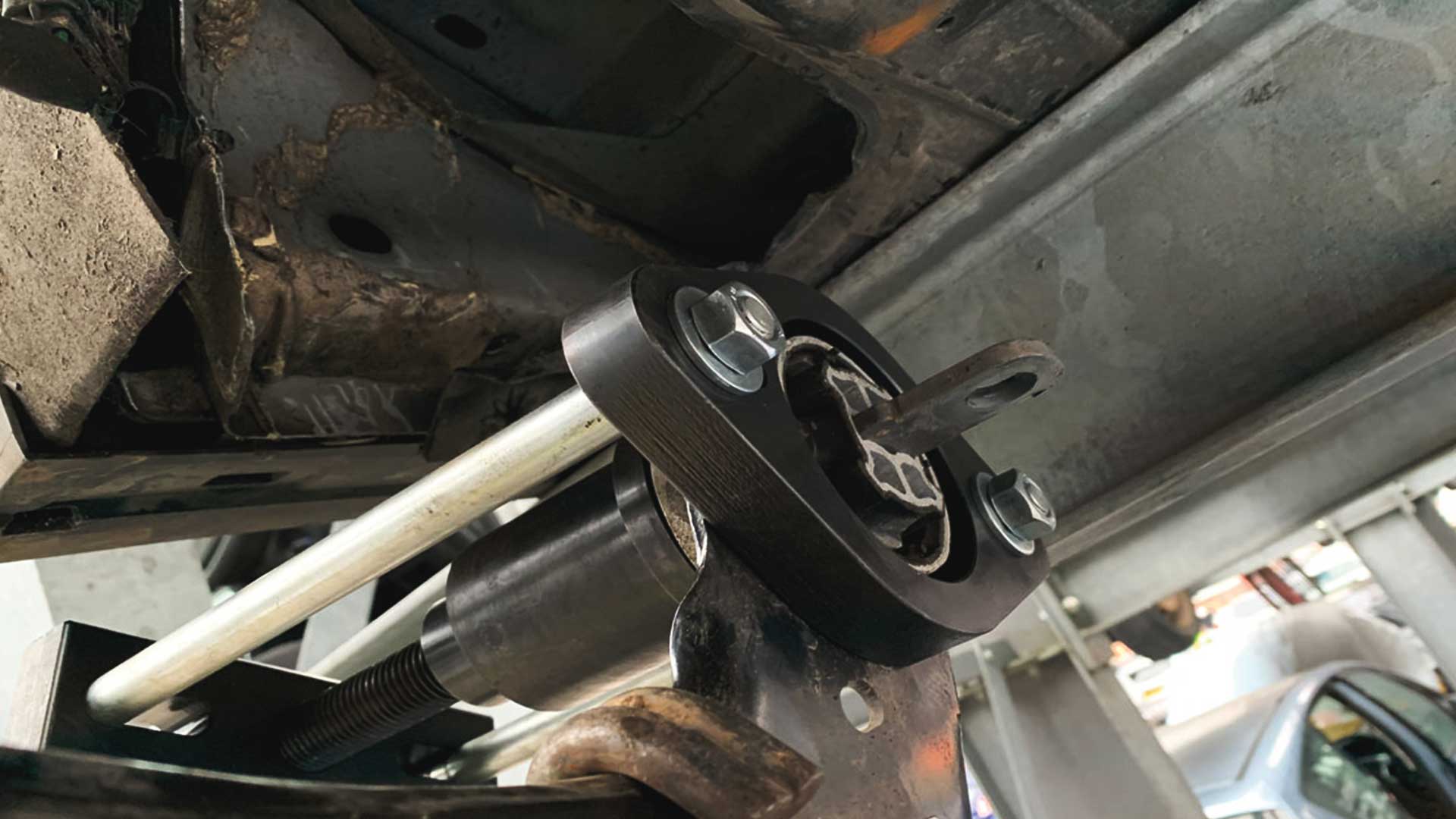 Old and worn suspension bushes are a common MOT failure here in the UK. As the rubbers age they begin to loosen their hold on suspension components, leading to poor handling, uncomfortable ride quality and can be dangerous if left unattended. Most will hand over their car keys to their local mechanic for bush replacements, as having to remove large amounts of suspension components before pounding crazily to remove the old bush, doesn't sound like a nice Sunday morning job. That's before you think about getting the new bushing back in.
Trailing arm bush tools make this a simple job however, taking out the hard work and long hours of disassembly and reassembly that's usually required. This is helpful for home mechanics and can seriously increase profits for those using these tools in the trade. The simple and robust designs will allow for hundreds of bush changes, without the need to remove the full trailing arm unit. Leaving suspension and brake components untouched lessens the chance of alignment issues, lost bolts and damage to surrounding parts.
Things to Consider Before Purchasing
Vehicle compatibility
Most vehicles will have slightly different suspension layouts and components, even those from the same manufacturer in different years. This is due to suspension designs being optimised for performance and to fit within package constraints. Use the subheadings below to ensure that the correct tool is purchased to suit your exact model of vehicle.
Removal of Bushes in Situ
The purpose of these tools is for easy trailing arm bush removal and installation. Using a tool that requires the suspension and subframe to be dismantled is nowhere near as helpful as those that can remove and reinstall the bush in situ.
Warranty
More expensive "premium" products will generally hold a warranty for faulty tool components. This is particularly handy for those working in a professional garage environment, who rely on these tools every day. A long warranty is also usually a good sign of a tool brands confidence in the robustness of their offering.
The Best Ford Focus Mk1/Mk2 (1998-2011) Trailing Arm Bush Tools
Sealey VSE4780 Rear Trailing Arm Bush Tool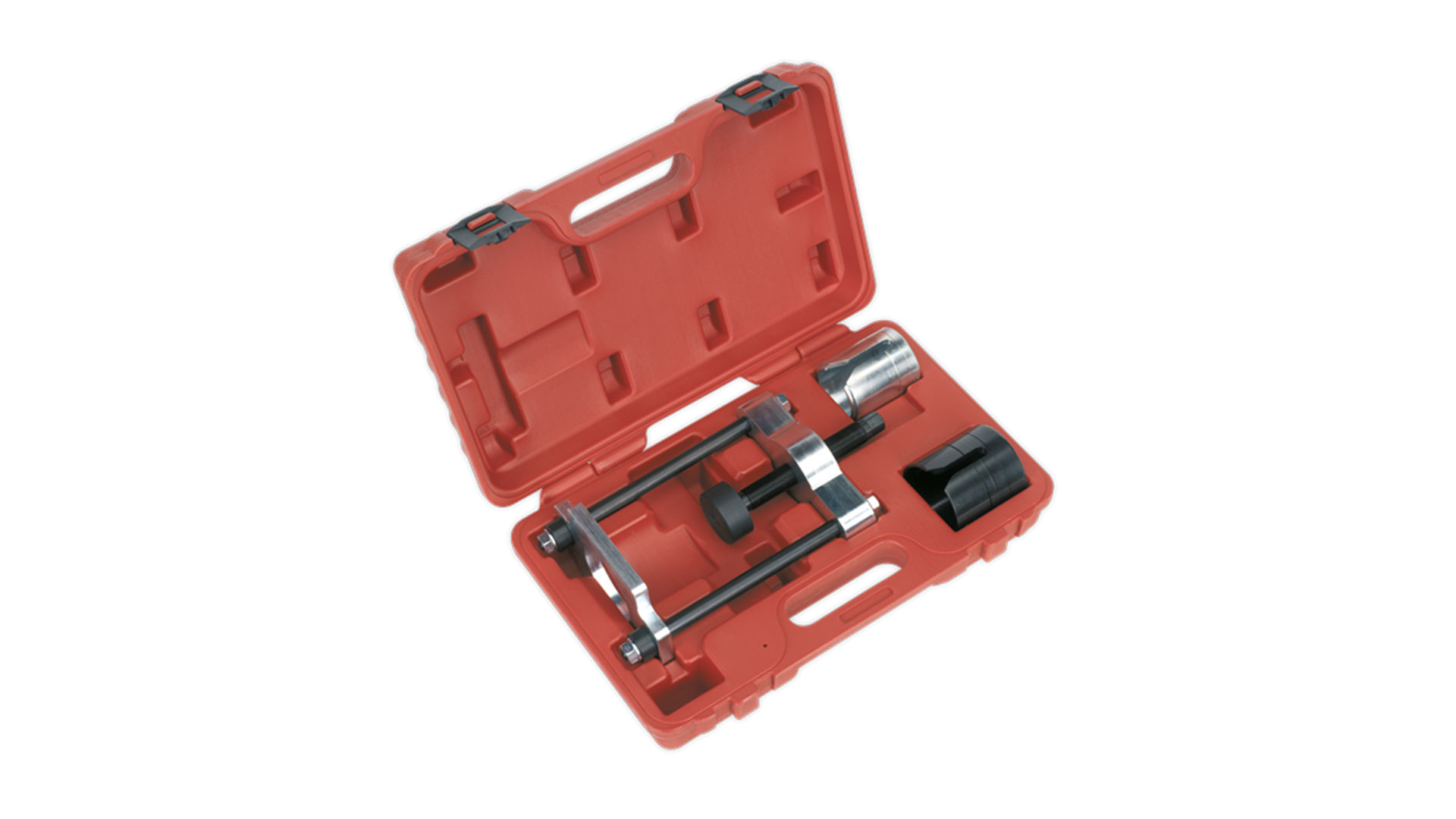 Check the latest price on Amazon
Our first trailing arm bush tool is made by UK-based Sealey. Four decades in the business have seen Sealey transform from UK start-up to global tool experts. The brands well-built and sensibly priced products see it compete well across the thousands of product lines currently available. This has led to tens of thousands of home mechanics and professionals alike using Sealey products for automotive repairs and improvements.
Sealey's rear trailing arm bush tool allows for quick and easy removal and reinstallation of trailing arm bushes, without the need for suspension or subframe disassembly. Only a few bolts need to be removed to access the bushing and remove, turning a two-hour job into a 30-minute job. Included are specific presses for removal and fitting of the new bush.
Sealey backs their product quality with a one-year warranty, recommending that the threads should be kept lubricated for long-term reliability and functionality. The tool also comes with a handy storage case.
Tool reference: VSE4780
Storage case: Yes
Removes bushes without disassembly: Yes
Warranty: 1 year
Pros:
UK tool manufacturer
Tools built to high quality standards
Makes the job relatively simple and less time consuming
Backed by a full year's warranty
Cons:
Most expensive Mk1/2 Ford Focus bush tool featured
Laser Tools 4437 Rear Trailing Arm Bush Tool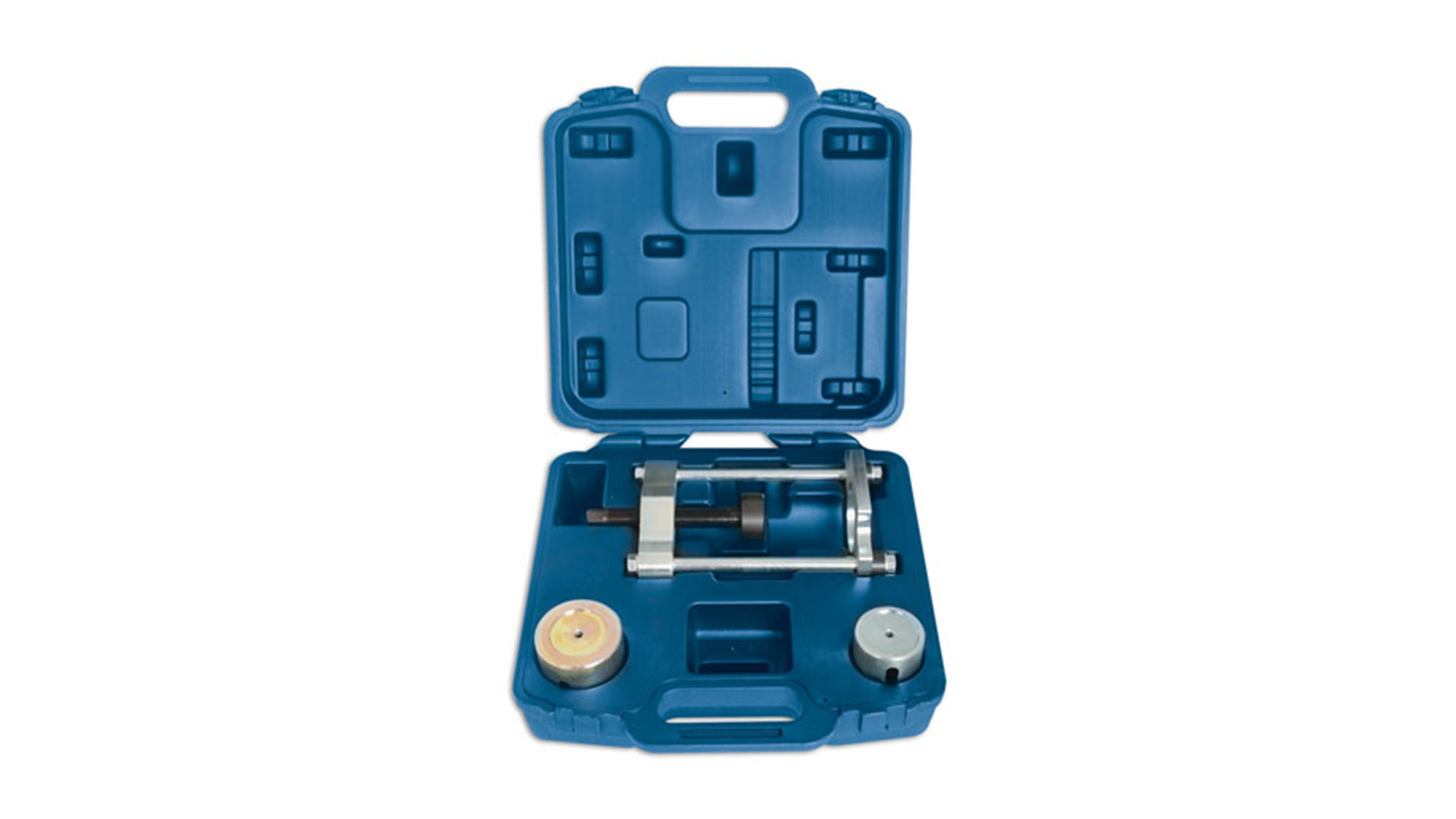 Check the latest price on Amazon
Our next product hails from Laser Tools. They are another UK tool brand that specialise in high quality tools and automotive specific products, with something to suit pretty much any task a mechanic could ever require. Since opening their doors in 1976, Laser has kept focus on maintaining high standards for their tools. The brand is constantly bringing new offerings to the market, while enhancing current product lines simultaneously.
Like the offering from Sealey, Laser provides a high-quality tool that will drastically reduce the time taken to change trailing arm bushes. This kit also contains separate presses for bush removal and installation. These adaptors can also be used in a traditional press if required, with the trailing arm removed from the vehicle. The tool itself allows for bushings to be removed and replaced without dismantling and removing the trailing arm unit from the vehicle.
This is another product that comes with a 1-year guarantee for faulty parts and a storage/ carrying case. Laser recommends applying grease after each use to keep the threads and metallic components in good condition.
Tool reference: 4437
Storage case: Yes
Removes bushes without disassembly: Yes
Warranty: 1 year
Pros:
Highly regarded tool manufacturer
Adapters can be used in a traditional hydraulic press also
Allows for removal and installation of bushes in situ
One-year faulty products warranty
Cons:
More expensive than Taiwanese tool offering
Asta Tools Satra S-XRF18 Rear Trailing Arm Tool
Check the latest price on Amazon
Though confusingly sold as a Dr Tools product, this trailing arm bush tool is actually the product of Asta/ Satra Tools. The Taiwanese tool maker are relatively new, especially to the UK market, but promise high quality for minimal outlay. Their aim is to undercut UK toolmakers prices, without the usual compromises in quality and reliability, utilising its global network to ensure tools are up to standard and compatible in European and US markets.
Like UK competition, this kit allows for removal and replacement of trailing arm bushes in situ, on the vehicle. This allows for huge time savings thanks to not having to remove the rear subframe from the vehicle. Separate presses for removal and replacement mean no damage to the new parts either.
This kit is designed for use only on the Mk1/Mk2 Ford Focus and comes with a useful storage case.
Tool reference: S-XRF18
Storage case: Yes
Removes bushes without disassembly: Yes
Warranty: 7-day return policy
Pros:
Less expensive than UK-manufactured tool offerings
Allows bush removal and replacement in situ
No need for removal of suspension or brake components
Designed specifically for the Mk1/Mk2 Ford Focus
Cons:
Short returns period
Little brand reputation in the UK market
The Best Ford Focus Mk3 (2011-2018) Trailing Arm Bush Tools
Laser Tools 7960 Rear Trailing Arm Bush Tool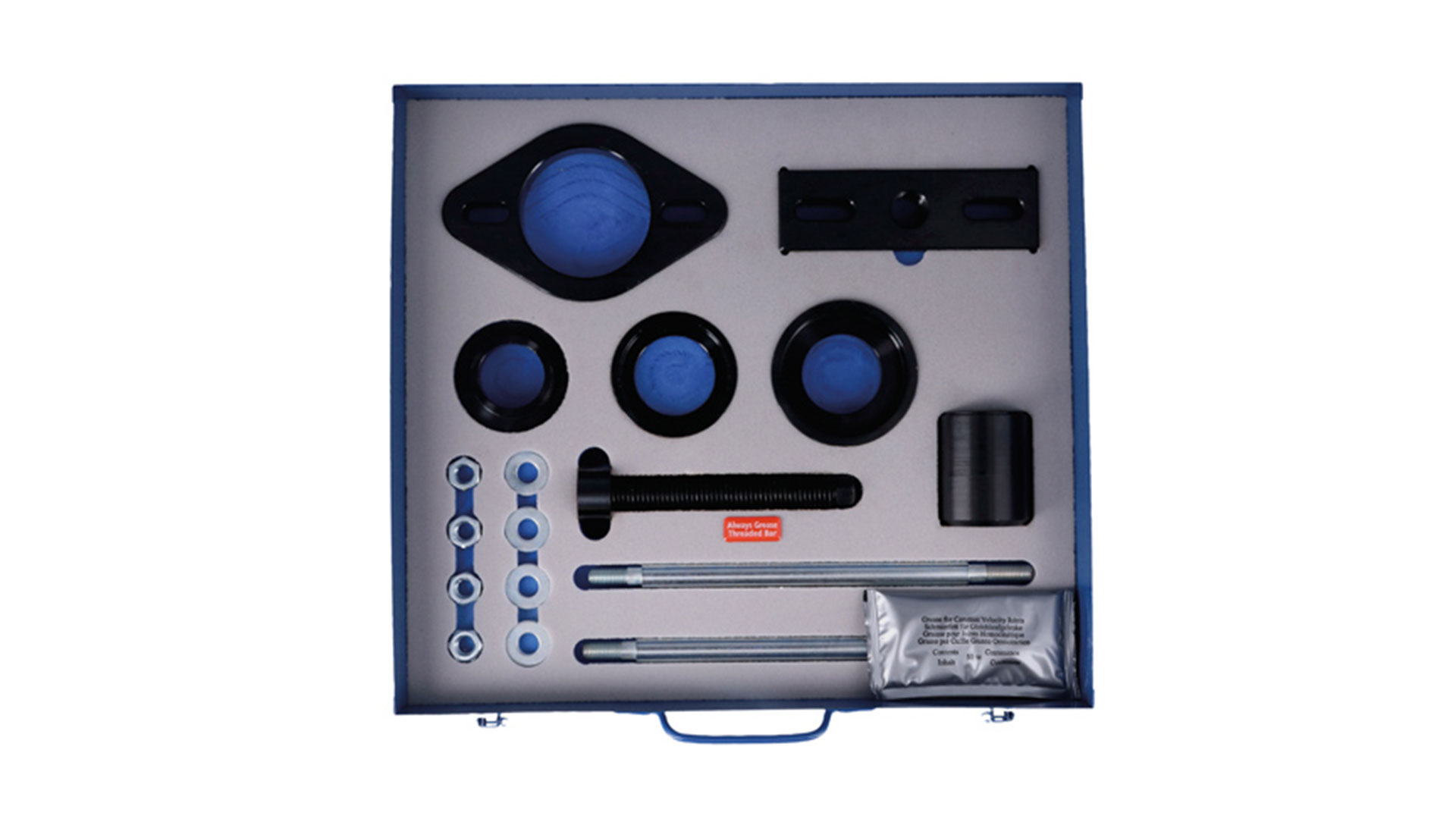 Check the latest price on Amazon
The first of our Mk3-specific products is again made by Laser Tools. In this offering Laser again promises to live up to the high standards set by their products over the last 40 years or so. The brand always ensures that its products are available for vehicles new and old, leading to them carrying specific automotive products for a huge range of vehicles including the Mk3 Ford Focus.
This handy offering from Laser tools allows for removal and installation of new trailing arm suspension bushes, without the need for removal of the trailing arm or any associated suspension and braking components. Just a few bolts are all that needs to be removed to grant access and complete the job.
Included are fitting and extraction cups to fit both different sizes of bushes for Mk3 Ford Focus's, which can also be used in a hydraulic press, if required. The kit comes with a 1-year warranty, while Laser recommends regular lubricating of moving components to ensure longevity.
Tool reference: 7960
Storage case: Unclear
Removes bushes without disassembly: Yes
Warranty: 1-year
Pros:
High tool-quality standards
Massively reduces time taken for bush replacement
Suitable for all Mk3 Ford Focus variants
Backed by one-year manufacturer warranty
Cons:
Most expensive Mk3 Ford Focus trailing arm bush tool featured
Non-brand Ford Focus Mk3 Rear Trailing Arm Bush Tool
Check the latest price on eBay
The second trailing arm bush tool for the Mk3 Focus is a "generic-brand" item, but one that likely comes from a Chinese or Taiwanese tool manufacturer. These products don't always conform to the standards of UK-made tools but are often aimed at a much lower price point, helpful if the operator is unlikely to use the tool on multiple occasions.
This kit promises easy bushing renewal, with the trailing arm in situ on the vehicle. Saving time and effort on removing complicated suspension components is the aim of the tool, while the basic design and components should see it last for multiple uses. The seller recommends greasing of bushings for easy installation, while lubrication of the tool threads should extend its usable life.
The kit includes different adaptor sizes to suit all Mk3 Ford Focus variants, but is unfortunately not backed by any warranty longer than the standard returns period.
Tool reference: Not stated
Storage case: No
Removes bushes without disassembly: Yes
Warranty: 7-day return policy
Pros:
Cheaper than UK-manufactured alternatives
Easy removal and installation of trailing arm bushes
Suitable for use on all Mk3 Focus variants
No need for extensive suspension dismantling
Cons:
No brand status or reputation
No warranty given or implied
In Conclusion
Suspension bushes aren't going to fundamentally change the way that any vehicle drives. At best it will get the vehicle through an MOT or get it roadworthy again, with a small increase in comfort and handling characteristics. Nobody wants to spend hours under their car, just to change out some faltering rubber bushes, while risking damage to surrounding components and misalignment of the suspension on reinstallation.
Using a simple trailing arm bush tool takes out all the guess work, will allow for changes to suspension bushes with the arm in situ and minimise the chances of broken or threaded bolts in old suspension and braking components. This is super handy for home mechanics and could lead to serious extra profits for those in the business. For the outlay and the reduced stress, these tools really are a no brainer…
If you liked the article, please share, leave a comment below and check out our other exciting articles.
Categorised in: Vehicle Specific Tools
Czok Newsletter