The Best Ford Fiesta Rear Axle Bush Tool
We're an affiliate
We hope you love the products we recommend! Just so you know, we may collect a share of sales or other compensation from the links on this page. Thank you if you use our links, we really appreciate it!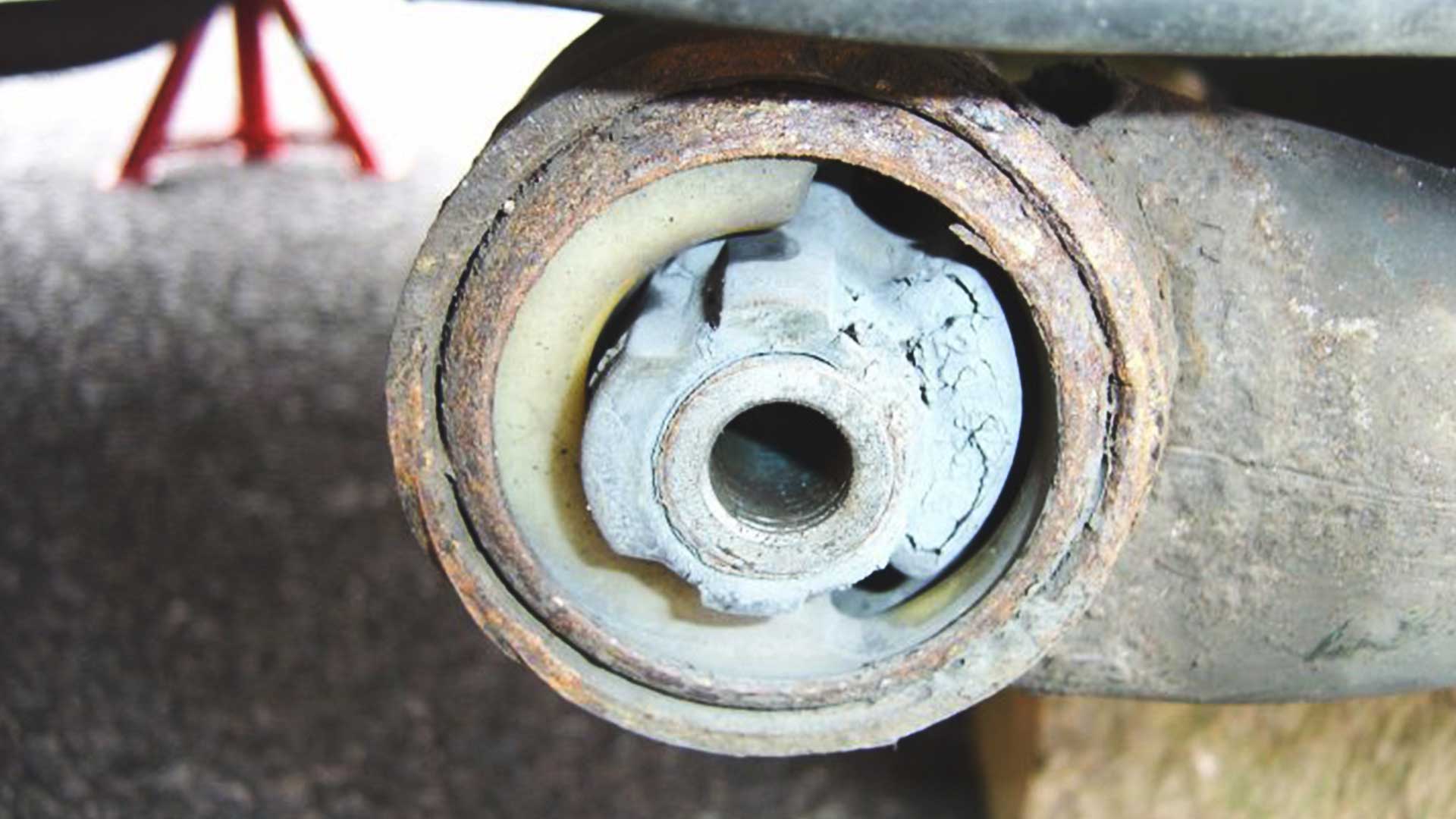 Ford Fiesta's, long known as the UK's favourite small hatchback. Since the first iteration hit our roads back in the 70's, Britain has been going mad for them. Compact size, impressive performance and great value for money all are to blame for the Fiesta's huge success. Keeping old Fiesta's on the road is generally an easy task with low maintenance costs and impressive reliability, even more modern MK6/7 models though, are now beginning to age and parts like rubber bushes will inevitably start deteriorating.
Fiestas are renown for handling like a much larger, sturdier vehicle with excellent handling and ride quality. This can however, be quickly undone as age takes hold and rubber axle bushes begin to perish. Changing suspension bushes may sound difficult and daunting to the inexperienced, but can actually be made fairly simple with the help of specialist suspension bush tool.
These tools are relatively inexpensive (certainly when compared to main dealer repair prices), allow for bushing changes to take place in less time and make the whole process much simpler and safer. Using a tool like this means one less trip to the dealers or, in the case of professional use, some extra profits for a job done just as well or better, in less time.
Things to Consider Before Purchasing
Vehicle Compatibility
Fiesta's Mk naming convention has become a little diluted over the years. We'll spare you the details but for the purpose of this article the Mk4/5 suspension is the same, meaning these tools will cover years 1995 to around 2002. Mk6 tools cover vehicles from 2002-2008 and Mk7 tools cover 2008-2017.
If still unsure, contact the tool seller. In our humble experience they are always more than happy to check tool eligibility with a reg number or VIN.
Brand Recognition
Many tools are sold on brand name alone as many mechanics, professionals and amateurs alike, will often return to brands they have had success with in the past. This is a tried and tested method, with most top brands being well recognised due to excellent tool quality and good customer service.
There is money to be saved however, in trying smaller brands and "off-brand" products. These tools may not carry the brand cache but are often of similar quality and come at a cheaper purchase price.
Tool Warranty & Replacement Parts
Having a product with a long warranty signals that the manufacturer has confidence in the quality, enough to stand by replacements in regular use. This is confidence building for amateurs and home DIYers, but could mean the difference in profit and loss for those in the industry of professional automotive repairs/ maintenance.
The Best Ford Fiesta Mk4/5 (1995-2002) Rear Axle Bush Tools on the Market
Sealey VSE4779 Rear Axle Bush Tool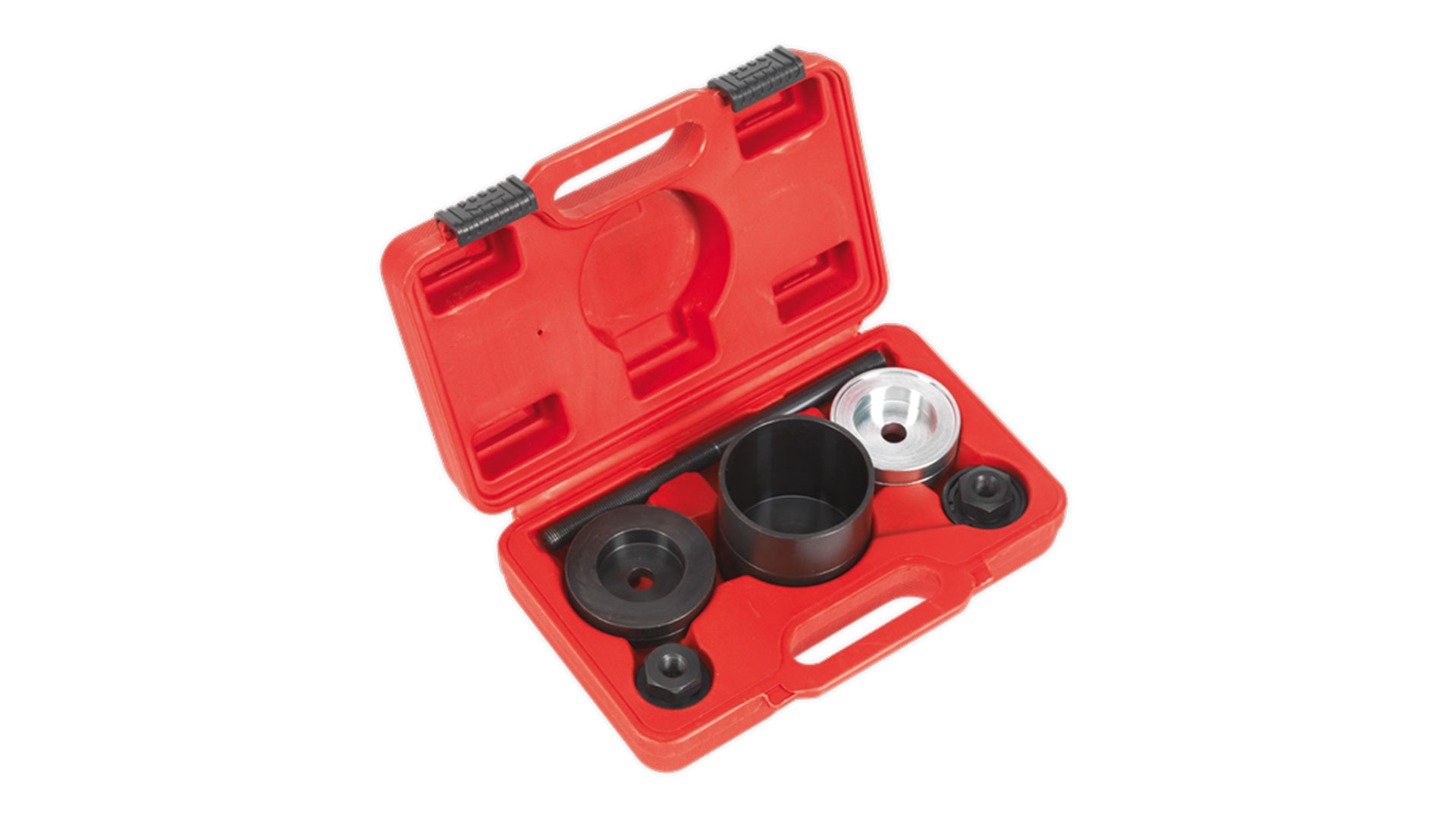 Check the latest price on Amazon
First up for the Mk4/5 is the rear axle bush tool from Sealey, a very well-known UK tool brand. A brand that has grown significantly in its 40+ year history. Their experience and tool standards have led the company to sell vast ranges of products across the UK and into Europe. Sealey always ensures high quality products and as such, has appeared in many professional workshops and mechanics tool boxes.
Sealey's kit allows for simple removal and installation of new rear axle suspension bushes without the need to remove the trailing arm from the vehicle. Changing the bush in situ means shorter repair times and less chance of breaking parts or rounding off old rusty bolts.
Quality is guaranteed thanks to Sealey's 1 year warranty, with separate spares available should parts of the kit begin to fail or wear out in long term use. The kit will work on all Mk4/5 model Fiestas and is supplied in a handy storage case.
Tool Reference: VSE4779
Can be used in situ: Yes
Warranty: 1 Year
Pros:
Highly regarded UK tool brand
Allows for bush removal and reinstallation in situ
Shortens time taken to replace rear axle bushes
Supplied with one-year warranty
Cons:
Vastly more expensive than Asta Tools offering
Laser Tools 5045 Suspension Bush Tool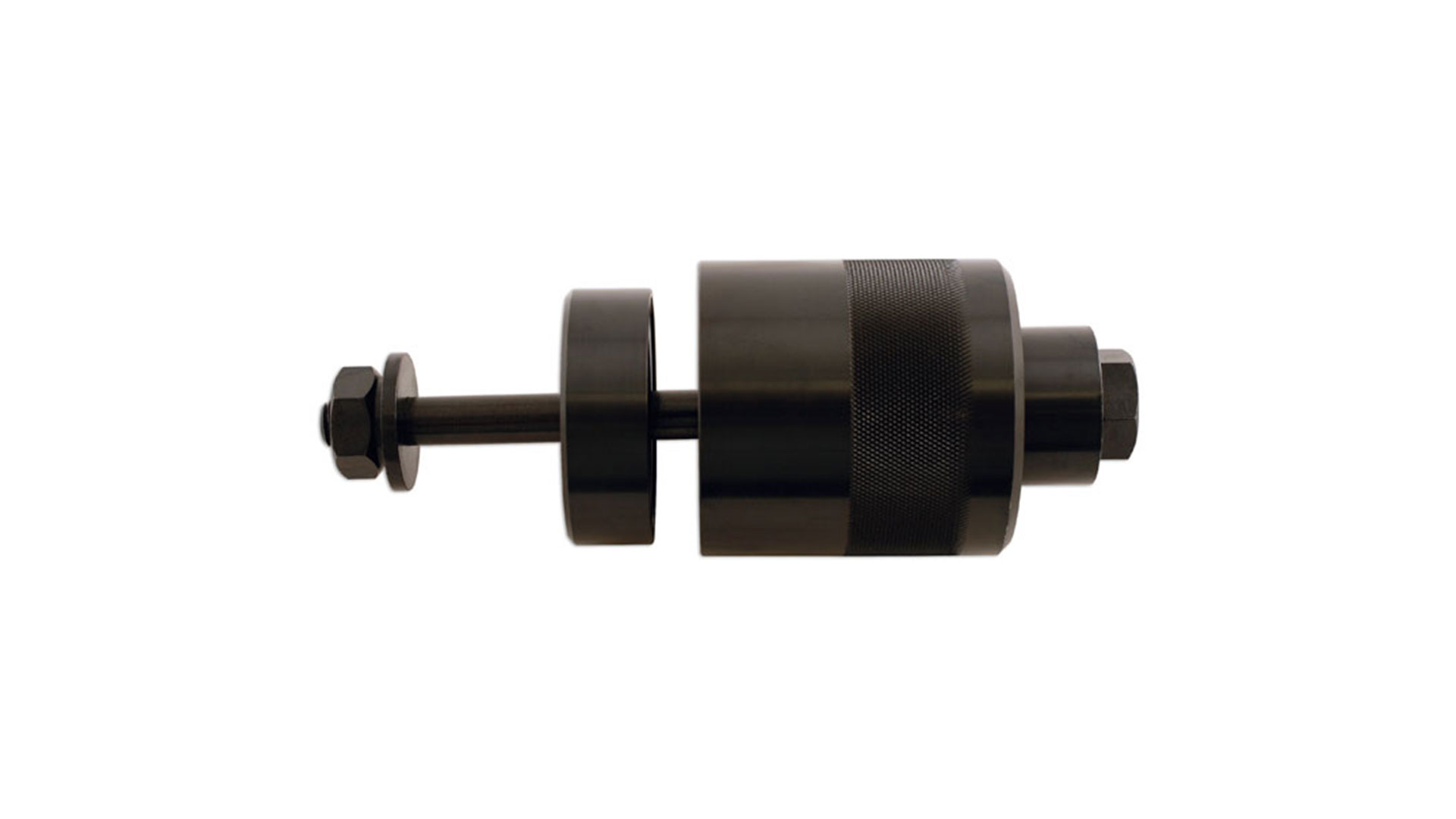 Check the latest price on Amazon
The second Mk4/5 Fiesta axle bush tool is made by Laser Tools. Laser are another UK-based tool manufacturer that can provide a tool for pretty much any job, particularly automotive-based work. Over 40 years in the business has seen the company's tools set constant standards for tool quality and longevity. A huge range of products means that Laser has featured in the toolbox of most mechanics, professional and amateur alike.
This Laser Tools kit is another offering that allows for removal and installation of rear axle bushes in situ, severely cutting down on repair time. The tool also ensures correct installation of new bushings, allowing accurate positioning without the need for specialist measuring tools or presses. All that's required to use is a 24mm ring spanner.
This set is useful for all Mk4/5 model Fiestas and, like the Sealey product, comes with a one-year warranty. Spare parts are also available, with all tools and parts manufactured in Sheffield, UK.
Tool Reference: 5045
Can be used in situ: Yes
Warranty: 1 Year
Pros:
Well trusted UK tool manufacturer
Correctly places new bushes on reinstallation
Requires minimal tools to use
Comes with a one-year warranty
Cons:
Most expensive Mk4/5 rear axle bush tool featured
Asta Tools Satra S-B6BFO Rear Axle Suspension Bush Removal & Install Tool
Check the latest price on eBay
Confusingly, the last Mk4/5 rear axle bush tool is the product of Satra/ Asta tools. Though puzzlingly running under two names, the Taiwanese brand is actually quite well established and sells many automotive-based speciality tools. Using their global network, including links with both European and US markets, Asta is aiming to provide specialist tools at affordable prices, without compromising on quality or longevity.
Like the big-brand tools mentioned above, Asta's offering also allows for bushings to be removed without complicated suspension or braking components needing to be dismantled. This kit also allows for correct seating and accurate positioning of the new rear axle bushings. Asta recommends not to use any power/ air tools on this product, using only hand tools to complete the job.
To maintain longevity, it is recommended to grease the threads before each use, though the kit is covered for faulty parts thanks to Asta's one-year warranty period. The set is also contained in a handy storage case.
Tool Reference: S-B6BFO
Can be used in situ: Yes
Warranty: 1 Year
Pros:
Highly affordable
Allows for quick and painless rear axle bushing changes
Correctly positions new bushes
Coverage of faulty parts for a whole year
Cons:
Lacks the reputation of rival brands
The Best Ford Fiesta Mk6 (2002-2008) Rear Axle Bush Tools on the Market
Dr Tools ZA37 Rear Axle Bush Tool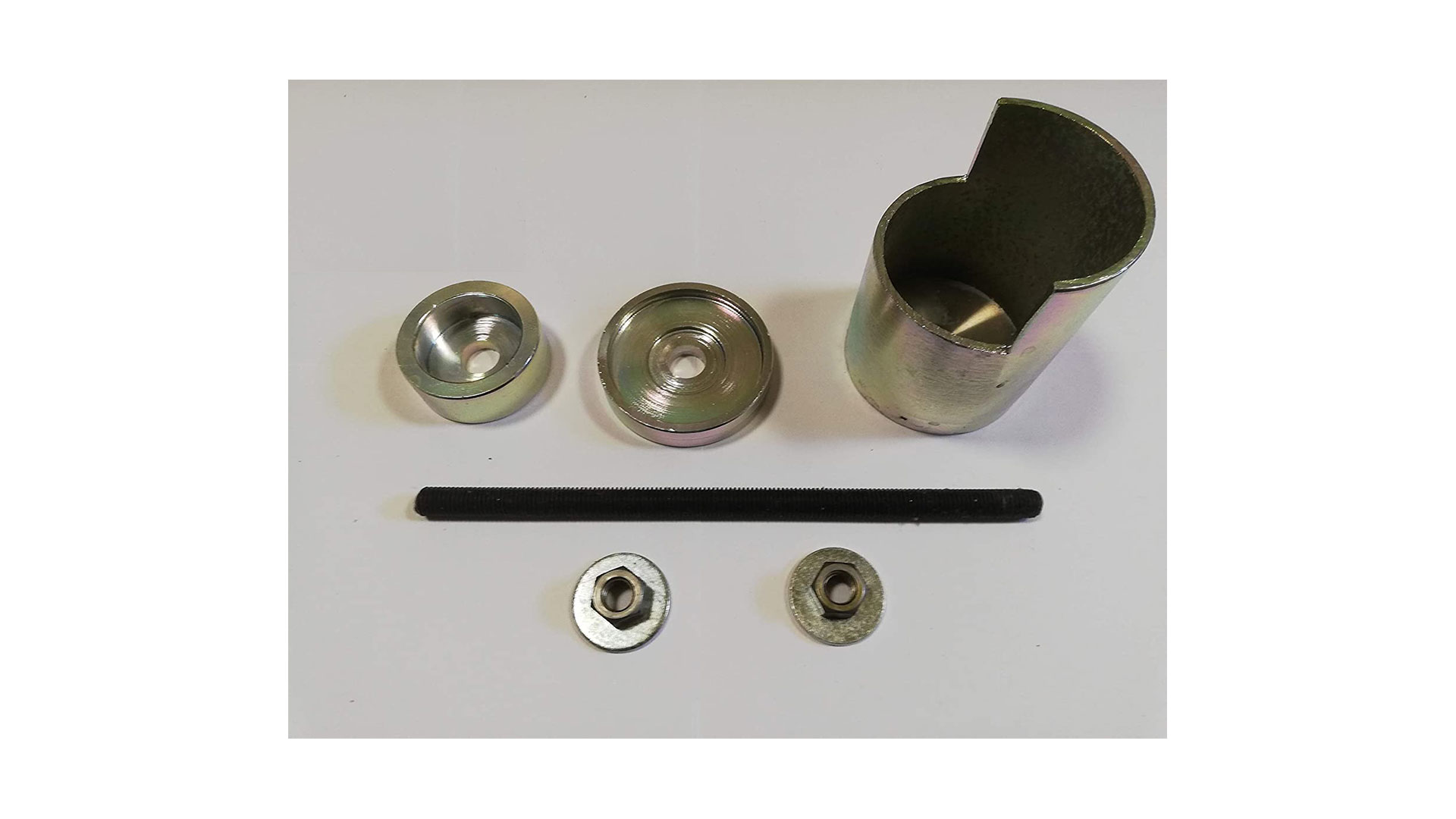 Check the latest price on Amazon
Our first Mk6 Fiesta oriented rear axle bush tool is supplied by Dr Tools. A brand that is relatively unknown but has many offerings linked with Asta Tools, who are a well-grounded Taiwanese brand that manufactures most of Dr Tools products. The aim for Dr Tools is simple, undercut the prices of typical UK big-brand tool manufacturers without skimping on quality or usability of the tools, specifically those aimed at automotive applications.
Explicitly designed for use in situ, Dr Tools kit allows for easy and fast removal of old rear axle bushes without the need to remove the trailing arm assembly from the vehicle. This not only saves time but could also save money on broken bolts and damaged parts. Installation of new bushes is also made simple, allowing for correct positioning every time.
Maintain the tools longevity via regular lubrication of the threaded parts, this may be important to prevent premature failure as unfortunately the part is not provided with a manufacturer's warranty.
Tool Reference: ZA37
Can be used in situ: Yes
Warranty: No
Pros:
Highly affordable tool set
Allows for easy removal of rear axle bushes
Can be used in situ, minimal dismantling required
Accurately positions new suspension bushes
Cons:
More expensive than the eBay "off-brand" tool
No warranty given or implied
Non-brand Ford Fiesta Mk6 Rear Axle Bush Tool
Check the latest price on eBay
The second Mk6 Fiesta tool is an "off-brand" item, like many found all across the internet. This particular UK seller sells a large range of tools related to automotive suspension and bushings, signalling good experience in this arena. Great customer feedback and a UK manufacturer also gives good confidence that this budget tool is likely up to the task.
This is another product that allows for removal and installation of rear axle bushes on the Mk6 Fiesta with relative ease. Minimal dismantling is required, with the bushes being removed from the trailing arm without taking the whole assembly off the vehicle.
Parts are chemically treated to prevent corrosion, though all parts are stated as consumable due to the nature of the forces being put upon them. Faulty tools can be returned within 30 days however and replaced by the seller.
Tool Reference: N/A
Can be used in situ: Yes
Warranty: 30 days (returns)
Pros:
Least expensive Mk6 Fiesta rear axle bush tool
Saves lots of time on suspension bushing changes
Allows for correct positioning of new bushes
Metal parts protected against corrosion
Cons:
The Best Ford Fiesta Mk7 (2008-2017) Rear Axle Bush Tools on the Market
Sykes-Pickavant 08730500 Rear Axle Bush Removal Tool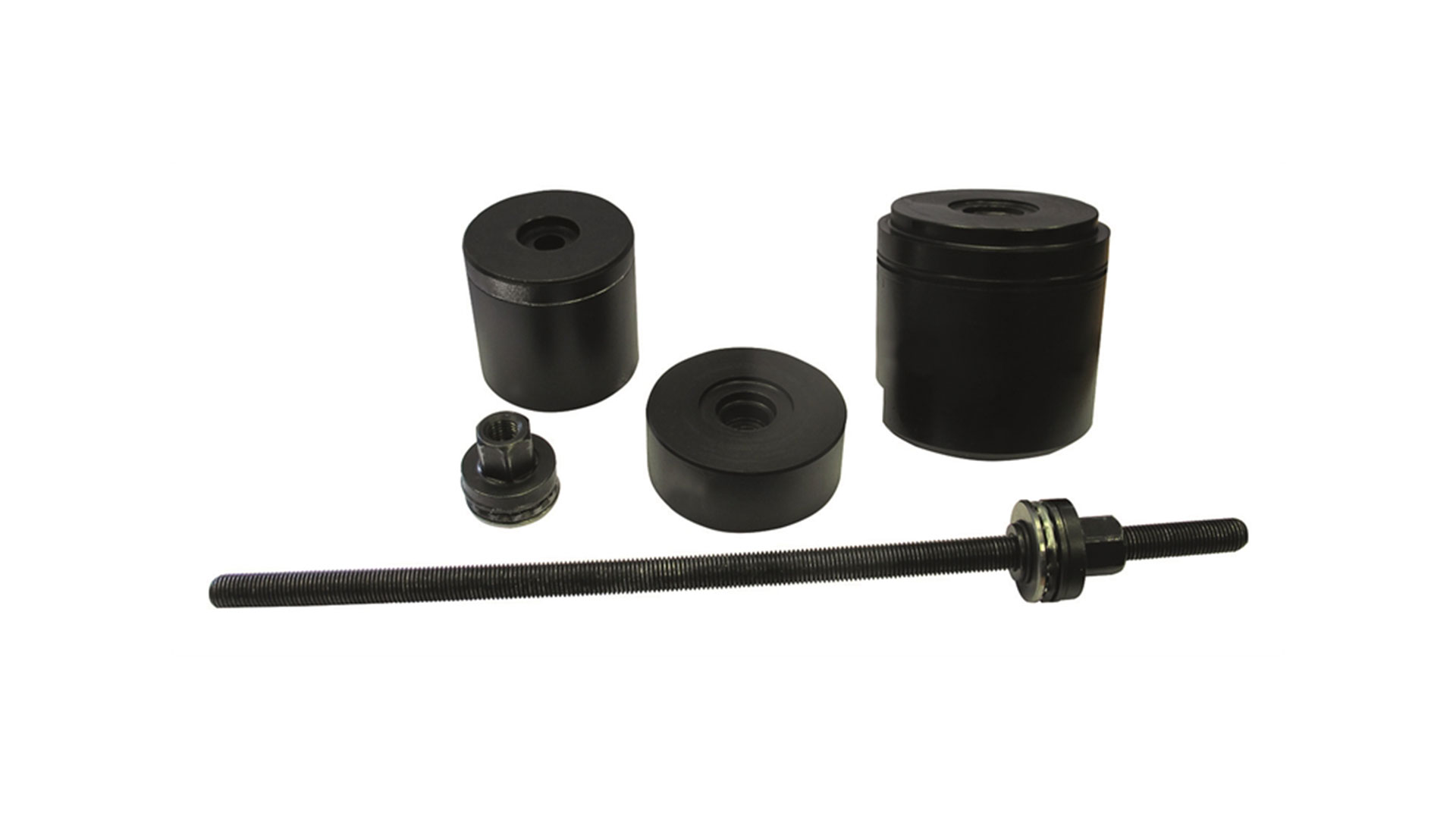 Check the latest price on eBay
The first of our Mk7 Fiesta rear axle bush tools are made and sold by the Sykes-Pickavant brand. Around in one form or another since 1921, Sykes-Pickavant is a company that is well versed in both specific automotive tools and industrial aids. Over the last 100 years the business has made quite a name for itself, tool quality and specifically manufactured products have allowed them to reach around the globe and compete for sales as far as Australia and the US, while also staying true to their loyal home-market UK customers.
Sykes-Pickavant have created this tool to allow non-professional mechanics to change their own rear axle bushes. Designed to be used in situ, on the vehicle, the kit allows for rear axle bushes to be removed and new ones installed without large portions of the vehicle suspension and braking systems needing to be dismantled. This not only saves time but also makes the job much less daunting for the less experienced user.
Sykes-Pickavant cover all their hand tools with a one-year warranty. This tool can be used on all variants of the Mk7 Fiesta.
Tool Reference: 08730500
Can be used in situ: Yes
Warranty: 1 Year
Pros:
Hugely experienced automotive tool brand
Simplifies the job of replacing rear axle bushings
Minimal dismantling of suspension components required
Covered by the manufacturers one-year warranty
Cons:
Most expensive Mk7 fiesta rear axle bush tool featured
Laser Tools 6847 Rear Swinging Arm Bush Tool
Check the latest price on Amazon
Our second Mk7 Fiesta tool is brought to us by Laser Tools. The UK tool brand specialises in automotive specific tools and offers a vast range covering most vehicles and jobs. Four decades of quality and huge volumes of return customers is a sure sign that the brand is doing something right. Over the last 40 years Laser Tools have found their way into most workshops, supplying the need for tools that can be used regularly for automotive-specific jobs without premature wear or failure.
Like their competition, Laser have focussed on making this tool as simple to use as possible. This means allowing for rear axle bushing changes in situ, meaning shorter job times and easier processes. The reinstallation is also aided by this tool allowing for correct positioning of the new bushing, to guarantee a successful replacement.
Only requiring one spanner for usage, this product is extremely handy and compact to transport. Laser Tools covers this kit for one year under its warranty for hand tools, covering faulty parts and premature wearing.
Tool Reference: 6847
Can be used in situ: Yes
Warranty: 1 Year
Pros:
Highly regarded UK tool brand
Allows accurate installation of new bushes
Built to the brands rigorous manufacturing standards
Covered by a one-year warranty
Cons:
Would benefit from a storage/ transport case to keep loose parts together
Non-brand Ford Fiesta MK7 Rear Axle Trailing Arm Bush Tool
Check the latest price on eBay
Last up is an eBay "off-brand" tool, confusingly sold as a Karlmann product. We were not able to find any information or history surrounding the brand but it appears that they do sell a vast quantity of tools, specifically geared at automotive applications. Their products appear to be well made and certainly undercut many of the more established brands on purchase price.
Unlike the competition above, this tool is squarely aimed at the installation of new bushes into the trailing arm, offering no promise of assistance with removal. Luckily removing old bushes can be done with force, while installation often requires more accuracy and consistent pressure, to ensure correct positioning. This kit undercuts the major brands on price and is simple in its construction, allowing for good tool strength.
Covered for faulty parts under a short one-month warranty. This tool is designed to suit all Mk7 model Ford Fiestas
Tool Reference: ART849
Can be used in situ: Yes
Warranty: 1 month
Pros:
Much cheaper than featured competitor offerings
Gives accurate bushing installation
Simple construction means less parts to fail
Useful for all Mk7 Fiesta models
Cons:
Lacks the brand reputation of featured competitors
Not designed to aid in bushing removal
In Conclusion
Keeping parts like suspension bushings fresh and in good working order not only makes for a better handling vehicle but also a safer one, not to mention the chances of MOT failures significantly reducing. Replacing a bushing that's past its best will often give better ride quality too, without huge outlay.
A rear axle bush tool takes out the guesswork, allowing easy removal and correct installation of suspension bushings. A tool like this makes the job less daunting for those without huge experience and could be a good profit booster for a professional mechanic. It really is a tool that has little to no drawbacks and is definitely worth a try…
If you liked the article, please share, leave a comment below and check out our other exciting articles.
Categorised in: Vehicle Specific Tools
Czok Newsletter