The Best Exhaust Pipe Cutter
We're an affiliate
We hope you love the products we recommend! Just so you know, we may collect a share of sales or other compensation from the links on this page. Thank you if you use our links, we really appreciate it!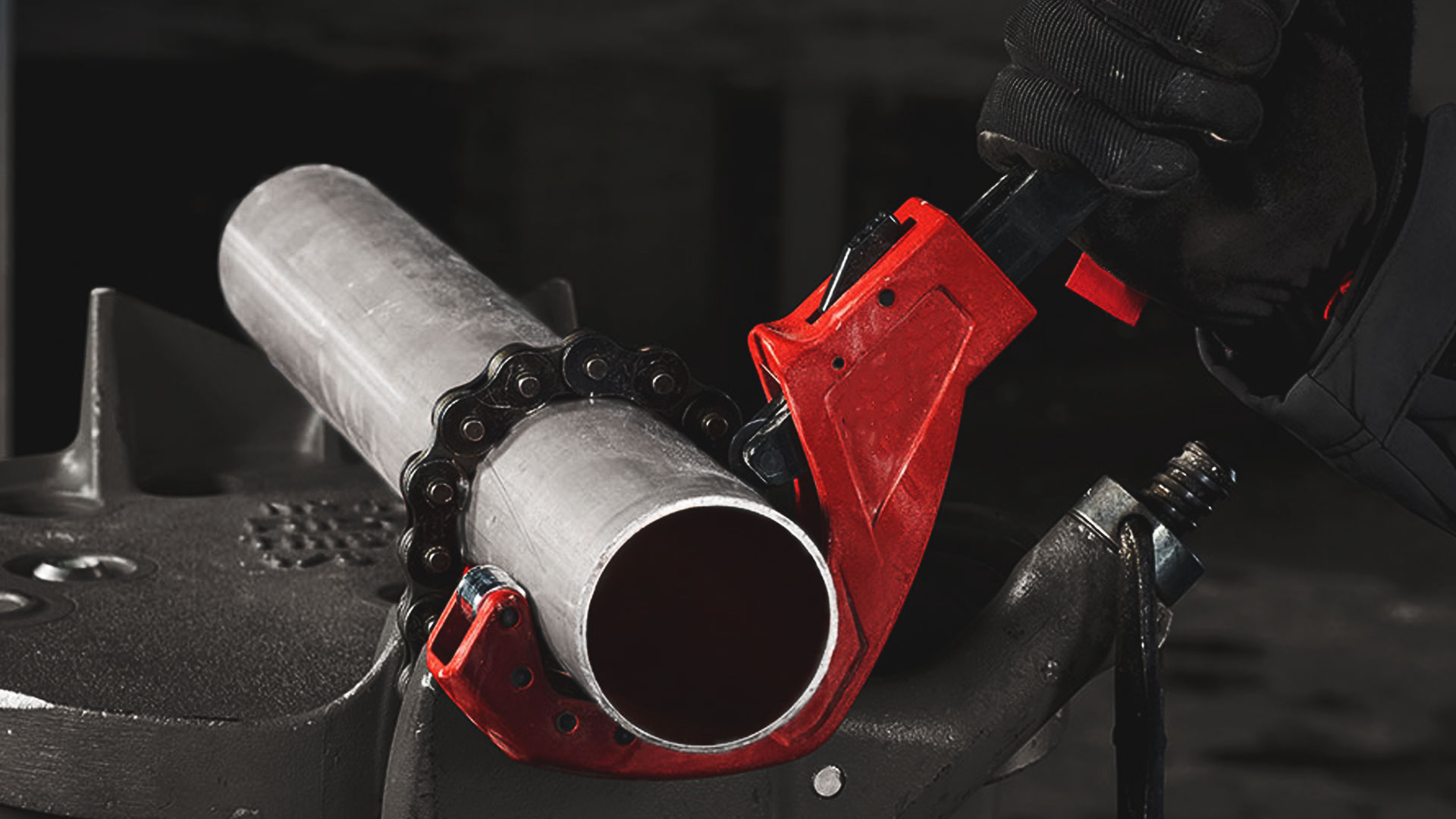 A tool that lets anyone cut metal with nothing more than the power in their own two hands. That's right, no power tools, no loud air compressors, tangled wires or questionable extension cords. Exhaust pipe cutters allow professionals and home mechanics alike, the ability to create clean, straight cuts in their exhaust with nothing more than hand power.
Rusty and broken exhaust are a serious hindrance for many vehicle owners, particularly those with vehicles that are getting on in their years a little. Those who want to modify are also always looking for a cheaper, easier, more time efficient option to rid their vehicle of old exhaust components. Modern packaging and vehicle manufacturing techniques often send exhaust bends around important chassis and fuelling components, making removal without cutting a complex process, often out of the scope for driveway fixes.
Exhaust pipe cutters are simple, can be used on any exhaust with enough access to wrap the chain around and can be used anywhere. No need for electricity or compressed air, no extra noise to annoy neighbours and they don't cost the Earth either.
To use, simply wrap the supplied chain around the exhaust, attach to the empty slot on the pliers and begin turning back and forth. A little pressure applied will allow the sharp cutting wheels to begin slicing through the metal, little by little, creating a nice clean cut. This will allow for easy removal, replacement or upgrade to the existing exhaust system, in a matter of minutes.
The Best Exhaust Pipe Cutters on the Market
Sealey VS16372 Exhaust Pipe Cutter Pliers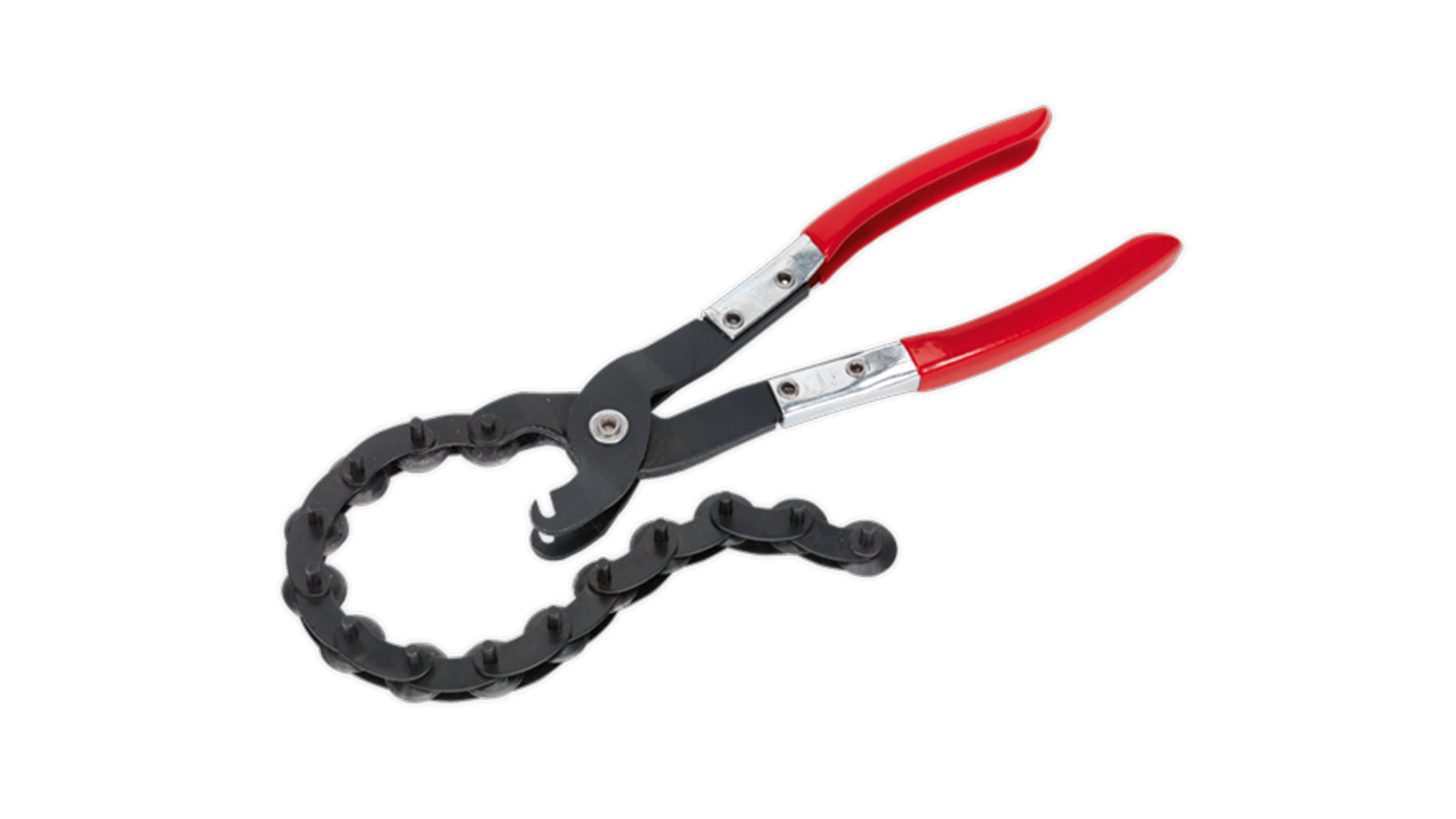 Check the latest price on Amazon
The first cutter we chose is made by Sealey. A UK-based tool manufacturer that opened its doors over 40 years ago. Despite their age, the company still reeks of modernity, constantly expanding tool line-ups and encouraging new and traditional technologies alike. Home mechanics and professionals have all benefitted from the brands quality tools and knowledge for the past four decades. Sealey now offers tools worldwide, with over 10,000 different products available.
A neat solution, designed with cramped spaces in mind. Ergonomic handles are designed to fit in tight spaces, allowing even pressure distribution around the exhaust pipe. The included chain will wrap around exhausts up to 83mm in diameter (just over 3 inches), cutting through mild steel pipe up to 2.5mm thick.
Backed by a one-year guarantee, Sealey will replace any products that show faults in the first 12 months of service, backing their brand and tool quality standards.
Pros:
Designed for use in tight spaces
Well established tool company
Cuts pipe up to 83mm in diameter
Creates clean, even cuts
Cons:
More costly than Toolzone cutter
Laser 5412 Exhaust Pipe Cutter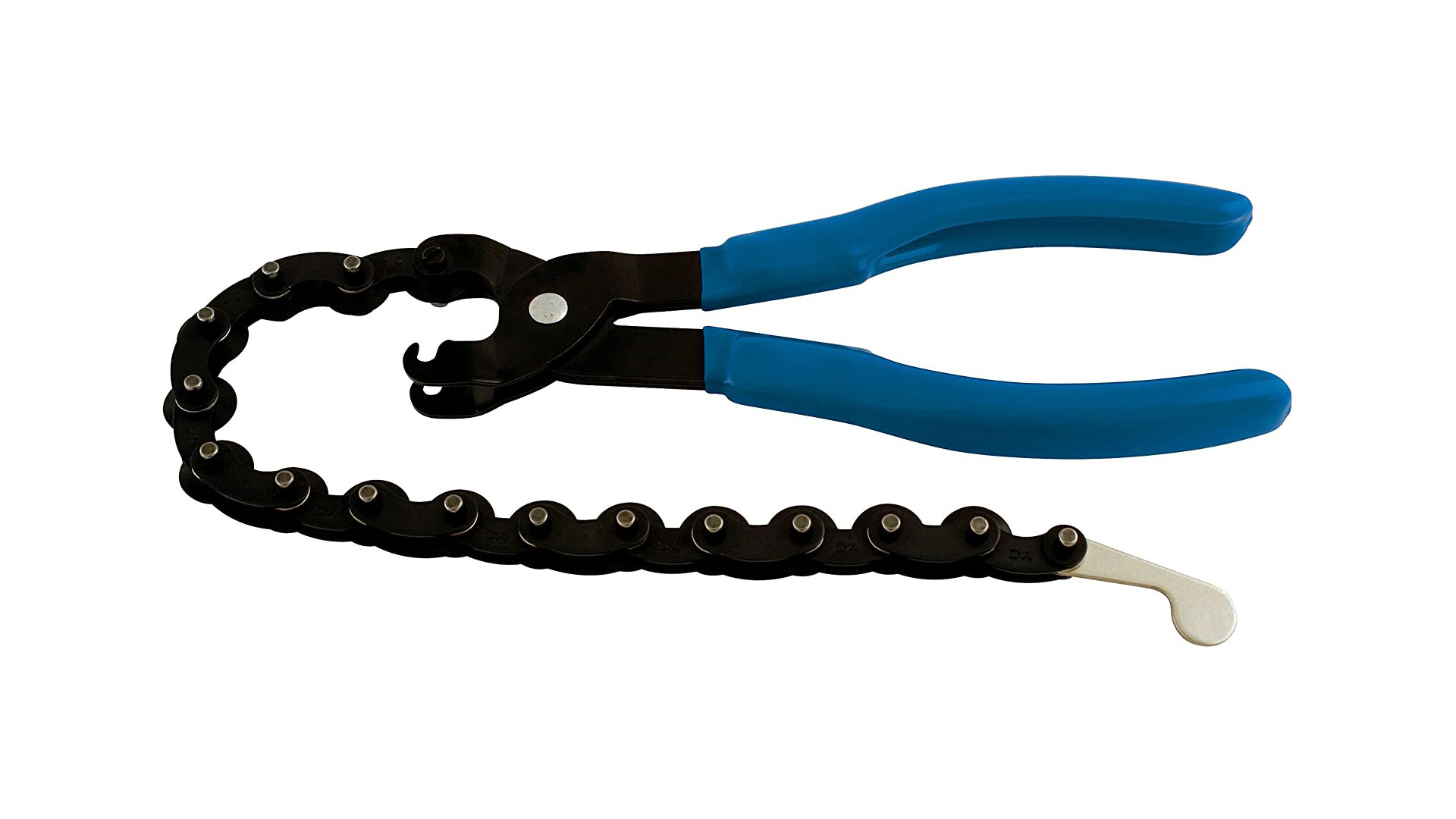 Check the latest price on Amazon
Next is the exhaust pipe cutter from Laser Tools. The UK firm has a huge range of tools and automotive parts, with products ranging from PPE to spanners and power tools. The company doesn't just hold a huge range of products however, they also back their claims about quality and toughness, supplying professional automotive workshops as well as home mechanics and DIY enthusiasts. The company may have opened its doors in 1976, but even now they are constantly bringing new products to market, whilst also enhancing old-school tools like their exhaust pipe cutters.
In what claims to be a "professional level" tool, Laser promises that their exhaust cutters are capable of easily slicing through exhaust pipes from 19-83mm in diameter. The supplied SK2 blades are specifically useful on mild steel, as found in most standard exhaust systems, though HSS blades can be purchased for use on stainless steel also.
Lasers handy ordering process makes replacement blades and chains easy to source, meaning this a tool that will likely live through many future vehicles. Swapping out components also increases the versatility, allowing for use on nearly any vehicle.
Pros:
Highly experienced specialist tool brand
Professional grade quality
Highly adaptable for different vehicles
Can cut pipes up to 83mm in diameter
Cons:
Most expensive of the three
Toolzone Chain Exhaust Pipe Tailpipe Cutter
Check the latest price on Amazon
Last up is our offering from Toolzone. Though seen as a budget brand, Toolzone are quick to state that this is not at the expense of quality or ease of use. They've actually been around nearly 40 years now and don't look like they'll be disappearing any time soon. A quickly expanding line-up and glowing customer reviews are rapidly turning Toolzone into a household name for anything from automotive to plumbing and even woodwork tools now available.
This specific product is the Toolzone exhaust cutter. It matches the competition on spec, with an 83mm diameter cutting limit and SK2 blades for easy carving through mild steel pipe. Ergonomic design and comfortable handles allow for use in the tightest of car underbodies, while the chain is easily adjustable to vary cutting torque.
For longevity, Toolzone recommends regular oiling of the chain to prevent rust or dirt from entering the moving components. The only caveat being, that unlike Sealey, there is no warranty and replacement chains and wheels may be a little harder to source than with the Laser product.
Pros:
Most budget friendly exhaust cutter here
Trusted UK tool brand
Easy, clean cuts on mild steel pipes
Ergonomic design for use in cramped spaces
Cons:
No warranty given/ implied
In Conclusion
Many see exhaust pipe cutters as a bit of a hack job, something turned to only by those who cannot afford the cost of a professional mechanics work. In truth, they are a time efficient and helpful method of exhaust removal. While budget friendly, the cuts won't compromise fitment of future exhaust components and are likely better than the job done by some questionable mechanics.
No need to leave your driveway, simple to use and effective in their job. Exhaust pipe cutters really don't get the credit they deserve and could be a really useful tool in the arsenal for any home mechanic and professional alike. These tools are infinitely more portable than electric or air powered alternatives, handy too in cramped spaces beneath a vehicle. This really is a must have for removing and cutting exhaust pipe with ease.
If you liked the article, please share, leave a comment below and check out our other exciting articles.
Categorised in: Tools
Czok Newsletter