The Best BMW Z4 Bike Rack
We're an affiliate
We hope you love the products we recommend! Just so you know, we may collect a share of sales or other compensation from the links on this page. Thank you if you use our links, we really appreciate it!
A 2-seater convertible may not be the last word in practical, load lugging transport. That doesn't mean however, that owners don't want to get out and explore the world both on 4-wheels and 2. While the boot space of a Z4 is clearly not designed for those with a passion for cycling, externally mounted bike racks can provide the ability to take one or two bikes to wherever in the country you need, without compromising internal space.
External bike racks come in many forms, from roof mounted bars and boxes to those mounted aft, attached via a tow bar or multitude of straps. They will generally carry anywhere from 1 to 4 bikes and save on internal space to carry all your extras, whether that be camping equipment for a weekend adventure or just your helmet and water bottles.
BMW Z4's come in both convertible and coupe forms. The latter offers extra internal boot capacity and as such, it is recommended not to mount bikes externally on these models. Not only can bikes fit inside the vehicle, but the extended rear glass could be damaged by fitment of a rear-mounted bicycle rack.
Types of Bike Rack
Essentially bike racks can be split into three types; roof mounted, rear mounted and tow bar mounted.
Being a convertible (soft roof) and lacking a tow bar, the BMW Z4 will really only work with a rear mounted option. These come in a variety of shapes but the three we've highlighted below will be ideal for use on a BMW Z4, coming recommended by many current and past owners.
Rear mounted units sit against the boot lid, securing the bikes via straps or tie downs and then securing the bike rack to the vehicle with a multitude of adjustable straps. These are highly engineered and reliable units, preventing the chances of your 2-wheeled pride and joy cartwheeling down the outside lane of the motorway.
Things to Consider Before Purchasing
Are They Vehicle Specific?
While some bicycle racks can be specific to an individual vehicle, most have large levels of adjustment to allow them to suit a multitude of different shapes and sizes of car. This not only allows for manufacturers to focus on just a handful of products but, also makes it much easier to pick the right product to fit any car.
As mentioned, these bike racks are adjustable and should suit any Z4 convertible, coupes are not suitable for rear-mounted bike racks due to the large glass rear screen. Owners are advised to instead place their bicycle inside the larger boot space of the coupe to negate any risk of damage or non-fitment due to the cars unique shape.
Fitment with a Spoiler
Many owners choose to adorn their BMW Z4 with large spoilers for extra style and performance. While owners with small lip spoilers will likely get away with strapping a bicycle rack over the top, those with large spoilers may need to remove them in the case of using a bike rack.
Thankfully, bike racks are quick and easy to remove and install, allowing owners to replace the spoiler and only remove in instances where the bike rack is being used.
The Best BMW Z4 (All Models) Rear Mounted Bike Racks on the Market
Saris Bones 2 Bike Rack 805BL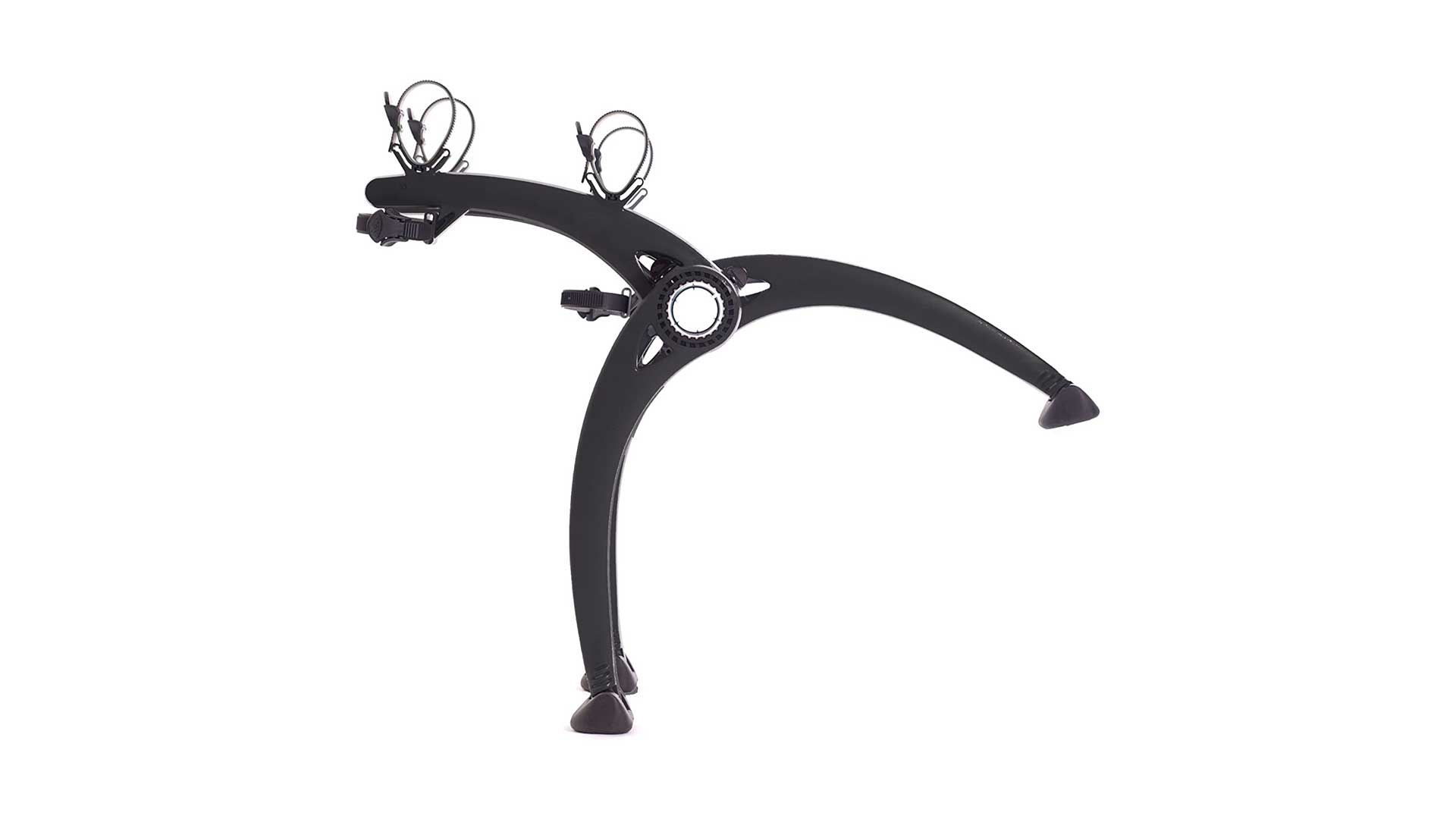 Check the latest price on Amazon
The first of our bike racks comes from the infamous Saris Bones brand. Specialists in bicycle accessories like bike racks and stationary trainers. All products are designed, engineered, built and tested in the USA, Saris aiming for quality and consistency across its entire portfolio. Their years of experience and passion for cycling are instilled into their products, creating excellent quality and well-made accessories, sold across the world.
This two-bike rack is suitable for nearly any vehicle, including the Z4. It can safely hold two bikes, weighing up to 15kg a piece, easily enough to cover most modern bicycles. The arc design not only gives great strength but also fits over smaller spoilers and arced boot lids. The parts are injection moulded for strength, while all contact points use rubber pads to prevent damage to the vehicles paint.
Plastics used are made from 100% recyclable materials, ensuring no waste. Plastic also gives the benefit of lightweight (the rack weighs less than 5kg) and having no rust or corrosion issues.
Part Reference: 805BL
Bike Capacity: 2 bikes
Weight limit: 15kg per bike
Pros:
Highly regarded bicycle accessories brand
Safely holds two bikes
Strong and corrosion resistant plastic construction
Arc shape fits over additional, small spoilers
Cons:
Most expensive bike rack featured here
Schwinn Bike Rack 170T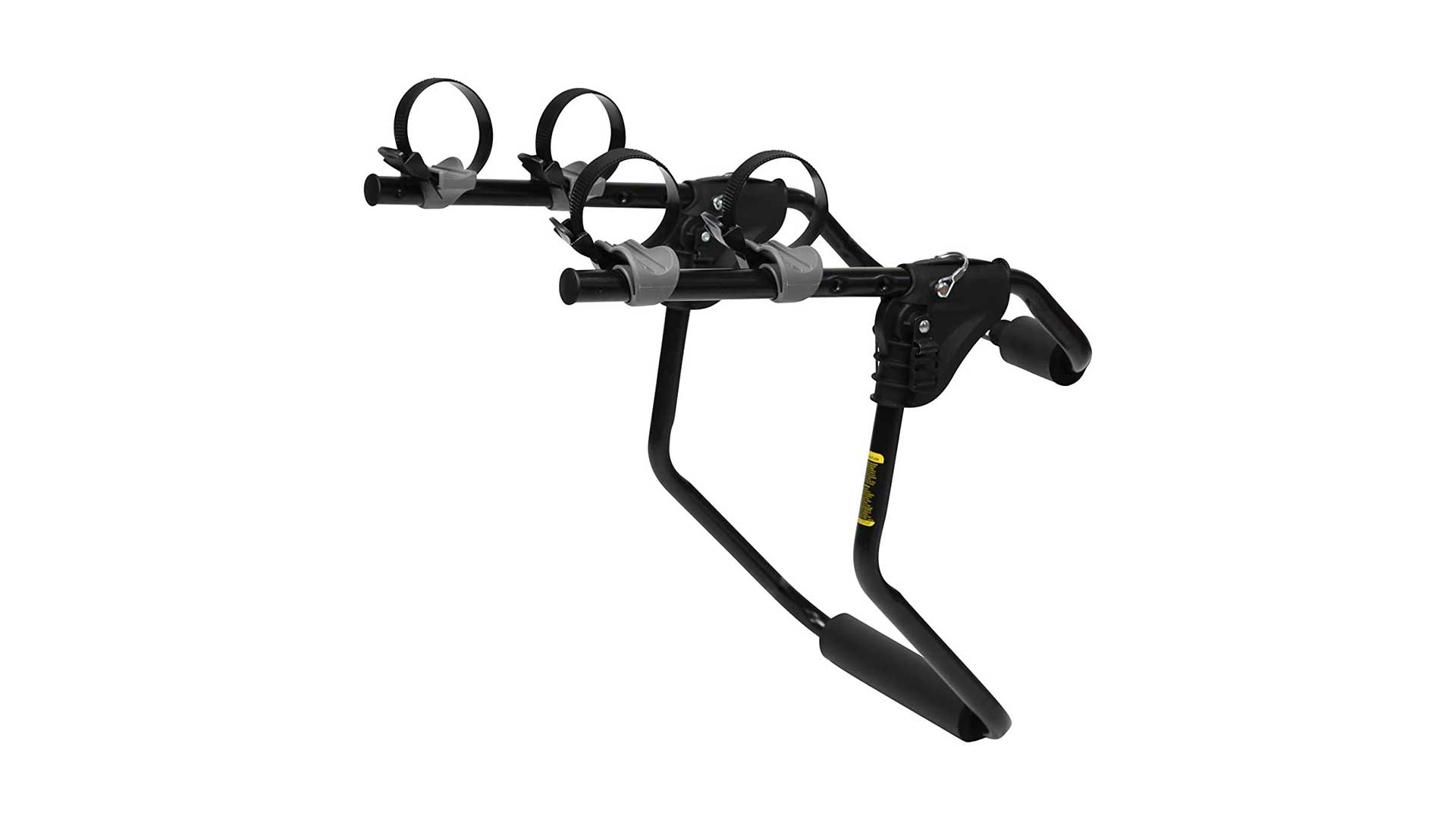 Check the latest price on Amazon
Formerly World Bicycles, Schwinn is a US-based bicycle brand that has experience spanning back over 125 years. Their illustrious history includes many records for world's fastest pedal-powered bicycles and famous models like the Stingray. Naturally, a brand so invested in bicycles has a vested interest in offering accessories too, designed and manufactured to match the company's existing, industry-leading quality standards.
This two-bike rack promises fitment for almost all vehicles, including the BMW Z4. This unique design allows the unit to be folded flat for efficient storage, while offering good strength to prevent unwanted failure on the move. Extra straps provided secure the rack firmly to the boot. The rack also includes space and mountings for accessories like helmets and cycling packs.
Racks are made from thin wall metal and are painted to establish a minor level of protection against corrosion in harsh UK winters.
Part Reference: 170T
Bike Capacity: 2 bikes
Weight limit: 35lb (15.9kg) per bike
Pros:
Bicycle brand with over 125 years of experience
Sturdy construction
Extra straps to secure the bike rack firmly to the vehicle
Folds flat for easy storage
Cons:
Metal construction could lead to corrosion
Summit Rear Bike Carrier SUM-613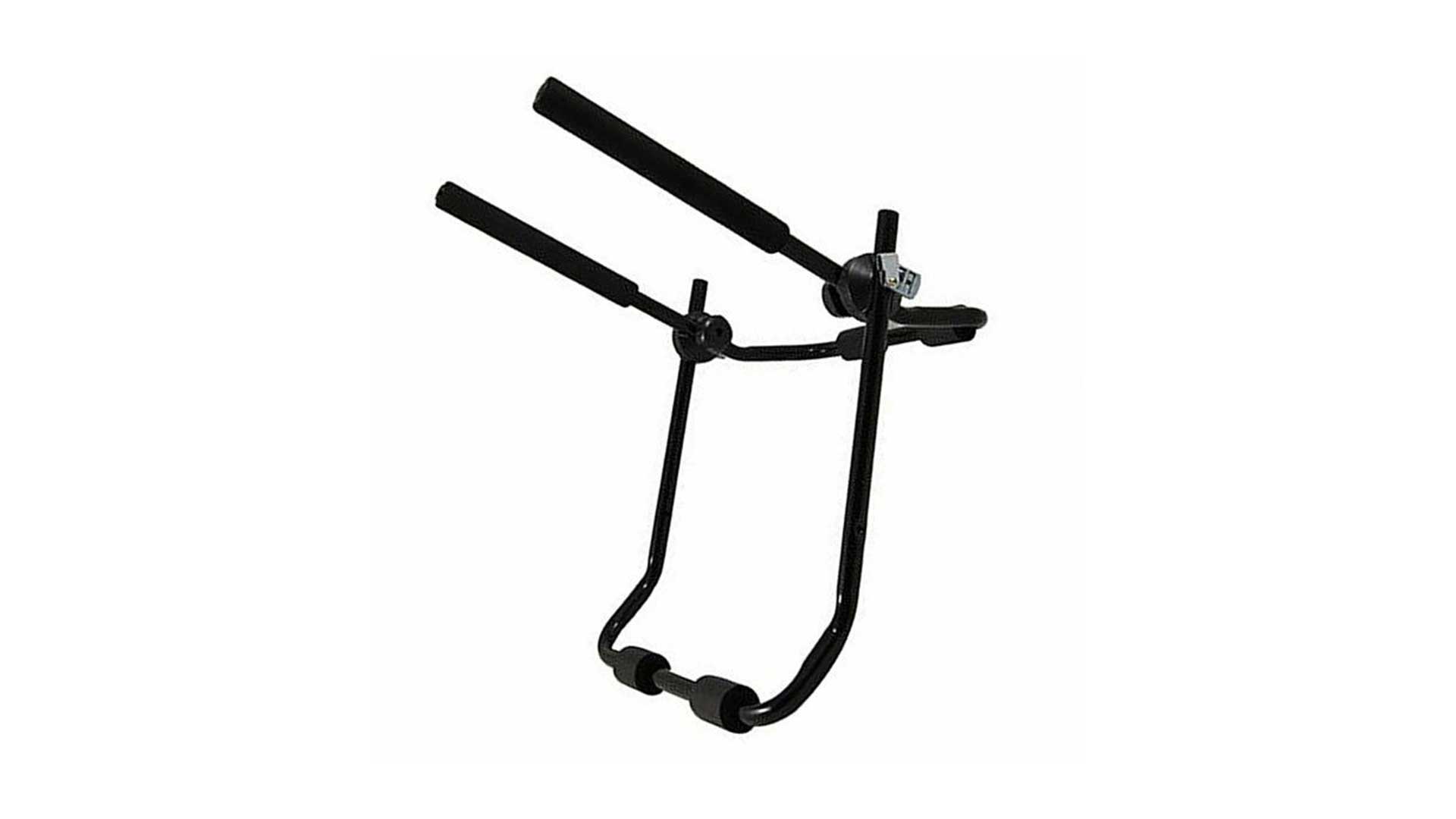 Check the latest price on Amazon
Our last offering comes from the Summit brand. While they do not have the prestige of the aforementioned brands, Summit do well to spread their product across the market, available in lots of countries and for extremely competitive prices. Customer reviews signal good faith in the brand, giving them the edge of most other budget competition in the bike accessories sector.
This two-bike rack is designed to be sturdy and long lasting, strong enough to carry two bikes at up to 15kg each. The simple design may not have fancy holding features but instead allows for fitment of bikes in almost any shape and size, with adjustable straps to secure the bikes during transit. The entire unit folds flat for easy storage and simply unfolds when required again, no disassembly required.
The rack is made up of a painted metal frame and plastic connectors and adjusters, which promise to be sturdy enough but, may not instil as much confidence as the highly engineered products above, if using with heavier bikes.
Part Reference: SUM-613
Bike Capacity: 2 bikes
Weight limit: 15kg per bike
Pros:
Least expensive bicycle boot rack featured
No assembly required, simply unfold and install
Generic shape allows for use with nearly any bike frames
Strong metal frame to support bikes up to 15kg
Cons:
Quality lacking compared with more expensive products
In Conclusion
Bike racks are an excellent, inexpensive method of opening a whole new world of possibilities for cycling, across the country and in fact, the continent. They allow new roads, trails and tracks to be explored, safe in the knowledge that the 100+-mile return trip home will be completed in the comfort and warmth of their vehicle.
The BMW Z4 relishes country roads and B-road back lanes, making an escape to the country for a morning's cycling even more appealing. Don't let the common misconception of an impractical 2-seater sports car bog you down. A bike rack is a fantastic way to carry everything you need for a day's cycling or adventure weekend, combining the perfect 4-wheeled driving experience with 2-wheeled adventures.
If you liked the article, please share, leave a comment below and check out our other exciting articles.
Categorised in: Bike Rack Buying Guides
Czok Newsletter