The Best Car Air Conditioning Cleaner
on 26 July 2020
/ 2 Comments
Updated on: 5th March 2021
We're an affiliate
We hope you love the products we recommend! Just so you know, we may collect a share of sales or other compensation from the links on this page. Thank you if you use our links, we really appreciate it!
We've all suffered that same experience. Glorious sunny day, shades on and music blasting. Turn the dial to be greeted by gentle cool air on your brow but also, what's that, a nasty odour being emitted straight into your car's cabin.
Air con is a must have mod-con on any modern vehicle. It's ability to both cool in the summer and defrost in the winter make it something that most of us could no longer live without. But the smells that build within the A/C system can really take the edge off your pleasant drives. They certainly aren't what you want to be greeted with on that frosty early morning start.
But Why Does my Air Con Smell?
That smell coming from your air-con is created by dirt and bacteria that build up over time within the pipework and filters of your HVAC system. This, unfortunately, is something that you can do little to avoid and most cars will suffer this fate at some stage in their life, particularly if left sat for long periods.
Changing out your cabin filter can clear some of the smell and refresh the air-con temporarily. The bacteria and dirt throughout the rest of the system however, will remain in place, causing foul smells, unless further action is taken. This is where a well-designed car air-con cleaning product can take up the slack. These solutions work to clear out the pipework and internals of your air-con system leaving it smelling fresh and providing cleaner air into the cabin.
The Best Air Con Cleaners on the Market
There are hundreds of products to choose from, offering various levels of cleaning power, complexity of application and longevity. We've selected a handful of the best products to ensure you are getting the maximal results for the minimum cost and time.
AutoGlym Air-Con Cleaner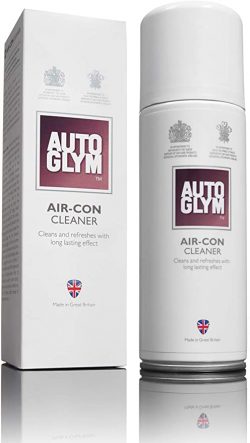 Buy on: Amazon
AutoGlym are well known for their exterior cleaning products, providing a consistently professional level product across their range. What you might not have realised is that they also offer a solution to keep your air-con fresh and remove interior smells.
This simple to use aerosol product promises to clean the dirt and bacteria while removing foul odours from your vehicles air-con system, all within 20 minutes. The product promises to keep the foul odours away for 6 months before reapplication is necessary. The aerosol is simply opened and placed in the vehicle with the A/C system operating. The gas will cycle the gas through the vents, killing bacteria and neutralising foul odours.
AutoGlym's product is well rated (4/5 stars from 80 Amazon reviews, July 2020) by previous customers, while their entire range is trusted by motoring enthusiasts around the world.
Liqui Moly Climate Control Unit Cleaner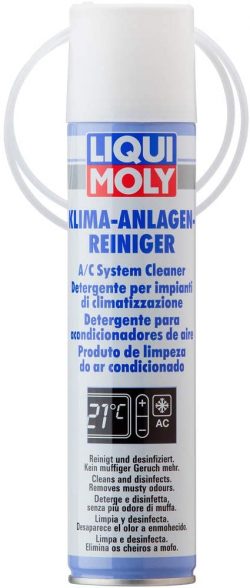 Buy on: Amazon
Another highly regarded brand in the air-con cleaning space is Liqui Moly. Their product differs in that the gas is sprayed, via a tube, directly into the car's A/C system. This ensures that the full contents of the product are used and dispersed throughout the vents and associated pipework.
Applying directly to the system also ensures that the evaporator (a key mechanical part of the air-con system) is thoroughly cleaned. This should remove even the deepest dwelling bacteria, providing fresh air and impressive longevity to prevent odours returning in the near future.
Liqui Moly's product is on the more expensive side and requires a little more effort to use but this should lead to some seriously impressive results, without the need for repeating as regularly as the competition.
STP Auto Air-Con Cleaner

Buy on: Amazon
Our third offering is from yet another household automotive product manufacturer, STP. With their easy, yet effective solution to air-con cleaning.
This product emanates very closely that offered by AutoGlym, with a simple aerosol can, opened in the cabin and sprayed through your cars air conditioning system, clearing foul odours and bacteria. The product uses a simple "lock & leave" concept where the can is left in a locked vehicle with windows sealed and air-con blowing for 10 minutes. That simple.
This product is the cheapest here but shows promise for impressive results with 4/5-star ratings across nearly 300 Amazon reviews (July 2020). Simple application and a low price make this a very attractive option for a quick interior refresh, particularly useful if you're short on time or mechanical know-how.
K2 Air Conditioning Cleaner and Air-Con Bomb
Buy on: Amazon
For those wanting a seriously thorough clean of their cars air-con, this kit from K2 could be just the answer. The first product is designed to clean the pipework and internals of your A/C, the second is a bacterium removing foam used to clean the vents which blow the cooling air into the cabin.
This kit takes your cleaning one step further than the competitors here, promising to not only remove foul odours and bacteria from the internal systems but also cleaning and sanitising the external plastics. These can grow mould and bacteria over time, particularly in a car stood for long periods.
With the two-step application, the process may take a little extra time. Though the kit is, surprisingly, in the same price range as their competitors. They may not be as well-known as the competitors but if the 4/5-star Amazon rating (July 2020) from over 100 customers is to be believed, they may well be a household name before long.
Silverhook Air-Con Bomb
Buy on: Amazon
Our final product comes from Silverhook, with their catchily named, Air-Con Bomb cleaning solution. A clear rival for the products above from AutoGlym and STP, Silverhook's simple aerosol can promises to rid foul odours and bacteria from your car's A/C in as little as 10 minutes.
Clearly another product for those of us with limited mechanical knowledge. Also, a great, cheap and effective product to quickly enhance your car's interior environment. Choosing between this and the competition is made increasingly difficult as the product (like those above) is highly regarded by customers, achieving a 4/5-star rating averaged from over 170 Amazon reviews (July 2020).
The difficult choice here is clearly not whether you should clean out your cars A/C system, but which product you should choose to get the job done. A simple aerosol solution from the likes of AutoGlym/ STP/ Silverhook or a more in-depth clean at a slightly increased cost from Liqui Moly or K2.
In Conclusion
Cleaning out your air-con system is not only desirable but could also be essential to prevent mouldy, putrid smelling air from entering your car's cabin. You want to breathe the freshest air possible even with the windows up. Ensure that you eliminate foul odours and keep your vehicle smelling and feeling fresh with one of the products above.
Having an effective and odour free air-con system could be especially prudent if you are considering lending or selling your vehicle. A foul smell in the interior could put off potential buyers, ruin a sale or just leave your clothes smelling poor after a short drive (not giving out good impressions). Don't let the odours win, fight them and take control of your car's interior. Give yourself and your passengers a more pleasant environment to travel in.
If you liked the article, please share, leave a comment below and check out our other exciting articles.
Categorised in: Detailing
Czok Newsletter