The Best AdBlue
on 13 August 2020
/ 2 Comments
Updated on: 17th February 2021
We're an affiliate
We hope you love the products we recommend! Just so you know, we may collect a share of sales or other compensation from the links on this page. Thank you if you use our links, we really appreciate it!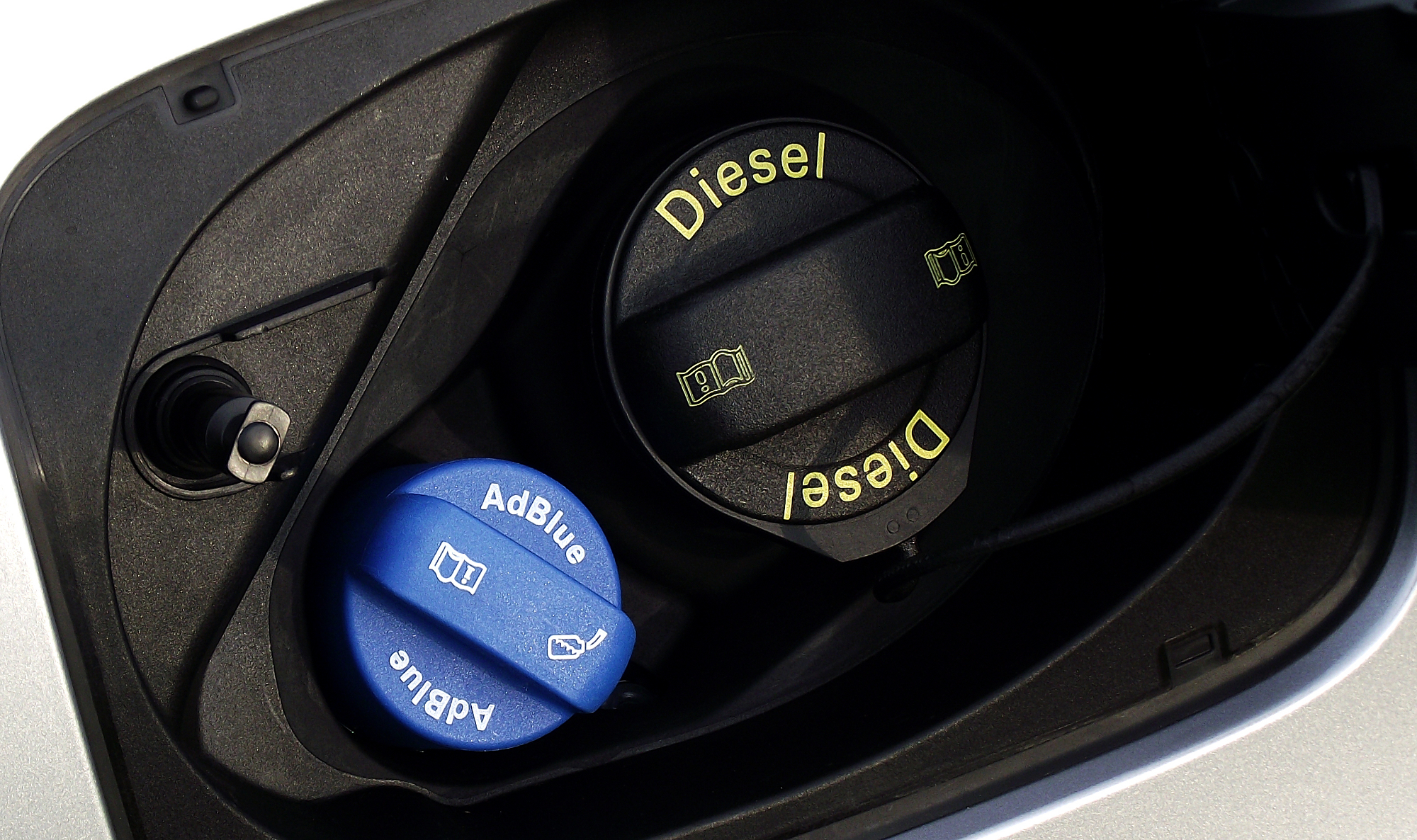 AdBlue, the blue liquid that's keeping your car green. Confusing, I know. AdBlue is a solution injected into the exhaust of diesel vehicles to neutralise harmful nitrogen oxide emissions. AdBlue injection is a standard feature on most diesel vehicles made post-September 2015 as a result of the Euro 6 emissions standards.
In essence, a diesel car, unlike a petrol alternative, produces large amounts of nitrogen oxide when burning diesel fuel. Nitrogen oxide emissions are a particularly harmful form as greenhouse gas (said to be around 300x more damaging than CO2) and also contribute to increasing smog in built-up areas. Hence why we are now seeing many diesel vehicles from pre-Euro 6 emissions standards being banned from city centre roads.
AdBlue has been designed to minimise nitrogen oxide emissions. By injecting AdBlue into the exhaust, it neutralises most of the nitrogen oxide gas. The reduces tailpipe emissions and allows cars to pass increasingly stringent emissions tests without drastic hardware updates. AdBlue is a cost-effective, simple and surprisingly capable solution without resorting to much more extreme engineering that would vastly increase diesel vehicle prices.
Why You May Need AdBlue
If your diesel vehicle is fitted with an AdBlue system it will be automatically be injected into your exhaust as you drive along. Similarly, to the fuel entering the engine, the AdBlue tank will continue to be utilised until it runs empty. Running the tank empty is not recommended and will cause poor running, it could even prevent the vehicle from starting.
People who have never had a diesel vehicle running AdBlue before may be surprised by warning lights for AdBlue solution, though some will never top-up the tank at all. Dealerships will often top-up the AdBlue as part of an annual service, meaning vehicles that do not cover many miles will unlikely empty the tank between services (only a tiny amount of the fluid is used in comparison to diesel).
For drivers who complete their own servicing or who complete higher annual miles, topping the tank up yourself is the most time and cost-effective method. Rather than taking the car back to the dealership, you can simply purchase one of the offerings below and fill up the AdBlue tank using the instructions found in your car's handbook.
AdBlue is unlikely to disappear anytime soon. Emissions standards are getting over more stringent and companies more reluctant to fund diesel engine development to meet these emissions standards. They will turn to simple and cost-effective solutions for their future models, so expect your next diesel purchase to come fitted with an AdBlue tank.
5 of the Best AdBlue Solutions on the Market
1. GreenChem AdBlue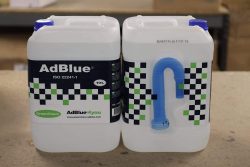 Buy on: Amazon
First up is GreenChem's AdBlue, supplied in 2x10l containers. This is easily enough to completely fill the tank on most large diesel cars. Yet, this product only costs around 20% of the average dealer charge for the same re-fill, without leaving the comfort of your home. The product boasts a 4.8/5 stars after over 700 Amazon reviews (Aug, 2020), while also being Amazon's choice product in the AdBlue category.
Pros:
Complies with latest emissions regulations
Massive 20l of product
Included pouring spout for easy tank filling
ISO22241 compliant
Cons:
Large 10L containers may be difficult to use when full
No air release, must pour slowly to avoid air bubbles
2. CleanAirBlue Adblue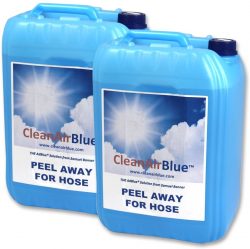 Buy on: Amazon
Another bargain offering at 20l for under £20 is CleanAirBlue's AdBlue solution. Over 400 Amazon reviews culminating in a 4.7/5-star rating (Aug, 2020) shows that customers so far could not be more pleased with the product. Promised to be compliant with all vehicles that take AdBlue solution, you can buy with confidence knowing you'll be filling up with the right stuff.
Pros:
20l of AdBlue solution at low price
Included pouring spout
ISO22241 compliant
Cons:
Unwieldly product to lift and pour when full
Pouring spout may not suit all vehicles tank fillers, may require extra funnels or hoses
3. Status Car Care AdBlue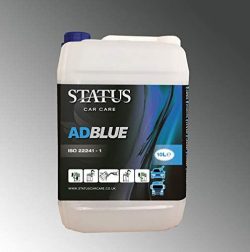 Buy on: Amazon
For smaller vehicles Status Car Care's 10l offering of AdBlue may be more suited to your requirements. At under £10 it's a very small outlay and could be the ideal product to keep your AdBlue tank topped up if you are finding yourself running low between dealership services or own a smaller-engined diesel vehicle. Another product recommended by Amazon customers with an average 4.7/5 stars from over 150 reviews (Aug, 2020)
Pros:
ISO22241 compliant
Includes free pouring spout
Smaller 10l amount perfect for top-ups between annual services
Suitable for all AdBlue vehicles
Cons:
Worse value per litre than 20L products
4. Redex AdBlue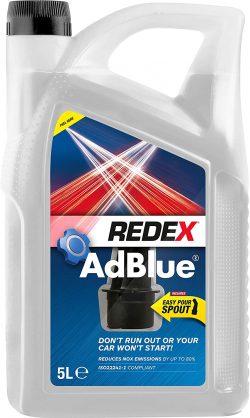 Buy on: Amazon
Fancy an AdBlue refill you can fit in the boot? Redex has the answer for you. The smaller 5l container offered by industry-leading experts, Redex, is the perfect size to keep in your car for those AdBlue top-ups when on the go. Only 20 reviews on this product, however, still retains a 4.2/5-star rating (Aug, 2020) and comes from a brand that is extremely well regarded for their automotive products.
Pros:
Smaller container for easy storage
Pouring nozzle included
ISO22241 compliant
Lighter bottle makes for easy filling
Cons:
Better value seen in 20l products
5. Cartec AdBlue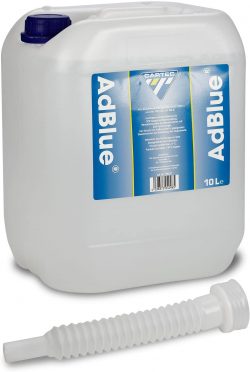 Buy on: Amazon
Our final offering is another 10l package of AdBlue, this time from Cartec. Similarly, to its rival products, Cartec's offering is highly rated by customers, obtaining a 4.4/5-star rating after over 200 Amazon ratings (Aug, 2020) and comes from another well trusted brand. The product is currently the number 1 seller on Amazon within the Car Exhaust System & Header Parts category, so is likely seeing high levels of repeat customers. The only reason we can see for this is an ergonomic design, good value and a trusted product.
Pros:
Good value
Included pouring nozzle
Large 10l capacity
Cons:
More expensive than other 10l bottles
Worse value per litre than 20l products
In Conclusion
Like the diesel you pour into the fuel tank, almost all AdBlue formulas complete the same task. All result in the reduction of exhaust emissions and should also extinguish any low/ empty warning lights appearing on your dashboard. The choice is really which size and brand you choose to go for, whether you need a full refill or perhaps just a smaller bottle to keep with you if you run low on AdBlue while far from home.
Using one of these products is simple, easy and clean, particularly when compared to larger fillers found at some truck filling points, which are not designed for the small and often awkwardly angled fillers on passenger cars AdBlue tanks. These products also come with the convenience of being delivered to your door and being easily at hand whenever you need, rather than searching for that illusive or distant AdBlue station.
Forgetting to top up your vehicle with AdBlue will cause more hassle than you might imagine. Running the tank dry will cause poor running as the car's computer attempts to restrict emissions, while some vehicles are programmed to prevent starting in the case where no AdBlue is present. Getting stranded for the sake of a few pounds and 30 seconds to fill the tank seems silly, but is definitely an embarrassment you will want to avoid. Pick up any of the items above and make sure you top up, before you run out.
If you liked the article, please share, leave a comment below and check out our other exciting articles.
Categorised in: Additive Buying Guides
Czok Newsletter